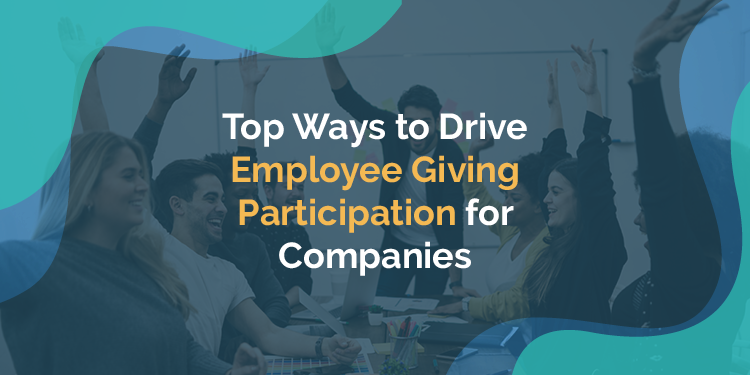 More than $4-7 billion in corporate matching gift revenue goes unclaimed by eligible nonprofits and donors each year. This is mostly due to a widespread lack of knowledge about available employee giving programs.
While many nonprofits are doing what they can to boost awareness of corporate giving programs, your company can take key steps to inform your employees of philanthropic opportunities and encourage them to make a difference in the community.
If your business is looking to increase its corporate social responsibility efforts and elevate employee engagement, this guide will walk you through four impactful steps to take. We recommend that you:
When you implement these practices into your company's workplace giving strategy, more employees will be eager to take part than ever before.
1. Set broad employee giving participation guidelines.
As you aim to increase employee giving participation, one of the first places to start is by taking a look at your program guidelines.
Let's explore a few aspects of your giving programs that you may be able to adjust in order to drive participation:
Employee eligibility: Each company that organizes a workplace giving campaign must determine which types of employees are eligible to participate. More than likely, all full-time employees will qualify⁠—but you can choose to include part-time staff, retired workers, and employees' spouses as well! By opening up your employee giving program, you'll be sure to see increased levels of participation.
Qualifying types of nonprofits: While some companies fund nonprofits with a particular type of cause or mission, others consider any registered 501(c)(3) organization as eligible. Companies may also exclude certain types of nonprofits (such as houses of worship and other religious organizations). The more nonprofits that fall eligible for your employee giving, the more likely your employees will find charities that align with their personal values and inspire their support.
Minimums and maximum gifts: To increase your employee giving efforts, consider keeping your minimums low and your maximums high. After all, not every employee has the ability or desire to make a major donation to a nonprofit⁠. If your minimum threshold is too high, fewer individuals are likely to participate. At the same time, maximums that are too low can cause employee donors to question whether their participation is all that impactful in the first place.
Submission request deadlines: Your employees are busy people. If you set giving deadlines that arrive too quickly, many potential participants will not get around to taking the required action until it's too late. When you give your staff ample time to prepare and submit their workplace giving requests, you allow more individuals to get involved⁠—thus elevating your employee giving levels.
If your criteria for participation are too strict or narrow, they're likely causing a significant barrier to entry. And that's exactly what you don't want when it comes to increasing employee engagement with your giving programs!
2. Simplify the employee giving process.
The easier it is for someone to support a cause, the more likely they are to participate. This is true whether you're on the nonprofit end running a fundraising campaign or an employer organizing a workplace giving initiative.
Since providing an optimal giving experience leads to an increased ability to do good, consider taking these steps to simplify giving for your employees:
Effectively communicate program participation criteria
Once you've solidified your program participation guidelines, it's important to clearly communicate them to your employees⁠—otherwise, they'll never know how easy it is to get involved. You'll also want to promote employee giving participation in several programs by highlighting your corporate giving opportunities at multiple internal touchpoints.
Offer many easy ways to give
There are numerous ways to support a nonprofit cause. For instance, an employee may give directly to the organization through its website, donate via a peer-to-peer fundraiser, send a check in the mail, contribute through a third-party workplace giving platform, and more.
Studies show that the vast majority (more than 96%) of donors prefer their employer giving programs encompass support through all of these avenues rather than narrowing the options to a single giving channel.
Engage employees with custom matching gift initiatives
Some employees may be looking for a way to give back to charitable causes without having a specific organization in mind for which to give. In that case, researching and choosing a nonprofit to support can become significant roadblocks.
But with a custom matching gift program (which may also be referred to as a "one-off" or "unique" program), your company can select a particular organization that reflects your own values well to benefit from your employee giving opportunity. From there, you'll rally all team members around the cause and encourage staff to give generously, then match the employee donation total at the conclusion of the campaign.
Ensure a streamlined request process
The more steps involved in your workplace giving request and submission processes, the less likely each employee is to follow through from start to finish.
Fortunately, one of the best ways to streamline these processes is by working with a dedicated employee giving software provider that offers a user-friendly employee experience. Some of these providers even offer matching gift auto-submission, which allows donors to request their corporate matches in a single click directly from the gift confirmation page!
3. Allow employees to submit matches directly where they give.
Although some corporate giving vendors require giving to be processed through their own software systems and passed along to the nonprofit to qualify for workplace giving opportunities, studies show that donors would rather contribute directly to the organizations they support.
In fact, an estimated 86% of donors reported a preference for contributing to a nonprofit through their website, while 8% of survey respondents "indicated a preference for P2P, direct mail, or another form of [direct] giving." On the other hand, only 6% of donors stated a preference for giving through a workplace giving software provider.
When it comes to nonprofit giving, donors want to give in a way that feels most personal to them⁠—and that means straight to the organization with as few roadblocks as possible. And the same is true for submitting their workplace giving (i.e., matching gift) requests!
If an individual could complete their end of the matching process within the initial giving experience without having to leave the organization's website, it would reduce and eliminate a significant number of matching gift roadblocks.
In the end, that means more corporate giving revenue for nonprofit organizations, additional engagement opportunities for donors, and elevated program participation (and satisfaction) for companies and corporate software vendors.
The easiest way to do so? Utilizing matching gift auto-submission!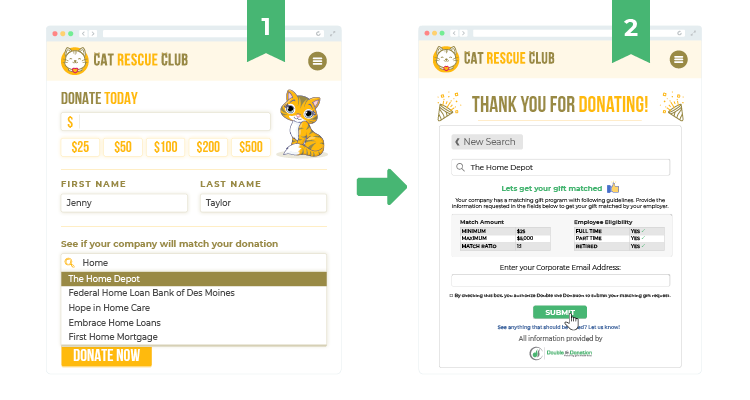 With this new workplace giving software functionality, a company's employees can submit their matching gift requests in just a few clicks directly where they gave to the organization. And more than 75% of the largest peer-to-peer focused nonprofits are already eligible to receive automatically processed match requests⁠—just by being equipped with Double the Donation's tools!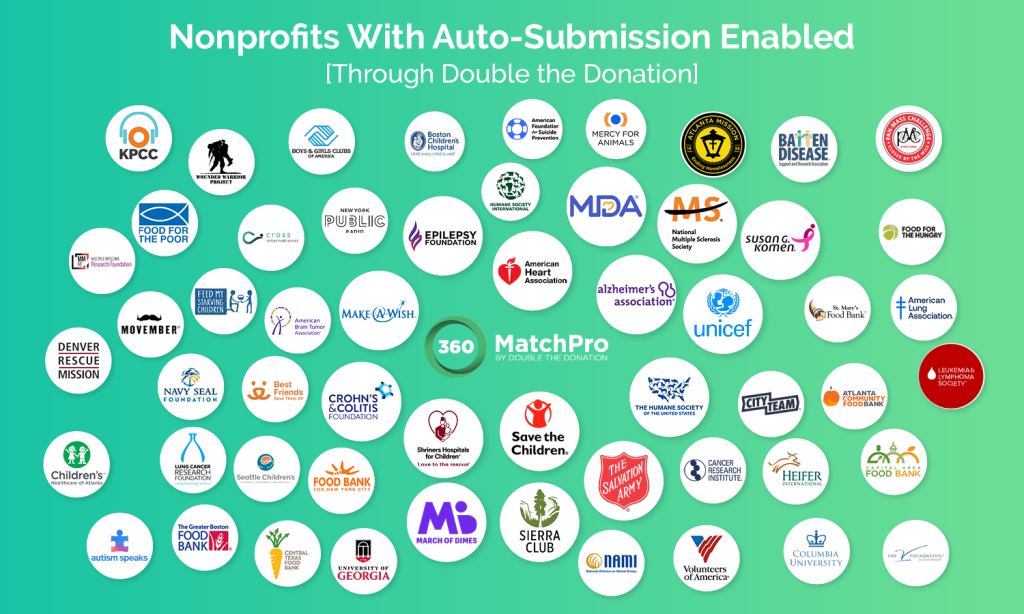 4. Emphasize mission impact to employees.
According to workplace giving research, approximately 81% of employee donors cite a nonprofit's mission as one of if not the most important factors going into their decision to support a fundraiser. As such, communicating the effect that your company's giving programs have on charitable organizations (and the causes behind them) is essential.
You can highlight the impact of employee giving participation and encourage more involvement by:
Sharing employee giving success stories. It can be extremely impactful to provide employees with positive examples that inspire them to take part in your charitable and philanthropic initiatives. For example, you can share facts and figures such as, "We raised $12,000 to feed over 2,400 families in our community, or "Your employee giving dollars provided 1,780 students with much-needed school supplies to support their education."
Offering a high match ratio. The higher your company's matching gift ratio, the more impact employees can generate with their dollars. If you offer a 3:1 ratio, for instance, you can emphasize to employees that their impact will be tripled⁠—enabling an initial $50 gift to create $200 worth of mission value. This can be a significant contributing factor, since an employee may not be as motivated to turn their $50 gift into $75 with a .5:1 ratio.
Recognizing employees for participating. Create a culture of generosity and recognition within your company by establishing ways to acknowledge employees for giving back to the community. According to eCardWidget, you can create employee recognition eCards as a quick and convenient way to acknowledge employees who embody your company values and participate in your corporate philanthropy efforts.
Ideas like these can show employees that their participation in corporate giving programs can make a real difference⁠—especially on causes that they care about.
Another way to drive employee giving participation through giving impact is by leveraging a fundraising thermometer. While this tactic takes a more abstract approach to visualizing giving impact (rather than a concrete, mission-focused perspective), a continually updated fundraising tracker can allow employees to watch as their contributions help increase total giving toward a common goal.
---
When you leverage these powerful best practices for your company's giving initiatives, you'll benefit not only your own bottom line but your employees' satisfaction, engagement, and retention, as well as nonprofit causes working to make the world a better place. Otherwise, you risk missing out on these key advantages and more, allowing your carefully crafted giving programs to fall by the wayside.
Best of luck and happy giving!
To learn more about employee giving and how your business can drive participation, check out these other educational resources from thought leaders in the CSR space: