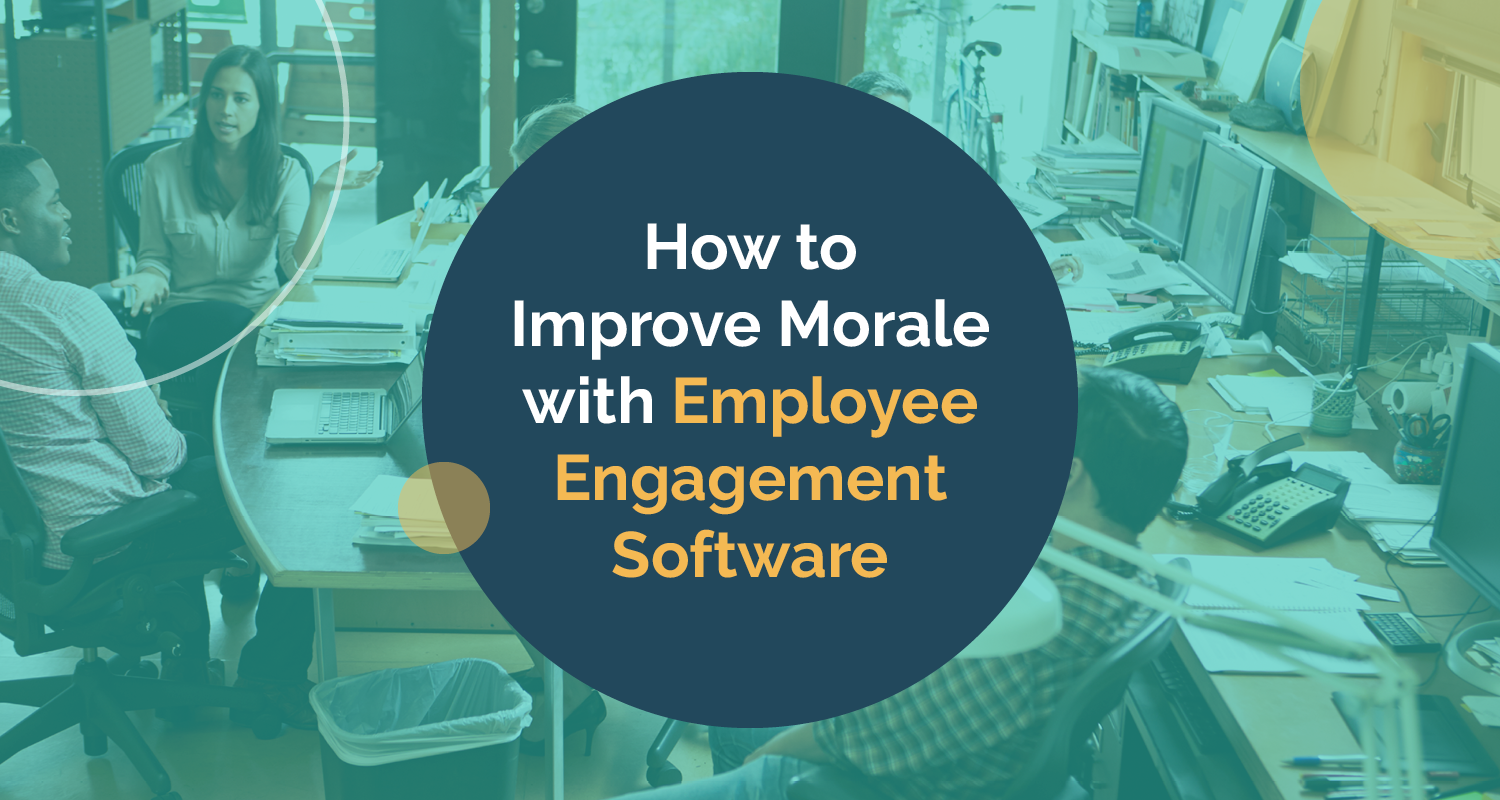 The key to unlocking motivated and high-performing employees is prioritizing workplace engagement. According to Gallup's employee engagement survey, engaged employees have increased productivity, profitability, and organizational participation. Additionally, in another Gallup report, the estimated cost of actively disengaged employees is $8.8 trillion to companies globally, equally 9% of global GDP.
To ensure the success of your organization, you need to implement strategies that improve employee engagement. While you can take many different approaches, investing in employee engagement software is a reliable way to empower your methods.
To help you increase morale at your company with employee engagement software, we'll cover the following topics:
Investing in employee engagement software is a big step toward increasing your organization's profitability and productivity. Let's kick things off by defining employee engagement.

Why is employee engagement important?
Before diving into software solutions, let's get down to the root of the issue. What is employee engagement, and why is it so important?
Employee engagement refers to the connection employees have with their workplace. It's characterized by their motivation to complete quality work and drive the business forward. Factors that affect this level of connection may depend on individuals' feelings of commitment, purpose, and belonging regarding their current company.
When we talk about employee engagement, we divide employees into three groups. Companies can categorize each of their employees using one of the following descriptors: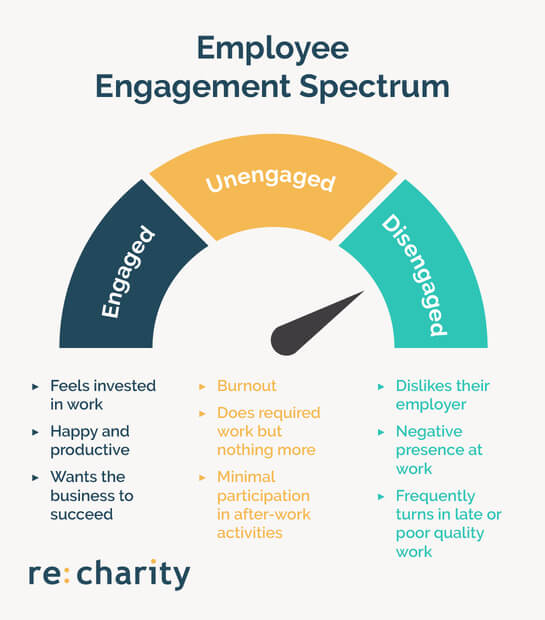 Engaged. This group of employees feels a strong connection to their workplace. They have high job satisfaction, enthusiasm, and work ethic. These employees strive to fulfill their company's core values and perform their best.
Unengaged. These employees are in the middle ground of employee engagement. They're not particularly connected to their workplace, but they show up and do their work. They may not be extremely passionate and likely only do the minimum required.
Disengaged. Disengaged team members don't feel a connection to their workplace or feel that their employer is meeting their needs. When employees get to this stage, they often look for new job opportunities to fill the gaps their current employer is missing.
The ultimate goal is to keep employees engaged and actively prevent disengagement. That way, they'll be happy to stick around!
Benefits of employee engagement
It's important to have a high percentage of engaged, motivated employees because they offer the following benefits:
Better morale. Highly engaged employees come to work with an optimistic attitude, making the workplace a more positive environment.
Enhanced productivity. When employees feel connected to their workplace, they're more likely to work hard and stay on task for the company's benefit.
Higher retention rates. Team members who are satisfied with their jobs are less likely to leave their current employers, which can save companies time and money typically reserved for onboarding and training new employees.
Smoother recruitment process. It's much easier to stand out to prospective team members when your employees enjoy their work and are willing to speak positively on behalf of your company.
Increased cost-effectiveness. Disengaged employees are less likely to be productive, costing companies about 18% of their annual salaries.

When employees are invested in their workplace, the company sees a variety of benefits that improve the overall work experience. To prioritize employee engagement, start by looking into an appropriate software solution.
What is employee engagement software?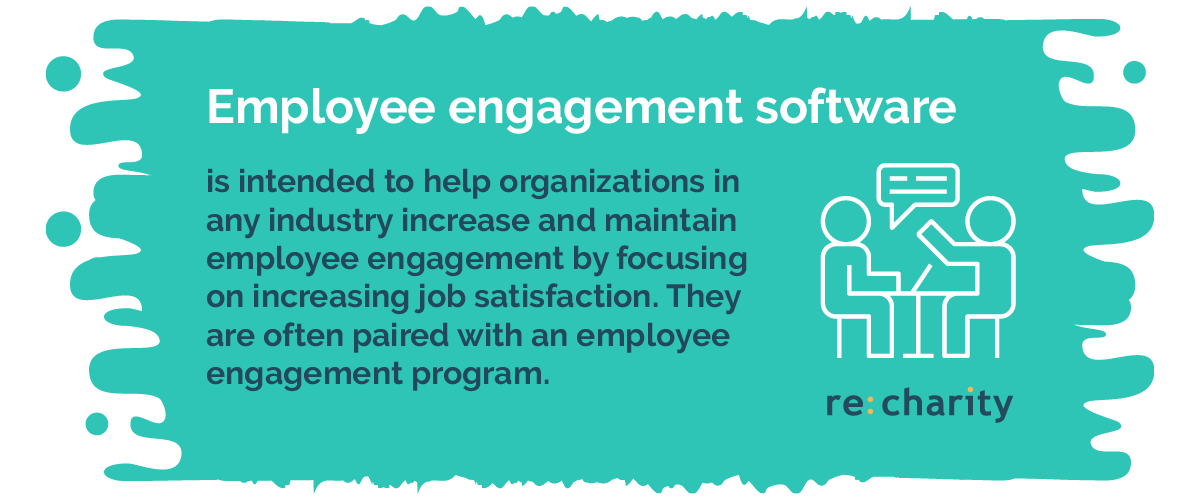 Employee engagement software is intended to help organizations in any industry increase and maintain employee engagement by focusing on increasing job satisfaction. These platforms are often paired with an organization's employee engagement program, working together to create a happier, more engaged workforce that is more likely to remain at the organization and more dedicated to its success.

Types of employee engagement software
Employee engagement solutions fulfill various functions to allow organizations to achieve greater results. Let's explore the different types of employee engagement software and how they can boost job satisfaction.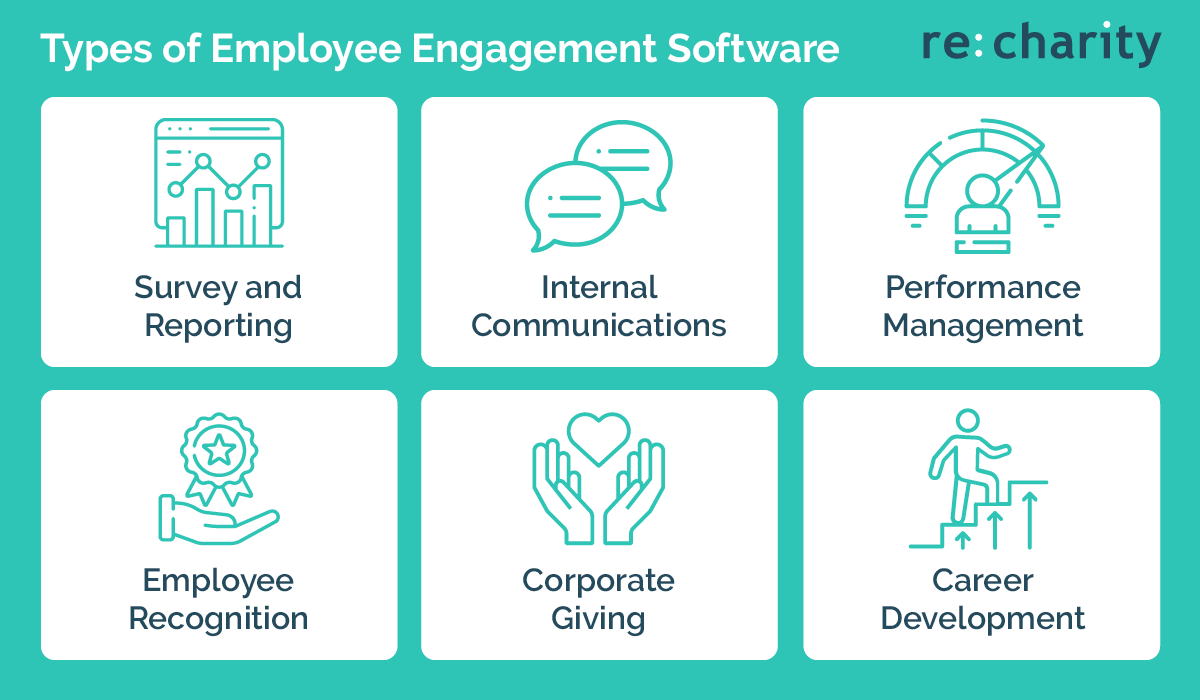 Survey and reporting software
To keep employee morale high at your organization, you'll need to go back to the source—your employees! It's important to monitor how your employees feel about the workplace, as that can help you make adjustments to improve job satisfaction.
One of the most popular ways to gather feedback is through surveys, regardless of whether you're working at an association trying to satisfy its members or a company trying to understand its employees. That's why there's a type of employee engagement software dedicated to this—survey and reporting software. This type of solution makes it easy for organization leaders to collect employee feedback on the organization, their department, and their specific roles.
Instead of manually reviewing and logging feedback via paper forms, survey and reporting software digitizes and automates the process for you. After creating a digital feedback form, this solution type will email your employees asking them to fill out your survey. You'll be able to review the survey results, top insights, and most frequently shared feedback to better understand how you can improve employee engagement.
Internal communication tools
With remote work becoming the norm, investing in communication tools is more crucial than ever. Communication solutions are not only necessary for employees to work together efficiently and effectively, but they can also improve employee engagement.
With this type of employee engagement software, you'll be able to facilitate communications between team members, employees of different teams and departments, and managers to enable them to do their work. Plus, you can set up chats or channels for socialization, where employees can have lighthearted conversations and get to know each other better. This will improve their relationships, leading to greater employee engagement.
Performance management solutions
Employee engagement is a two-way street: just as employees evaluate your organization for its weaknesses in creating job satisfaction, you evaluate your employees for their performance. Keep in mind that an underperforming employee may be disengaged in their work, rather than simply a bad worker.
With a performance management solution, managers and leaders can evaluate team members. You'll use it to set goals, track progress, and conduct performance evaluations.
As you assess your employees' progress, consider the feedback you've received from them in terms of engagement. If a high-performing employee has also indicated that they're satisfied with your engagement programs, that's great news! However, if you see a trend of high-performing employees indicating that they don't feel engaged in their work, dig deeper into what's impacting their morale and make adjustments that will increase their motivation.
Employee recognition solutions
One of the top ways to keep your employees engaged is to recognize and appreciate their hard work. For example, if you work at a nonprofit organization, you likely thank your volunteers for their work—it's the same for employees! After all, nothing feels worse than working overtime to complete a big project and not getting so much as a "thank you" for your efforts.
With an employee recognition solution, you'll be able to acknowledge employees who deserve your appreciation more conveniently. This boosts their morale and motivates them to continue performing well. You'll use these employee engagement solutions to add to your recognition programs, whether that's through identifying employees to recognize or automating appreciation communications on work anniversaries and birthdays.
Corporate giving software
Approximately 71% of employees indicate that working at a company that partakes in philanthropy is important to them. In light of this statistic, launching a corporate giving program can increase your staff members' passion for their work, especially for individuals who are dedicated to supporting nonprofit causes.
Leveraging a corporate giving platform can help your business manage and collect data on a variety of philanthropic initiatives, including:
Matching gifts, in which your company matches donations your employees make to eligible nonprofits.
Corporate volunteer activities like team volunteer days, volunteer grants, and paid volunteer time off.
Employee fundraising efforts such as company-wide giving days, team fundraising challenges, and in-kind donation drives.
Your corporate giving software will help you track not only how much money and time your business has given to charitable causes, but also how many employees participate in your efforts. You can then use this information to strategize new ways to make the most of your programs and boost employee engagement.
Additionally, make sure your chosen platform integrates with nonprofit-facing solutions to streamline the giving process for your company, your nonprofit partners, and your staff members. For example, integrating your software with a matching gift tool that has auto-submission capabilities helps employees submit their match requests more easily, increasing participation in your program and, therefore, your company's overall nonprofit contributions.

Career development software
Another way to keep employees invested in their work is by empowering them to develop their skills and further their careers. High-performing employees will relish the opportunity to learn something new that will help them grow.
That's where career development software comes in. This type of employee engagement software provides opportunities for employees to grow. These solutions allow you to provide educational resources, training courses, and development plans to help employees increase their knowledge and enhance their skills. You can also keep a database of relevant industry conferences that employees can consider attending.
Employee engagement software features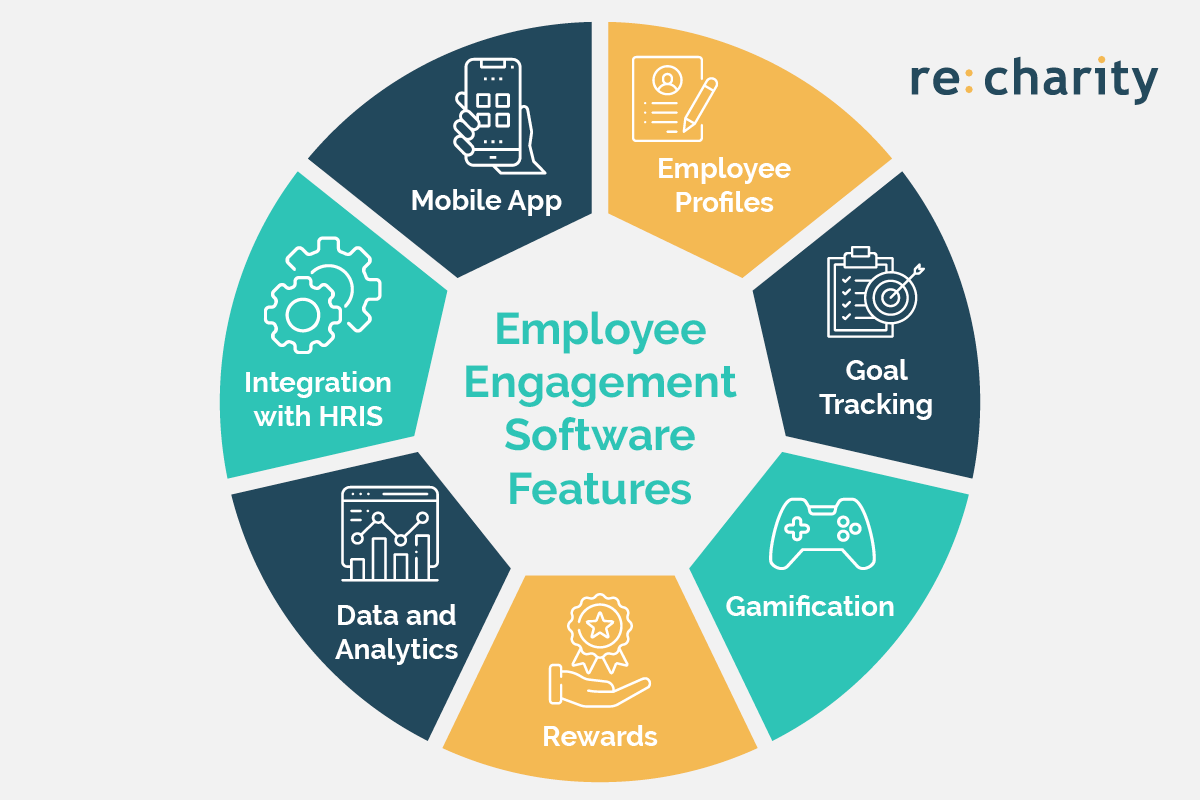 Although there are several different types of employee engagement software solutions, they have some features in common that make them well-suited to helping you retain and motivate employees. Some of these features include:
Employee profiles. With employee engagement software, store relevant information on your employees within their profiles. Track job titles, positions, departments, attendance, timesheets, salary or hourly wages, work history, work anniversaries, and birthdays for a holistic view of your team members.
Goal tracking tools. Regularly setting measurable goals with your employees is a good idea to keep them motivated and engaged. Employee engagement software allows you to track measurable progress toward these goals, ensuring you're informed when team members reach a milestone.
Gamification features. Incorporating game-like features adds an element of fun to your workplace, making it more enjoyable for employees to complete their work. For example, if your organization operates in a sales model, employee engagement software can offer a leaderboard, incentivizing employees to reach the top of the leaderboard.
Rewards. Some organizations offer rewards to employees who reach a certain performance threshold. For example, if you manage a nonprofit marketing team, incentivize team members to solicit major donors by offering a reward for every five major gifts team members acquire. You can track their progress in your employee engagement software and even facilitate delivering these rewards through your solution.
Data and analytics. Having access to data and analytics gives you a big-picture view of employee engagement and performance. This empowers you to confidently make data-driven decisions, helping you create a more positive and motivated workplace for your employees.
Integration with human resources information systems (HRIS). Your HR department's purpose is to support your organization's goals and ensure the well-being of employees. To make work easier for this department, invest in an employee engagement software that integrates with HRIS.
Mobile apps. Some employee engagement software solutions will have mobile application versions. These solutions make it convenient for employees to access the software, whether it's to track their reward points, check their progress toward a goal, or glance at the performance leaderboard. This increases the likelihood that employees will participate in your engagement programs.
With the rise of remote work, consider how your organization's remote employees fit into your employee engagement program. After all, due to the remote nature of their work, it's often more difficult for these employees to feel connected to and engaged with their workplace. That's why it's important to consider how your employee engagement software will boost morale for remote employees.

Choosing an employee engagement software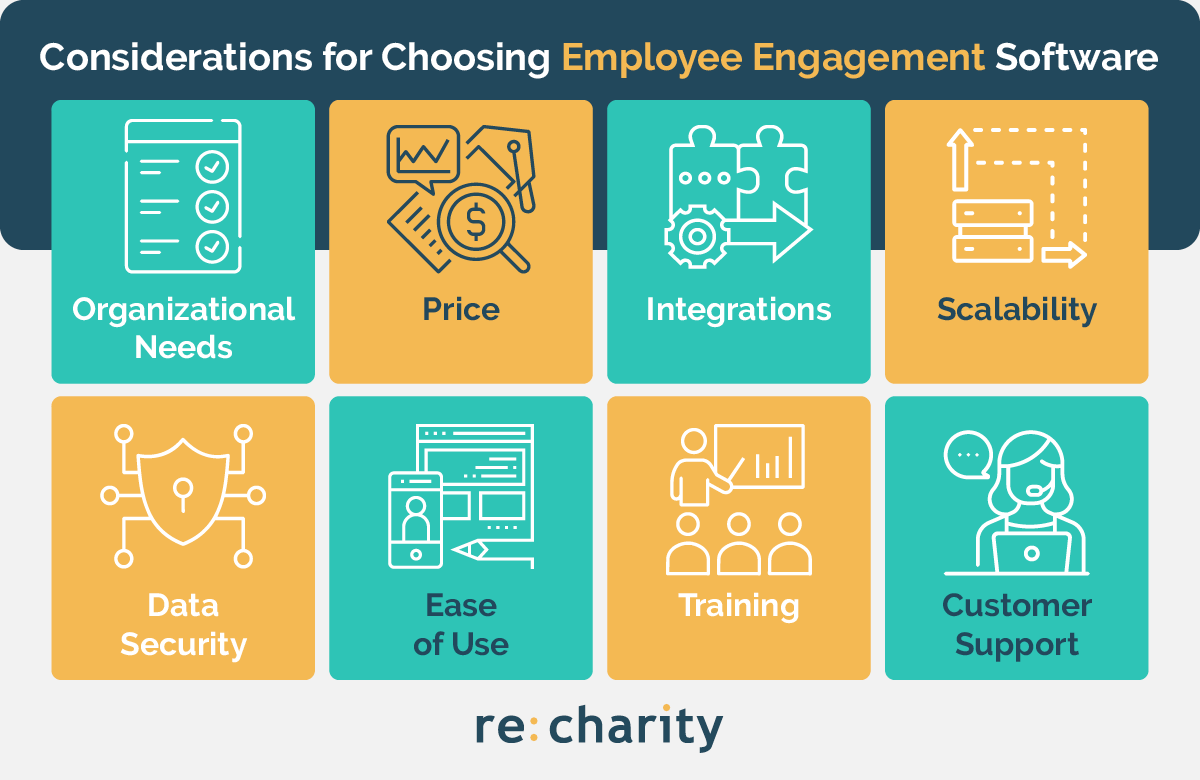 After you've decided on what types of employee engagement software to invest in and considered which features would best suit your employees, it's time to make your choice. To do so, you'll want to pick out a few of the best employee engagement software solutions and compare them.
As you do this, keep the following in mind:
Organizational needs. Your top consideration should be what your organization needs. For example, let's say your company wants to launch a matching gift program. You might want to invest in a corporate giving platform that enables auto-submission. Whenever donating to a nonprofit that uses the same auto-submission software, they can easily submit their matching gift requests to your company, boosting participation and engagement in your program.
Price. Budget is a limiting factor for any organizational purchase, and employee engagement software is no exception. Don't be afraid to request a quote from software providers and leave the solution behind if the quote is out of your budget.
Integrations. Particularly if your organization is on the larger side, you may already have existing software that you use. Ensure that your employee engagement software options integrate with your existing software to make your processes more efficient in the future. For example, our recommended partner, Double the Donation's matching gift solution integrates with corporate giving tools to simplify the matching gift process.
Scalability. As your organization grows, your needs might change or you may need to expand your employee engagement program. Investing in a solution that can scale with your organization will save you the time of searching for new software and migrating to it in the future.
Data security. Since many employee engagement software solutions offer profiles to store employee information in, ensure this information is safe. Choose software that incorporates security measures to minimize data breaches.
Ease of use. When adding a new software solution to your workplace, the last thing you want is for it to be confusing, resulting in more time spent troubleshooting. Ensure that the software you choose is easy to use to reduce the time needed to get it up and running.
Training. In the same vein as the previous point, minimize the time it takes to implement your new software by selecting a provider that offers extensive training. That way, you'll be prepared to leverage your employee engagement software to its full potential.
Customer support. When working with software, something will inevitably go wrong. However, you can minimize the impact of any crashes or bugs by choosing a software provider that offers customer support when anything goes wrong. In particular, search for providers who offer 24/7 support through both email and phone.
As you assess and compare your different options, also consider vendor reputation. Take a look at any case studies and testimonials on the provider's page to see how they might approach a partnership with your organization. What's more, check third-party review sites for an unfiltered view of how organizations that have previously purchased the software feel about it. That way, you'll have a holistic view of the vendor's reputation and the software's efficacy.
Additional resources
For organizations trying to level up their employee engagement programs, investing in a related software solution can provide the boost you need to improve workplace culture. However, choosing your software requires careful consideration. Thoroughly research your options before diving into an employee engagement software purchase.
If you'd like to learn more about employee engagement, consider the following resources: