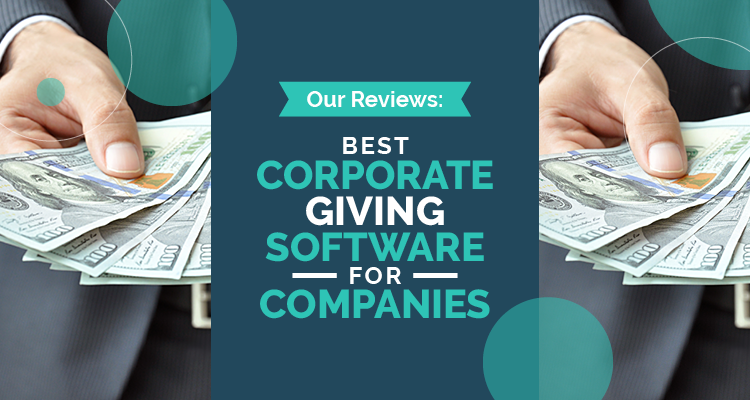 Corporate giving allows companies to do good in their communities through charitable gifts of funds and time. Using corporate giving software, nonprofits can take advantage of these programs and raise awareness around them. That's why we've written on the topic of corporate giving software for nonprofits before. But something we haven't touched on is corporate giving software for companies.
What's the difference? Nonprofits can use software to raise funds for their cause, increase awareness around matching gifts, and even secure volunteer grant revenue. Companies, on the other hand, use software to manage their internal corporate giving programs.
Choosing the best corporate giving software for your company is vital if you want to be able to streamline your giving activities, including matching gifts, corporate volunteer programs, grantmaking, and more.
Luckily, we've done the work of comparing top providers for you! If your company is looking to find the best corporate giving software to meet your needs, take a look at our top reviewed choices below:
Choose your software carefully to ensure you get the most out of the giving programs you've set up. In turn, you will benefit the communities around you. Let's begin.


America's Charities
About This Corporate Giving Software
America's Charities has been a major force in giving and engagement since 1980. They serve nonprofits, employers, and employee donors alike. 
Through America's Charities, nonprofits can fundraise recurring, unrestricted dollars through workplace giving, while employers can meet their giving, engagement, and social impact goals. Meanwhile, donors can connect with great causes and support nonprofits in a sustainable manner. 
America's Charities offers a full suite of employee giving and engagement tools, including workplace giving technology platforms, and each corporate giving solution is tailored to fit the employer's needs and goals.
Our Favorite Feature of This Corporate Giving Software
Our favorite feature of America's Charities is their Engage solution, which is an end-to-end giving and CSR platform. Companies can use this corporate giving platform to streamline employee giving and engagement, track, measure, and share their impact, and manage all programs within one flexible platform. Engage also leverages SmartSimple's SaaS cloud platform, Platform3.
The Verdict
America's Charities is a great choice for companies looking for flexible options in managing their giving programs. Whether you're looking to focus on a single area or maintain a wide array of workplace giving programs, America's Charities has a solution for you. Unfortunately, America's Charities has yet to expand into matching gift auto-submission technology, requiring donors to submit their match requests to their employers using their online portal.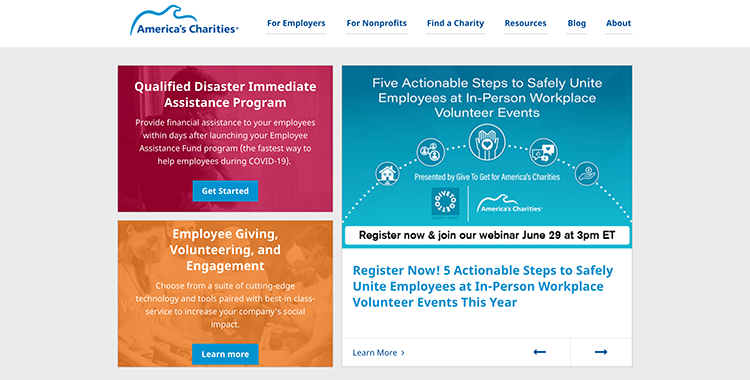 Benevity
About This Corporate Giving Software
Benevity is one of the best corporate giving software options, offering an all-in-one solution that helps you bring all of your programs together.
Through Benevity, you can easily scale your workplace giving program as it grows, access powerful reporting, and provide a simple and engaging user experience.
Benevity allows you to handle workplace giving, matching, volunteering, corporate granting, customer engagement, and more, all from one platform.
Our Favorite Feature of This Corporate Giving Software
Here at re:Charity, We love the Benevity Causes Portal, which helps hundreds of thousands of nonprofits connect with corporate giving programs all over the world. Nonprofits can easily register to become eligible for hundreds of corporate programs.
The Verdict
Benevity is one of the best all-around solutions for companies that offer multiple types of corporate giving programs and want to easily connect with nonprofits everywhere. However, they have yet to make auto-submission functionality available, meaning donors will be required to complete the request process on their own.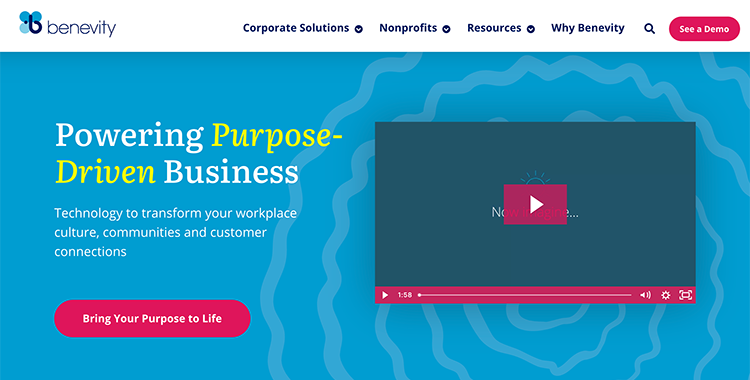 Bright Funds
About This Corporate Giving Software
Bright Funds is one of the best corporate giving software solutions for giving, volunteerism, grants management, and administration.
Some of their top tools include matching gifts management, dollars for doers programs, grants management, real-time reporting, and strategic giving.
Bright Funds offers ways for employers, individuals, and nonprofits to connect with one another. Through their Bright Network portal, nonprofits can give donors complete and up-to-date information about their organization, streamline donations, and access all of their vital data in one central location.
Our Favorite Feature of This Corporate Giving Software
One of our favorite features that Bright Funds offers is the ability to show employees how their donations are making a difference. Bright Funds delivers updates from nonprofits to give people insight into the positive impact they're making around the world.
The Verdict
Bright Funds is an excellent option for companies looking to draw a real connection between employees and the causes they support. For instance, Bright Funds offers a Foundation Funds program, which targets particular causes and helps employees understand the problem, see the strategy, and track the Fund's progress. Though they enable matching gift programs through the system, Bright Funds does not provide auto-submission functionality for employees at this time.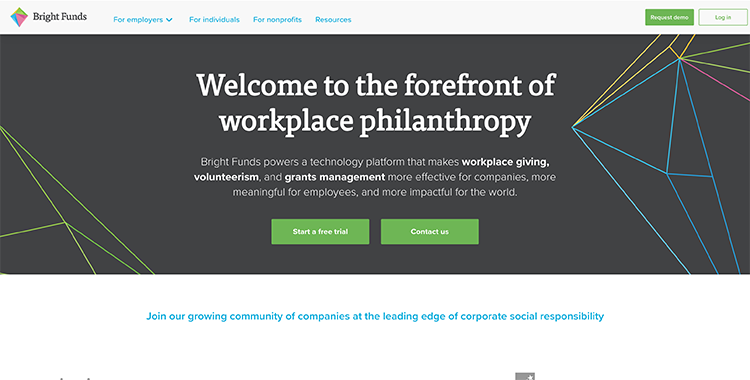 CyberGrants
About This Corporate Giving Software
For over 20 years, CyberGrants has made a huge impact on a global scale. CyberGrants provides web-based solutions to some of the most respected companies and foundations around the world.
Through their robust and flexible platform, companies get support for the entire giving ecosystem. CyberGrants is an integrated, scalable solution for managing grants, employee giving, volunteerism, disbursement of funds, and other CSR initiatives.
With more than 400 customers and $6.5 billion in donations annually, CyberGrants can help your company meet its corporate philanthropy goals.
Our Favorite Feature of This Corporate Giving Software
With one of the most robust grants management solutions out there, CyberGrants can help you expedite approvals, track your budgets, ensure compliance, mitigate risk, and manage multiple languages and currencies. For nonprofits applying for grants, CyberGrants saves them time and streamlines the communication process.
The Verdict
CyberGrants is an ideal choice for nonprofits looking to more efficiently manage and scale up their grantmaking process while offering other effective and impactful workplace giving programs. For matching gifts, there remains no auto-submission option for donors, though they do aim to make the process relatively simple for users.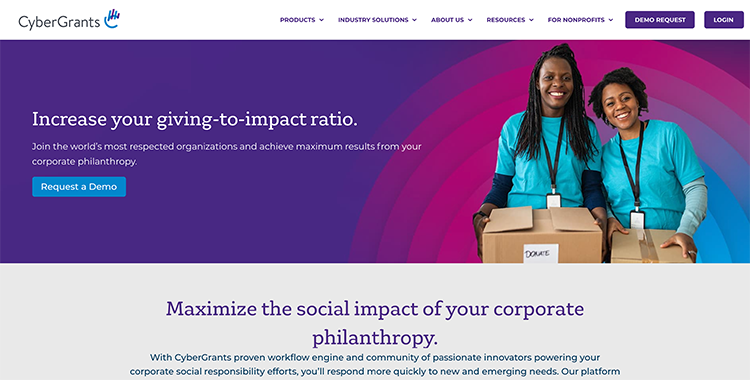 Millie
About This Corporate Giving Software
Millie is a versatile corporate giving solution that offers companies a variety of ways to empower their employees to give. 
Using Millie's corporate giving software, companies can provide matching gifts and volunteer opportunities, give charitable dollars to employees and customers, and create essential campaigns.
Millie offers seamless and flexible employee giving program management so that your company can build a culture of giving, regardless of your budget.
Our Favorite Feature of This Corporate Giving Software
Our favorite feature of Millie's corporate giving software is the charitable dollars for employees and customers. Celebrate milestones like employee recognition or work anniversaries, or give a gift that prospects and customers will appreciate. These charitable gift cards can be used to donate to 1.7+ million nonprofits or be split between multiple.
The Verdict
Millie is an excellent choice for companies operating on a budget that still want to create a culture of giving and engage their employees and customers in their social impact programs.
Bonus Feature – Matching Gift Auto-Submission
Millie integrates with Double the Donation's matching gift database to offer innovative auto-submission functionality. Using this technology, employee donors are able to request their matches in seconds directly from their favorite organizations' donation confirmation pages⁠. All they have to do is enter their corporate email addresses.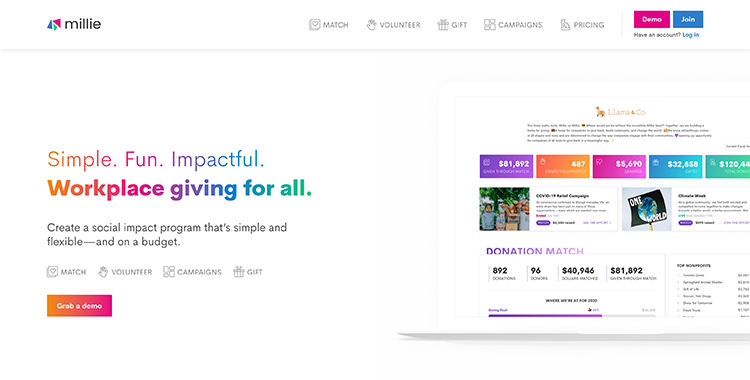 POINT
About This Corporate Giving Software
POINT is a collaborative volunteer platform that connects communities with local causes. Their corporate giving software brings technology and people to nonprofits so organizations can get the support they need.
Companies can use POINT's free app to find local event-based and virtual volunteer opportunities. Easily reserve spots for your employees at volunteer events or send those opportunities directly to employees.
Companies can also subscribe to POINT's CSR management platform, which allows them to track the impact of their donations and employee giving.
Our Favorite Feature of This Corporate Giving Software
Using POINT, companies can create partnerships and strengthen their collaborations with nonprofit organizations. This can be done by co-hosting private or public volunteer events, using the local nonprofit directory on POINT, and by gifting POINT to your favorite nonprofits for free.
The Verdict
POINT is great for companies looking to build out their giving programs through volunteerism. With their easy-to-use app and robust reporting tools, building your corporate giving program is easy and will benefit all parties involved.
Bonus Feature – Matching Gift Auto-Submission
POINT offers a seamless integration with Double the Donation's 360MatchPro, which empowers its users with new matching gift auto-submission features. Donors can now submit their match requests in one click from the donation process. From there, the integration handles the rest of the submission steps behind the scenes, enabling more donors to get their gifts matched without requiring an entirely separate process.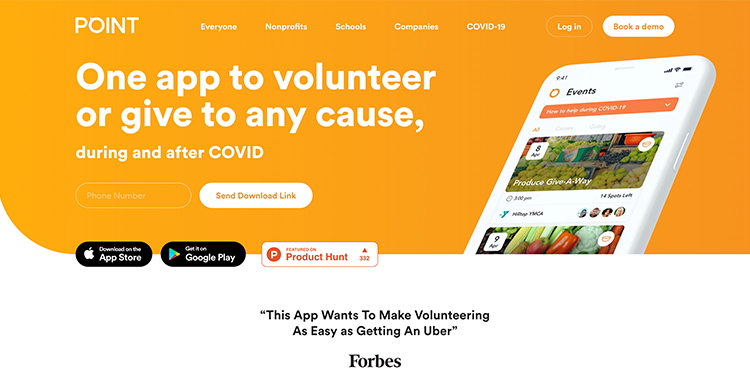 Selflessly
About This Corporate Giving Software
Selflessly is a favorite corporate giving solution with innovative and powerful tools for businesses interested in donating, volunteering, gift-matching, reporting, and more.
While they work with companies of all shapes and sizes, they focus particularly on providing affordable solutions for smaller and medium-sized businesses looking to jumpstart their corporate giving. CSR is becoming increasingly important for companies, and having the right tools can make a hugely significant difference!
Our Favorite Feature of This Corporate Giving Software
One of Selflessly's most integral features is its donation matching functionality. At re:Charity, we know that businesses give billions of dollars through corporate matching gift programs each year⁠—and tools like Selflessly aim to simplify and maximize those contributions.
The Verdict
Selflessly is a fantastic choice for small to mid-sized companies that are seeking to launch, grow, or maintain their corporate giving efforts effectively.
Bonus Feature – Matching Gift Auto-Submission
Selflessly offers a partnership with our favorite matching gift provider for nonprofits, 360MatchPro, to help ensure as many eligible gifts are matched as possible by auto-submitting match requests. With this new functionality, donors are able to submit their matching gift requests to their employers more easily than ever before. All it takes is entering their corporate email address directly after giving!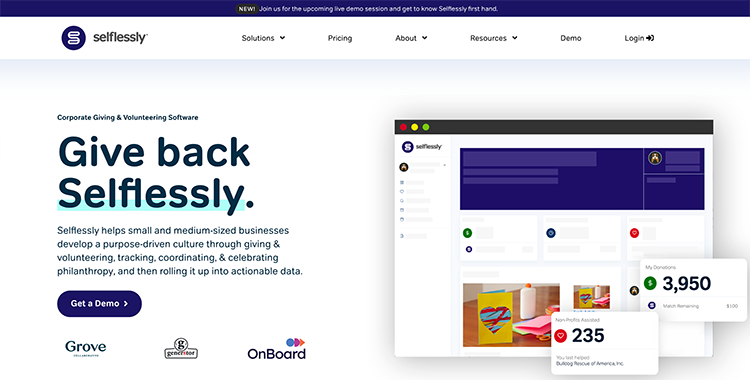 SmartSimple
About This Corporate Giving Software
SmartSimple is a cloud-based tracking and reporting platform that helps companies automate important processes.
Their solutions include grants management, corporate and employee giving, volunteer management, volunteer grants, in-kind giving, sponsorships, employee assistance funds, scholarship management, and more.
SmartSimple gives you a complete picture of your global impact, all from one place.
Our Favorite Feature of This Corporate Giving Software
SmartSimple is designed to be flexible, which means every aspect of the platform can be adapted or changed as your business needs change. Their corporate giving solution is built on a configuration-based platform called Platform3, which helps your team adapt with ease while keeping costs low.
The Verdict
SmartSimple is an ideal corporate giving solution for companies that need to be able to make changes to their programs over time with ease. Their cloud solution, Platform3, is also preferred by 400 leading organizations worldwide, though they do not offer matching gift auto-submissions at the time.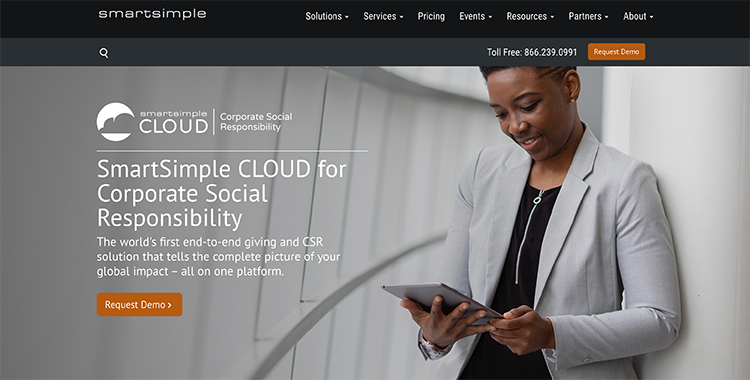 YourCause
About This Corporate Giving Software
YourCause was acquired by Blackbaud in 2019 to expand its commitment to powering grantmaking and employee engagement via corporate social responsibility (CSR) programs.
YourCause offers state-of-the-art tools to meet the needs of companies with CSR initiatives, including matching gifts, volunteering, grantmaking, campaigns, global expansions, and more.
With this software, you can boost employee participation and manage employee giving programs of all types and sizes via reliable payment distribution services, robust reporting tools, and configurable segmentation functionality.
Our Favorite Feature of This Corporate Giving Software
Nonprofits can create a charity profile within the YourCause portal, which will then be accessible to an entire network of corporations and millions of employees. This allows companies to discover a wide array of worthy causes they can contribute to.
The Verdict
YourCause is an excellent choice for companies looking to grow globally and easily track their workplace giving and grantmaking programs. They have yet to enable auto-submissions for matching gifts, though it's not off the table for future software expansions.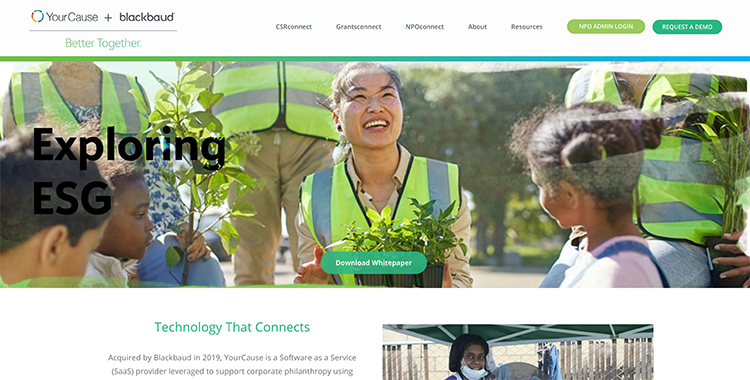 Additional Resources
We hope we've given you a great starting point for finding the best corporate giving software for your company. If you're looking for more information about corporate giving and the tools available, check out the resources below: