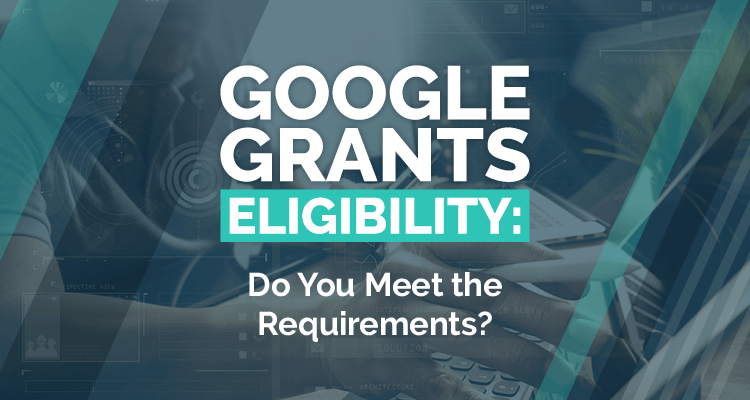 Looking to make your organization's website easy for donors to find? Google Ad Grants might be the perfect way for your nonprofit's website to gain traction.
If your organization meets the requirements for Google Grants eligibility, then the Google Ad Grants program will give your nonprofit $10,000 a month to spend on Google Ads. Putting this grant to good use can spark a variety of benefits for your organization, including driving more traffic to your website and increasing donations. However, the program stipulates several requirements that organizations must meet to make sure that those who apply will benefit from the program.
Looking for quick answers? Here's what we'll cover:
If your organization is new to Google Ad Grants, there are tons of helpful resources available to help you get started. But if setting up and managing your account seems like a daunting task, you might want to turn to a professional Google Grants agency to help you out. We'll explore the role a professional can play in Google Grants management later on, but for now, let's dive into the basics.

What are Google Grants?
Google Grants is a program that Google runs to provide eligible nonprofit organizations with $10,000 a month for ad spending. Nonprofits can use these funds to bid on keywords to ensure that their websites rank highly on the results pages displayed when users search for those keywords. These ads have gone by a number of different official and unofficial names over the years, so you may also see this program referred to as:
Google AdGrants
Google AdWords Grants
Google Ads for Charities
Let's walk through an example. If you're passionate about ending the climate crisis and are looking for a place to donate, then you might conduct a Google search for "fight climate change" or "end the climate crisis." Mission-related terms like these are keywords that organizations can bid on with funding from Google Ad Grants. In turn, you as a donor will be directed to a donation page where you can easily contribute to the nonprofit.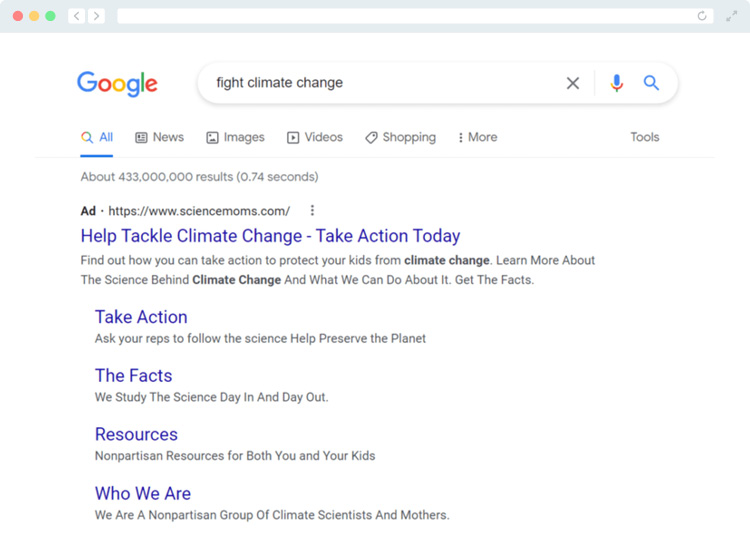 Benefits of the Google Grants Program
The Google Grants program provides several benefits for your organization, including:
Expanded online visibility and reach
More traffic to relevant pages on your website
Free promotion to potential donors and supporters who've expressed interest in your mission
Increased donations, event registrations, volunteer signups, and email subscriptions—whatever target action you want to promote
If you use your Google Grant funding strategically, the possibilities are endless for the goals your organization can achieve. All you need to do is make sure you meet the Google Grants requirements and apply.

Google Ad Grants Requirements
Eligibility for Google Grants is determined by a number of key characteristics. This ensures that the program can actually serve its purpose—providing actual charitable organizations with funding to promote their work—cutting off any dishonest actors looking to benefit from the grants and maintaining the program's overall integrity and sustainability.
Although there are several important requirements to meet, none of them are out-of-reach or challenging for an average charitable 501(c)(3) nonprofit organization.
The first, most general requirements you must meet to receive Google Grants are:
Be currently registered as a valid 501(c)(3) nonprofit or equivalent in your country.
Be registered with Google for Nonprofits and TechSoup, Google's partner platform through which the grants are facilitated.
Agree to all nondiscrimination and donation receipt requirements in the Google Grants application.
Have and maintain a functional website with valuable content that is substantial, i.e. more than just a bare mission statement and contact info.
Within these criteria, Google will look for more specific markers. Getting Attention rounds them up in this infographic: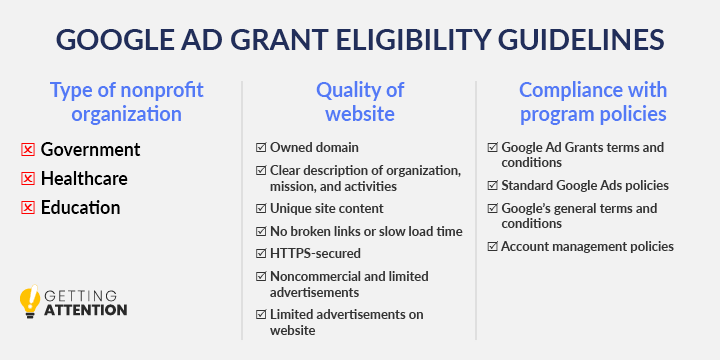 Type of nonprofit organization
Nonprofit organizations in the government, healthcare, and education sectors are not eligible for Google Ad Grants. However, these types of organizations are often eligible for other in-kind Google services and tech grants—do your research to find the opportunities best suited for your sector.
Quality of website
Google must ensure that its ads direct users to websites that are high-quality and satisfy the users' search intents when they click through. A website that is misaligned with what users expect or that offers an unappealing user experience is unlikely to see positive results from Google Ads, which reduces the program's overall effectiveness and impact. The specific criteria that Google looks for to determine website quality are discussed below.
Policy compliance
Policy compliance ensures your application will be accepted and that you'll maintain good standing to continue receiving the Google Grant over time. These include program terms and conditions, standard policies that apply to all Google Ads, Google's general terms and conditions for use, and account management policies that cover data security. Working with a Google Ad Grants management service can take the guesswork out of long-term compliance.
See the frequently asked questions below to learn more about these criteria and other key considerations to keep in mind.
Other Google Grants eligibility FAQs
What else do you need to know before applying for Google Ad Grants? Here are a few common questions that nonprofits have as they get started.
How Easy Is It to Get a Google Ad Grant?
While all the potential benefits of a Google Grants account can sound really enticing, it's important to make sure your organization fits the Google Grants requirements before you get ahead of yourself. We'll go through the specifics of Google Grants eligibility starting in the next section.
If your organization is eligible for the Google Grants program, then obtaining a Google Ad Grant is simple. We'll walk you through it step-by-step in the next section. And once you're set up, the grant will automatically renew each month, making it easy to manage.
While the process of getting a Google Ad Grant is quite easy, your organization might be overwhelmed with other tasks. To simplify the Google Ad Grant management process even further, you can hire a professional agency to help you along the way. These agencies are there to pick up the slack where it's needed. That way, your organization can ensure that it's reaping all the benefits of its Google Ad Grant account.

Which Types of Organizations Are Eligible for Google Grants?
Now that you know it's easy to get a Google Ad Grant, it's time to figure out if your organization is eligible. In order to meet the Google Ad Grant eligibility requirements, your organization must first be a registered charitable organization. For U.S.-based organizations, that means you'll need to be classified as a tax-exempt 501(c)(3) organization with the IRS. The program requires TechSoup to verify your organization as a registered nonprofit.
Additionally, your organization must meet any unique eligibility requirements of your country. For example, in Canada, organizations must also be (1) charities; (2) tax-exempt non-profit organizations operating on a nonprofit basis for the public benefit; (3) federal not-for-profit corporations; or (4) provincial non-profits. The last general requirement for eligibility is to agree to the Google for Nonprofits Terms.
Despite these requirements, there are some types of organizations that are automatically ineligible for Google Grants. Ineligible organizations include:
Governmental agencies/organizations
Hospitals and healthcare institutions
Schools, academic institutions, and universities
If your organization falls under the last category, Google provides a separate option called Google for Education.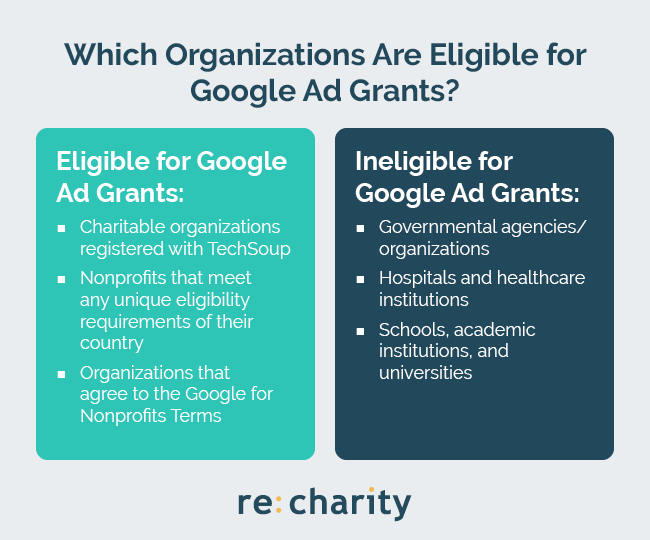 What Google Grants Eligibility Requirements Should My Website Meet?
Once you've determined that your organization is eligible for Google Grants, you must also make sure your organization's website aligns with certain requirements as well.
In order to be eligible, your nonprofit's website must:
Be owned by the organization itself
Clearly state the organization's purpose
Feature up-to-date information
Have original content
Load quickly
Be secured with HTTPS
Not be for the purpose of commercial activity
Only contain relevant ads
These Google Grants requirements are also general tips for driving more traffic to your website, so they're definitely important to adhere to.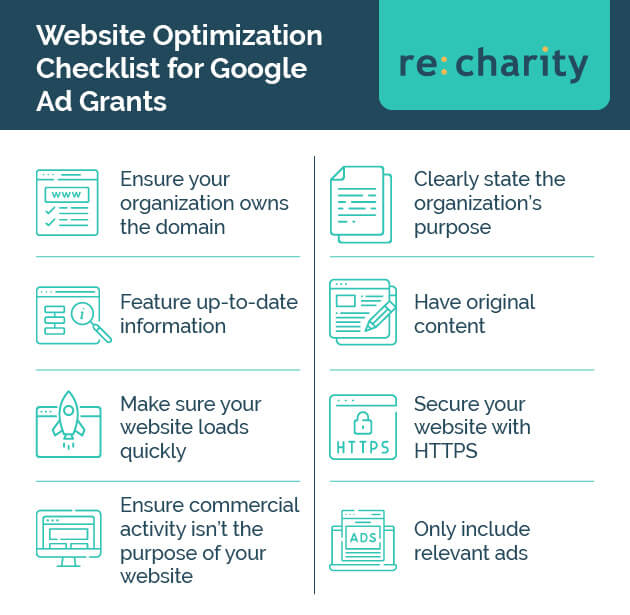 Can My Organization Lose Its Google Grants Eligibility?
In certain circumstances, organizations can lose their Google Grants eligibility if they are not compliant with the program's rules on a monthly basis. Depending on the infraction, Google may choose to temporarily or permanently suspend an organization's Google Grants account.
Here are some of the compliance requirements:
No single-word keywords (however, there are a few exceptions)
No generic keywords without user intent identified
No keywords with a quality score of 1 or 2
5% monthly click-through rate (CTR)
Accurate conversion tracking with at least 1 conversion per month
At least 2 ads per ad group and per campaign
At least 2 sitelink ad extensions
Annual program survey response
To make sure your account stays active, you'll want to remind yourself of these requirements and check your account regularly. Google will let you know if and why any element of your account falls out of line. That way, you can quickly correct the infraction and maintain your Google Grants eligibility.

How do I apply once I determine my Google Ad Grants eligibility?
Determining your eligibility is only the first step in obtaining your Google Grant. Next, it's time to complete your application. Luckily, the Google Grant application process is pretty straightforward, and we're happy to walk you through it.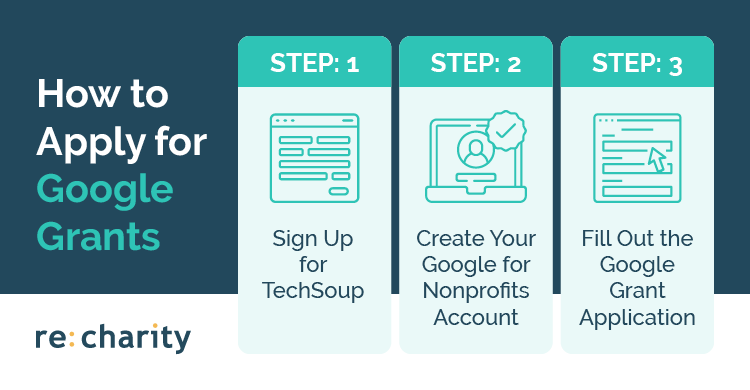 Step 1) Sign Up for TechSoup
First, you will need to sign up for TechSoup. TechSoup works with companies to grant nonprofits access to technology and resources for free or at discounted rates. They will verify that your organization is a nonprofit within 2-14 business days of signing up. This step is crucial in proving your nonprofit's legitimacy to Google, so they'll know you'll actually benefit from the Google Grant program.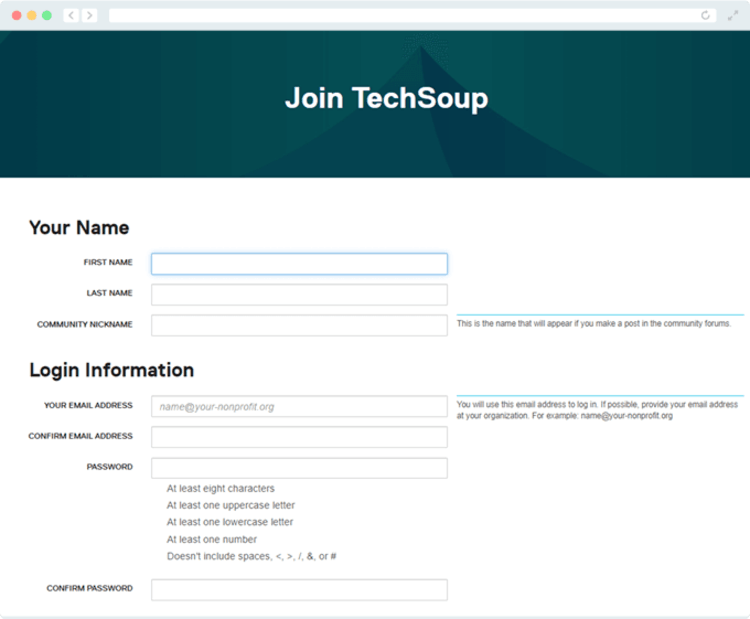 Step 2) Create Your Google for Nonprofits Account
Next, you must create a Google for Nonprofits account in order to access the Google Grant application. This is where the TechSoup validation code comes in. You'll need to provide the validation token to Google along with your organization's tax identification number. Once Google approves your account, they will send you an email and allow you to activate your account.
Google Ad Grants isn't the only service Google for Nonprofits provides. There's also Google Workspace for Nonprofits, the YouTube Nonprofit Program, and Google Earth and Maps for additional needs your nonprofit may have.
Step 3) Fill Out the Google Grant Application
Lastly, it's time to fill out the application itself. You'll want to start by logging into your Google for Nonprofits account. To navigate to the Google Ad Grants section, click "Products" and then "Get Started" under Google Ad Grants.
Next, fill out the Google Grants eligibility form that opens. This form requires basic information such as:
Your organization's name
Your nonprofit's website URL
Any goals you would like to achieve by participating in the program
Once you've finalized that information, click 'Submit.' After filling out the eligibility form, go back to the Google for Nonprofits homepage and click the box that indicates you've completed the form. In order to have your organization reviewed, you must click 'Activate.'
It typically takes a couple of business days for the Google Ad Grants team to review your application. Once they approve it, they will send you an invitation to accept. The team will also send you a billing profile that you need to accept. Once you've accepted both invitations, you will receive funding from Google Ad Grants and will be able to start creating your campaigns!
Can a Professional Confirm My Google Grants Eligibility for Me?
If you're feeling a little overwhelmed by all that information, that's okay! There are Google Grants agencies that are dedicated to helping you through every step of the process, including confirming your Google Grants eligibility and completing the application.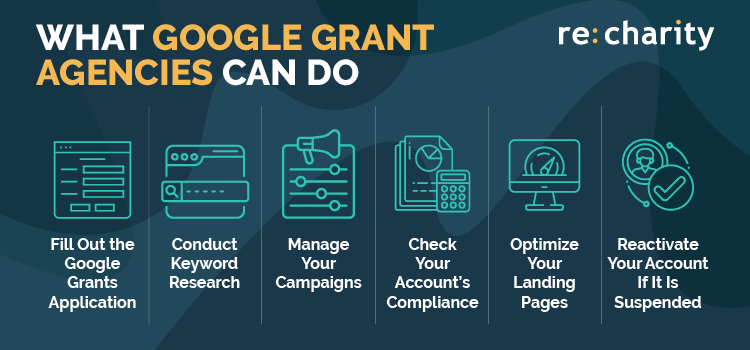 Google Grants agencies can:
Fill out the Google Grants application. Google Grants agencies can easily confirm your Google Grants eligibility and then complete the Google Grant application for you. Since they have experience with the application, they can fill it out efficiently, allowing your organization to get approved faster.
Conduct keyword research. Once they know more about your organization, a professional Google Grants agency can identify important keywords to target in your campaigns to make sure your site is appearing in relevant search results.
Manage your campaigns. Your campaigns will start to generate a lot of useful data that experts can easily track, analyze, and report to you when necessary. Having access to this data will also allow an agency to identify where your content could use some help and adjust it as needed.
Check your account's compliance. We listed out the program's compliance requirements before, and the list is fairly long. Google Grants agencies remove the responsibility of your organization to remember and uphold all of those requirements. Instead, an agency will check your account is compliant with all of the requirements to avoid the deactivation of your account.
Optimize your landing pages. While the grant from the program is completely free to your organization, that doesn't mean you want it to go to waste. Another way Google Grants agencies can make sure you're getting the most out of the program is by redesigning your landing pages to increase traffic and conversion rates.
Reactivate your account if it is suspended. Although a professional agency will stay on top of your account's standing, sometimes a violation will slip through, or the requirements of the program could even change. Regardless of the nature of an account suspension, a Google Grants agency can help you quickly reactivate your account so you can continue to access all of the benefits the program has to offer.
Whether your organization is preoccupied with other projects or just wants experts to handle its account, professional agencies are a great resource for guiding you through the process.
Schedule a Free Consultation with Getting Attention
Learning More about Google Ad Grants
If you've already determined you're eligible for Google Grants, go ahead and apply! The quicker you apply, the quicker your organization can reap the benefits of the program. And if you're looking for some extra help with the process, reach out to a Google Grants agency. They will be more than happy to help you determine your eligibility and get the application process started.
Whichever route you choose for joining the program, Google Grants are a great way to boost your organization's online presence at no cost. To make the most out of your funding, check out the resources we've provided below: