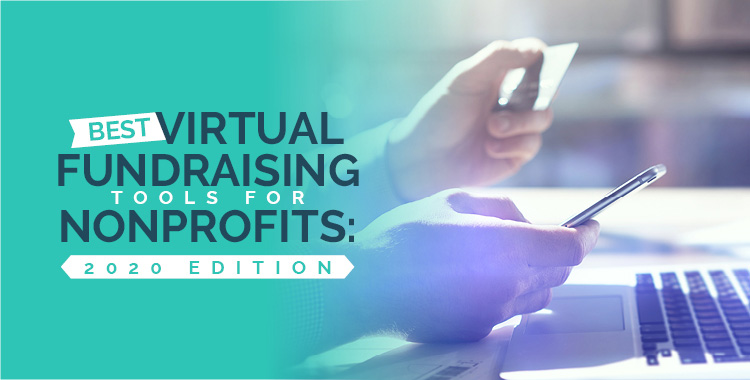 As a fundraising professional, you've likely experienced many recent changes in trends that greatly impact your nonprofit's ability to raise funds. No one can have anticipated the growing health and economic concerns due to COVID-19. The CDC suggests that everyone practice safe social distancing and stay at least 6 feet apart from others.
Here at re:Charity, we support organizations taking these precautions and encourage their continuation in order to promote a healthy society. However, there are noticeable impacts on how organizations will continue operations.
Nonprofits and other charitable organizations are feeling the effects of these new recommendations in full force. Events are canceled and donors are rethinking if they should make a gift this year. But this doesn't mean you should pause all fundraising efforts. As this transition continues, the need for virtual fundraising tools has increased exponentially. With comprehensive fundraising software solutions available, you can now direct almost all of your efforts to the virtual space.
While face-to-face fundraising is the preferred method for personalization in the best of times, don't make the mistake of solely depending on these types of efforts and in-person events. Virtual fundraising can be just as effective, especially with 90% of Americans being active internet users, compared to the year 2000 when only 52% of Americans were online. 
It's important to ensure you flesh out your virtual fundraising toolkit so that you can reach more people as well as prepare for a world where most interactions have to be digital. This guide will explore the top virtual fundraising tools your nonprofit will need, broken up into these 3 categories:
You can use the navigation above to jump to the section that most interests you or follow along from the top. Let's get started!


Virtual Fundraising Tools and Software
Taking the steps to transition your core fundraising efforts to a purely digital space is more crucial now than ever. You've likely already had to cancel upcoming campaigns which may have resulted in a loss of your projected fundraising revenue.
However, if you pause all fundraising efforts, you risk donor attrition and lose out on the relationships that your nonprofit has already worked so hard to develop. If your donors still want to give, they should be able to in a seamless and streamlined process.
This isn't the time to continue to rely on generic platforms like PayPal that aren't specific to nonprofits. Consider the following top virtual tools to help a variety of fundraising efforts:
Donate Kindly: Best Virtual Fundraising Tool for Free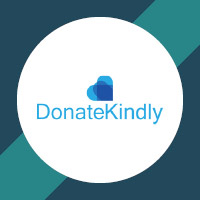 Overview of this Virtual Fundraising Tool
If you're looking for a straightforward solution to collect and process online donations without breaking the budget, Donate Kindly is a top choice for many. Donate Kindly is simple to use by staff and donors alike.

You can easily customize your online donation form and embed it into your CMS for a seamless giving experience. It takes less than 5 minutes to set up and you can start accepting online donations immediately.
Donate Kindly also centralizes all of your donations and supporter information in one place. This way, you can better analyze fundraising data and keep track of important trends!
Pricing
Donate Kindly is unique in that there are no additional fees when you use the platform. Their only associated fee is a competitive 2.9% + $0.30 payment processing fee. Check out their pricing page to learn more.
Why It Made Our List
Donate Kindly is a convenient solution for all. Donors will love that they aren't directed to a third party to enter their payment information. Plus, staff members will appreciate the intuitive interface. If your nonprofit finds itself struggling to take their fundraising efforts digital, Donate Kindly is one of the most uncomplicated tools you can easily take advantage of!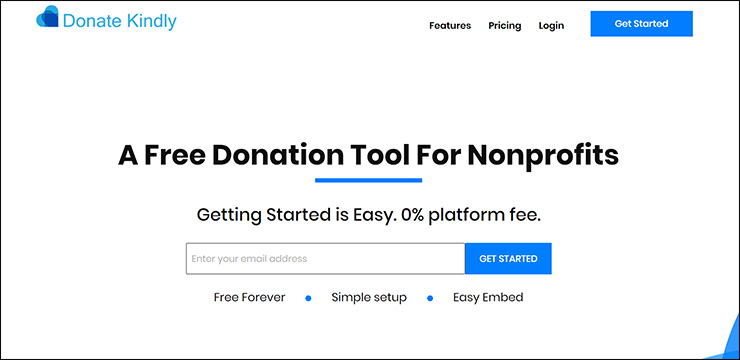 Soapbox Engage: Best Virtual Fundraising Tool for Salesforce Users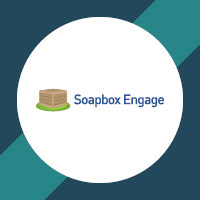 Overview of this Virtual Fundraising Tool
If your nonprofit depends on the Salesforce CRM, Soapbox Engage provides a set of comprehensive and convenient solutions to meet all of your needs. From basic fundraising to advocacy campaigns, you can conduct any effort using the various Soapbox Engage apps.
Easily process online donations, facilitate event registrations (even for virtual events!), and take advantage of the Salesforce interface! A solution like Soapbox Engages works to meet any of your fundraising needs.
Pricing
There are multiple pricing plans and add-ons that your nonprofit can take advantage of. You can choose to invest in specific apps or choose their unlimited solution for as low as $199/month.  Check out their pricing page to get a better sense of what the best plan would be for you.
Why It Made Our List
Soapbox Engage is a top virtual fundraising tool because it provides one of the most comprehensive solutions for nonprofits. It can be complicated having a collection of different tools from different providers make up your virtual fundraising system. Keep it simple and connected. With Soapbox Engage, you can rest assured that all your data is streamlined into your trusty CRM.
Check Out Soapbox Engage's Virtual Fundraising Ideas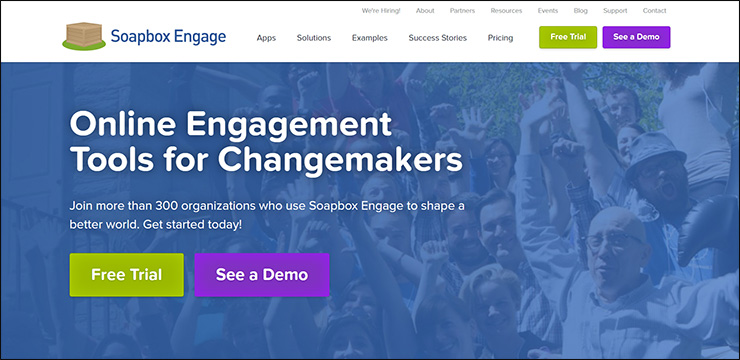 Double the Donation: Best Virtual Fundraising Tool for Matching Gifts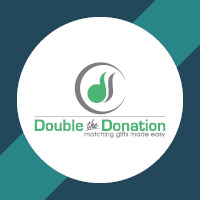 Overview of this Virtual Fundraising Tool
Double the Donation is the top matching gift tool for fundraisers. Corporate philanthropy is an underutilized fundraising effort, with an estimated $4-$7 billion in matching gift funds going unclaimed each year. This is mostly due to a lack of public information from both nonprofits and employers. Oftentimes, eligible donors don't even know about the program available to them.
With Double the Donation, donors can either simply look up their employers as they're making an online gift or your nonprofit staff can use it to look up donors' employers yourself, then email supporters to inform them of their eligibility. From there, donors receive all the relevant information they need, like program guidelines and due dates.
If you have a larger organization, a completely automated matching gift solution like 360MatchPro might be even better. This way, you don't even have to do the majority of the work as the tool automates each step of the process.
Pricing
Depending on the size of your organization, you can choose from the basic pricing plan of $499/year or the 360MatchPro option, starting at $3,000/year. Learn more from their pricing page.
Why It Made Our List
As discussed earlier, matching gifts is an untapped goldmine for gifts. Your nonprofit can raise more without asking supporters to dig deeper in their pockets. If you have eligible donors who have already made a gift, they might still be able to submit a matching gift request. Make sure they know that this is an option for them!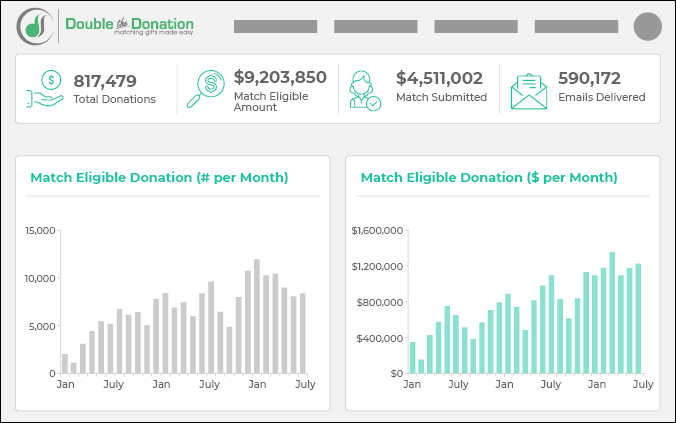 DonorsChoose: Best Virtual Fundraising Tool for Education Professionals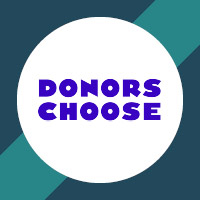 Overview of this Virtual Fundraising Tool
DonorsChoose is a crowdfunding platform catering to helping schools and educators. It's not a secret that many schools and other educational institutions are in great need right now. Due to the global pandemic, most kids are either continuing their education through remote learning from home or having to rely on their parents to teach. DonorsChoose can help educators by either providing resources to those learning from home, sanitation equipment to disinfect schools, or better supplies when schools do decide to reopen.
To start a project on DonorsChoose, you simply have to go on the website and follow the simple process: request the needed items, raise funds on DonorsChoose, and then receive the items. 
Pricing
It does not cost any money for a teacher to start a project that needs to be funded on DonorsChoose. And because DonorsChoose prioritizes transparency, you know that 95% of your funds raised will go towards your mission, with the rest going to general and administrative costs.
Why It Made Our List
With DonorsChoose, teachers from across the country can request much-needed materials and experiences for students. For instance, some teachers are using DonorsChoose to help provide students with the materials to continue online learning. This could mean computers, booklets, and other school supplies. This is especially crucial now, where many won't have any access to classroom resources and would otherwise have to stop their education altogether.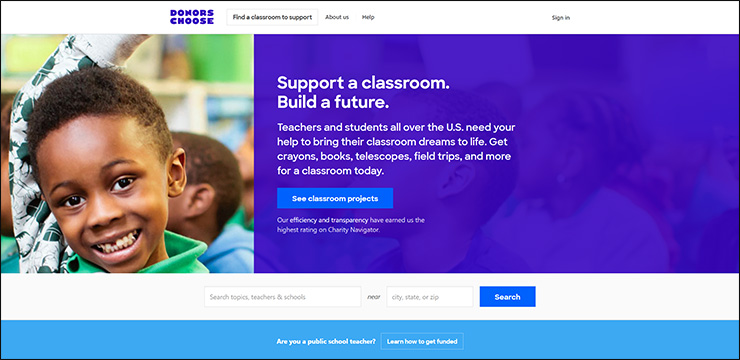 Bloomerang: Best Virtual Fundraising Tool for Donor Management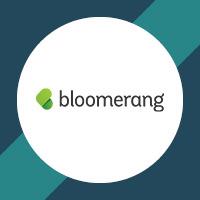 Overview of this Virtual Fundraising Tool
Bloomerang is a popular fundraising tool for any sized nonprofits. From this platform, your nonprofit can easily manage donors and funding with comprehensive dashboards. The Bloomerang dashboard allows nonprofits to visualize donor data trends, create insightful reports, and even view giving summaries for each of your supporters.
Not only can you better interpret donor data with Bloomerang, you can use those insights to optimize email communications and engage your donors in more meaningful ways. This ensures that you keep up your most important donor relationships and continue to meet their needs. 
Pricing
Bloomerang's pricing plan is simple and straightforward. Bloomerang starts with a free solution so that organizations can try out the interface, and then the pricing is scalable based on what tools and features your nonprofit needs. Head on over to their pricing page to learn more.
Why It Made Our List
It's never been more important than now to have donor management software that helps you retain donors. COVID-19 has caused an unprecedented impact on whether donors give or not. With small businesses having to close their doors and unemployment rates on the rise, it's crucial that you continue building and nurturing donor relationships to ensure you don't lose more supporters than you need to. This way, down the line, you won't have to waste as much effort acquiring new donors.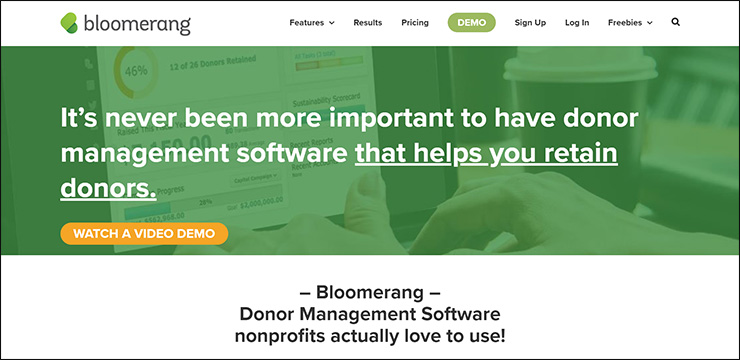 Snowball: Best Virtual Fundraising Tool for Mobile Giving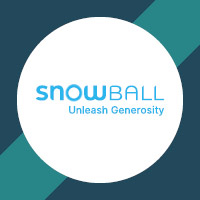 Overview of this Virtual Fundraising Tool
If you want to increase your mobile fundraising and text giving rates, Snowball is the right solution for you. When you invest in Snowball's fundraising platform, you have access to its vast mobile giving capabilities. Donors can give from anywhere with just a simple text to a predetermined phone number set by your nonprofit.
Snowball lets you create as many different keywords and phone numbers as you need for each campaign. You can even track donations in real-time! You can further encourage donations with a fundraising thermometer representing how close you are to your goal.
Pricing
Snowball has multiple pricing plans depending on how comprehensive you want your fundraising solution to be. Starting with the Essentials, your plan can be as low as $0/year. Learn more on their pricing page.
Why It Made Our List
With social distancing best practices and the recommendation to self-quarantine, you likely have to redirect your normal fundraising efforts of in-person events and face-to-face engagements. Snowball opens up a whole new channel of giving and empowers your tech-savvy supporters. And honestly, your supporters are going to be on their phones much more than they usually are anyway.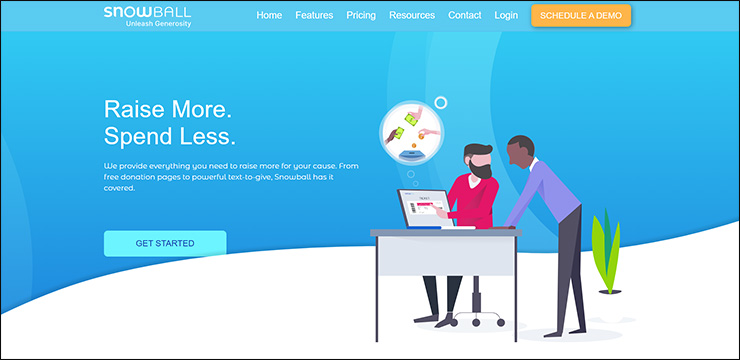 Tools for Virtual Fundraising Events
It can be extremely upsetting to cancel future fundraising events that you and your team have worked so hard to plan. Not only are you missing out on a large chunk of revenue, your donors don't get to participate in the event activities that they were also looking forward to.
However, this doesn't have to be the end of the world. With video streaming, live chats, and the accessibility of the internet, it's time for a new fundraising trend to emerge: virtual events. 
Virtual events have already begun popping up here or there, but it was probably in conjunction with a live event. That's why we're going to review the best tools to fully bring your nonprofit experiences to a purely digital format:
OneCause: Best Virtual Fundraising Tool for Auctions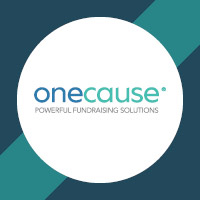 Overview of this Virtual Fundraising Tool
OneCause is a powerful fundraising solution helping nonprofits plan and manage their events. Historically, auctions only worked as a live event due to its need for item procurement, real-time bidding, and check-out process. For fundraising auctions, nonprofits have to collect auction items and properly display them, allow attendees to competitively bid on objects, and facilitate the payment. 
With OneCause, you can take your auction experience and transfer it to a completely digital platform. OneCause provides a virtual bidding tool that allows auction guests to bid on their object of desire from wherever they are— even their home. The check-out process is a breeze, letting guests pay and instantaneously check-out from the app. With OneCause, it's also way easier to track auction solicitation and package items. Ensure that the items still make it to the top bidder!
Pricing
Depending on if you just want OneCause's online auction software or their other offerings as well, your pricing plan will change. Learn more on their pricing page here and request quotes for the tools you're most interested in.
Why It Made Our List
OneCause provides a convenient solution to nonprofits who've had to cancel or postpone auctions this year. This is especially helpful if you've already procured your auction items— it'd be a waste of resources if you didn't find a way to bid them off! Continue to raise money even while bidders are in the comforts of their own home.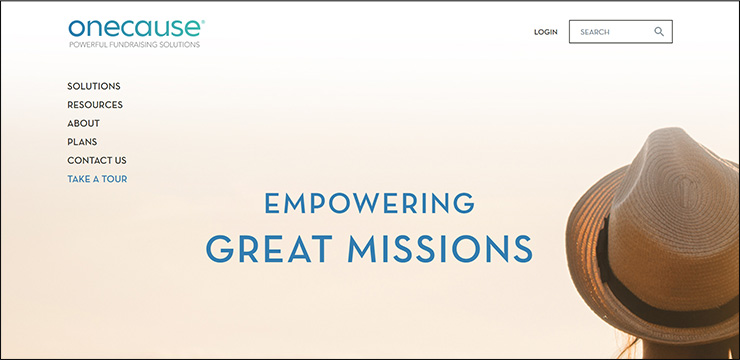 Regpack: Best Virtual Fundraising Tool for Event Registration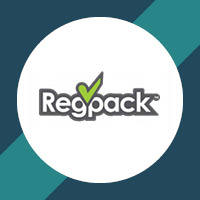 Overview of this Virtual Fundraising Tool
Regpack is an event registration software designed to help organizations increase attendance to its virtual events. With Regpack's virtual event registration solution, you can rest assured that every step of the process is optimized and streamlined to maximize success.
Regpack allows you to customize your online registration to ensure that your branding is consistent, your form asks all the right questions, and each payment is securely processed. Even further, with Regpack's conditional logic software, you know that each registration process is personalized to the user. As each registrant fills out each field, the form can change based on the answers given.
Regpack also has accurate automation and communication tools to make the virtual event registration process even easier. Send out your Zoom, Livestream, or pre-recorded video link to all registered attendees! You can even segment your attendees to target your emails based on registration status and send them the steps to participate in your virtual event.
Pricing
If you're curious to see if Regpack is the virtual event registration tool for you, head on over to their pricing page! Their starter annual plan is only $89/month!
Why It Made Our List
With in-person events canceled, the need for virtual events has increased now more than ever. Organizations and nonprofits alike need to continue to engage their supporters to ensure retention down the line. However, not just any registration tool will meet all the unique needs for virtual events. It's important that you invest in dedicated software for virtual events in order to maximize attendance and registrant satisfaction.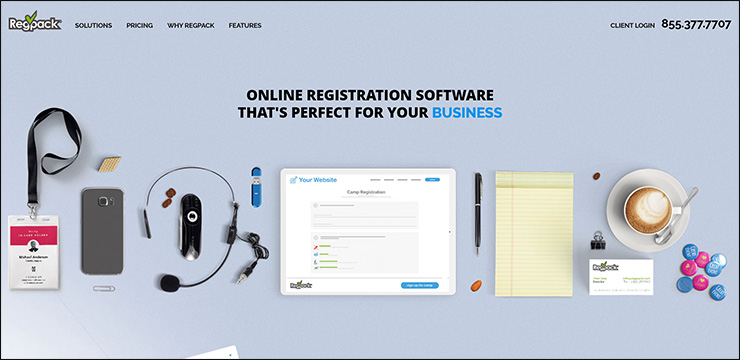 Zoom
: Best Virtual Fundraising Tool for Video Conferences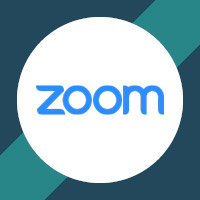 Overview of this Virtual Fundraising Tool
As schools move to remote learning and businesses are encouraged to work from home, Zoom has risen as a popular video conferencing tool. All Zoom accounts allow up to 100 participants in a single video conference, allowing organizations to engage many people at once.
If your nonprofit hosts an event that involves a lot of attendee engagement, Zoom can be a good substitute for face-to-face interactions in this digital era. Participants just need to access a Zoom link and can immediately engage in the activity!
Pricing
It's free to make a Zoom account! If your organization wants additional features regarding reporting, hosting, recording, and extended video conference times, you may consider the Zoom Pro plan for $14.99/month or the Business plan for $19.99/ month. To learn more about the features associated with different plans, check out Zoom's pricing page.
Why It Made Our List
Zoom is a great way to facilitate face-to-face engagements without actually having to physically be together. With its large maximum of video participants, you can host virtual events and speakers with only a Zoom account and a webcam. Additionally, it's a great way to keep in touch with some of your most important supporters— your major donors. They'll appreciate the face-to-face interaction and it's a great way to continue those relationships.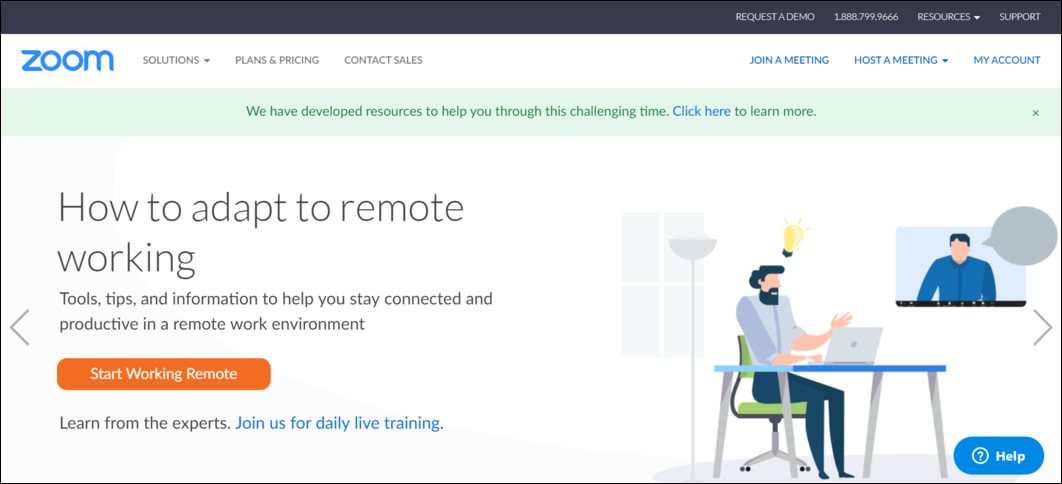 Instagram Live
: Best Virtual Fundraising Tool for Live Streaming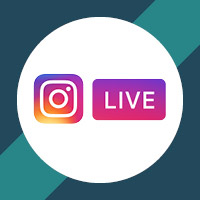 Overview of this Virtual Fundraising Tool
Instagram is a popular social media platform for image and video sharing. If you don't already have an Instagram account for your organization, consider making a free one. Instagram Live is a social sharing feature that allows account users to livestream to their followers with a touch of the button.
To show supporters what your organization is doing in real-time, Instagram Live is a great tool that's also simple to use.
Pricing
It's free to create an Instagram account. You simply need an email and a username. You can also use Instagram ads to boost engagement on this social media platform! To learn more about that, check out their Advertising page.
Why It Made Our List
Instagram Live is a great feature because not only is it free and simple to use, you can also reach an incredibly wide audience with ease. Update supporters on your organization's next steps by sharing exactly what you're doing— live!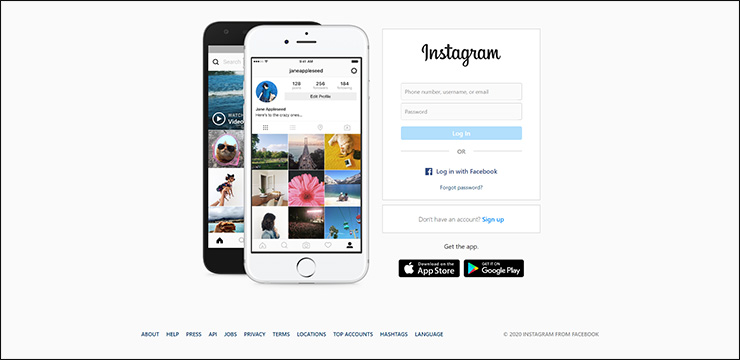 Digital Marketing Tools for Nonprofits
While you probably shouldn't continue your usual fundraising asks, this also isn't the time to pause donor engagements altogether. Your donors will look to you for guidance and will want to know your organization's next steps during the pandemic. 
Make sure you check in with supporters and ask them how they're doing during these stressful times. Donor engagement, even if it results in no gifts, is crucial in a time like this so that you don't need to start from scratch when the pandemic ends. It's way more beneficial and cost-effective to retain donors than waste resources trying to acquire more to replace them later on. Keep up good communication practices and make sure you're using the top digital marketing tools to do so.
Bonfire: Best Virtual Fundraising Tool for Merchandise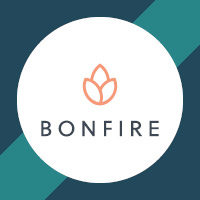 Overview of this Virtual Fundraising Tool
If your organization wants to create branded merchandise, Bonfire is your best bet. Bonfire is a powerful t-shirt design and fundraising tool that allows organizations and individuals to create merchandise and then sell it to raise money for a cause. 
Using Bonfire is simple. You can either use the platform to make a design or upload your own design to be featured on a t-shirt, sweatshirt, mug, or other merchandise item of your choice. Promote your t-shirt on social media and email newsletters to spread the word and get your supporters excited about supporting your organization. Bonfire will create the shirts and ship them straight to the buyer! They'll be thrilled to sport their favorite organization and help a good cause.
Pricing
Bonfire's price is dependent on the number of t-shirts you ultimately sell. Check out their pricing calculator to get a good sense of what it would cost.
Why It Made Our List
Not only is selling t-shirts a great way to raise money, but it's also a great way to spread awareness of your mission. Make sure the t-shirt you design reflects your fundraising cause accurately. This way, whenever someone wears it, they'll be promoting your organization proudly. Encourage your buyers to post pictures wearing the t-shirt on social media using your nonprofit's hashtag to further increase brand awareness, especially if most of your supporters are at home quarantined.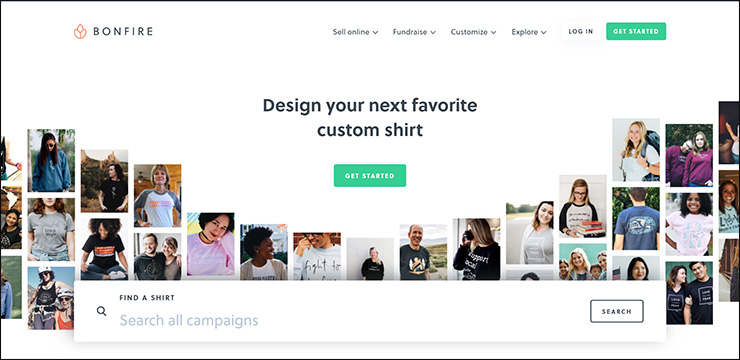 Fundraising Letters: Best Virtual Fundraising Tool for Letter Templates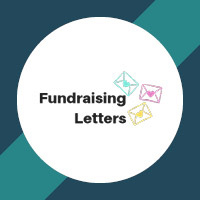 Overview of this Virtual Fundraising Tool
Fundraising Letters is a website with all of the fundraising letter templates you'll ever need. Broken up by fundraising letter types, you can either browse more general fundraising letters to matching gift letters to even donor acknowledgement letters! Fundraising Letters provides assistance along every step of the donor engagement process.
Any organization can take advantage of these fundraising letter templates. There are templates for animal shelters, large nonprofits to small nonprofits, and even for sports teams. Just download the template and then tweak it to fit your situation.
Pricing
Fundraising Letters is free for anyone to use. Browse each section by fundraising letter type, or download them all here!
Why It Made Our List
In times like this, determining the best way to communicate with supporters can be difficult. Just remember to be mindful of their situation and understand that they are also impacted by the unprecedented events. These fundraising letter templates can definitely give you a headstart and some clues to the best way to phrase your fundraising asks and other donor engagements.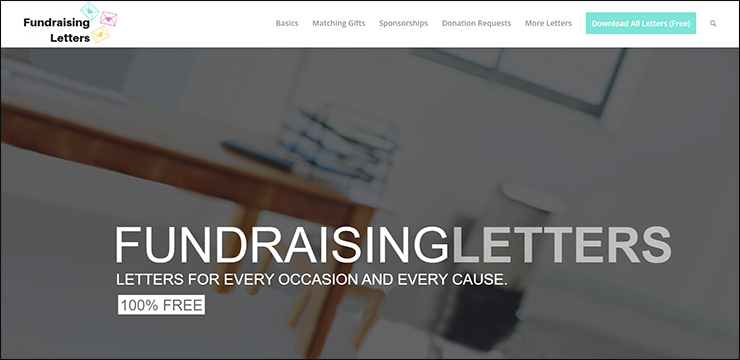 Hootsuite: Best Virtual Fundraising Tool for Social Media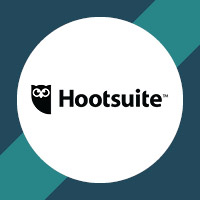 Overview of this Virtual Fundraising Tool
If your organization has multiple social media accounts and a strong online presence, Hootsuite is a great tool. With Hootsuite, you have a comprehensive dashboard where you can view all social media engagements. This way you can schedule posts in advance, choose which platform to post it on, and even analyze marketing data in realtime.
With over 30 connections to different social media platforms, you can connect with your supporters anywhere you like. Any organization can take advantage of Hootsuite, and so can your nonprofit!
Pricing
Hootsuite offers multiple pricing plans, starting as low as $29/month. To see which would best for your needs, check out their plans.
Why It Made Our List
As more of your supporters stay home, the more active they'll be on social media. Almost seven-in-ten Americans are active social media users, so don't miss out on this engagement channel. With Hootsuite, you can connect with your supporters no matter where they are and in different mediums.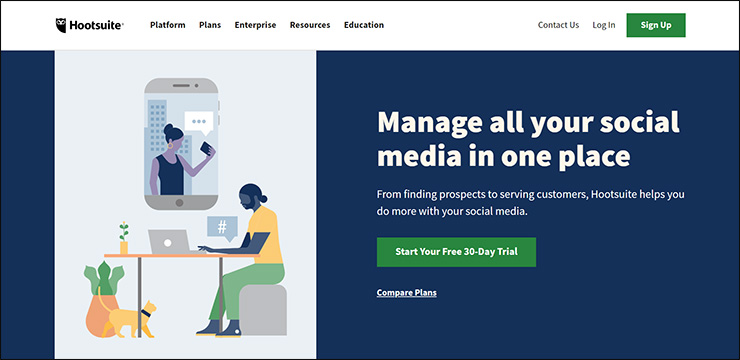 Fundly: Best Virtual Fundraising Tool for Crowdfunding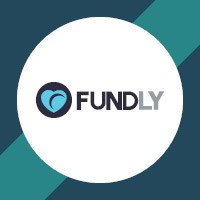 Overview of this Virtual Fundraising Tool
Fundly is a popular and powerful crowdfunding platform. Crowdfunding is a fundraising campaign that takes advantage of the wide reach and shareability of social media platforms. You simply create an online donation page explaining your crowdfunding campaign, goal, and mission. Then, promote the page on social media platforms and encourage your supporters to share it as well. 
Fundly lets you customize your crowdfunding page with images and videos to better emphasize the needs for funds. You can instantly share your Fundly page and quickly start raising money! It's a great way to collect funds while simultaneously spreading awareness about your cause.
Pricing
Fundly has a simple platform fee of 4.9%, as well as a credit card processing fee of 2.9% and a $0.30/transaction fee. Learn more on their pricing page.
Why It Made Our List
It can be hard raising money during this time, and even harder having to ask your supporters for money. With Fundly, you can post your crowdfunding campaign on the Fundly website for additional promotion. This way, those who are already on the site know they want to donate and can easily see your campaign and make a gift!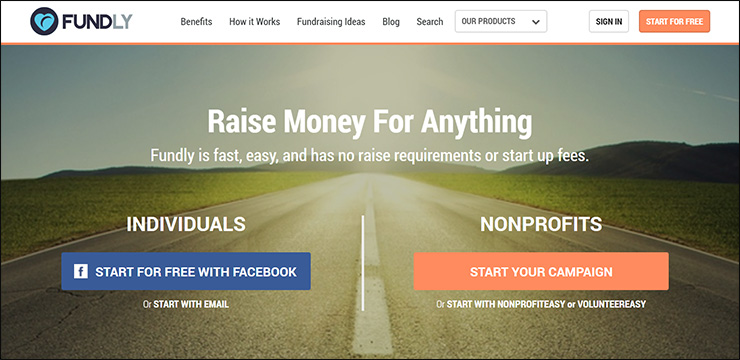 Morweb: Best Virtual Fundraising Tool for Websites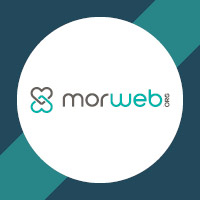 Overview of this Virtual Fundraising Tool
With everyone practicing safe social distancing and staying home, this is a great time to spruce up and optimize your organization's website. Morweb is a powerful content management system (CMS) that can help you create the best nonprofit website for your organization.
Morweb has easy drag-and-drop features so your staff members can easily make edits to your page, even if they're not expert coders. Additionally, everything is automatically mobile-responsive so all visitors can view the pages with ease no matter the device they're using. With Morweb, you can have multiple templates to choose from, and other customizability features to make sure your website is unique and beautifully designed.  
Pricing
Morweb's plans and solutions are for organizations of any size, starting at just $99/month with all the essentials. Check out which one is best for you here.
Why It Made Our List
While there are a lot of great website builders out there, Morweb is designed specifically for nonprofits and associations. With these specific templates, you know that your site will be designed with fundraising in mind. Easily embed your online donation forms and even set up a fundraising blog!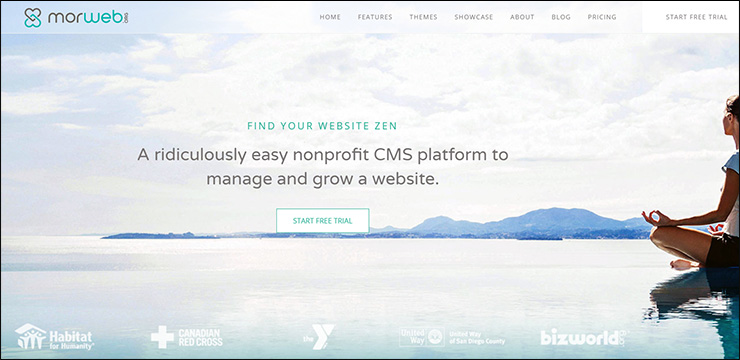 Constant Contact: Best Virtual Fundraising Tool for Email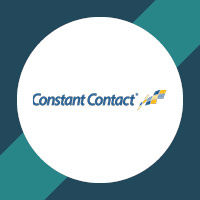 Overview of this Virtual Fundraising Tool
Constant Contact is a great email marketing tool that your organization can easily use. With Constant Contact, you can create email campaigns with just a couple of clicks, with email automation and email schedule tools.
You know your audience is only getting the emails they care about with Constant Contact. Segment your email recipients on the Constant Contact platform to ensure that each engagement is personalized and relevant. Keep your audience engaged and grow meaningful relationships with Constant Contact!
Pricing
Constant Contact offers a free trial, and then different pricing plans based on what you want. Their basic Email plan starts at $20/month and their Email Plus plan starts at $45/month! The rest depends on how many contacts you have. Check the specifics out here.
Why It Made Our List
Without any face-to-face interactions, your main platform for engagement is likely going to be email. To ensure donor engagement and increase retention down the line, it's important that your nonprofit invests in a capable email marketing tool.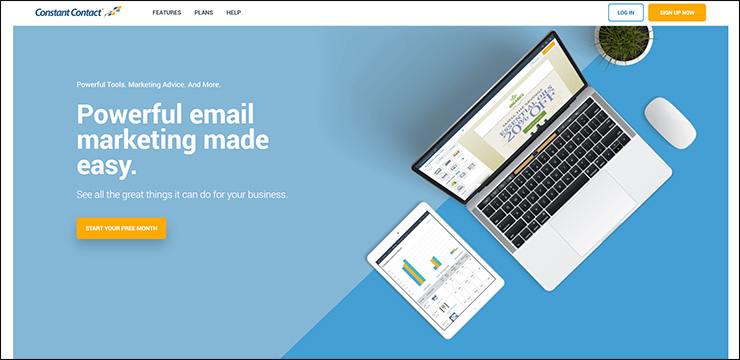 Google Analytics: Best Virtual Fundraising Tool for SEO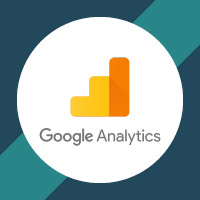 Overview of this Virtual Fundraising Tool
If you've been fundraising for a while and already have a digital marketing team, you've likely already heard of SEO (search engine optimization). An effective SEO strategy helps boost your online presence for internet searches. For example, a good SEO nonprofit website will be the first result when a supporter searches for your organization on Google. 
Google Analytics is a tool where users can track how their website and its pages are doing during internet searches. It's a web analytics tool offered by Google that tracks and reports website traffic. This gives you a clue into which pages are performing well and which aren't!
Pricing
Set up Google Analytics for free here!
Why It Made Our List
It's incredibly important to monitor your web presence, especially during a time when more people will be online than ever before. If you want your organization to stay relevant and keep up engagement, a search engine optimized website is crucial.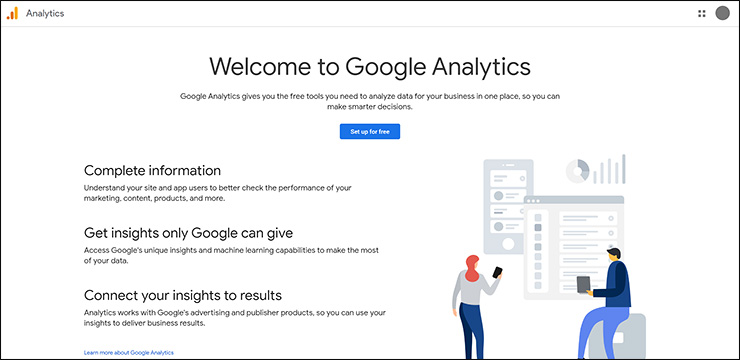 ---
Wrapping Up
No one could have expected the impact that COVID-19 would have on fundraising for the year 2020. However, don't let that stop you from taking advantage of all opportunities for your nonprofit.
Virtual fundraising can be just as engaging as in-person or face-to-face fundraising, you just need the right tools and strategies in place. With society becoming more technologically dependent, these virtual fundraising tools can set you up for success in the long-run, as well.
If you're curious for more virtual fundraising tips and other basic tools to supplement your efforts, consider continuing your research with these additional resources: