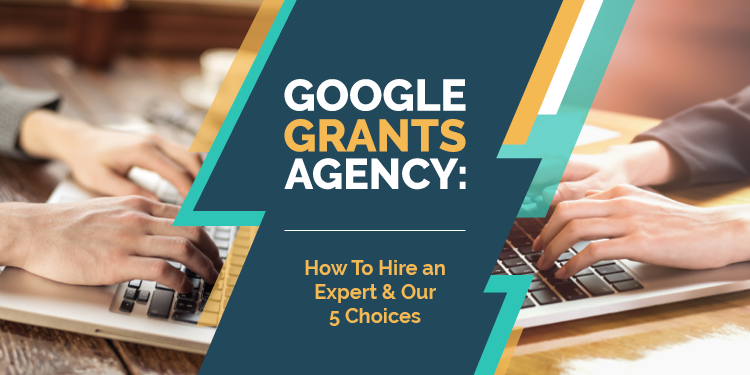 Imagine you walk into Walmart, and the greeter hands you an envelope with $10,000. There's just one catch: you have to use it in their store. You'd gladly accept, right? That's the exact approach Google takes with its Ad Grants program, and a dedicated Google Grants agency can help maximize the use of those funds.
Through the program, the search engine behemoth offers nonprofits $10,000 in credits that they can use to promote their most important pages. The goal is to bolster your online presence, connect you with motivated prospects, and amplify your cause. All nonprofits have to do is meet the program's requirements and apply. So long as their accounts stay compliant, the grant automatically renews each month.
However, that's easier said than done. Luckily, there are experts out there who specialize in learning everything there is to know about the program. A professional Google Grants agency can handle every aspect of your Google Ad Grants management. From handling the initial application to conducting ample keyword research, these experts know how to create winning campaigns and keep your account compliant with the program's guidelines.
The challenge is finding a Google Grants agency that meets your needs and will work alongside your team to produce greater results. To help, we'll walk you through everything you need to know to choose the right agency for your nonprofit. Here's what we'll cover:
At Re:Charity, we're devoted to helping nonprofits maximize their fundraising and marketing efforts. Effective Google Ad Grants management is a reliable way to simultaneously target both of those cornerstones of nonprofit management. Let's dive in so you can be one step closer to choosing a professional Google Ad Grant agency to power your campaigns.

The Benefits of Hiring A Professional Google Grants Agency
Working with a dedicated Google nonprofit Grant agency gives you a major headstart with your strategy. Those that specialize exclusively in Google Ad Grants management spend all of their free time reading up on guidelines, staying updated on campaign best practices, and learning how to leverage the right tools.
By relying on a Google Grants agency to manage your account, you'll have an advantage over competitors who aren't seeking professional advice. Here are some of the key reasons why you should hire a Google Grants agency:
Monthly compliance: You'll never have to worry about your account being deactivated when you have someone who thoroughly understands compliance requirements and monitors your account.
Effective campaigns: The right Google Grants agency will help you pick the keywords that qualified prospects are searching online. Then, they'll develop landing pages and ad copy that will convince users to convert into supporters.
Performance monitoring. They'll constantly check in on campaign performance, test different versions, and ultimately make sure your campaigns are fully optimized.
Increased brand visibility: They'll help you create winning campaigns that spread the word about your cause and point to you as a trusted authority in the sector.
Boost conversions: A Google nonprofit Grant agency will help you create and achieve meaningful conversion goals, like increasing donations, event attendance, volunteer registrations, and more.
Clear reporting: Agencies that are transparent with reporting will make sure you understand your campaign's performance data. They'll take the time to explain what you need to know and provide targeted recommendations based on those metrics.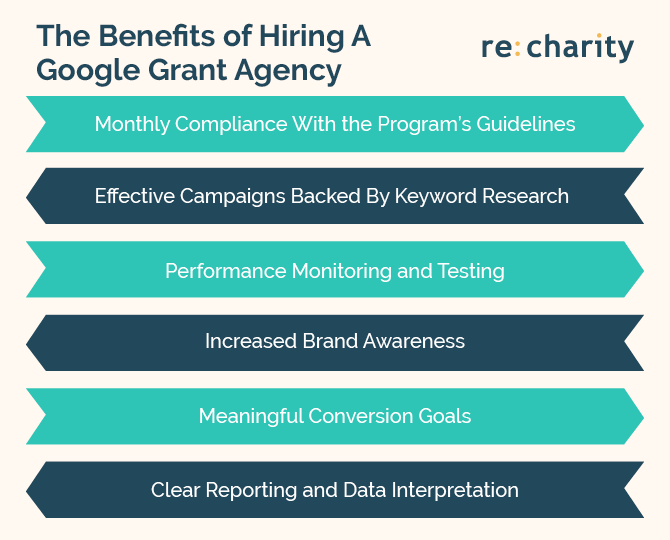 Essentially, they have the technical knowledge to create winning campaigns and maximize your grant dollars. That way, you can rest assured that you'll continue receiving your grant every month and reaching the right prospects.
Now, let's take a look at what's likely your current situation.
Why You Shouldn't Manage Your Google Ad Grants Account Yourself
Most nonprofits don't have the time or resources to manage their accounts without any assistance. Even if you do have the time, managing your account and campaigns on your own will look very different from relying on a professional agency.
Some of the risks you might encounter when tackling Google Ad Grants management alone include:
Needing to spend more time on keyword research and ongoing compliance than you initially estimated
Poor ad performance, which will result in a fraction of what a professional can achieve
Targeting the wrong keywords, either because they're too competitive, have low search volumes, or target the wrong audiences
Wasting your grant money on promoting the wrong landing pages
Not being able to take advantage of all available features
Spending more time resolving common problems than it would take a professional
If you still want to manage your own account, a Google Grants agency might supply you with resources and one-on-one training to help. However, we highly recommend relying on a professional instead of playing a guessing game and putting your account at risk.

Common Services That Google Grants Agencies Offer
Now, you understand why hiring a Google Grants agency is a smart investment. What services, in particular, should you be on the lookout for to successfully reap those benefits?
Some Google nonprofit Grant agencies are full-service, meaning they'll manage every aspect of your account from eligibility confirmation to keyword research. On the other hand, other agencies offer only some services. Sit down with your team first and determine where exactly you need help. Do you need someone to manage your entire account and sit down with you to explain performance metrics each month? Or do you want someone who will simply provide you with training to manage your own account?
To give you a sense of your options, these are some of the most common services that a Google Grants agency will offer:
Grant Applications: Applying for the program requires you to go through an extensive process. A Google Grants agency will complete the process on your behalf and resolve any issues flagged by Google.
Keyword Research: An agency will conduct research and pinpoint the terms that your prospects are searching on Google.
Ad Development: They'll help you create compelling ads that inspire people to click through to your site. That often includes writing the ad copy and choosing the best landing pages to promote.
Ongoing Compliance: Google doesn't give out grants to just anyone. Their program has rigorous guidelines that you must follow. A dedicated agency will stay up-to-date on any changes in requirements, monitor your account, and make sure you're complying with those rules.
Monthly Reporting: You need to understand how your campaigns are performing in order to maximize grant impact. Most agencies will loop you into your results with real-time dashboards and monthly reports.
Account Reactivation: If your account is ever suspended, a Google Grants agency that offers account reactivation will resolve any issues and make sure your account gets back up and running.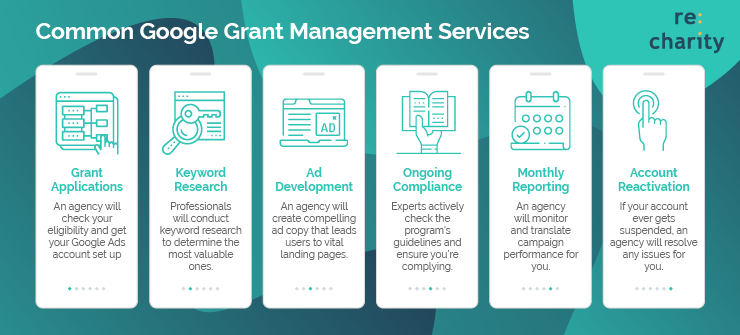 Each consulting agency takes a different approach to Google Ad Grants management. First and foremost, make sure you're researching the services each one offers. Then, you can start reaching out to the ones whose offerings align with your nonprofit's needs.

5 Questions To Ask Before Hiring a Google Ad Grants Agency
Hiring a Google Grants agency is a big decision. The one you hire will ultimately determine how well you take advantage of Google's corporate giving program. Going with the wrong one puts you at risk of not receiving the services you need, paying too much out of pocket, and ultimately wasting your grant money.
nstead, take the time upfront to research different agencies to find the right fit. Once you've narrowed down your options, you're ready to reach out for a consultation.
To choose an agency that will support your needs, make sure you ask the right questions during your initial consultation. Here are the five key questions we recommend: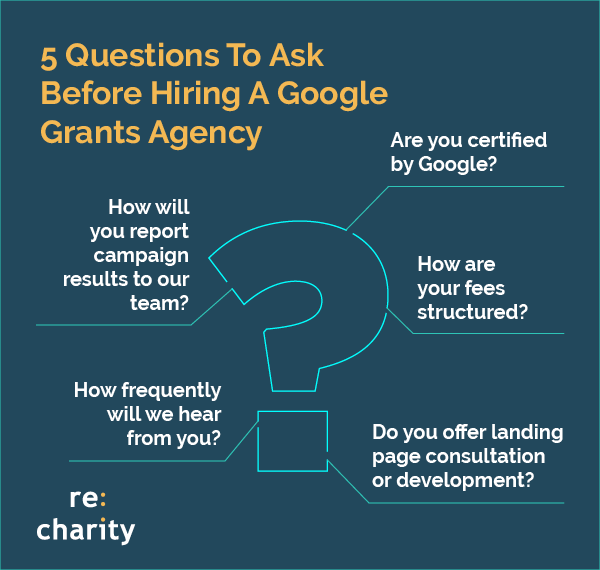 1. Are you certified by Google?
The team at Google has created a Directory of Certified Professional Agencies to help nonprofits kickstart their search. These Google Ad Grant agencies have been through a vetting process to ensure they understand the program.
While being Google-certified is certainly a plus, not being enrolled in the program doesn't necessarily indicate an agency is an unreliable choice. It just means they haven't been through the process of getting certified yet. What truly matters is if they offer the services you need, which brings us to our next question.
2. How are your Google Ad Grant management fees structured?
Some agencies offer an all-inclusive package that includes every aspect of account management. Others have different pricing packages that offer a different combination of services. Some even bill you based on the time they spend managing your account.
Make sure you inquire about how a Google Grants agency will charge your nonprofit upfront, so there are no surprises when you're charged. Ideally, you want an agency that's fully transparent in its pricing model.
3. Do you offer landing page consultation or development?
It's no secret that a big part of effective Google Ad Grants management is promoting pages that are designed to convert. Harnessing the power of your grant money means maximizing the quantity and quality of your website's landing pages.
Often, nonprofits either don't have enough pages to drive enough new visitors every month to stay compliant. Alternatively, the content they promote isn't actually valuable to users and doesn't capture meaningful traffic.
Luckily, your Google Grants agency might be able to help. Make sure they'll review your landing pages, determine which ones will help you reach your goals, and figure out how to optimize the layout and content. A big bonus is if they'll actually help you redesign and relaunch those pages!
4. What frequency of communication can we expect from your agency?
It's vital that you have a communicative relationship with your Google Grants agency. That way, you can trust that your input is actually considered.
Ideally, you should have a dedicated account manager with whom you meet at least once a month. With video conferencing technology or even phone calls, everything can take place remotely thanks to the way remote work has transformed the way organizations operate. That way, you don't have to worry about finding someone who's in close proximity.
In any case, your agency should take your input seriously and be willing to openly discuss your account's performance. You should also feel comfortable asking questions about your account and any changes they make.
Whatever your communication frequency and format preferences are, just make sure your Google Grants agency meets those requirements.
5. How will your Google Grants agency report campaign results to our team?
It's important that your Google Grants agency consistently reports results to your team. Otherwise, how can you trust that they're actually making the most of your campaign?
Work with an agency that provides transparent reporting and allows you to capture data on any actions that are taken. You'll also want to know the cadence in which you can expect these reports. Rather than only providing a monthly slide deck, a quality Google Grants agency will grant you access to real-time data dashboards. This will give you daily insight into how your agency is managing your grant money and how those efforts are translating to conversions and revenue.
Beyond knowing the frequency and format of their reports, make sure they'll sit down and translate this data to your team. They should be willing to analyze the data and provide explanations of any possible trends they notice.

5 Expert Google Grants Agencies and Their Approaches
At this point, you should feel comfortable researching real agencies, not just talking about what you theoretically should look for. To help, we've pulled together our top 5 recommendations to kickstart your search. Some of these are more generic consulting firms that offer other services in addition to Google Grants, whereas others specialize solely in Google Ad Grants management. Let's take a look at some experts you can depend on!

Getting Attention
As our #1 recommendation, we're fully confident that Getting Attention will meet all of your Google Ad Grant management needs. This agency will manage every aspect of your strategy, starting with eligibility confirmation. Backed by this agency, you can rest assured that your account will stay compliant, so you can continue putting your grant money to use each month.
You can trust their team of seasoned experts to handle the following:
Google Grant applications. They'll start by checking your eligibility for the program. Then, they'll manage the entire application process, including getting your validation token from TechSoup.org and setting up your Google Ads account.
Ongoing compliance. From maintaining a 5% clickthrough rate to reporting at least one conversion each month, Getting Attention will make sure your account meets the program's standards.
Keyword research. They'll help you design winning campaigns that align with your nonprofit's goals. They're well-versed in search engine marketing (SEM) and will provide smart recommendations about what your prospects are searching for online.
Landing page optimization. Getting Attention will help you relaunch and redesign your landing pages to drive more conversions through your campaigns.
Account reactivation. If your account is currently lapsed or ever gets deactivated, this Google Grants agency will help you get back up and running in no time. That way, you can continue pursuing your mission and amplifying your work.
Reporting. They strive to be fully transparent with reporting. Through monthly health checkup meetings, your dedicated account manager will give you clear insight into your account's performance.
This is just a glimpse into the Google Ad Grant management services this agency offers. Even if one of your needs isn't listed on their site, they're willing to discuss their experience and how they can help. To chat about your Google Grant needs, reach out for a free consultation with their team of experts!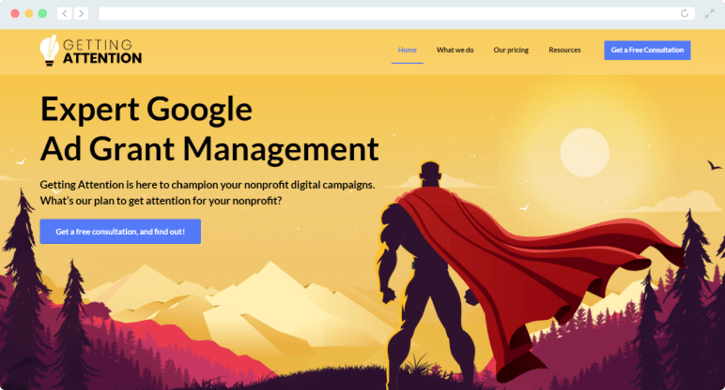 DNL OmniMedia
DNL OmniMedia is a well-known nonprofit consultant that aspires to help nonprofits amplify their causes with technology. While it's not their sole purpose, they empower nonprofits to improve their Google Ad Grant management through specialized services. They strive to simplify seemingly complex technology like Google Ad Grants, so their nonprofit partners can do more for their causes without getting bogged down.
Some of their core services that will benefit your Google Ad campaigns include:
Analytic management. This Google Grants agency heavily emphasizes effective data management. They're experienced with Google Analytics and Google Tag Manager, and they'll help you configure your accounts and create custom reports for your campaigns.
Keyword strategy. DNL OmniMedia will help you develop a keyword strategy that aligns with your priorities. They'll help you pick the cause-related terms that your prospects are searching online, so you can make meaningful connections.
Website development. Backed by a team of skilled developers, DNL OmniMedia will help you develop and maintain a quality website for your cause. That way, you can promote valuable content that enables your Google Ad campaigns to drive results.
For any nonprofit that wants to improve its technology management, DNL OmniMedia makes a great partner! They'll work with you to map out a custom plan that makes sense for your organization, and that includes Google Ad Grants.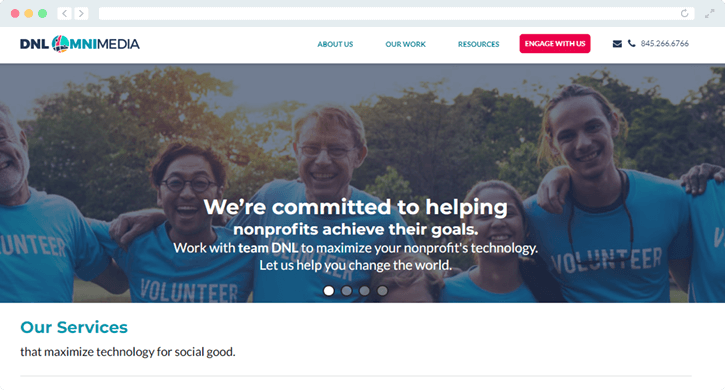 Learn more about DNL OmniMedia!

Allegiance Group
Formerly known as Beconfire RED, Allegiance Group is a full-service consulting firm that focuses on fundraising, marketing, and technology solutions. That way, their nonprofit partners can inspire action and make a true impact on their causes. As part of their wide range of offerings, they empower nonprofits to make the most of their Google Ad Grants with specialized consulting.
Some of their core Google Ad Grants management services include:
Form optimization. Allegiance Group has firsthand experience creating forms through a wide range of tools. Some of which include EveryAction, HubSpot, Engaging Networks, and Salesforce. Using your preferred platform, they'll design custom forms, surveys, and petitions that go beyond the "out-of-the-box" functionality and drive more conversions.
Ad creation. Allegiance Group will write the copy for your Google Ad campaigns, making sure it's optimized for the audience you're targeting. Then, they'll monitor the campaigns and make adjustments throughout to help you get the best results possible.
Campaign reports. With custom implementations of Google Analytics, they'll deliver reports and real-time dashboards that allow you to check into your campaign performance whenever. They'll provide you with detailed campaign reports that include critical metrics, actionable insights, and even recommendations for your next Google Ad Grant campaign. That way, you can continue refining Google Ad Grants management strategies and driving better results.
Not to mention, they're also a certified professional Google Grants agency, so you can trust they know how to make the most of the program. If you want a more holistic approach to your marketing and fundraising, check out Allegiance Group!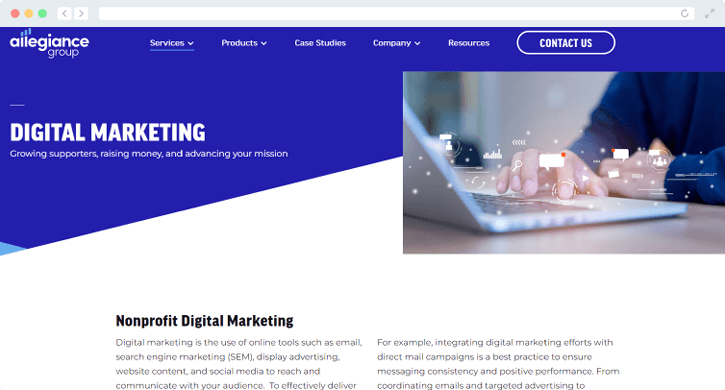 Learn more about Allegiance Group!

RKD Digital
As a certified Google Grants agency, RKD Digital empowers nonprofits to create powerful ad campaigns that drive real results. They understand that the program can be challenging for the average nonprofit to navigate, which inhibits those organizations from making the most of their grant. That's why they strive to eliminate those hurdles.
They offer specialized Google Ad Grant management services, such as:
Account activation. Get up and running as quickly as possible. From filling out relevant applications to securing validation tokens, RKD Digital will help you activate your account if you haven't done so already.
Strategy development. They'll help you identify the key goals for your Google Ad Grant campaigns that align with your nonprofit's overall objectives. Then, they'll plan high-level campaigns that contain ad groups, keywords, and ad copy to help you achieve those goals.
Ongoing campaign management. RKD Digital doesn't stop working once your campaigns go live! They'll monitor your Google Ad campaigns' results and make adjustments along the way.
As a bonus, RKD Digital holds the honor of being the first full-service direct-response company to be added to Google's Ad Grants Certified Professional Community. Check out their services and see what they can do for your cause.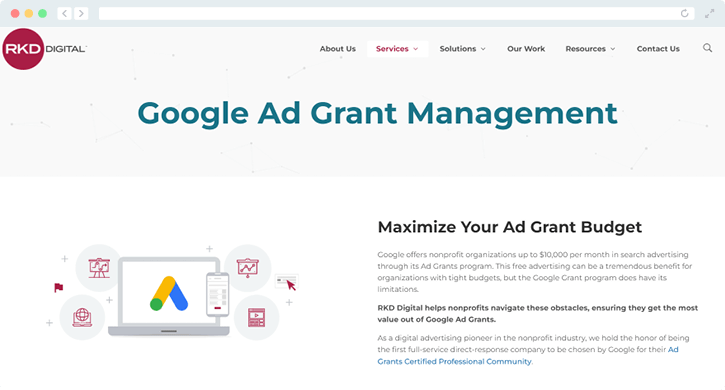 TrueSense Marketing
As another one of our top recommendations, TrueSense Marketing is a trustworthy Google nonprofit Grant agency that can take your campaigns to the next level. They're a full-service, direct-response fundraising agency that leverages astute analytics and strategies to inspire nonprofit donors.
With a background in search engine marketing, this Google Grants agency can help you develop meaningful campaigns through these services:
Strategy alignment. They'll collaborate with your team to understand your nonprofit's goals and overall marketing strategy. That way, they can develop Google Ad campaigns that push those goals forward.
Google Ad creation. They'll audit your current website to find the best content to promote through your campaigns. Then, they'll develop your keyword strategy to reach the right audiences and create ad copy that will inspire those audiences to click through to your site.
A/B testing. This Google Grants agency will continuously monitor campaign performance. This includes A/B testing (also known as split testing) to determine the content that resonates best with prospects.
Plus, they've also been through the vetting process to become a Google-certified agency. Knowing this, you can trust them to handle your nonprofit's application and ad development.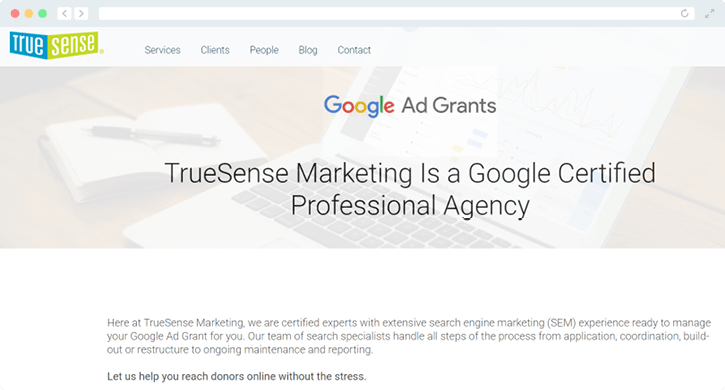 Learn more about TrueSense Marketing!
Additional Resources
Google Grants are a powerful digital marketing opportunity for nonprofits, especially when you put thought behind your account management strategies. The program provides your team with free funding that can ultimately transform what you're able to do for your cause.
Whether you're brand new to the program or you want to rethink your existing campaign strategies, an expert Google Grants agency can provide the insight you need to amplify your cause within search results. We highly recommend turning to Getting Attention, our top recommended Google Grants agency, to manage your account and create the best ad campaigns for your cause.
In the meantime, keep researching the program and brushing up on other digital marketing best practices. That way, you can go into any conversations with Google Grants agencies knowing what you want. Here are a few great resources to get started: