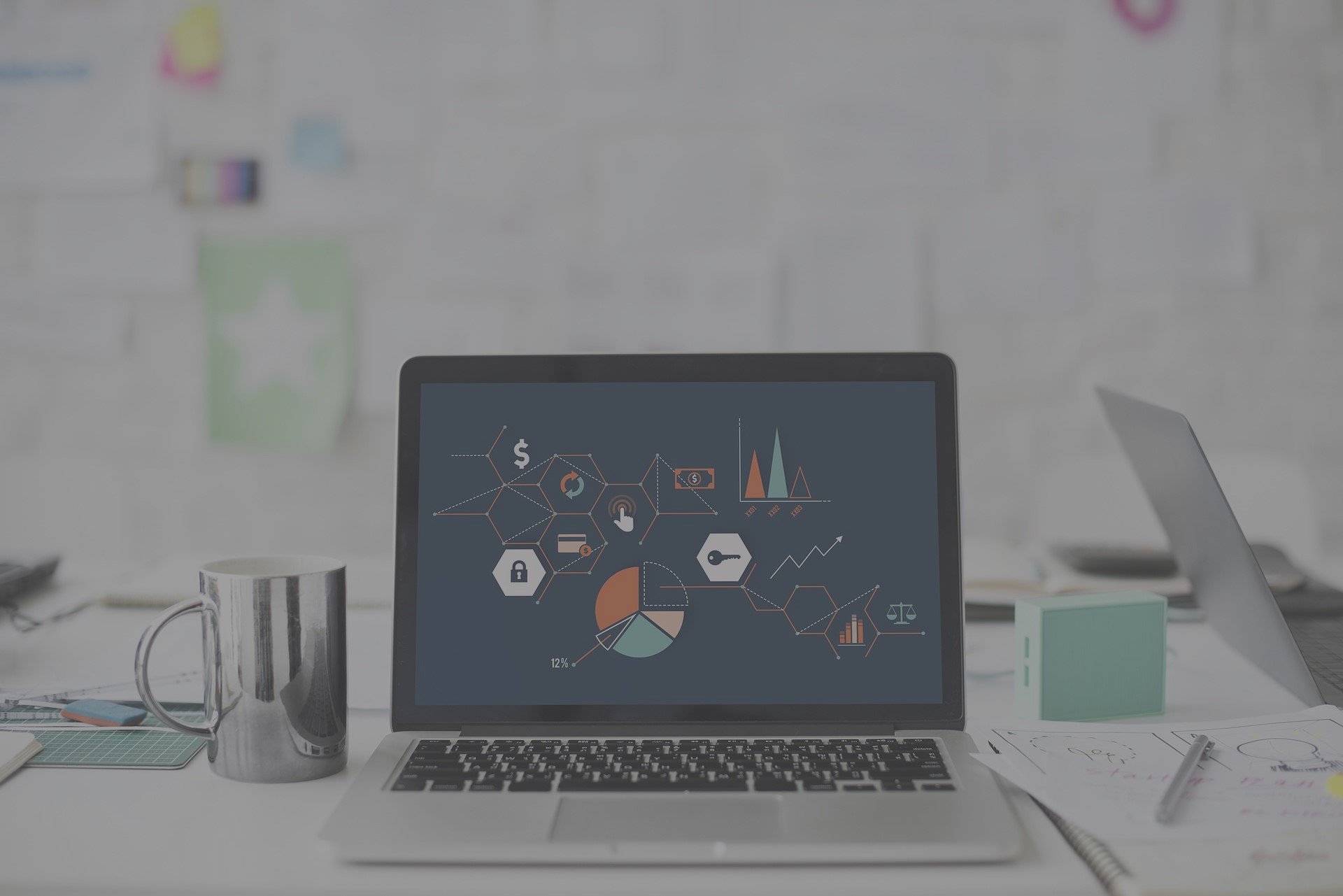 You already know that new technology can significantly boost donor engagement in your organization's fundraising campaigns, but what exactly are all of your options when it comes to fundraising software?
Nonprofits are always looking for new ways to raise more donations online, but there are tons of tools out there!
The choices can be overwhelming for organizations looking for new fundraising software to incorporate into their campaigns or daily operations simply because every campaign (and every nonprofit) is inherently different, with its own nuanced targets and goals.
To help cut through the clutter, we've highlighted a few of our top choices for the best fundraising software out there:
Each of these fundraising tools can offer your organization something different, so read on to discover your nonprofit's next big fundraising game-changer!


Double the Donation – Top Online Matching Gift Software
Fundraising Software Overview
Double the Donation's digital tools are designed to help you make the most of a donation opportunity that is too often overlooked by both nonprofits and donors.
Matching gift programs, in which an employer will match part, all, or more than twice an employee's donation, are an incredible opportunity for nonprofits to amplify the effects of a successful fundraising campaign.
By providing your donors with the Double the Donation database of corporate matching gift information, you could see your donation revenue grow by leaps and bounds.
Key Software Features
Double the Donation's offerings are straightforward and extremely effective, allowing your nonprofit to choose from several tiered services that might best fit your organization's need and budget. These include:
Dedicated matching gift pages for donors to check their eligibility for matching gift programs. This is a convenient solution for organizations of all sizes.
Embeddable search tool plugins make the search as easy as possible for your donors at the point of direct engagement, like on a thank-you page.
Take a look at the National Audobon Society's page dedicated to matching gift searches: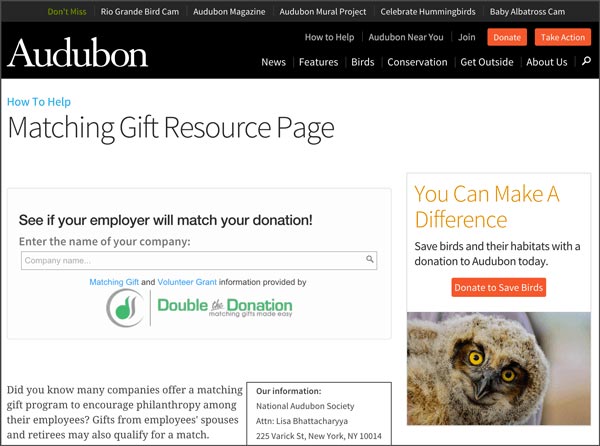 Double the Donation's extensive database of matching gift policies creates a surprisingly simple simple way to maximize your matched donations. Matching gifts make an excellent subject for both digital and direct mail marketing campaigns. Additionally, the strengthened relationships between your organization and donors with generous matched gifts are invaluable in and of themselves.
Fundraising Software Pricing
Double the Donation can be an affordable tool for any organization. With multiple tiered levels of service, you can find the best fit for your nonprofit. Check out their site for more information or to start a 2 week free trial. We think you'd probably see an uptick in matched gift revenue!
By investing in your ability to receive matched gifts, you can provide a permanent and built-in boost to any of your current or future fundraising campaigns.
Check out Double the Donation!

CharityEngine – Top Software for Donor Retention
Fundraising Software Overview
CharityEngine is a complete software ecosystem designed to help nonprofits like yours build and maintain relationships with donors.
According to CharityEngine, there are two fundamental principles that nonprofits should keep in mind when it comes to donor retention:
Higher lifetime value. A long-term donor is more valuable than a one-time donor.
Smarter engagement. It costs less to keep a current donor than to acquire a new one.
With CharityEngine, you'll have access to an all-in-one solution that was built with these concepts in mind.
Key Software Features
CharityEngine is a comprehensive solution with all of your fundraising needs built into your CRM solution. Some of the incredible tools you'll find from CharityEngine include:
Online donation forms with easy-to-use payment processing
Peer-to-peer fundraising campaigns and pages
Custom emails for campaign marketing
Marketing automation tools
Surveys to better understand donors
Analytics tools to track campaigns
With CharityEngine, your nonprofit can encourage and track the entire donor journey for each and every one of your supporters. This helps you build relationships with donors and retain them for the years to come.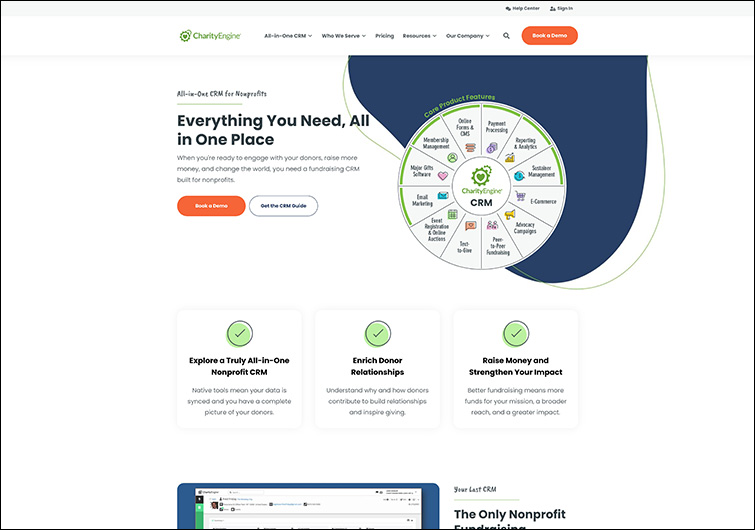 Fundraising Software Pricing
CharityEngine offers a 7-day free trial so you can get first-hand experience using the software solution before investing.
Contact the CharityEngine team for more information and a quote.

Tatango – Top Mobile Fundraising Software for All Nonprofits
Fundraising Software Overview
Tatango is the leading text fundraising software for nonprofits of all shapes and sizes. Since its start in 2007, Tatango has helped organizations, including nonprofits, churches, and higher education institutions, earn a 500% return on their investment. 
Tatango will support your nonprofit through every step of launching your winning text-to-give campaign, from equipping you with a full suite of user-friendly tools to ensuring that your campaign remains TCPA compliant. 
The seasoned fundraising experts behind Tatango know how important it is for nonprofits to reliably communicate with supporters. With its automation, segmentation, and mass-sending capabilities, Tatango makes it easy to send powerful donation appeals to thousands of supporters at once and build lifelong partnerships with donors. 
Key Software Features
Tatango offers a wide range of features to complement your nonprofit's fundraising strategy and establish a reliable stream of revenue through text-to-give. Their innovative tools include: 
Segmentation and automation capabilities

so you can send off compelling donation appeals to the right supporters at the right time when they're most likely to give

Real-time data reports

to assess each message's performance and hone your content strategy to drive greater fundraising results 

Built-in security measures

designed to protect your subscribers' information and ensure only your nonprofit's team can send messages, including two-factor authentication, secure sending, and automated logout
With Tatango, your nonprofit can share fundraising updates, donation requests, event reminders, and more with just a few clicks. Plus, you can couple your text messages with impactful images and videos to reinforce your branding and help supporters build an emotional connection with your nonprofit.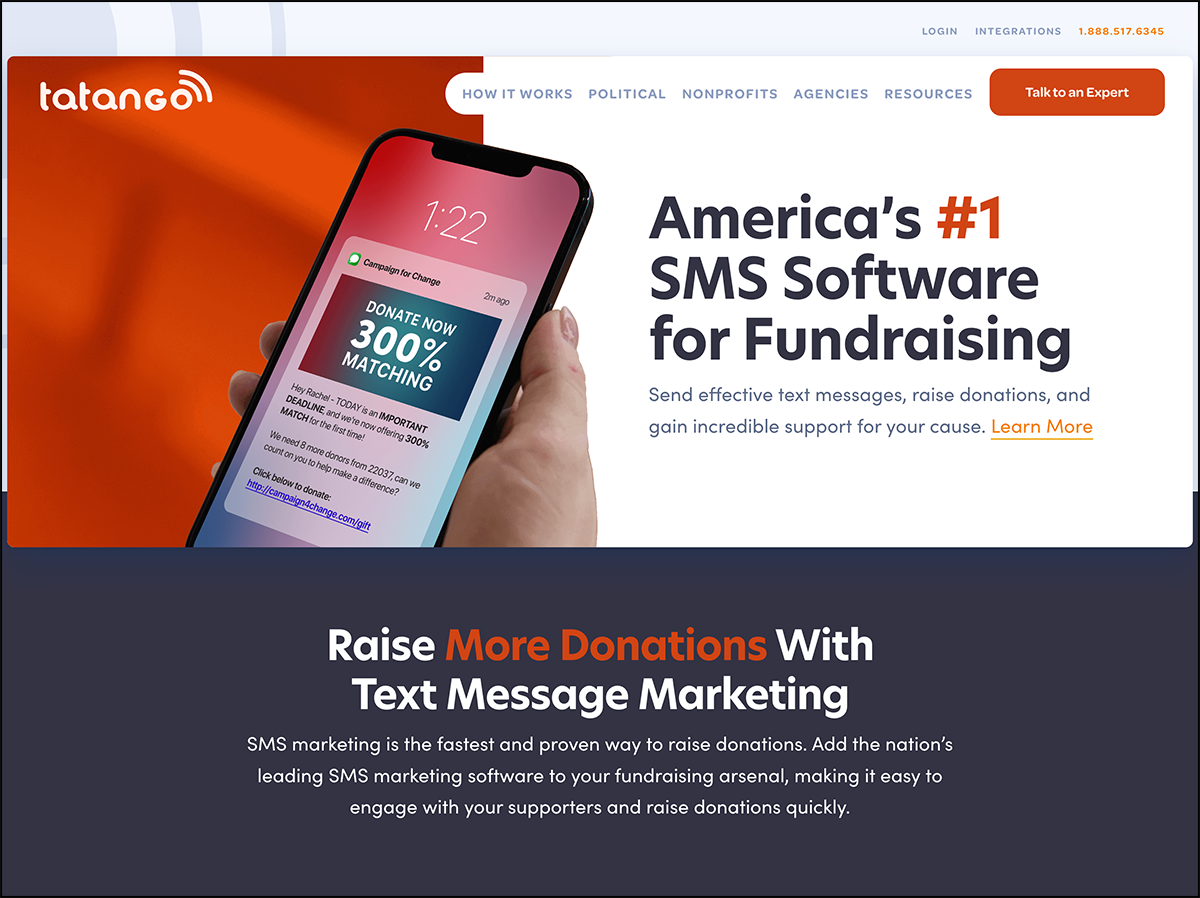 Fundraising Software Pricing
Tatango breaks down their costs by the following categories:
Setup, which includes training on campaign setup and launch, compliance, customer training, short code provisioning, and software testing
Software, which includes the cost of using the software, the cost of the short code, and software support and guidance
Messaging, which is the cost of messages your nonprofit sends and receives using the platform
To learn more about Tatango's pricing options, contact their team of fundraising professionals.

Boardable – Top Board Management Software for Smarter Fundraising
Fundraising Software Overview
Boardable offers comprehensive board management software that's designed to be easy-to-use, simple, and affordable for nonprofits everywhere.
Built by nonprofit leaders, Boardable enables you to work more effectively with your board and committee members. By centralizing communication, the platform allows you to easily schedule meetings, securely store your documents, create discussion threads, and more.
To further improve communications, Boardable offers a mobile app in addition to the intuitive web interface, so nonprofit board members can communicate and make crucial decisions anytime, anywhere. With Boardable on your side, efficient communication across your organization will be a breeze!
Key Software Features
Boardable offers a suite of features that helps organizations quickly and easily engage with board and committee members. Here's just a preview of the extensive features they offer:
The agenda builder provides administrators with customizable templates and board members with private note annotation.
The document center houses all your documents in one location and enables you to distribute them with ease.
The people directory helps you nurture relationships with board, committee, and staff members.
Polling capabilities enable quick decision-making and encourage members to actively participate.
Reporting allows you to quickly identify accomplishments and locate areas in need of improvement.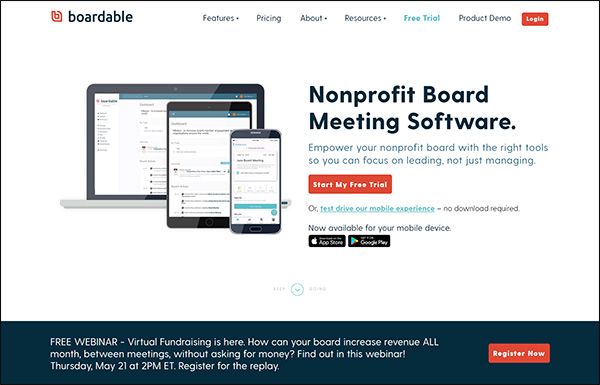 By empowering your nonprofit board with Boardable's comprehensive tools, you can focus on leading while your board focuses on governing.
Fundraising Software Price
Starting at $79/month, Boardable is an affordable option for any cause. To help you get a feel for their software, the Boardable team is offering nonprofits everywhere 30 days of free access to their software—no credit card or commitment required. They understand the challenges that nonprofit leaders face on a regular basis and know that boards cannot hesitate to make crucial decisions. Their comprehensive software can help you overcome these obstacles and continue working toward your cause.

Fundly – Top Crowdfunding Software
Fundraising Software Overview
Fundly is quite possibly the perfect crowdfunding platform.
Designed to work for both individuals and nonprofits, Fundly provides simple and intuitive tools to get your campaign page up and running quickly while keeping your donors and supporters engaged at every step. High engagement is one of the top benefits of any social fundraising!
With its simple web and mobile app software, Fundly might be the easiest way to kick off your campaign.
Key Software Features
Fundly stands out from the pack of crowdfunding platforms for a number of reasons. Aside from the fact that it's made for nonprofits of all shapes and sizes, Fundly offers a number of unique features that will kick your online fundraising campaign into high gear.
Mobile-optimized fundraising pages and social media tools that look great and work smoothly on screens of any size.
Customization options to maintain your distinct brand across your campaign pages and reassure donors of your professionalism and value.
Secure payment methods that will work quickly and safely for both you and your online donors.
Check out this example of a crowdfunding campaign on Fundly: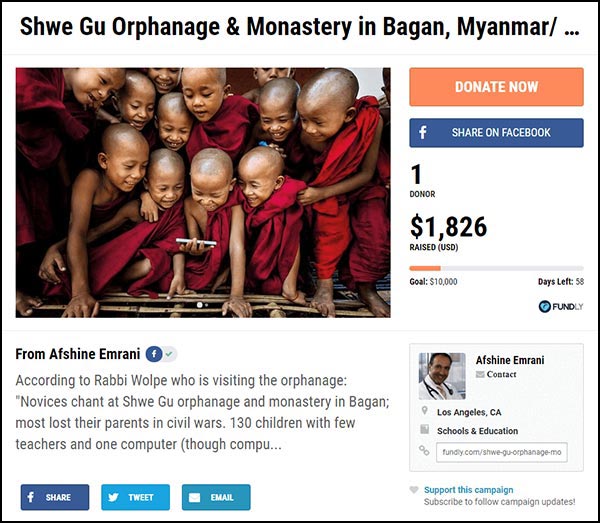 Best of all, and unlike other crowdfunding platforms, there is no minimum of raised funds required in order to keep your donations. Fundly works just as well for individuals, small nonprofits, and larger organizations alike because it scales with the size of your campaign.
Fundraising Software Pricing
Fundly is one of the most affordable crowdfunding options available. Your organization pays only a 4.9% platform fee and then a flat rate of 2.9% + $.30 per transaction for donation processing.
After that, the funds you raise are entirely your own! Fundly will never hold your donations hostage with an arbitrary threshold or deadline.

Salsa – Top All-in-One Fundraising Software
Fundraising Software Overview
Salsa is one of the most comprehensive and intuitive nonprofit CRMs on the market. You might already use professional software to manage one or more parts of your nonprofit's operations, but Salsa can quickly and easily give you the tools to unite everything in one software solution.
Having the big picture in mind is essential to effective fundraising, and Salsa can give you the tools you need to make the best decisions for your campaign.
Most importantly, Salsa provides its users with flexible tools designed for both front- and back-end management. Engage your donors with effective tools while receiving all the important feedback and data you'll need to lead your campaign to success.
Key Software Features
As a mix of fully comprehensive and user-friendly, Salsa could be the perfect fit for your campaign since their tools can adapt to the exact needs of your organization.
Salsa can organize and augment every aspect of your fundraising campaign, including:
Donor management tools to identify important trends and create organized profiles for your major supporters.
Digital marketing tools that can simplify and even automate your online marketing and email campaigns
Online fundraising components to create donation forms, process payments, and manage event registrations.
Peer-to-peer fundraising options to quickly and easily launch new peer-to-peer style campaigns.
Salsa makes it easy to see all the important details about your donations in one place: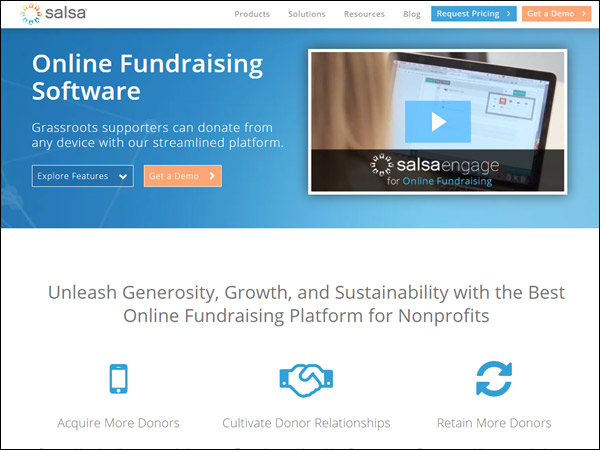 Best of all, as a fully integrated software solution, Salsa provides you with analytic insight from each step of your fundraising and operational process. This is the information that smart organizations use to learn from past projects and thrive during major campaigns.
Fundraising Software Pricing
If you're interested in Salsa's products, contact them for a customized quote. Since Salsa offers distinct software for fundraising, full CRM systems, and even advocacy-oriented planning tools, package prices will vary.

Soapbox Engage – Top Salesforce App for Nonprofits
Fundraising Software Overview
Soapbox Engage's comprehensive suite of Salesforce apps provides everything your nonprofit needs to make the most of your CRM platform and your fundraising efforts. These easy-to-use tools can help your organization collect online donations, create event and course registrations, host petitions for supporters to sign, and more.

Their apps seamlessly integrate with Salesforce to ensure you can generate and collect as much useful donor engagement data as possible. It can be a challenge for growing nonprofits to build out an effective Salesforce toolkit quickly, but Soapbox Engage addresses that issue by developing robust but easy-to-use apps. Their donations app is the most popular.
Key Software Features
The Soapbox Engage donations app allows you to create an unlimited number of secure, customizable forms to facilitate an easy donation process. But don't forget the best part—all of your donation information will automatically transfer to Salesforce in real-time! This will help cut down on manual administrative tasks and ensure you can learn as much from your data as possible.

The Soapbox Engage donations app for Salesforce also includes key features, such as:
Freedom of choice for payment processing.

Intuitive data reporting and analytics tools.

Mobile-friendly design for any device.

Personalizable peer-to-peer fundraising page creation.
Raise more money for your organization and engage more donors by harnessing the full force of a Salesforce-integrated suite of apps.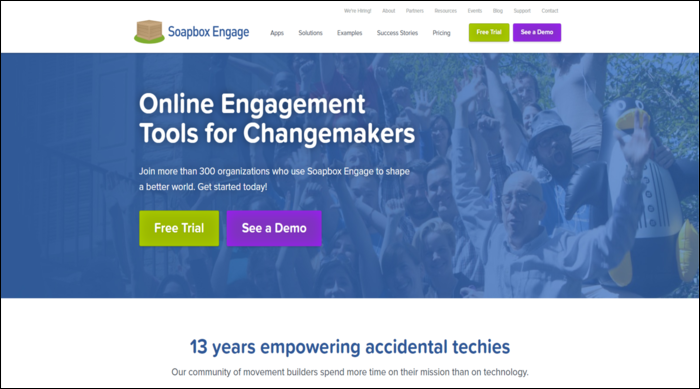 Fundraising Software Pricing
Apps from Soapbox Engage are available for as low as $49/month. However, to fully take advantage of their all-in-one features, consider getting unlimited access starting at $199/month. This will give you access to 6 of their most popular apps!

OneCause – Top Fundraising Event Management Software
Fundraising Software Overview
We love OneCause not because they do one thing well, but because they do many things well. OneCause can provide your nonprofit with several high-quality and extremely effective digital event fundraising tools.
Most importantly, they're all designed to work together, keeping your events organized and attendees engaged.
OneCause offers a number of mobile tools for taking your digital fundraising to the next level, but they're especially useful for their versatility. OneCause's products are effective as standalone fundraising strategies or as integrated elements of mixed online/physical fundraising campaigns.
Key Software Features
Check out some of OneCause's core products for nonprofit fundraising:
Intuitive event software to drastically simplify the ticketing, registration, payment, and data collection processes of fundraising events.
Mobile bidding and auction systems for creating unique live events and managing online auctions.
Text to give technology to provide event and auction attendees even more easy donation options.
OneCause is a favorite not just for its suite of highly effective digital fundraising tools but also for the fact that its tools work in harmony. If your nonprofit is looking to build its own fully customized fundraising toolkit, OneCause is probably your best choice.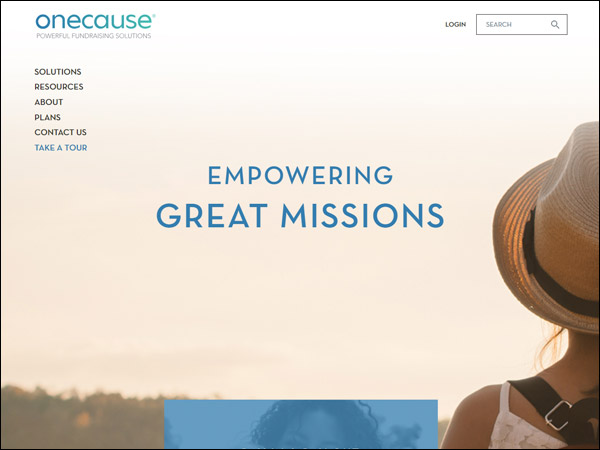 Fundraising Software Pricing
As one of the most customizable software solutions on the market, prices vary.
If you're interested in what OneCause has to offer, browse their site. Contact them once you're ready for a fully customized quote.

Omatic Software – Top Fundraising Software for Integrations
Fundraising Software Overview
Omatic Software is a solution designed to help nonprofits strengthen their fundraising strategies by making data more accessible on all relevant platforms.
Most nonprofits use several software solutions to achieve the various aspects of their mission and each of these solutions speaks a different "language" when collecting and organizing data.
Omatic acts as the translation tool to help ensure your data is current, complete, and clean as it's transferred between various software solutions.
Key Software Features
Omatic Software is built exclusively for nonprofit use. This means they work to help organizations like yours integrate favorite solutions so that they can run simultaneously. For instance, your organization can integrate tools like:
Integrating any and all of your fundraising software solutions together ensures a complete, well-rounded ecosystem of nonprofit tools.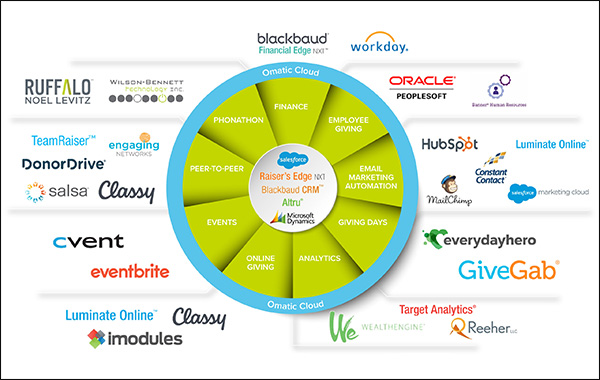 Fundraising Software Pricing
Request a free demo with the Omatic Software team to open up the discussion of pricing for your nonprofit.

Snowball – Top Mobile Fundraising Software
Fundraising Software Overview
Snowball can offer your organization a number of game-changing digital fundraising solutions.
Every nonprofit knows that donating should be an intuitive and quick process. Snowball can shrink your rates of donor abandonment by significantly reducing any friction at this crucial point of contact. 
This can be done with any number of their software tools, like streamlined donation buttons and forms, text-to-give, mobile pledge fundraising, and unique secure login solutions.
Key Software Features
Explore some of  Snowball's core digital products and services. At least one of them will more than likely be a perfect fit for your organization's fundraising initiatives and allow your nonprofit to distinctly stand out in your local field.
Optimized digital donation pages and tools that take advantage of Snowball's secure and simplified payment process.
Text-to-give mobile donation services are incredible opportunities, especially for nonprofits that host live fundraising events.
Unique passwordless login software that work by authenticating identity through other means, like email.
Snowball's fundraising software can generate substantial boosts in donor retention for organizations of all sizes and provide you with crucial donor metrics to better target your future campaigns. Their tools allow organizations to more directly engage with donors through increasingly digital- and mobile-centric outlets, like texting: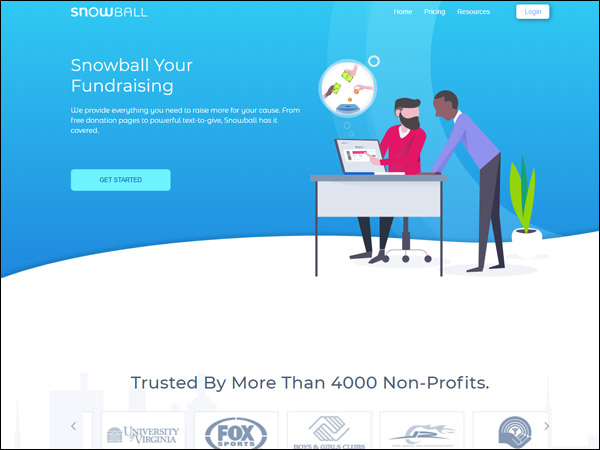 Fundraising Software Pricing
Snowball offers several tiered levels of service for its suite of digital fundraising tools.
The core fundraising package, however, is free to begin using. Your organization will only pay a flat rate of 2.9% plus $.30 on each donation transaction generated through their web or mobile services. Check out all of Snowball's options to see which will best suit your organization's needs.

Handbid- Top Virtual Auction
Fundraising Software Overview
When expanding your fundraising to the digital space, your team needs a reliable platform to streamline the backend processes of key events like virtual auctions, so you can invest more time into engaging donors. With plenty of experience, the forward-thinking team at Handbid knows what it takes to make this transition as seamless as possible, which is why they supply nonprofits with the vital tools for pulling off successful virtual auctions.
Handbid is a mobile bidding app and fundraising management platform that empowers nonprofits to host lucrative virtual events that drive donor engagement. From managing your guest list to processing invoices, this all-in-one event solution comes equipped with everything you need to create a well-designed event.
After helping charities raise more than $175 million, Handbid's virtual auction software is a worthwhile investment that you can rely on when hosting your next online event. Plus, you can expand your digital donation options beyond auctions by investing in their crowdfunding tools, peer-to-peer tools, and text-to-give.
Key Software Features
Backed by Handbid's virtual auction software, pull off highly-engaging auctions with powerful tools such as:
A mobile bidding app and bidding website
Real-time bidding with outbid notifications
In-app live streaming tools
Text2Give options
Guestlist management
Invoicing and payment processing
Insightful reports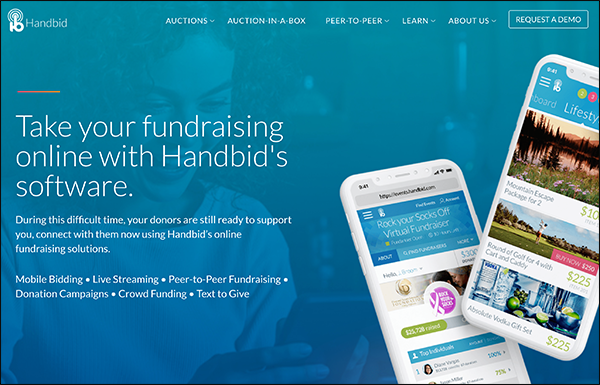 Not to mention, Handbid is currently offering an exclusive 'Auction-in-a-Box' package that comes equipped with all the essential tools for hosting the ultimate live-streamed event from the comfort of your own home. From a remote video production team to the auction platform itself, you'll have everything you need to reach donors wherever they are.
Fundraising Software Pricing
Handbid offers packages for every price range. Take a look at their auction pricing page for up-to-date pricing information. Even if they don't have a bundle that suits your exact needs, you can choose from several add-on features like admission ticketing tools, crowdfunding tools, coaching, and more to craft your ideal fundraising solution.

Bonfire – Top Product Fundraising Software
Fundraising Software Overview
Bonfire is hands-down the smartest and easiest way to raise funds with products.
T-shirts are a fundraising staple and for good reason. By purchasing your organization's branded clothing, your supporters feel great about supporting your cause and letting the world know, too.
Every nonprofit's fundraising goals and parameters are inherently different, but t-shirts can be a perfect complement to all kinds of campaigns, especially crowdfunding. Bonfire provides easy and effective ways to engage and reward your supporters.
Key Software Features
As a kind of crowdfunding campaign, t-shirt fundraising through Bonfire is incredibly simple for nonprofits. Bonfire does all the logistical heavy lifting, and you just create your fundraising products, set some parameters, and then promote your campaign to your community of supporters. Here are some of Bonfire's core features:
Full customization with Bonfire's powerful design software lets you create beautiful shirts your supporters will love.
Risk-free minimums and deadlines let you set your own campaign length, and the minimum number of shirts you need to sell adjusts based on the prices you set. If you don't reach the minimum, no one is charged.
Promotion tools make it easy for your donors to share their purchase on social media, increasing exposure for your campaign.
Bonfire's easy-to-use interface and tools will help you make the most of your campaign: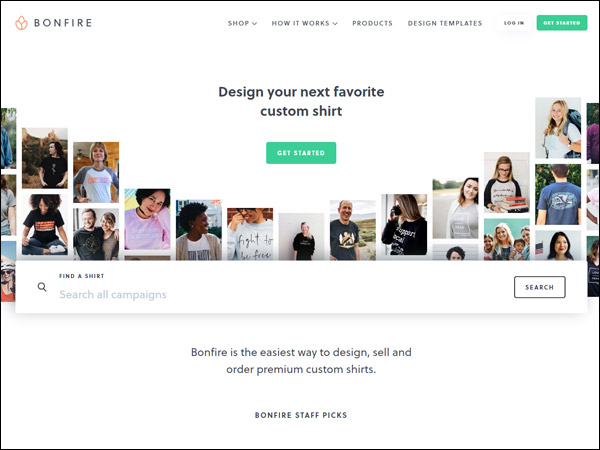 By taking stress and guesswork out of t-shirt fundraising, Bonfire has made it radically simple for organizations to accomplish two simultaneous goals: easily raise money online while promoting a visual identity through branded merchandise that supporters will be proud to wear.
Fundraising Software Pricing
By setting your own prices, promoting your products, and using Bonfire's easy calculator tools, maximize the impact of your t-shirt campaign and set your own profit margin.
Offering a physical Bonfire product in exchange for donors' support can make their decision to donate easier than ever. That Bonfire will handle all the logistical and financial aspects of the campaign makes your decision easier, too.

Qgiv – Top Peer-to-Peer Fundraising Software
Fundraising Software Overview
Qgiv offers any software tool your organization could need to optimize its digital fundraising like never before. With its all-in-one suite of online giving tools, including peer-to-peer fundraising campaign software, customizable donation pages, and event tools, Qgiv makes it easy to fine-tune every aspect of your campaign.
If your organization has considered conducting a peer-to-peer fundraising campaign, Qgiv certainly offers a product to fit your needs. 
Check out an example of a peer-to-peer fundraiser homepage on Qgiv: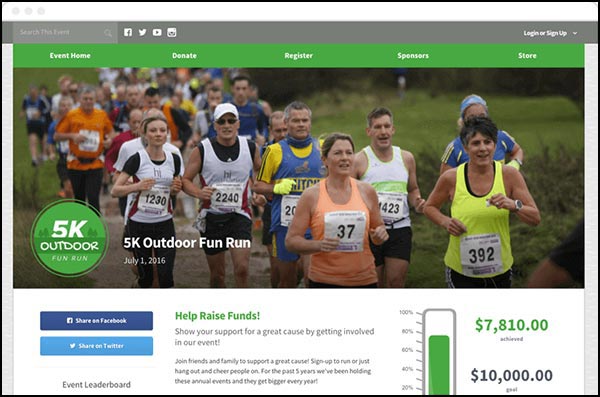 Key Software Features
Qgiv understands that uniting all of your digital fundraising outlets allows your organization to maximize the efficiency and accuracy of its campaigns, and all of its digital tools are geared towards this goal. Explore some of the software solutions that your nonprofit could use.
Peer-to-peer fundraiser management lets your supporters create individual pages to raise funds on your behalf and gives you access to crucial metrics and marketing tools.
Mobile giving tools can greatly simplify the entire donation process and increase the chance of completed donations.
Donation page optimization lets you fully customize the appearance, text, and reporting settings of your donation sites while enjoying comprehensive support and training.
Digital tools for fundraising events allow your staff and volunteers to manage and increase event registrations, receive in-person credit or debit donations, and even schedule recurring donations.
An ideal digital fundraising campaign consists of several strategies that can complement and support one another. All of Qgiv's fundraising software tools are designed to work together to both increase your donation revenue and make the entire process more intuitive for you and your donors.
Fundraising Software Pricing
Qgiv does not require a full contract to use any of their plans; you pay by the month and can freely change between plans if your organization finds that it needs more or less digital donation support. Best of all, you can start with Qgiv's free plan and pay only a flat rate of 3.95% + $.30 per digital transaction.
With adaptable plans and a huge range of services, Qgiv can be a great choice for nonprofits of all sizes, particularly those seeking to conduct a unique and engaging peer-to-peer fundraising campaign.

Donately – Top Custom Donation Page Software
Fundraising Software Overview
Donately can give you efficient and attractive digital donation tools perfectly scaled to the size of your smaller organization.
Many nonprofit fundraising software products will provide your organization with a bundle of digital tools that might be too big for your needs. Donately can give you exactly the tools you need without overwhelming your digital capabilities.
Donately's minimalist approach nonetheless focuses on quality and efficiency, so it's a great choice for small- to medium-sized nonprofits looking to streamline their online donation systems.
Key Software Features
Improving donor experience is the core goal of Donately's digital fundraising products, so intuitive and user-centered design is at the center of everything they do.
One or more of their products could almost certainly help your organization to streamline your web donation process. Consider these:
Donation forms and embeddable tools to create an attractive and intuitive page or custom donation tool for desktop and mobile browsers.
Standalone pages and peer-to-peer options allow you to easily convert your donation pages into exciting peer-to-peer fundraising campaigns.
Useful analytics and integrated app support keeps all your campaign data up-to-date on MailChimp, Google Analytics, Salesforce, and more.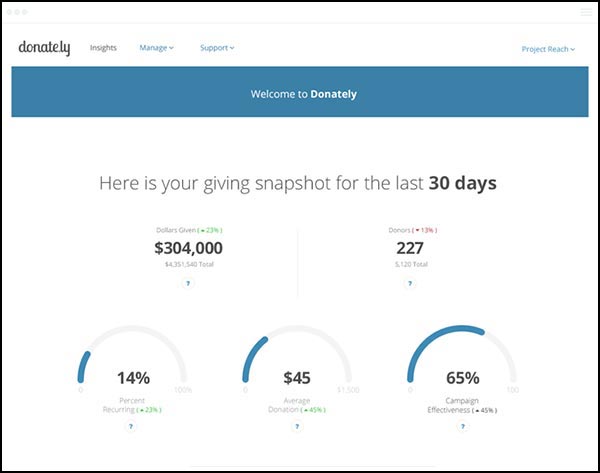 Donately provides a strong core service without any unnecessary frills or add-ons. If your organization needs a lean and reliable fundraising software solution, look no further.
Fundraising Software Pricing
Donately believes in building strong relationships with its clients, so pricing plans for its digital products rely entirely on how much your organization is able to raise using them.
For instance, you'll pay only a 3% fee on your first $100K raised with their donation form and processing tools. Donately even offers some opportunities for nonprofits to reduce these rates even further.
Additionally, Donately requires no contracts or monthly or annual fees. The only additional associated costs are for transaction processing through its partner and industry leader, Stripe.

MIP Fund Accounting – Top Nonprofit Accounting Software
Fundraising Software Overview
Let's face it, nonprofit accounting is different than other forms of bookkeeping. You have donors you need to keep track of in addition to salaries and payment processing fees.
MIP Fund Accounting is an excellent way to take care of all your nonprofit accounting needs.
When you start fundraising, it gets even more complicated. Dealing with event-planning and campaign strategies means that your fundraising accounting needs change all the time, so you need software that can adjust to your situation and your timeframe with maximum security and minimum difficulty.
Key Software Features
With a sleek and easy-to-integrate design, MIP Fund Accounting can combine seamlessly into any preexisting infrastructure your campaign might use for the fundraising process.
Here are some of MIP Fund Accounting's excellent features:
Modules and add-ons to fit your specific fundraising requirements

Cloud-based servers for maximum security

Human-resource tracking for nonprofits
With MIP Fund Accounting, your fundraising process will become not only more efficient for your development officers but more effective with your donors.
Fundraising Software Pricing
MIP Fund Accounting offers custom pricing depending on your nonprofit's needs, so go to their website if you think it would be the right fit for your organization.
Don't underestimate the importance of smart and efficient accounting while you're examining your campaign strategy. Look at MIP for your nonprofit today.
Check out MIP Fund Accounting!

DonorSearch – Top Prospect Research Software
Fundraising Software Overview
DonorSearch is a leader in nonprofit prospect management and development.
If your organization is pursuing larger fundraising projects or capital campaigns, having an integrated approach for identifying and targeting prospective major donors can be half the work.
DonorSearch provides your organization with the essential tools to make this step as easy and organized as possible.
Key Software Features
DonorSearch's fundraising software is designed to plug your organization into crucial resources to guide your campaign strategy. Take the guesswork out of prospect development with its comprehensive databases and organizational tools.
Exhaustive wealth and philanthropic data in one of the most comprehensive databases of nonprofit prospects available lets you target your major fundraising campaigns more accurately than ever.
Smart search capabilities help you analyze giving patterns and find the prospects most likely to become essential donors for your campaign.
Organized portfolio tools allow you to compile your prospects for easy access, use these tools to identify important trends, and pinpoint relevant data in seconds.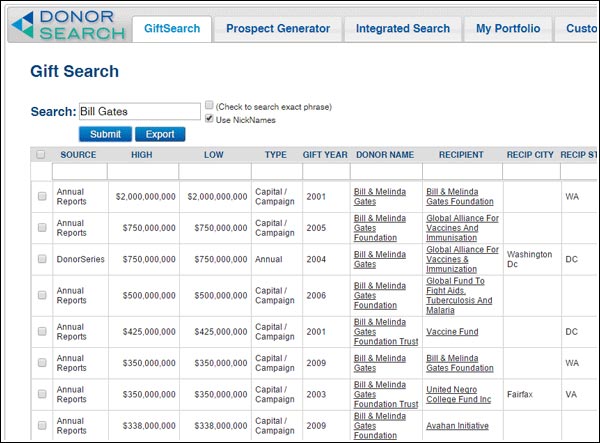 As a prospect development software and database, DonorSearch can be most useful to large organizations with dedicated fundraising development staff. Nationwide nonprofits, schools, and hospitals have all found immense fundraising success with DonorSearch.
Fundraising Software Pricing
As a service to help guide organizations with major fundraising and capital campaigns, DonorSearch tools and database access is designed for large organizations with higher budgets.
Depending on your exact needs, costs may vary, so if you think that DonorSearch might be a good fit for your nonprofit's goals then contact them for a detailed estimate.

360MatchPro – Top Software for Automated Matching Gifts
Fundraising Software Overview
If your larger organization is looking to substantially boost donation revenue without needing to drastically expand your donor base, 360MatchPro is the perfect solution.
By reminding your donors of their eligibility, you can significantly boost your donations and help your supporters to feel even better about their donations.
Key Software Features
360MatchPro is specifically designed for larger organizations to maximize matching gift revenues through integrated and automated software tools.
Automated identification software can immediately identify donors eligible for corporate matching gifts by their email domains or supplied information.
Automatic messaging options ease the entire matching gift process by keeping your eligible donors aware and engaged.
Integrated tracking and analytics portal gives nonprofits with the ability to track the progress of their donors' matching gifts and make smarter strategy decisions.
Plus, the 360MatchPro interface is extremely intuitive and easy to use: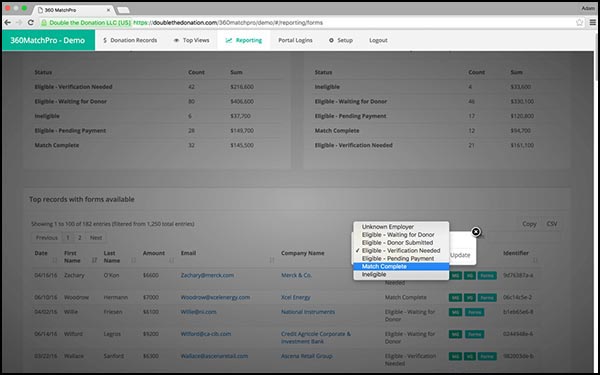 Fundraising Software Pricing
360MatchPro is typically better suited to larger organizations with the higher budgets to encompass multiple simultaneous projects.
If you think automated matching gift tools would be a great move for your organization, contact 360MatchPro to discuss estimates or even schedule a demo.

Auctria – Top Mobile Bidding Software
Software Overview
Auctria streamlines the entire auction process from start to finish for silent, live, and online auctions.
As veteran fundraisers know, hosting a charity auction requires organization and dedication, but they can be some of the most impactful events for your nonprofit. The logistics of such complicated events (auction items, bid sheets, payment processing) can be overwhelming. 
By simplifying the process, making it mobile, and giving you the tools to boost your donation revenue in new ways, Auctria can be an invaluable solution for your organization's live, hybrid, or online fundraising events.  
Key Software Features
Auctria is a best-in-class mobile charity auction software because of its simplicity and comprehensiveness when it comes to managing auction fundraisers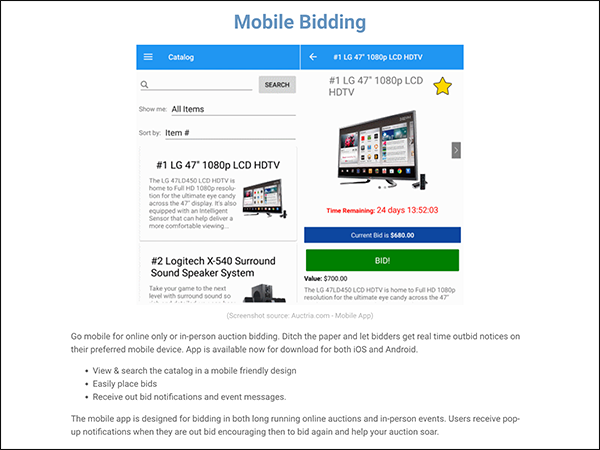 Auctria offers a suite of features to support any organization's event:
Mobile bidding

lets supporters get involved in your nonprofit's auction with simple and intuitive mobile software. 

Exclusive event websites

create a professional and online presence prior to the event, allowing for easy promotion and ticket sales. 

Bidder automation

centralizes the bidding process from registration to bid to checkout. 
Any organization looking to host a streamlined fundraising event can benefit from Auctria's platform and services. Both donors and organizers will love how easy Auctria is to use, making Auctria a great choice for your next big event.
Fundraising Software Pricing
Auctria offers a variety of packages for organizations and events of any size with options for custom training and consulting and personalized event set up.
---
When researching new fundraising software solutions for your organization, you've got a lot to consider.
Depending on your type of organization, its goals, its mission, and its budget, there are plenty of options out there that can help you optimize your entire digital fundraising strategy.
Always remember to check out other resources on fundraising software, too. You can likely even find one targeted specifically to your type of organization:
Disappointed with our top choices? Reach out to ReCharity to learn more about being featured as a top nonprofit provider!