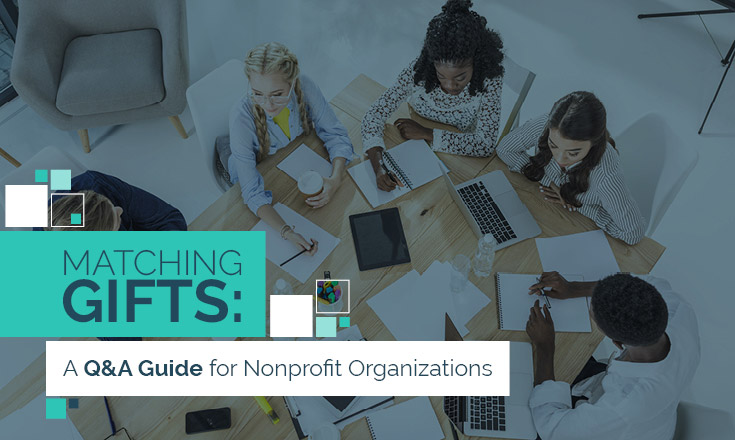 When it comes to raising money, nonprofits of all shapes and sizes are constantly looking for new and innovative ways to increase the impact of their supporters' contributions.
There's a way your nonprofit can boost your fundraising revenue without requiring your donors to make more gifts, and it's the best-kept secret in the nonprofit sphere.
So, what are matching gifts?
Matching gifts are a form of corporate philanthropy in which employers financially match the donations that their employees make to nonprofits.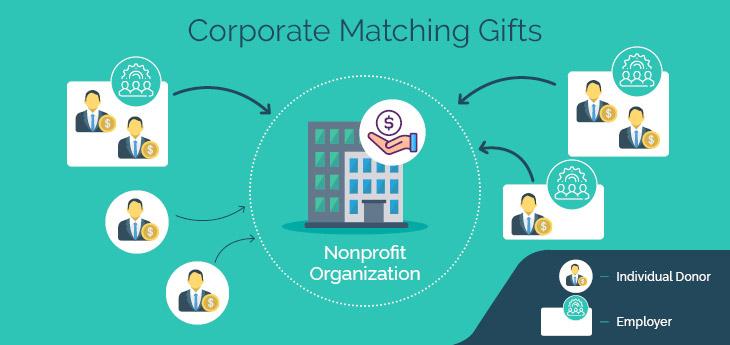 Matching gift programs can effectively double the impact of individual gifts made to your nonprofit.
While common in the corporate world, matching gifts are still very underutilized. This is because donors often don't know if they're eligible. Understanding how these programs work and how your organization can help raise awareness of them is the key to unlocking new revenue streams for your mission.
In this article, we'll walk through top matching gifts questions, including:
Maximizing your matching gift potential is the single best way to make the most of your community's support.
There's no reason why your organization can't start boosting the impact of your donors' gifts today. Let's dive into these top matching gifts questions so you can start raising more as soon as possible.



1. How do matching gifts work?
The matching gifts process is fairly simple and requires little effort on the part of your donors. Here's how it works:
A donor completes their donation to your nonprofit organization.
If they're eligible, the donor submits a matching gift request to their company.
The company reviews the request to ensure that it meets its matching gift guidelines.
The company reaches out to your nonprofit to confirm the donation.
The company sends a check to your nonprofit to complete the gift match.
That's it! Because this process requires no other action on the part of your donors other than submitting their official matching gift request, it's incredibly easy to inspire your supporters to engage in this process.
Your nonprofit has very important roles to play in this process, though. Your job is to make sure donors know 1) that they could be eligible to have their gift matched, and 2) how they can search for their eligibility and begin the process.
How can donors find out if they're eligible for matching gifts?
Provide your online donors with a tool that lets them search for their employer's matching gift guidelines. You can provide this tool on a dedicated matching gifts page on your website. This will allow offline donors to visit and quickly check their eligibility, too.
We'll discuss these tools in greater detail below.
What matching gifts guidelines do companies usually have?
Guidelines for corporate philanthropy programs typically touch on these aspects:
Gift size. Most matching gift companies place parameters around the size of gifts that they'll match. Typically, the company sets a minimum gift size and a maximum.
Date of donation. After making their initial donation, donors will have a set amount of time to make their request. This usually relates to the company's fiscal calendar.
Nonprofit mission. Companies will often match gifts to most nonprofits, but some focus on specific areas (like education) or bar giving to others (like faith-based causes).
How much do matching gift companies give to nonprofits?
This will depend on the guidelines of the company's individual matching gifts program. The most common matching gift ratio is 1:1, but some generous companies will match donations at a 2:1 or even 3:1 ratio!
According to recent matching gifts statistics, $2-3 billion is donated to nonprofits through these programs annually. However, an additional $4-7 billion is estimated to go unclaimed every year, as well.
There's a ton of opportunity to tap into the world of corporate philanthropy, you just have to make sure your donors are aware of how they can get involved.



2. Why are matching gifts important?
At first glance, it's pretty easy to see why nonprofits love matching gifts: essentially, it's free money for your cause.
However, there's a lot more to the matching gifts process than simply accessing untapped revenue. In fact, incorporating matching gifts into your fundraising strategy can have wide-reaching benefits for everyone involved.
Benefits for Nonprofit Organizations
Boosting year-round fundraising revenue
Building stronger long-term relationships with donors
Incentivizing donors to increase their initial gift amounts
Inspiring donors to give more frequently
Establishing new relationships with companies in the community
Benefits for Donors to Nonprofits
Increasing the impact of each donation they make
Forging stronger emotional connections with the missions they care about
Benefits for Corporations
Providing an easy way to practice corporate social responsibility
Strengthening employee engagement with philanthropic programs
Building stronger relationships with organizations in the community
The bottom line? Matching gifts increase your fundraising revenue and encourage more and bigger gifts from donors.
Matching gift programs are an easy, structured way for companies to give back to the community, and they foster stronger emotional connections for donors who've been able to double their impact on your mission.



3. Which companies offer matching gifts programs?
Companies of all shapes and sizes offer matching gifts programs to their employees. With the rise of corporate social responsibility, or CSR, as a major force in the marketplace, businesses are eager to prove to customers that they care about giving back.
We've compiled an in-depth look at the top 10 matching gift programs, but here's the abridged version. These companies offer some of the most generous programs today:
BP
Merck
Disney
Soros Fund Management
State Farm
Grainger
MBIA
Noble Energy
Starbucks
The Home Depot
CSR is an important way for companies of all sizes to differentiate themselves today, and matching gifts programs are some of the easiest and most structured ways for them to get started.
By matching employee donations, companies don't need to invest time in complex sponsorships in order to give back (although matching gifts are a great way to begin building those relationships). Expect to see matching gift programs become more popular in the world of CSR in the coming years.



4. How do you ask for matching gifts from donors?
As we mentioned earlier, matching gift programs are underutilized forms of corporate philanthropy because so many donors simply don't know that they're eligible for them.
If you want to increase your nonprofit's matching gift revenue, there are two main things you need to do:
Raise awareness of matching gift programs among your donors.
Provide easy ways for donors to check their eligibility.
84% of donors say they're more likely to donate if a match is offered. The benefits of these programs are already very clear to donors, so you just need to focus on making sure they're aware of them in the first place.
How do you promote matching gifts?
Think of ways to incorporate matching gifts into different areas of your nonprofit's strategy, from your fundraising efforts to your marketing plan.
Let's take a look at some smart ways to bring matching gifts to the forefront of your nonprofit's operations:
Publish educational content on matching gifts. Many of your supporters are unaware that matching gift programs are out there, let alone if their employer offers one. Publish blog posts, infographics, and email newsletters introducing your community to the subject.
Send out matching gifts reminder emails. Once a donor gives to your cause, set up an automated email message to remind them to submit a matching gift request. Be sure to schedule this to be sent after (or as a part of) your thank you message.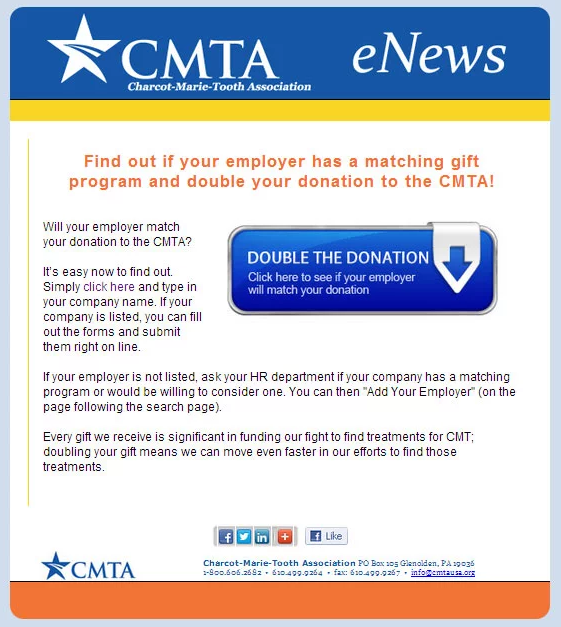 Embed a matching gifts database on your donation forms/pages. Remind donors about matching gifts as they make their donation to your cause by embedding a matching gifts database directly on your giving pages and forms.
Create a dedicated matching gifts page on your website. Use this page to host your embedded search tool. This is an easy way to direct both online and offline donors to check their eligibility in one place.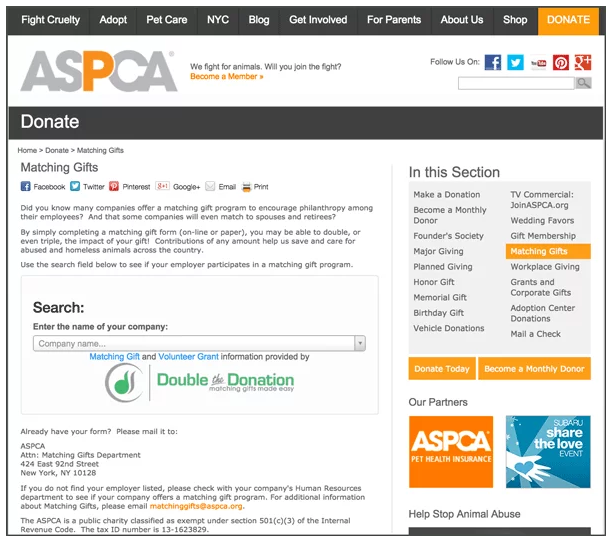 Leverage matching gifts during annual fundraising. It can be tough to get donors to make a second or third contribution to your annual fund campaign. Instead, you might ask donors to submit a matching gift request to boost their annual fundraising impact.
Promote matching gifts during year-end giving. Donors are more likely to give at the end of the year, so make this spike in fundraising really count! Market matching gifts to your year-end givers to ensure their matching gifts can be processed by the end of the year.
Remember, the key to success with matching gifts is raising awareness. As your team starts focusing on matching gifts fundraising, always try to think of how the process can be incorporated into your existing marketing and communications strategies in new ways.



5. What matching gift tools can nonprofits use?
Matching gift tools are designed to help your nonprofit generate greater matching gifts revenue.
When your team has the right software on hand to automate and streamline aspects of the matching gifts process, you're sure to start generating more matching gift revenue for your cause.
You can learn more about how we picked our top matching gifts database here, but here are two of our favorite software solutions to get you started right away:
Double the Donation is a matching gift database tool. Using this company's software, donors can enter in their employer's name and learn a host of key matching gift information. Donors can use this database to learn:
Their matching gift eligibility
Their employer's matching gift parameters
The company's matching gift submission deadline
With Double the Donation, nonprofits can embed the matching gifts database directly onto their website as part of a customized page.
Double the Donation regularly updates their library of over 20,000 companies that represents more than 15 million match-eligible donors. This means that your donors will always have access to a robust and up to date matching gifts database no matter what.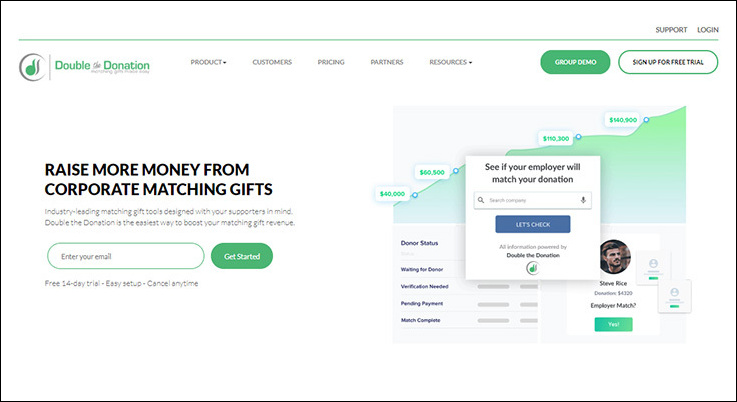 360MatchPro: Top Matching Gift Automation Platform
For larger nonprofit causes, consider investing in 360MatchPro's unparalleled matching gift automation software. 360MatchPro is designed for nonprofits that process over $25,000 in matching gift revenue annually. You can use the software to:
Automate matching gift eligibility identification
Drive matches to completion with tracking tools
Forecast matching gift revenue using data reporting
Larger nonprofit organizations can benefit from 360MatchPro's automation tools to help ensure each and every one of their match-eligible donors secures a matching gift.
The greater your matching gift revenue, the easier it is for some match-eligible donors to fall by the wayside. By investing in 360MatchPro, you'll always have the tools you need to drive matches to completion!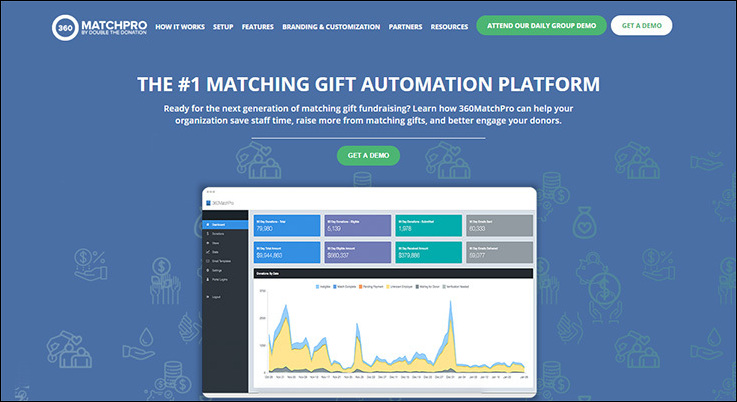 ---
Matching gifts fundraising is one of the best ways to boost your fundraising revenue while giving donors the chance to maximize their impact. Now that we've reviewed the top questions nonprofits have about matching gifts, your team is ready to start making this useful fundraising strategy work for your cause!

Bonus: Where can I learn more about matching gifts?