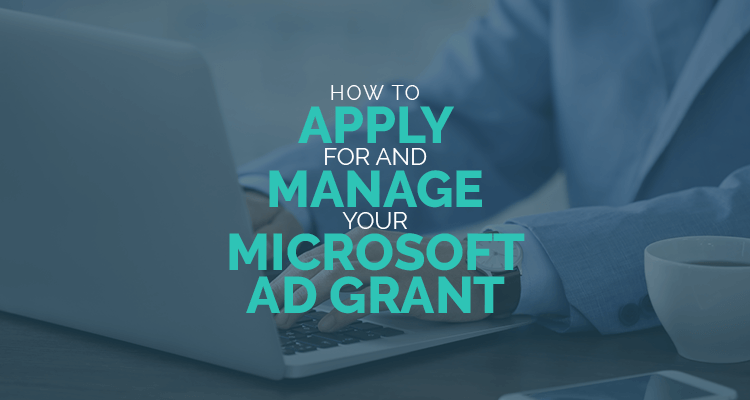 One of the most popular tools in the fundraising world is the Google Ad Grant. Offering $10,000 a month in ad credits, Google's program enables eligible nonprofits to improve their online visibility and promote their causes.
However, Google isn't the only player out there in the digital ad grant space. Microsoft recently launched its own program called Ads for Social Impact. While the Microsoft Ad Grants program offers nonprofits a smaller grant of $3,000 per month, it also shows its participants' ads on a wide variety of Microsoft platforms including Bing, Yahoo, AOL, Outlook, MSN, and Microsoft Edge.
Both the Google Ad Grant program and the Microsoft Ads for Social Impact program are incredible ways to spread awareness for your organization at no cost.
By enrolling in the Microsoft Ad Grant program, your organization can boost its reach online and expand its fundraising potential. In this article, we'll walk you through the program as a prospective organization so you can easily apply the information and tips we provide to your own nonprofit. These are the areas we'll cover:
At Re:Charity, we empower nonprofits to reach their full fundraising potential by connecting them with helpful tools and resources like the Ads for Social Impact program. So that you can level up your digital marketing, let's jump right into everything you need to know about the Microsoft Ad Grant program!
All About the Microsoft Ad Grant Program
Microsoft started its Ads for Social Impact program in June 2022 in hopes of helping eligible nonprofits increase website engagement and fulfill their marketing and fundraising goals. To accomplish this, Microsoft offers organizations $3,000 a month in ad spending with the Microsoft Ad Grant.
Even though this ad grant has a smaller monetary value than the Google Ad Grant, it goes toward ads on several different Microsoft platforms as opposed to just Google itself. For example, you might see an ad from Microsoft's program while searching on Bing, checking your Outlook email, or reading the news on MSN.
As we mentioned before, we'll be going through the Microsoft Ad Grant program as a prospective organization. Let's say you're a fundraising coordinator at Saving Pets Animal Shelter.
An animal lover in your community might be looking for a way to make a difference. As a result, they search for a local animal rescue while checking the news on MSN. That search will bring them to a search results page similar to the one shown below. Any pages that someone has paid to promote will be marked with the word "Ad" next to them.
Most often, these websites belong to organizations leveraging the Microsoft Ad Grant program to collect more donations and recruit volunteers. As a participant in the program, Saving Pets Animal Shelter could show up alongside these other nonprofit websites.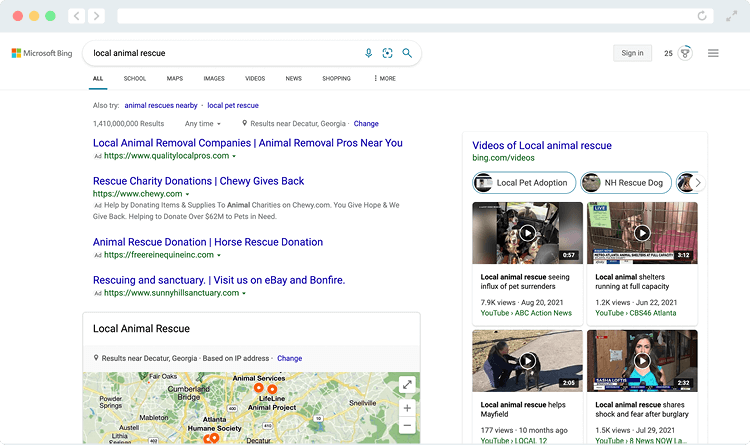 The Difference Between Microsoft Ad Grants and Google Ad Grants
As a fundraising professional, you might be wondering what else distinguishes Microsoft's Ad Grant program from Google's aside from the grant amount. Here is what sets the two programs apart:
Account creation. For one, if your organization already uses paid search on Google, you have to create an entirely new account to participate in the Google Ad Grant program. However, nonprofits that already use paid search on Microsoft can use their new Microsoft Ad Grant as a coupon on their existing account. That way, you can keep track of all of your campaigns in the same place.
Compliance requirements. Additionally, the Ads for Social Impact program has fewer account restrictions than the Google Ad Grant program. As a participant in the Google Ad Grant program, you'll have to be sure to meet minimum click-through rates, minimum quality scores, and maximum cost-per-click to stay in the program. Conversely, the Microsoft Ad Grant functions just like funds you would contribute to a paid search campaign, so none of these restrictions are in place. You can simply run your campaigns without worrying about any metric requirements from Microsoft.
SERP competition. Lastly, since there is more competition on Google, it is easier for your ads to be seen with Microsoft's program. Even though the Microsoft Ad Grant is smaller than the Google Ad Grant, your Microsoft Ad Grant can go a long way.
Now that you know a little more about the Ads for Social Impact program, it's time to review the benefits of leveraging the Microsoft Ad Grant.
Microsoft Ad Grant Benefits
With a better idea of how the Microsoft Ad Grant program works, you might be wondering why participating in the program would be beneficial for your nonprofit. To help you out, we've compiled some advantages that come with leveraging the Microsoft Ad Grant: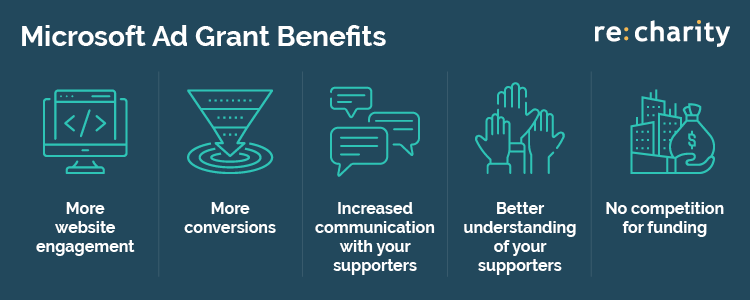 More website engagement.
Let's continue with our prospective organization example, Saving Pets Animal Shelter. This organization might have fantastic content on its website including pictures of each animal up for adoption, videos of animals going off to their forever homes, and extensive information about volunteer and donation opportunities. Even so, none of this content will serve its purpose if potential supporters can't find it.
That's where the Microsoft Ad Grant comes in. When you create Microsoft Ads that direct people to different pages on your site, you make it easier for them to find the resources they're looking for. As a result, they're more likely to check out your page and consider supporting your organization. For example, you can set up your ads so that people searching for "animal shelter volunteers" will see your volunteer registration page while people looking for "animal shelter donations" will be directed to your donation page.
More conversions.
When you think of conversions, your mind might automatically go to sales and other for-profit activities. However, there are numerous conversions that nonprofits can track as well. Here's a sampling of some online conversions your nonprofit might track:
Donations
Email list signups
Event registrations
Ticket sales 
Volunteer signups
Since Microsoft Ads allows you to show potential supporters the pages they're interested in, you're more likely to see clicks turn into conversions. For example, Saving Pets Animal Shelter may be hosting a special pet adoption event. By promoting their event registration page as opposed to their homepage, they can increase the likelihood that people will sign up for the event as a result of their Microsoft Ad.
Increased communication with your supporters.
Like many nonprofits, Saving Pets Animal Shelter sends out a monthly newsletter, direct mail to previous donors and volunteers, text messages about upcoming events and opportunities, and social media posts on a variety of platforms. While these communication methods are impactful, Microsoft Ad Grants provide a different, more understated way to reach out to your supporters.
Someone who has previously donated to Saving Pets Animal Shelter may feel overwhelmed by receiving emails, direct mail, and text messages asking for additional donations. However, they may search for animal shelters to donate to online and see a Microsoft Ad for Saving Pets Animal Shelter, reminding them of the great work this organization does. In this case, the Microsoft Ad serves as a gentle reminder of the nonprofit's presence to the donor as opposed to the unwavering outreach of traditional methods.
Better understanding of your supporters.
These days, data is the key to better decision-making. By taking advantage of your nonprofit's website activity data, you can improve your campaigns and thus better serve your supporters.
Microsoft understands the importance of collecting data about your website, so they provide tools such as event tracking, campaign analytics, and traffic insights to help you out. You can then use this information to improve your website and campaigns.
No competition for funding.
If you've applied for other grants in the past, you might've been disappointed by the share of funds you received compared to other organizations. As a participant in the Microsoft Ad Grant program, you'll automatically receive $3,000 in your Microsoft Ad Grant account each month, just like every other participating nonprofit.
Since you know how much grant money to expect from Microsoft, you can better plan your campaigns and how you'll distribute the money among them.

How Nonprofits Use Microsoft Ad Grants
Before you participate in the Ads for Social Impact program, it's helpful to determine your objectives and goals for your time in the program. These goals will provide focus to your campaigns and give you something to work toward.
For a better idea of how your nonprofit can use its Microsoft Ad Grant, we've created some potential goals for Saving Pets Animal Shelter: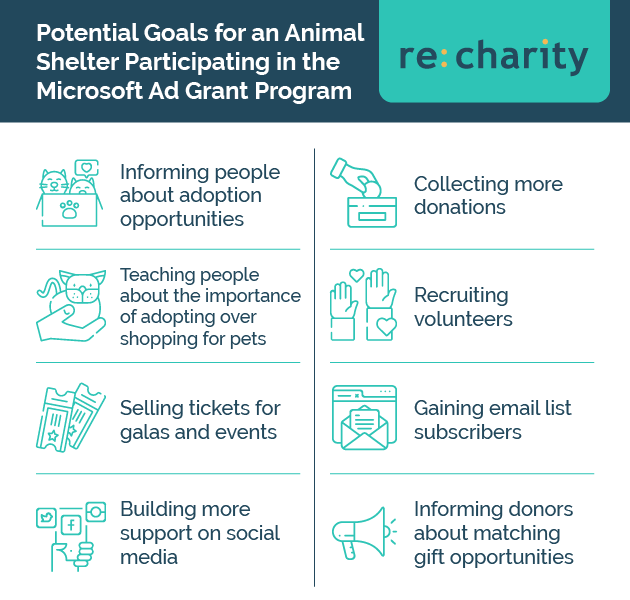 Informing people about adoption opportunities
Collecting more donations
Teaching people about the importance of adopting over shopping for pets
Recruiting volunteers
Selling tickets for galas and events
Gaining email list subscribers
Building more support on social media
Informing donors about matching gift opportunities
By creating goals and keeping them at the forefront of your strategy, you'll create more impactful campaigns and be able to track your progress more easily.

Microsoft Ad Grant Eligibility
If you're familiar with the Google Ad Grant program eligibility requirements, then you already have a good sense of what we'll cover in this section. While Microsoft's requirements differ slightly from Google's, your organization is likely eligible for the Microsoft Ad Grant program if it's already eligible for the Google Ad Grant program.
Microsoft delineates three main eligibility requirements.
Legal recognition as a nonprofit or non-governmental organization. First, they note that all participating organizations must be legally recognized nonprofits or non-governmental organizations in their respective countries. Since Save the Pets Animal Shelter is a U.S.-based organization, it needs to be registered with the IRS as a tax-exempt 501(c)(3) organization. 
Operation on a not-for-profit basis with a specific mission. Second, Microsoft ensures that all participating organizations operate on a not-for-profit basis and serve a charitable mission. For example, Save the Pets' mission might be "to give abandoned animals a chance for a better life."
No discrimination of any kind. Finally, organizations that participate in the program must not have any discriminatory policies. Microsoft requires that all nonprofits in the program act with integrity and respect for others.
While the three requirements listed are the main ones you'll need to check off, Microsoft also lists several types of organizations that are automatically ineligible. These include:
Governmental organizations
Healthcare organizations
Public utilities like public transportation
Financial institutions
Professional, commerce, and trade associations
Professional and semi-professional sports organizations
Political, labor, and fraternal organizations
For a more in-depth review of the Ads for Social Impact program eligibility requirements, you can refer to Microsoft's page on program eligibility.

Applying for the Program
After determining your eligibility, applying for the Microsoft Ad Grant program is easy. There are two separate parts of the application.
First, you'll apply for Microsoft for Nonprofits, Microsoft's overarching program for nonprofit resources. This part of the application is broken down into four steps:
Welcome & Policies: When you begin the application, Microsoft will ask that you enter your nonprofit's point of contact and review their program policies.
Organization Info: In the next step, you'll fill out some basic information about your organization. This includes your organization's name, address, website, phone number, size, budget, mission statement, and IRS EIN.
Verify Phone: To ensure that Microsoft can contact you, they'll ask you to verify your organization's phone number.
Create Account: Finally, you'll be prompted to create a Microsoft for Nonprofits account.
The Microsoft for Nonprofits application should only take about 10-15 minutes to complete. Once you submit it, you should hear back from Microsoft about your program acceptance within 24 hours.
Once you've been accepted to the Microsoft for Nonprofits program, you can move on to the Microsoft Ad Grant application. All you'll have to do is submit some more information about your organization and your point of contact. After that, Microsoft will get back to you within ten business days with a decision about your application.

Optimizing Your Microsoft Ad Grant
Whether you're new to managing ads or have been creating digital ads for your organization for years, it's never a bad idea to learn new tips for optimizing your Microsoft Ad Grant. That way, you can create the best campaigns possible and make sure you're getting the most out of the program.
Take a look at these Microsoft Ad Grant best practices we've compiled: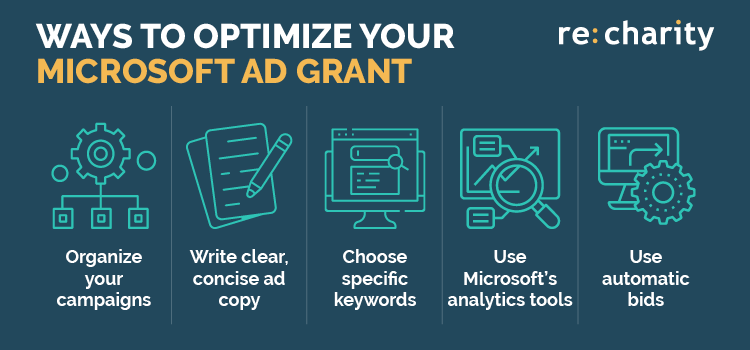 Organize your campaigns.
When you organize your campaigns by the goals you're trying to achieve, you can ensure that you're catering to supporters' needs. Doing so will help you increase conversions and maximize the impact of your site's content.
For example, Save the Pets may want to inform people about adoption opportunities, teach people about the importance of adopting over shopping for pets, and recruit more volunteers. To accomplish these goals, their fundraising coordinator should set up a separate campaign for each goal. Then, they'll be able to track the metrics of each goal separately, and their supporters will have an easier time finding content that interests them.
Write clear, concise ad copy.
You only have a few seconds to grab potential supporters' attention with your ad, so make sure your copy is clear and concise. It's best to use short sentences and avoid uncommon acronyms or abbreviations that may confuse people. When in doubt, keep it as simple as possible.
Choose specific keywords.
The keywords you choose will impact whether people can find your ads, so choose wisely. In this case, it's best to think backward and ask yourself what your supporters may be searching for.
For example, Save the Pets might choose "animal shelter volunteer" or "adopting a pet" as potential keywords. These would be better choices than something generic such as "animals" or "pets" that are more loosely related to an animal shelter's operations.
Use Microsoft's analytics tools.
To continuously improve your campaigns, you'll want to take advantage of Microsoft's analytics tools, such as event tracking, campaign analytics, and traffic insights. The data you obtain from these tools will allow you to learn more about how supporters engage with your website and what you can do to improve their experience.
In the case of Save the Pets, they might realize from their campaign analytics that most people who click on an ad linking to their homepage end up clicking on their social media page immediately after. As a result, Save the Pets would realize that finding their social media accounts is important to their supporters. Therefore, they may create a separate ad promoting their social media presence.
Use automatic bids.
The way that Microsoft decides when to show your ads is through your bidding compared to other organizations. While Save the Pets wants to be shown for keywords such as "animal shelter volunteer" and "adopting a pet," so do other animal shelters and rescues. Thus, they all bid on these keywords to determine whose ad is shown.
Organizations can submit bids manually, but for maximum efficiency, it's best to use Microsoft's automatic bidding options. These include bidding strategies for:
Enhancing your cost-per-click
Maximizing clicks
Maximizing conversions
Achieving your target cost per acquisition and return on ad spend
If you're looking to get the most out of the Microsoft Ad Grant program, we recommend that you follow these best practices to create effective ads.

How a Microsoft Ad Grant Agency Can Help
While the Microsoft Ad Grant process is quite simple to navigate, we understand that not every nonprofit has enough time to devote to the program. However, that shouldn't mean that your organization doesn't get to participate. There are digital marketing agencies out there that can do the work for you.
By working with a digital marketing agency specializing in nonprofit ad grants, you can relax knowing that professionals are taking care of the process. These agencies can help you with any step of the grant management process, including: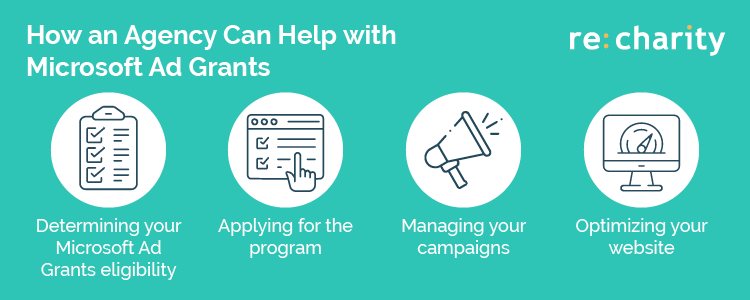 Determining your Microsoft Ad Grants eligibility
Applying for the program
Managing your campaigns
Optimizing your website
For the best results, we recommend working with Getting Attention. They are a digital marketing agency that specializes in Google Ad Grant management, but they are working hard to learn the ins and outs of the Microsoft Ad Grant program so that they can become experts in that area as well.
With tons of experience in the nonprofit digital ad space, Getting Attention will help you navigate any questions or troubles you have with the program.
Schedule a free consultation with Getting Attention!

Additional Resources
After reading this article, you should fully understand the Microsoft Ad Grant program and how it could benefit your organization. Whether you're looking to recruit volunteers, boost your fundraising efforts, or simply spread awareness for your cause, the Microsoft Ad Grant is an invaluable nonprofit tool to leverage.
If your organization is eligible and interested in participating in the Ads for Social Impact program, go ahead and apply! However, if you still have questions about the program or want to learn more, check out the resources below:
Microsoft Ad Grants: The Complete Guide for Nonprofits. From the nonprofit ad grant specialists at Getting Attention, here is another article about Microsoft Ad Grants. This article outlines the differences between the Microsoft Ad Grant program and the Google Ad Grant program so you can decide which one is best for your organization.
The Ultimate Microsoft Ad Grant Guide for Nonprofits. Check out this guide for a great overview of the Microsoft Ad Grant program. You'll learn even more about the program and hopefully be better able to decide if your organization is interested in participating.