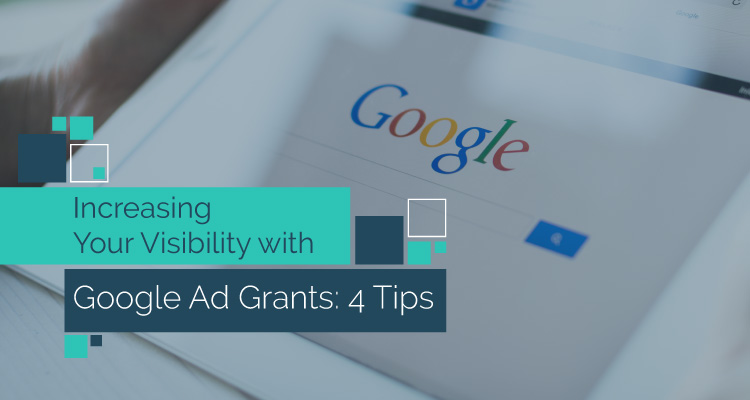 When it comes to resources that can expand the reach of your nonprofit's fundraising strategy, few tools are as powerful and flexible as Google Ad Grants. As with any tool, its usefulness is based on how well you can use it.
The Google Ad Grant gives eligible nonprofits up to $10,000 in monthly credit to use for placing ads that will appear in Google searches. This strategy allows you to put your cause front and center where people are searching for information about organizations like yours., Ideally, you can funnel interested readers to key parts of your website to donate, volunteer, or get involved.
Whether you already have the Google Ad Grant or are in the process of obtaining it, you will need to know how to best apply it in order to gain visibility for your website and reach your goals. In order to increase your visibility among your supporters with the Google Ad Grant, you should:
Optimize your site.
Make your site mobile-friendly.
Remember your audience.
Maintain consistent branding.
If you haven't put this powerhouse to work for your organization, the best time to apply for the Google Ad Grant is now! Nonprofits who have their 501(c)(3) designation, or a similar standing in one of the other 50 countries where the Google Ad Grant is available, are generally eligible, (though it does not extend to hospitals, schools, colleges, or government institutions). In addition to that, you must have a high-quality and secure website, and must be willing to agree to Google's terms of service.
Optimize your site.
One of the biggest areas for improvement among nonprofits in their Google ad reach is their website. If you are going to put effort into bringing visitors to your site, it is well worth the time to make sure your website is the best that it can be before they arrive.
A fully optimized website has a few distinguishing characteristics that improve clicks and conversions.
Make sure that the pages and posts on your website keep SEO in mind. Search engine optimization (SEO) is the key to ensuring that your pages are easily found online, and it can be the key to maximizing your online exposure. Be mindful of which words and phrases you use in your title and headings, as these have a strong impact on how search engines sort pages. Keep sentences short, include links to other pages on your website, and ensure that the content is easily readable.
Research your keywords. As you work to make your pages and posts as effective as they can be, use services like Moz and others to explore the keywords and phrases you intend to target with SEO to see what kind of traffic those searches receive.
Create content that is meaningful, engaging, and useful. Your website should have 3-5 articles that are directly relevant to your nonprofit's cause and which explain the key information that an interested reader should know in-depth. Google favors articles like these, and they provide an excellent way to create useful resources that can provide readers with different ways to get involved.
Check your website's load times. Tools like Pingdom can help you to analyze how fast your key pages load and identify issues that could help speed up delivery of your content to viewers. The longer visitors have to wait to see your content, the more likely it is that they will simply move on. Speed is vital to maintaining interest.
Not only do you want your website to be as effective as possible, you also need to take every measure possible to ensure that it looks good no matter how a visitor explores it. This is why you will need to ensure that your site is mobile friendly.
Make your site mobile-friendly.
This may seem like a commonsense idea, but it is often overlooked and rarely placed at the forefront of an organization's website strategy. However, mobile compatibility and good web design are vital to successfully drive donations to your nonprofit.
Don't believe it? According to this resource from Statista, mobile browsing accounted for 54.8% of all web traffic in the first quarter of 2021. If over half of your potential visitors are going to enter your site on their smartphone, you need to make sure that your site's design is ready to look stunning and work well on their devices.
Google also prioritizes sites that work well on mobile devices in their search results. Mobile accessibility is crucial if you want to increase your visibility and encourage meaningful conversions.
Optimizing your site for mobile devices fits well within a broader website audit, which will help you to analyze problems from the ground up and fix issues with the user interface, user experience, or compatibility on different devices or formats.
The core components of a mobile-friendly website are:
Display. Go to your website on your phone. Does it look how it should on mobile? Is the text a readable size? Do images or videos take up appropriate amounts of space, or do they feel off?
Navigation. Is the site easy to explore on a touch screen? Are navigation bars or links readily visible, clear, and useful?
Functionality. Does the site load quickly? Can you load the site without WiFi? Large images or embedded videos can sometimes slow these load times down. Auto-playing video or audio can sometimes be disruptive to users who have their volume turned up on their phones.
Sometimes these issues can be difficult to analyze or resolve because their causes can be deeply rooted in your website's code or design. For most common web hosts or web design utilities, there are built-in tools you can use to help improve these elements. In other cases, you might need to consider a redesign or moving to a website design service that incorporates mobile friendly design from the very beginning. Even if it takes time, the results will be well worth it.
Remember your audience.
Knowing who visits your website is just as important as how it is designed. You could spend time and money to reach the top of Google's search results, but that won't matter if you aren't attracting the kinds of visitors that matter to your goals.
Start by taking a look at your existing supporters. Look for common interests or similarities. Are there things that might help you to predict who is more likely to volunteer, donate, or get involved?
Perhaps you're looking to find a new audience and expand your overall reach. You can focus different Google Ad campaigns on different audiences, targeting your message to each of them. This strategy is known as donor segmentation, and can help you to speak effectively to different groups of potential visitors in their own language.
How does this look in practice? Assume that in examining your donors, you find two large groups segmented by age: Baby Boomers from a nearby suburb and Millennials who live in your city's urban area. Both donate more often than other groups, but how you approach each is going to be different. For instance, the language and tone you would use to reach these two groups will vary because each age group has different reasons for donating. Speak to each on their own terms.
Start with your audience, and tailor your strategy to them. What are they going to Google? How would they phrase it? What might they ask? For each campaign, try to step into your audience's shoes and help them to find what you offer.
This approach isn't limited to Google Ads either. Your website should feature content with compelling stories and eye-catching titles that answer your audience's questions or hold their interest. You want to keep them engaged all the way from first seeing your ad to following through on next steps, and that means thinking creatively about what they want or need. Tell a good story, and learn how to tell it well. This story should be communicated through your website on every level, including your brand identity.
Maintain consistent branding.
Think of branding as the essence of your nonprofit's identity. It explains who you are, why you care, your ethics, and your passion. It should reflect the best of all of these things, and it should be evident in every part of your online presence, from your website to your Google Ads themselves.
Why? Think of it this way: if a visitor were to walk into your physical offices, they could see your aesthetics, meet your employees, feel your passion for your cause. But online, none of those things are as readily apparent. Branding is how you can convey those qualities in a way that the online visitor can understand. Take the time to consider your brand in every place where your nonprofit interacts with the public, and improve any areas of your branding that fall short of the standards you set for yourself.
Branding is also important for building trust, especially if you are seeking donations. You need your visitors to feel that they are in professional hands, and consistent, meaningful branding conveys a sense of professionalism and security that tells your audience about your values.
Effective branding can even help to foster a sense of pride and passion among your employees. If you think of your brand as your shared values, why wouldn't you want them to show up in every part of your work?
It takes time and thought to strike the right balance between creating specific ads that target unique audiences yet still remain within your branding and tone, but with a little effort you will be able to adjust it until it is just right.
---
Mastering Google Ads comes down to having the grit, cleverness, and passion to keep refining your ads until you reach your ideal audiences. Use your analytics tools wisely and set goals for yourself, and you will see how Google Ads can work with you to grow your online presence.
If you haven't applied for the Google Ad Grant yet, you could be missing out on up to $10,000 of ad credit to help you meet your nonprofit's goals. Any size nonprofit can benefit, and the application process is free and far easier to obtain than most traditional grants.