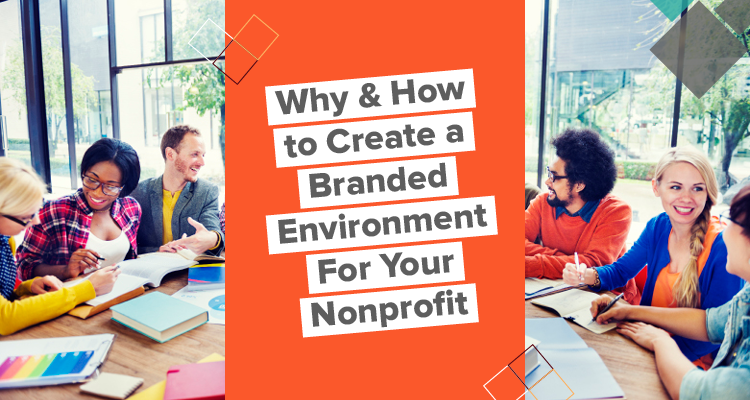 What do visitors, board members, and staff see when they walk through the doors of your nonprofit's facility? Do they see a blank wall or a small nondescript sign? Is it immediately clear who works in the space and what your mission is? More than likely, your facility is a blank canvas missing out on a valuable opportunity to create a memorable experience. 
In the for-profit sector, many businesses use interior design as a strategy to tell their stories and create brand loyalty. However, even organizations that don't sell products can leverage the advantages of environmental branding.
A well-designed environment is a powerful way to strengthen your nonprofit's brand identity and connect more deeply with your community of supporters. 
At Eleven Fifty Seven, we've collaborated with countless nonprofits, universities, businesses, and athletics organizations to design and create spaces that make bold, meaningful statements. In this article, we'll explore how and why your own organization can create a branded environment of its own. Specifically, we'll cover:
The basics of branded environments

The benefits of branded environments for nonprofits

The process of creating your own branded environment
When you think of a physical installation in a nonprofit's space, the first thing that may come to mind is a donor recognition wall. While this type of display has many fundraising benefits and can be a show-stopping focal point, it's just one piece of the puzzle. 
Now, modern design agencies are helping nonprofits think beyond the wall and transform their spaces in a way that better represents their mission and work. Let's dive in.
Branded Environments | Understanding the Basics
First things first: what does the term "branded environment" actually mean?
In a branded environment, a nonprofit (or business, university, or other entity) creates a physical embodiment of what the organization stands for.
While this display can include a standard donor recognition component, it doesn't have to. 
This list of donor wall ideas shows how recognition displays can play a role in a larger branded space. A fully branded environment will incorporate various elements of identity, information, and visual storytelling throughout the area. These elements can include logo signage, digital displays, interactive panels, photos, text, and more. 
Of course, a branded environment must also be built around a well-defined visual identity for your organization. If your nonprofit lacks a unified style guide or needs to update some outdated design elements, that should be tackled before embarking on a bigger project. Some design agencies may be able to work with you to develop a cohesive style guide before moving forward with the rest of the environmental design concept. 

While visual elements are of course going to play a key role, an effective branded environment should do more than just look pretty. It should also convey information about your organization and align with your overall mission and values. For example, a nonprofit that works with children in foster care might create a playful, colorful branded space while a health-focused organization may settle on a more subtle design.
When done well, a branded environment will elicit a strong emotional connection from anyone who walks through it. Visitors will feel drawn to your work (and motivated to donate!) and staff members will feel reinvigorated in their dedication to your work. In addition to these broad benefits, branded environments can help nonprofit organizations to fundraise more effectively in a few specific ways.
Benefits of Branded Environments for Nonprofits
Recognize influential supporters
First, we can't skip past the value of a branded environment in creating a permanent donor recognition experience.
A donor recognition wall serves as a lasting testament to your valued supporters. A strategic investment in donor appreciation is a worthwhile one, since donors who are recognized will be more inclined to engage with your organization year after year. A donor wall can even improve your retention rate and overall fundraising totals.
Within the wall, you may choose to recognize the following types of supporters:
Major donors.

Different tiers of major gifts can be acknowledged appropriately as a component of your branded environment.

Be sure that your donor recognition policy clearly outlines how these gifts are recognized—handling situations such as one-time vs. aggregate donations or individual vs. family gifts should be stipulated ahead of time.



Planned gifts.

Along with major gifts, planned gifts are some of the largest contributions your organization receives. If a planned gift is donated through a will or trust, a donor recognition wall can make a meaningful memorial to a donor's legacy.



Business sponsors.

If you have a local business or large corporation that provides support to your nonprofit, consider including a thank-you for their

philanthropic efforts

as a part of your branded environment. Depending on the magnitude of their support (and on your naming rights policy), you may even consider naming the space in their honor.
A branded environment can celebrate the efforts of these supporters in a manner that will be powerful for years to come. If you decide to include a donor recognition component, be sure to consider how your recognition needs will change over time. For instance, you may want to leave space to accommodate major gifts that are made in the future, or leave a space to fill in based on an upcoming capital campaign. 
Memorialize a big initiative
On a similar note, a branded environment can be used to permanently honor an impressive achievement such as a capital campaign. A capital campaign consulting firm or a design agency can help you determine how these large initiatives fit together.
For example, consider a faith-based organization working on a capital campaign to build a new wing in their facility. They might choose to earmark a small area in that facility to highlight the campaign process and share the journey to completion. This kind of branded environment could include design elements that reflect your organization, recognition for major contributions to the campaign, and step-by-step photos that walk through the process of designing and building the new space.
Add stopping power to your space
Put simply, a well-designed branded environment will cause visitors to stop and stare at the space. "Stopping power" encourages viewers to engage deeply with the design—and by extension, with your nonprofit's work and mission. 
The following elements (among others) may be leveraged to create this powerful effect:
Digital panels with dynamic or interactive content

Eye-catching text areas

Colorful graphic features

Large photos or collages
These dramatic visual elements help your branded environment create its desired impact. If visitors stop and engage with your display, the experience is more likely to be memorable.
Tell your story and strengthen your brand
Your nonprofit's facility can serve as a vehicle for nonprofit storytelling and brand identity. By including your logo, colors, and even mascot if you have one, you can transform a two-dimensional design identity into a full experience. 
In some ways, you might think of your branded environment as a physical and permanent manifestation of your nonprofit's annual report. As discussed in this Bloomerang guide, your annual report should show off your most important work, align with your overall brand, and include a variety of visual elements to engage your audience. Your branded environment should also align with these goals.
How to Design A Branded Environment for Your Facility
While the specific steps of designing and fabricating your environment will vary based on your architectural constraints and your overall goals for the space, the general design process will look something like this:
Consider the purpose and strategy of the environment.

First, it's time to ask the big questions:

why are you creating this environment? Where will it go—inside or outside? Is there a style guide to follow? Will you include donor recognition?

 

In this stage, you'll also consider the physical requirements of the area as well as budget constraints.



Brainstorm for creative ideas.

You should have an onsite or virtual brainstorming session to start generating ideas for the space. In this step, the team will start to get a general idea of the overall look and feel of the design, as well as how it will interact with the physical structure.

Craft the design.

Once all the parameters are in place, the actual design can come together. Structural design, interior design, graphic components, and interactive elements will all come together when composing the layout, style, and function of the environment.

Build the environment.

Look for a design agency that will handle the fabrication and installation aspects of the project. If there are any digital elements, don't forget to consider IT support and training needs as well. 
Once the branded environment is complete, it's time to unveil the project and share it with your stakeholders. In our Eleven Fifty Seven guide to creating a donor recognition wall, we recommend pairing this unveiling with another meaningful interaction with supporters, such as the grand finale of a fundraising campaign. If an in-person event isn't feasible, you can also send a virtual announcement. 
While the idea of a branded environment may bring to mind massive corporations, tech campuses, and sales experiences, this concept can also be leveraged by nonprofit organizations. By exploring environmental branding, your nonprofit can strengthen your identity, recognize donors, and tell your organization's story. To harness these benefits, collaborate with a design and build partner who will prioritize your goals every step of the way. Good luck!
This guest post was contributed by Derrick Spitler at Eleven Fifty Seven.
Derrick has been referred to as a connoisseur, marketing guru and even a prodigy. He began his career with Eleven Fifty Seven as an intern during the Summer of 2019. Since then, Derrick has graduated from The Ohio State University and has joined the team full time working in marketing and business development. He has grown to love working for the not-for-profit world by seeing the impact made possible through philanthropy.