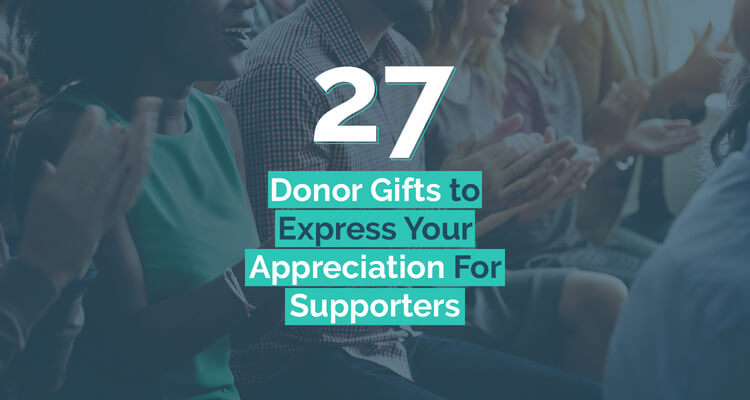 Your donors are the lifeblood of your organization. Their generosity powers your work and is the reason you can keep your doors open day in and day out.
While donors often don't expect more than a simple "thank you" in return, a small token of your appreciation can go a long way. Inspire them to stick around by sending them thoughtful donor gifts.
They don't expect you to blow your budget out of the water. After all, they give to your nonprofit because they believe you're a responsible steward of donations. Reasonably-priced donor appreciation gifts can communicate that their continued support isn't going unrecognized, though.
If you're nonprofit wants to prioritize donor appreciation in its fundraising strategy, you've come to the right spot. We'll cover everything you need to know to choose thoughtful donor gifts that will launch your relationships forward, including:
At re:Charity, we recognize how valuable each donor's support is. We often talk about fundraising best practices, helping you to kickstart valuable relationships. A big part of effective donor relations is maintaining their support, and donor gifts can play a vital role in that.
Over the course of this guide, we'll cover ideas for every size budget, so you can give meaningful presents that reflect well on your fundraising team. Backed by these donor gift ideas, you'll be fully equipped to transform supporters into lifelong givers.


Why Should Nonprofits Send Donor Gifts?
So many of your daily operations center around fundraising. After all, nonprofits need funding to continue pursuing their missions.
As you contemplate the role donor gifts play in your fundraising, here are a few benefits you can expect from this donor recognition tactic:
Cultivate donor relationships. Showing appreciation for your donors will communicate that you value the relationship, helping the donor feel respected and like a vital part of your work.
Incentivize future support. Donor gifts can incentivize donors to continue supporting your organization. They'll feel appreciated and will want to continue receiving the thoughtful gifts you provide.
Inspire other prospects. When you treat your donors with respect, the word will get around. By sending a memorable personal donor appreciation gift like a t-shirt, they'll want to show it off to their friends.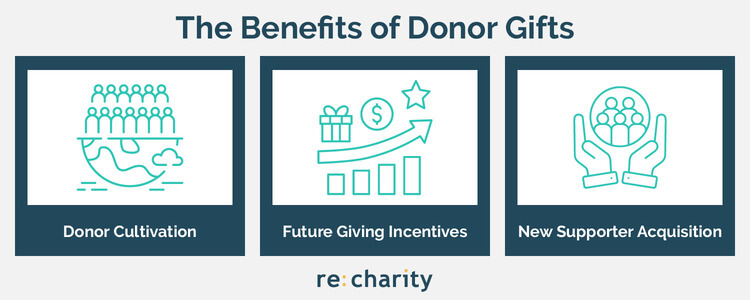 Everyone loves a genuine thank you, even if it's a short custom letter. The important part is that it's sincere. The more personal, the better.
In short, your nonprofit should offer thoughtful gifts to establish a thriving base of support. A small token of appreciation can work wonders in helping to establish a loyal, growing donor base.

How To Pick The Best Donor Gifts
Every organization's donor base is different. While there aren't any hard and fast rules about donor gifts, there are some tips you can use to pick memorable gifts your donors will love.

Choose Practical Items.
Practical donor gifts mean your supporters will have something meaningful they can use in their daily life. Give your supporters something they can use every day, such as:
Reusable water bottles
Tote bags
Coffee mugs
T-shirts
Practical items will go a long way in keeping your cause top of mind. Every time someone drinks their daily coffee, they'll see your mug. Or when they go to get dressed, they'll come across your branded t-shirt.
As a bonus, this is an excellent nonprofit advertising technique since people can use practical items in public.
Consider Your Budget.
Before brainstorming potential donor gift ideas, decide how much you want to spend per donor. This will help to narrow your options and avoid overspending. After all, your donors entrust you because they respect your ability to spend fundraising revenue properly.
We recommend picking gifts based on donation tiers. For instance, a personalized eCard is great for someone who gave $25, while a gift basket is more appropriate for someone who gives $1,000.
With this approach, bear in mind you'll still want to keep things ethical. Avoid donor gifts that could be seen as bribes or conflicts of interest, such as luxury items or costly vacations.
Make It Personal.
Personalize each gift with the recipient's name and a custom message when possible. This will make each donor gift feel more genuine.
To go the extra mile, consider unique details about each donor. Consider the following when choosing donor gifts:
Demographics such as age and gender
Interests and hobbies
Donation history
You'll want to choose something that will resonate with them and make them feel appreciated.

Our Favorite Donor Appreciation Gift: Thank-You eCards
As our favorite donor appreciation gift, thank-you eCards take the classic thank-you letter up a level. With eye-catching graphics and the familiar feeling of traditional greeting cards, nonprofit eCards are a memorable way to genuinely say, "Thank you." Not to mention, they're eco-friendly and low-cost since they eliminate the need for printing and postage fees.
From zoos to churches, eCards are perfect for any cause. If you're not sure if this donor appreciation gift sounds suitable, here are a handful of other reasons this is our top recommendation:
Quick deliverability: Remember, timeliness means everything when it comes to thanking your donors. With just a few clicks, you can send a personalized thank-you eCard to donors via email, text, or social media.
Interactive: Compared to traditional greeting cards, eCards are much more interactive. As explained in eCardWidget's charity eCards guide, you can add animations that simulate the feeling of opening a physical card, such as including an envelope image that can be clicked to "open" the online greeting card. You can also add moving elements like confetti to make it more visually engaging.
Personal: While you'll likely design only a few thank-you cards, you have options to make each one more personal. Easily include a custom message with each eCard you send, highlighting the individual donor's impact. You can even have your beneficiaries craft the messages, letting them say thank you directly to your donors.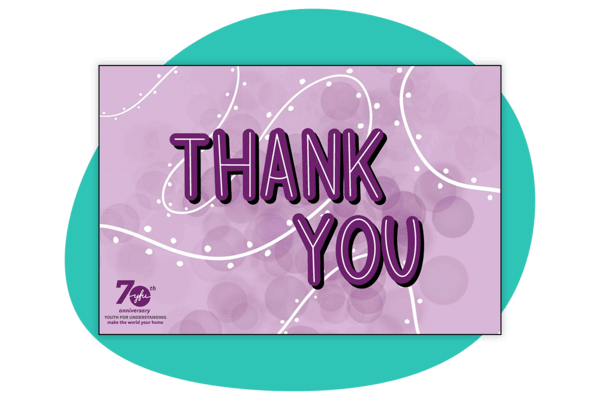 The best part about this donor gift is that you can couple it with other presents. For example, when thanking a mid-tier or major donor, send them a personalized eCard soon after, letting them know you're grateful for their support and to keep an eye out for a larger gift in the mail.
How To Get Started With This Donor Gift
As our recommended platform, eCardWidget delivers everything you need to design eCards for every occasion. Backed by their intuitive design tools, you can create custom thank-you cards that communicate your appreciation for each donor.
As a bonus, you can create birthday, anniversary, and holiday cards to celebrate personal milestones or special occasions with their platform. You can even sell them to fundraise for your organization!


Donor Appreciation Gifts For Low-Level Donors
Even donors who give a little deserve some appreciation. While you won't want to go all out and spend your entire budget for every donor, there are some donor gifts you can send that will inspire them to stick around. After all, small donations can add up over time.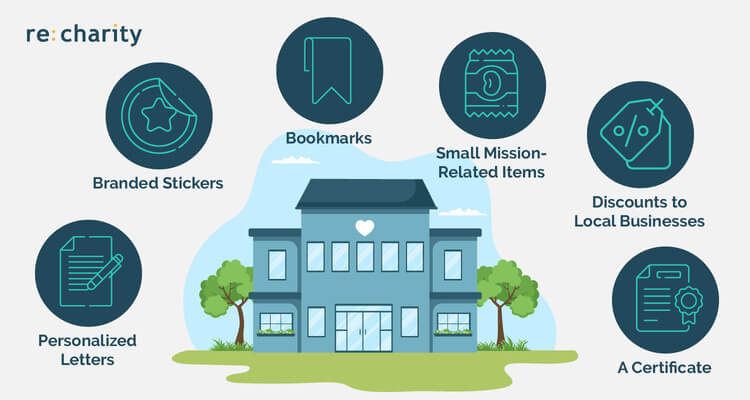 Personalized Letter
Personalized thank-you letters are classic donor appreciation gifts. Perfect for both email and direct mail, letters are easy to customize.
We recommend working off a template, giving you a headstart for each letter. Be sure to leave spots where you can personalize each letter with the following:
The recipient's name
A donation amount
References to specific giving history
Their matching gift history if applicable
By recognizing personal details, your donor will feel like your team took the time to really think through your thank-you letter, rather than throwing something together on short notice.
Branded Stickers
A branded sticker can communicate donor appreciation without blowing your budget. Choose a simple design, like your organization's logo or another recognizable graphic associated with your cause. Then, include the stickers in your acknowledgment letters and other cultivation mailings.
Not only is a quality sticker branded to your cause a meaningful donor gift, but it also encourages recipients to publicly display their pride for supporting your organization. For example, they might put it on their laptop or water bottle they use every day.
Bookmarks
A custom bookmark is a unique gift that can remind donors of your cause as they enjoy their hobby. Combine their love of reading with their passion for your cause!
Perfect for donors who enjoy reading, bookmarks can be customized to fit your nonprofit's mission. Beyond plastering your logo on a bookmark, you can (and should) get creative with your designs.
For example, a zoo or wildlife rescue organization can create cartoony animal bookmarks. (Hint: Bookmarks also make for great animal-related fundraisers.)
A Small Mission-Related Item
While branded merchandise is a great donor gift, what about something directly related to your mission? For example, an environmental organization can send a seed packet or plant to low-level donors, encouraging them to exemplify their mission to protect and regrow the environment.
Sending a small yet meaningful donor gift like this can go a long way in communicating donor appreciation.
Discounts to Local Businesses
Leverage your corporate partnerships to provide discounts to your donors. Whenever someone donates, you can send them a quick thank-you note with a voucher. Your note can be as simple as the following:
"Thank you for your continued support of [nonprofit name]. As a token of our appreciation, please enjoy a free appetizer at [restaurant name] during your next visit."
Not only is this a practical donor gift, but it also encourages community members to support local businesses. In turn, you can strengthen your partnerships by driving more business to stores and restaurants.
A Donor Appreciation Certificate
This is a low-cost way to show your appreciation for anyone who supports your work. Send them a certificate that's customized with the following:
Donor's name
Donation amount
Purpose of the donation
You can send the certificate either via email or physical mail, depending on each donor's preference. Get creative with your design to create a present that will last!
Kwala's nonprofit graphic design guide explains that you should always infuse your brand into your designs like these by featuring recognizable elements like your logo. It also recommends choosing colors and contrasts that make your artwork pop. Crafting a well-designed certificate will provide donors with a lasting reminder of their support.

Donor Gift Ideas for Mid-Level Donors
Your mid-level donors are some of your most consistent supporters. Those who give on a recurring basis can make a notable different in your cause. In fact, a recurring donor gives $326 every year on average, according to Nonprofits Source's online giving statistics page. These gifts can add up, so make sure you show your appreciation to retain your mid-level donors.
Coffee Mugs
A branded coffee mug is a practical gift that donors can use every day. Whether they're working from home or at the office, it'll fit perfectly into their daily routine.
Customize the mug with your nonprofit's logo or a heartfelt message of gratitude. As a relatively low-cost and convenient donor gift, mugs can be easily shipped or distributed at events.
If you want to kick this appreciation strategy up a notch, customize the mug's design to fit the donor's interests. For example, an animal welfare organization might send donors mugs with their favorite animals.
Reusable Water Bottles
Along the same lines as coffee mugs, offer your donors free water bottles branded to your cause. Perfect for everyday use, this practical donor gift will encourage eco-friendliness. Plus, you can customize it with your nonprofit's logo, tagline, or other graphics that communicate your cause.
Tote Bags
Tote bags are an eco-friendly donor gift that people can use in their daily lives. Whether they're grocery shopping, taking a stroll to a local pool, or going on a trip, they can use a tote bag to carry their belongings.
You can go with a simplistic design that features your logo and tagline or feature more intricate designs connected to your cause.
Social Media Recognition
Social media has transformed the way we communicate and form connections. That goes for nonprofits, too!
With more than 4.5 billion active users, social media is an integral part of people's daily routines. Recognizing donors via Facebook, Instagram, TikTok, and other channels can strengthen your digital presence and communicate to the world that you value your supporters.
Draft a quick social media post highlighting different donors and their families. You can even launch a donor appreciation campaign in which you highlight a new donor every day!
This can be a great virtual donor gift to honor supporters. Just make sure your donors are okay with being publicly recognized.
Access to Exclusive Content and Items
Pull your donor into your cause and make them feel like insiders by giving them access to exclusive content and branded items. If they donated to a specific initiative, give them updates and content related to that.
To kickstart your brainstorming session, consider these content ideas:
Webinars, eBooks, videos, and podcasts
Behind-the-scenes updates and tours
Exclusive merchandise
Offering insider information and merchandise will help them feel like a true part of your cause. Not to mention, this type of donor gift will incentivize them to continue giving since they won't want to lose access to the exclusive content.
Annual Gratitude Report
Your annual report is one of the most vital documents your nonprofit produces. It provides details about your progress for the year, making it a prime opportunity to shed some light on your valued donors.
Dedicate a section to highlighting your donors. You have a couple of options to do this:
List all donors alphabetically
Group donors based on donation tiers, then order them alphabetically within those tiers
To go above and beyond, try creating a separate annual gratitude report. The idea behind this is to show donors' impact exclusively. Annual reports focus on hard stats, whereas your gratitude report can dive into storytelling and accomplishments thanks to your donors.
NXUnite's guide to donor recognition highlights the Pride Foundation's Gratitude Report as an excellent example of this donor gift. As explained by NXUnite, "In it, you'll find highlights of the grants and scholarships the foundation was able to award alongside testimonials from those influenced by donations. This approach is a fantastic way to communicate your donors' impact."
Use this type of report to speak directly to your donors and communicate the cruciality of their continued support.
Branded Apparel
Who doesn't love some free swag? Send some branded merchandise as a donor thank-you gift. Some of the most popular options include:
T-shirts with trendy graphics
Hats with simple designs such as your logo
While these items make great fundraising products, they're also fantastic for showing appreciation.
As we mentioned earlier, this is a smart marketing tactic, too. Every time someone tosses on their t-shirt and wears it out and about, it'll prompt others to inquire about the cause. Even if they're not willing to speak up to ask, someone who's curious can easily Google your cause.
Customized Journal
A personalized, leather-bound journal with your nonprofit's emblem on the cover can be a thoughtful donor gift. To make it more personal, you can also have the donor's name engraved on it.  Perfect for donors who enjoy writing, a journal is perfect for everyday use!
Thank You Dinner
Nonprofits often hold donor appreciation events, and what better way is there to say thanks than with a fancy dinner?
There are a few ways you can make the most of this donor gift:
Avoid high-level updates. A donor appreciation dinner isn't the time to give basic updates or solicit more donations. Rather, it's a time to share firsthand impact stories from beneficiaries and staff.
Schedule time to interact. Expressing gratitude comes across as more genuine when you connect one-on-one. Include some time for staff to interact with donors and set aside time at the end of your programming for questions.
Give a meaningful take-home gift. Who says the celebration has to stop when dinner ends? You can send donors on their way with a tangible token of your appreciation, too.
This event can be for any donor — regardless of how much they give. However, you might want to make it more exclusive by sending invitations to mid-level and major donors. Then, if you host the dinner every year, that may inspire others to give more to receive an invitation.

Major Donor Gift Ideas
Each of your major donors makes a substantial impact on your cause each time they give. Make sure their support doesn't go unnoticed. A basic thank-you letter won't cut it, so make sure you're ready to go with a larger token of appreciation.
Of course, you can always couple these donor gifts with smaller ones like an eCard, letting them know a larger present is on the way, too!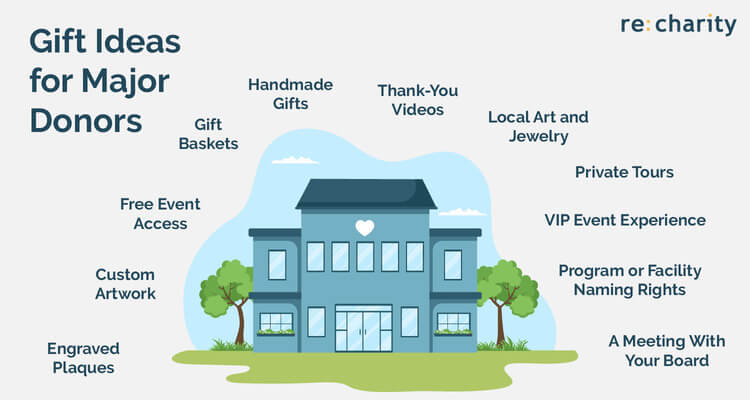 Engraved Plaques
An engraved plaque can be a classy and memorable way to recognize your major donors. You can include their name, donation amount, and a special message of gratitude.
Then, they can display it on a wall or desk at home or in their office to show off their passion for your work. A professionally-made plaque serves as a lasting symbol of the donor's generosity and can be a meaningful way to honor their commitment to the cause.
Personalized Artwork
Commission an artist to create some artwork that represents your nonprofit's mission. This is a fantastic opportunity to support local artists and create a lasting donor gift for committed supporters.
By giving personalized artwork, you are creating a keepsake that can be displayed in their home or office and will remind them of your organization and the impact it has had on their lives.
Free Event Access
Chances are, your nonprofit hosts its fair share of events. These gatherings are an excellent way to network and cultivate donor relationships. More than likely, these events aren't free for the public to attend. However, you can offer free access to certain committed supporters.
Whether you host a themed 5K or a lavish gala, offer your major donors free entry. They already give so much to your cause that you can spare a gala table or a few race bibs and t-shirts.
Gift Basket
A gift basket can be a thoughtful way to express gratitude to supporters. Since pricing can add up, we recommend limiting this to your mid-level or major donors. Common gift basket themes include:
Arrays of fresh fruit
Decadent desserts
Assorted nuts and cheese
Self-care items
You can put the basket together yourself, complete with merchandise branded to your cause. Alternatively, find a company that will create and deliver the baskets for you.
Handmade Donor Appreciation Gifts
Creating handmade gifts is a creative way to acknowledge your committed donors. Your gifts can be as elaborate as intricate pottery pieces or as simple as a hand-drawn thank-you card.
To make this donor gift even more personal, you can get your beneficiaries in on the action. For example, if you work with poorly-funded schools to provide classroom materials, encourage students to craft thank-you cards for your nonprofit.
Fundraising Letters' digital cards guide gives a great example of this in the virtual space. As explained in the guide:
"Youth for Understanding (YFU) got their beneficiaries in on the action by letting them send digital cards to their friends, host families, teachers, and volunteers. They created a selection of digital cards, each one branded to the organization with its logo, colors, and voice. Participants could pick their favorites to send to people they wanted to express appreciation for and reconnect with from their YFU experience."
While not handmade per se, the eCards added a personal touch by having beneficiaries send them directly to donors.
Thank-You Video
Well-produced nonprofit videos have the power to tell your nonprofit's story and communicate donors' impact. Create a video thanking a major donor for their contributions. Record staff members expressing their gratitude to help put a face to your cause.
If you want to get more personal with this donor appreciation gift, get your beneficiaries involved. For example, maybe a donor endowed a scholarship, in which case you can record a video from the scholarship recipient. They can create a video personally thanking the donor.
Then, you can either publish it on social media for all the world to see or send it directly to the donor. If you want to use this donor gift idea for low and mid-level donors, you could create a more generic video that highlights your entire donor base's impact.
Art and Jewelry
This donor appreciation gift works well for organizations that work in different locations around the country or world, not just in one community.
When staff members travel to places your nonprofit serves, have them pick up pieces of reasonably priced jewelry or art. Not only is this a nice donor thank-you gift they can display at home or wear on special occasions, but each piece of jewelry or artwork will come with a story attached.
Private Tour
Offer a private tour of a facility that showcases the impact of a major giver's donation. By giving them a behind-the-scenes look at your cause, you can:
Offer an exclusive and personal experience that will allow donors to get a better understanding of the organization's mission and goals.
Show donors the impact of their donations, which can encourage future giving.
Communicate areas in need of support, inspiring them to give to programs that need extra funding.
Not to mention, this donor gift doesn't have any outright costs attached, yet it can be incredibly meaningful. Overall, a private tour can help your major donors see what their generosity goes to power each and every day.
VIP Experience at Your Next Event
Sometimes, free entry to an event isn't enough. Instead, offer major donors a VIP experience, such as exclusive seating or access to a special lounge at your next event.
This can make them feel special. Plus, it doesn't cost your nonprofit anything you're not already paying for! It just takes a little more work upfront to work the VIP offers into your nonprofit's event plan.
Name A Program or Facility
There's no higher honor than naming a program or facility after someone. Doing so honors the major impact that the donor has had on your organization.
As a form of public recognition, this donor thank-you gift has the power to attract new donors and encourage existing ones to level up their support in order to receive similar recognition.
Meeting With Your Directors
Your board of directors and major donors have a clear passion for your cause. Offer direct access to your board with a one-off meeting where a major donor can meet your directors.
Doing so will allow donors to learn more about your organization's vision and plans for future growth. Plus, allowing major donors to meet the board can ensure that contributors feel connected to the organization and its goals.

Final Thoughts on Donor Gifts
If a thank-you email doesn't seem like enough, it's time to change your approach and invest in some better donor appreciation gifts. This list of our recommended ideas should give you plenty to work with when brainstorming ideas with your team.
As you get started, remember to keep the presents appropriate and aligned with your nonprofit's mission and values. It's important to show appreciation to all donors, no matter the size of their donation. Anything from an interactive thank-you eCard to custom artwork can inspire your donors to stick around for the long term.
To continue refining your appreciation tactics, check out these resources: