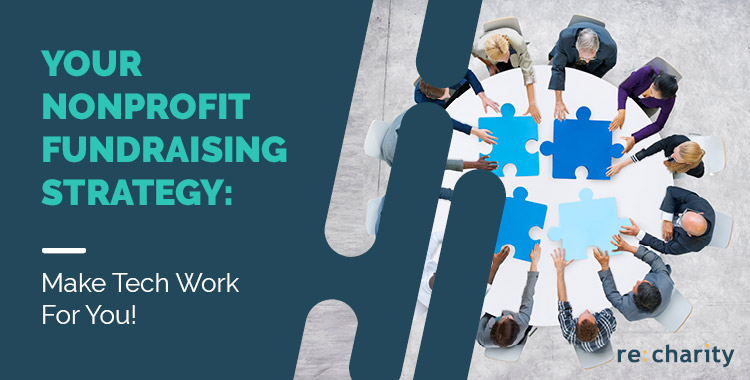 Whether you're new to the world of fundraising or a seasoned professional, you've probably noticed the importance of having a codified fundraising strategy to guide your efforts. Without one, it's difficult to know what your own next step should be— let alone getting your entire nonprofit on the same page!
Successful fundraising takes a village, including staffers, volunteers and as you'll see, fundraising technology. This guide will explore the following topics around how technology relates to nonprofit fundraising strategy:
We're going to review some fundraising essentials and technology pro-tips to carry into the new decade. Let's dive in!
What is a fundraising strategy?
A fundraising strategy is a codified plan for how you plan to raise funds as a nonprofit. It's typically a living document shared with your nonprofit's staff that guides your organization's outreach to ensure you can reach your goals (and then some).
It outlines the specific areas of outreach and gift collection that you plan to focus on for some specified period of time, whether the next year going forward or for the duration of a specific campaign. There are quite a few popular outreach methods, with nonprofits often using a combination of a few in their overall fundraising strategy. These include:
Major donor fundraising
Social media fundraising
Email campaigns
Direct mail campaigns
Event fundraising
The list goes on!
Some nonprofits choose to focus on one strategy and supplement with the others, such as a focus on major donor fundraising supplemented by social media techniques and events. Whichever techniques your organization chooses, ensure your strategy is outlined ahead of time and clearly communicated for maximum effectiveness.

Fundraising Technology: How does it help my nonprofit's strategies?
Make technology work for you to improve your nonprofit's fundraising activities.
We know that face-to-face time and focused, in-person relationship-building activities are vital for your nonprofit to build and maintain connections. However, fundraising technology can help with the task as well!
Fundraising technology can help your nonprofit's strategy by expanding your fundraising reach, boosting your revenue potential, and improving your overall engagement strategies. It allows you to tailor your outreach to engage all types of donors, from the casual email reader to the social media-obsessed; the major supporter to the one-time online donor.
We're going to explore how fundraising technology is changing the nonprofit space, as well as the top ways to leverage tech when building and perfecting your fundraising strategy.
How is fundraising technology changing the nonprofit space?
Fundraising technology is revolutionizing the nonprofit space in a variety of ways. Most notably, technology is:
Removing geographical barriers.
Making nonprofit staffers' lives easier.
Automating parts of the donation cycle and marketing tasks.
Allowing for data-driven decisions.
All of these improvements allow your organization to more easily and effectively communicate with donors through all steps of the donation cycle. As we explore the top fundraising strategies brought to light in 2019 and the technologies that can drive those strategies, you'll agree.

Nonprofit Fundraising Strategies: Lessons from 2019
We've collected the top tips and tools for using technology in building and perfecting your fundraising strategy for 2020 and beyond. Follow along for a deep dive into each pro tip and consider how to best incorporate them into your own organization's strategies.

Fundraising Strategy 1: Research supporters in advance.
Your fundraising strategy includes methods of contacting supporters, methods for collecting donations when they respond, and methods for thanking donors after the fact. However, do you have processes outlined for which supporters you're going to contact, to begin with?
Incorporate prospect research in the early stages of your fundraising strategy. Prospect research is the process of evaluating a potential donor's financial capacity and affinity to give to your organization prior to contacting them with a donation ask. This looks at factors such as:
Wealth markers, like real estate ownership, SEC transactions, business affiliations, and political giving.
Philanthropic indicators, like previous donations to your nonprofit and others, general nonprofit involvement, and personal information around hobbies, interests, and habits.
These factors, when summed together, allow your organization to narrow down which supporters to contact. This increases your efficiency, as you're able to narrow down which prospects are unlikely to respond and not contact those. Further, it gives you insight on those that are likely to respond and which methods they're most likely to be responsive to.
Pro Tip: Work with an online donation platform and CMS that offers comprehensive integrations, specifically with the constituent relationship management (CRM) system you're using. Then, when a supporter gives through your online giving page or signs up to receive updates via a website-hosted landing page, this information will flow seamlessly into your largest donor database. Evaluate this data in your prospect research.

Fundraising Strategy 2: Accept donations 24/7.
Once upon a time, donations were delivered by mailing a check, giving at events, and contributing to collection bins. Now, as alternative payment methods are flourishing (credit/debit cards, ACH direct payments) and the internet evolves to make everything more convenient, donors are simply uninterested in being restricted by traditional payment methods!
Convenience is key is bringing donors across the giving finish line. This means your organization should be primed to accept gifts whenever, and wherever they arise– whether during a scheduled event, or outside of your operating hours and across the country!
Pro Tip: Use an online giving form to accept gifts from supporters at any time and from any place. Make sure you're using a giving page that allows gifts from any tender, including credit/debit cards and ACH direct deposits. Further, make sure this form is branded to your organization for a familiar, secure giving experience for supporters. Learn more through this Donately guide to online donation tools.

Fundraising Strategy 3: Prioritize mobile optimization.
According to Nonprofits Source, half of internet users came from mobile devices in 2018. Further, one-quarter of donations made online were done through mobile devices! Needless to say, if your online offerings (website, giving page) aren't mobile-accessible, you're missing out.
The rise of smartphones brought text-to-give, allowing supporters to initiate the giving process by sending a single text message. Now, the reliance on mobile tech to access the internet means even Google looks at your mobile presence when evaluating the utility of your website!
Pro Tip: Use a content management system (CMS) that automatically makes your website and donation page mobile-responsive. Even if you're not working with a full-time tech expert on staff, you'll be able to create a website that's attractive and accessible for all interested users, mobile or desktop. Check out this guide by Morweb for more donation page design best practices.

Fundraising Strategy 4: Use donor-centric messaging.
More than ever before, donors are concerned with the impact of their donation more than anything else. Supporters want to see that there's a reason they're giving, and it's because your organization is able to complete important work with that funding.
Use donor-centric messaging to convey this impact clearly. Consider the following examples of reframing your communications:
"Last year, we provided X supplies to underserved communities thanks to generous gifts from donors like you."
"A gift of X amount will provide X supplies toward our cause. Consider donating today."
Center your donors and their impact when communicating the work you're doing. You wouldn't be able to do it without them, so make sure they're aware!
Pro Tip: Fifty percent of people who engage with nonprofits on social media end up taking some sort of action. Use donor-centric messaging across your social media networks, highlighting how supporters' gifts have singlehandedly enabled your nonprofit to do great work for your cause.

Fundraising Strategy 5: Seek out corporate philanthropy programs.
Corporate philanthropy programs allow businesses to flex their charitable nature, allowing your organization to receive gifts while they benefit from the public association with your mission. Further, they allow supporters to amplify their initial gift with no extra expenditure on their end— something especially attractive to rising generations that are concerned with their personal philanthropic impact.
First, to understand the programs available to your organization. There are a few popular iterations:
Matching Gift Programs: An employer pledges to match the financial gift made by their employee to an approved nonprofit.
In-Kind Donations: Similar to matching gift programs, but instead of matching with a financial donation the employer makes an in-kind donation of supplies or services.
Volunteer Grant Programs: A business makes a financial contribution corresponding to the volunteer hours worked by their employee.
The biggest obstacle to receiving these gifts is a general lack of awareness around the programs. Luckily, there are powerful digital tools to help you combat that.
Pro Tip: Embed a searchable matching gift database directly on your website and digital giving page, so supporters can easily search their own match-eligibility and begin the match request process. Check out our listing of the top matching gift companies to help you grow your nonprofit's matching gift revenue.

Fundraising Strategy 6: Automate communication.
One of the most important communications you'll ever have with donors is the thank-you note you send to them after a gift is made. However, if you're dealing with a significant amount of supporters, or a particularly busy giving season, it can be difficult to follow up with each and every one personally!
Employ a donation software that automatically follows up when someone pledges support or makes a donation. Choose a solution that allows for customization of automatic thank-you emails, filling in information such as the donor's name, their gift type/amount, and maybe even initiative supported if specified.
Pro Tip: Further automate communications with an automated matching gift software, such as 360MatchPro, to step up your matching gift fundraising abilities. This type of software will automatically identify matching gift opportunities once a gift is made, and trigger communications to the match-eligible donor to educate them about matching gifts and begin the process.

Fundraising Strategy 7: Offer more ways to give.
Not every supporter will want to give through financial donations, preferring to instead get involved through a method that requires no financial contribution on their end.
Ensure all interested supporters can give back by offering opportunities to get involved without spending any money. There are a few popular options to offer supporters.
Consider hosting a peer-to-peer or pledge-based event for supporters to participate in. These events usually carry some type of challenge for supporters, such as a 5K run or some iteration of the event-a-thon fundraiser. Then, empower supporters to raise donations toward the fundraiser (at no financial cost of their own) through pledge or peer-to-peer fundraising methods.
Pledge fundraising involves event participants gathering pledged donations (gifts promised for a later date) corresponding to their participation in your event. On the other hand, peer-to-peer fundraising involves participants gathering gifts right now, in support of their eventual participation in your event.
Pro Tip: Pair with a pledge or peer-to-peer fundraising tool made for nonprofit use. Plan a fun event, and create an overall campaign page in conjunction with it! Then, challenge supporters to raise their own gifts along with it. Explore more peer-to-peer fundraising best practices here.

Fundraising Strategy 8: Stay in touch frequently.
There's no denying that donor retention is a process your nonprofit wants to nail down. It's significantly more efficient to retain a donor than to focus only on acquiring new ones, and long-term supporters are much more likely to give larger amounts in the future.
You've created an outreach strategy for gift solicitation, but don't limit your donor communications to donation asks. Keep your supporters involved throughout the fundraising process, updating them on milestones and successes.
Make sure your donors feel like an integral part of the team beyond the moment they actually give. This can be done through social media, email, text messaging, or even phone calls to major donors.
Pro Tip: Choose an online donation platform that allows for supporter text messaging. With this, you can send mass text messages to donors when your organization hits fundraising milestones, giving them live updates.

Fundraising Strategy 9: Work with a consultant.
Though implementing technology in an overall fundraising strategy can be a complicated process, few nonprofits are working with a full-time IT expert on staff.
Sometimes, your nonprofit simply needs a new set of expert eyes to figure out what your next steps should be and how technology can help. This is where a nonprofit fundraising or technology consultant can come in handy.
There are a few different scenarios that signal it's time to bring on a consultant:
You're implementing new nonprofit technology.
You're integrating multiple pieces of software.
Your software doesn't have the functionality you need.
Your staff is unaware of how to maximize your tech solutions.
You don't have a data or analytics strategy for evaluating your success.
Different consulting firms will have different areas of expertise, so you'll want to do your research before signing on with one. Whether general fundraising consulting or more specific tech consulting, a strong consultant-nonprofit relationship can be a valuable resource for the long-term.
Pro Tip: Did you know that there are nonprofit consultants who are experienced in helping nonprofits choose and use the right fundraising technology to fit their needs? Learn more about pairing with a consultant to create your nonprofit digital strategy through this guide.
---
Having a codified fundraising strategy is crucial for the success of any nonprofit. Luckily, technology can help in the charge!
Incorporate the above strategies into your fundraising efforts for the year. When you do, consider whether nonprofit technology can ease the burden on your staff and bring you closer to supporters through the process!
For more information, check out the following additional resources: