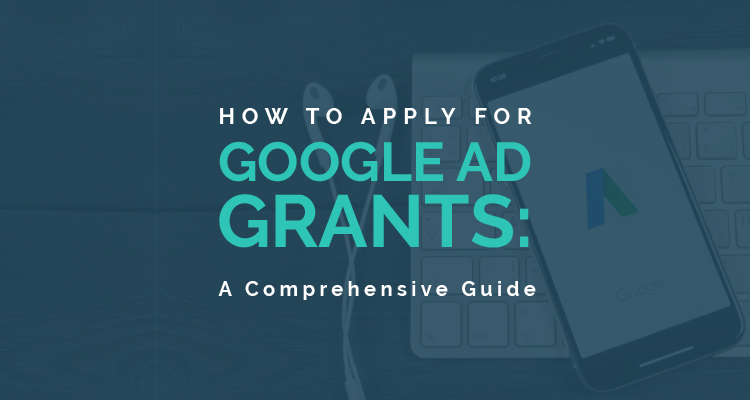 Are you interested in amplifying your cause within Google Search results but aren't sure how to apply for Google Ad Grants? We've put together this guide to simplify the process.
If you're not already familiar with Google Ad Grants, the program provides qualifying nonprofits with $10,000 per month to spend on Google Ads. For eligible organizations, it's completely free and can drive a considerable amount of traffic to your website and help you reach your full fundraising potential.
These are the steps to applying for the Google Ad Grants program:
Unlike applying for other grants, completing the Google Ad Grants application process is simple, and we're happy to show you how to apply. That way, you can spread awareness for your mission, connect with passionate supporters, and make a difference in the world. Let's dive in!


1. Meet the Google Ad Grant Eligibility Requirements
To apply for Google Ad Grants, you'll first need to ensure that your organization meets the eligibility requirements. To start, your organization needs to be registered as a charitable organization, following all of the specific requirements of your country. For example, if your organization is based in the United States, you'll need to have 501(c)(3) status.
Even if your organization is properly registered, it still may be ineligible for Google Ad Grants. Take a look at the types of organizations that are automatically ineligible:
Governmental entities/organizations
Hospitals and healthcare organizations
Schools, academic institutions, and universities
If your organization does fall into one of these categories, there may be other options for you. For example, Google provides a separate program, Google for Education, for educational institutions.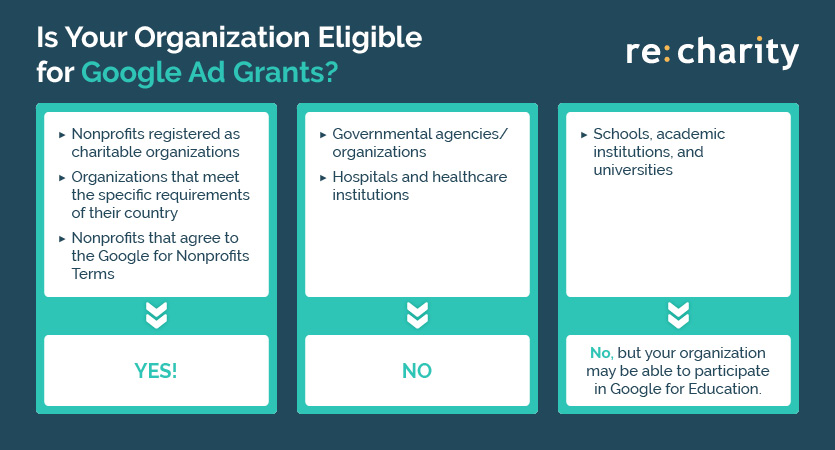 Agreeing to the Google for Nonprofits Terms is the last eligibility requirement. These terms specify that you must fill out your application truthfully and feature up-to-date information on your website. You must also not use discriminatory or corrupt practices within your organization.

2. Complete Your TechSoup Registration
Once you've determined your organization is eligible, you can register for TechSoup, a program that determines if your nonprofit is a true charitable organization, allowing Google to provide you with the resources you need.
Follow these steps to complete your registration:
Visit the TechSoup registration page.
Choose your country and preferred language.
Select New Member, then Register, and agree to the terms and conditions. After doing so, you'll wait to receive validation, which can take up to 30 days. Be on the lookout for an email from TechSoup. They may reach out to you for more documentation or information if they run into any issues.
Once TechSoup validates your organization, log into your account to obtain your TechSoup Validation Token. It will look something like this: 456c789@YourOrgName, and it will expire after 60 days. You can use this code for your Google for Nonprofits application.

This step is not required—if you don't have a TechSoup account, then Google will ask you additional questions in your Google for Nonprofits application, and will send the information to TechSoup for verification. This may delay your application, as TechSoup may need more information or documentation before they can approve you.
Aside from verifying nonprofits, TechSoup also partners with Google and other companies to ensure that nonprofits can get helpful technology and resources without paying full price. Having fewer application delays and access to these technologies is why it's recommended that you register for TechSoup before beginning your Google for Nonprofits application.


3. Sign Up for Google for Nonprofits
Your Google for Nonprofits account will give you access to a range of free tools and programs, including the Google Ad Grants application. Besides Google Ad Grants, Google for Nonprofits has other perks, such as:
Google Workspace. While Google typically charges businesses for using its suite of apps for business purposes, Google for Nonprofits provides eligible organizations with Gmail, Docs, Sheets, Calendar, and more for free. This plan also provides nonprofits with email addresses at their organization's domain, 30 GB of cloud storage per user, and security and management controls.
YouTube Nonprofit Program. Would videos help spread your nonprofit's message? Google's YouTube Nonprofit Program updates your YouTube account for the nonprofit sector by giving you a donate button and video annotations that link to your website.
Google Earth and Maps. If your organization spans different locations, Google Earth and Maps can help you to create data visualizations that demonstrate your wide impact. The tool can also help people find which of your programs and resources are local to them.
To access all that Google for Nonprofits has to offer, including Google Ad Grants, you'll have to sign up for Google for Nonprofits by following these steps:
Visit the Google for Nonprofits registration site.
Agree to the non-discrimination terms.
Insert your TechSoup Validation Token or answer Google's verification questions.
Fill out your contact and organization information. You should also agree that Google can contact you. Be sure to provide an email address that you check often so you can stay up to date on your Google Ad Grant account.
Submit and wait for Google to get back to you!
Approving your application may take Google a few days to a few weeks, so be patient. You're almost done with the process, but now it's time for the most important step: the Google Ad Grant application!
4. Complete the Google Ad Grants Application
Once Google accepts you as a Google Nonprofit, it's time to fill out the Google Ad Grants application. It's more of a back-and-forth process with Google than a standard application, but here's what you'll need to do:
Log in to your Google for Nonprofits account. Then, click "Get Started" under Google Ad Grants.
Complete the eligibility form. You will fill out basic information about your organization so that Google can determine your eligibility. Additionally, you'll need to explain your goals for the program. Click "Submit" when you're done.
Go back to the Google for Nonprofits homepage. Here, you'll click the checkbox that shows you've completed the eligibility form.
Click "Activate" and submit your application. It typically takes three business days for Google to review your Google Ad Grants application, so don't worry if they don't get back to you right away.
Accept the invitation. Google will send you an email invitation once they have approved your application. They will also send you a billing profile that you'll need to accept as well.
At this point in the process, Google will give you up to $329 per day to spend on Google Grants. However, there are a few important things to note about your account:
Make sure you choose the correct billing country and time zone for your nonprofit.
Record your customer ID that appears in the top right corner.
Remember not to enter any credit card information. Google will mistake your account for a standard paid account, making you lose your special Google Grant status.
Now that your application is complete, the final step is using your account correctly. That way, you can retain eligibility for the program, keep your account in good standing, and drive results for your cause through the program.
5. Maintain Your Google Grants Account
You've put in the work to get your Google Grants account set up, so you'll want to make sure you comply with the program's requirements to keep your account up and running.
After all, you can lose eligibility for the program if you don't follow the program's rules. That means all the time you've spent applying for Google Grants and then setting up your campaigns will go to waste. To make sure you comply with the program's guidelines, here are some of the Google Ad Grant requirements: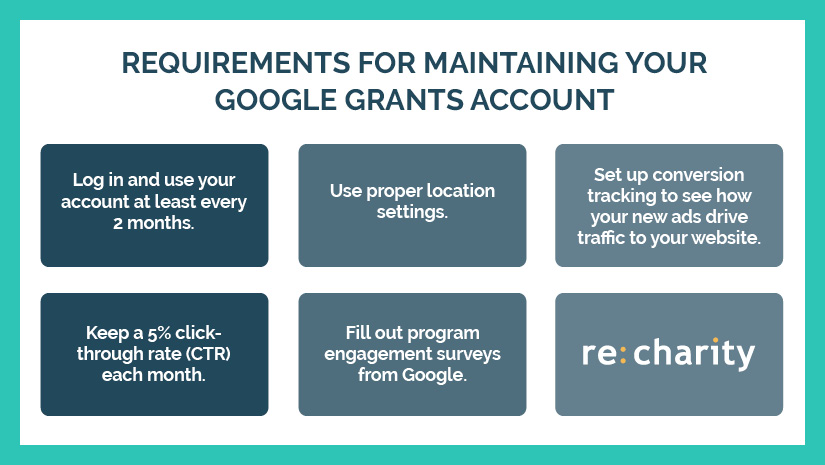 Log in and use your account at least every 2 months.
Use proper location settings.
Set up conversion tracking to see how your new ads drive traffic to your website.
Keep a 5% click-through rate (CTR) each month.
Fill out program engagement surveys from Google.
Since there are several requirements, maintaining your Google Grants account can be a lot of work. However, there are Google Grant agencies that can help you stay on top of these requirements and make sure your account runs smoothly. These agencies can help in a variety of different ways, including applying to Google Ad Grants for you, managing your account, and getting your account reinstated should it ever lapse.
When it comes to finding the right Google grants agency for your nonprofit, consider what services they offer, how often they will communicate with you, and their price point. Many agencies will also do a free audit of your existing Google ad grants account, and you can use this audit to learn what it will be like to work with them.

Conclusion and Additional Resources
Congrats! You've successfully learned how to apply for Google Grants. As you can see, the process is fairly straightforward. If after following these steps the process still seems difficult or time-consuming, don't worry! There are professional Google Grant agencies out there who will help you fill out your application and maintain your account.
If you're now interested in Google Grants but want to learn more about them, we have some additional resources that will give you a little more information about the program. Check them out below: