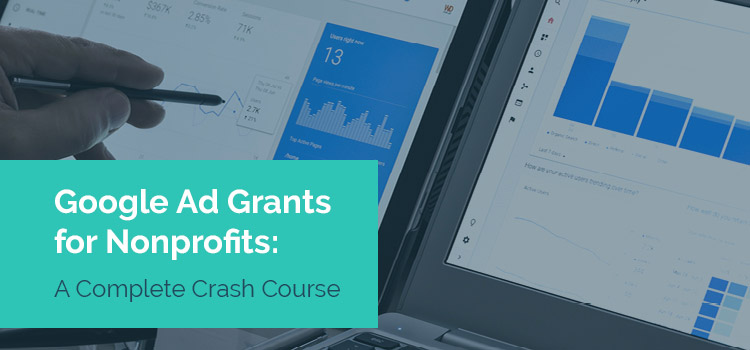 Nonprofit marketing is a necessary expense for organizations. It's how you get the word out about your incredible cause and recruit new supporters. But with the tight budget that most nonprofits experience, how can you be sure you're allocating enough resources to your marketing campaigns?
This is where grants come into play. Specifically, Google Ad Grants.
Why would anyone say no to free marketing funding? As nonprofits tend to have incredibly tight marketing budgets, Google Ad Grants will help drive traffic and boost donations for free. But in order to take advantage of such an opportunity, you need to make sure you're smart about strategy. 
In this article, we'll help you better understand: 
First off, let's start with the basics: What are Google Ad Grants? 

What Is a Google Ad Grant?
Google provides eligible nonprofits and charities with $10,000 of in-kind AdWords spending per month. That's $10,000 of free advertising each and every month!
You've probably run across these types of advertising in your personal search history. When you search a term on Google, the first two or three results are labeled as ads. Here's an example Google Ad from the ASPCA: 

That's where your Google Ad would be: right at the top of the first page! 
You can choose the keywords for which you want your nonprofit to appear at the top of the search engine results page, SERP for short.
Is your nonprofit eligible for a Google Ad Grant?
To receive a Google Ad Grant, your nonprofit must be considered an eligible organization. In order to be considered eligible, your nonprofit must:

Hold valid charity status. Generally, this means your organization must be registered as a 501(c)(3) nonprofit.
You must work in a qualifying field. This means your organization's work must fall outside of areas related to government, healthcare, and academics.
Agree to Google's requirements. Google holds certain requirements to receive the grant, such as restrictions about using donations received from the grant.
Have an effective nonprofit website. As a nonprofit professional, you know the value of an effective nonprofit website. It's your home base! Google understands the value in this too and encourages it.
Figuring out your eligibility is the first step to the application process (which we'll discuss in more detail later).
Access to the grant usually isn't the issue. Generally, people just don't know the option is available to them! And for nonprofits who are aware of the opportunity, they rarely take full advantage. Actually, according to Search Engine People:
The average grantee only uses about $330 per month out of the $10,000 that Google offers!
This makes it even more important for your organization to measure the successes of your and work to maximize your use of them using the most relevant keywords.

How can Google Ad Grants help your nonprofit?
All-in-all Google Ad Grants are designed to drive additional traffic to your nonprofit's website and donation page. While it doesn't replace other marketing tactics, Google Ads are a great way to increase online exposure. 
The click-through-rate (CTR) for organic search traffic increases dramatically the higher up in the SERP your organization is ranked. This graph by Advanced Web Ranking shows just how dramatic the difference the CTR is per SERP positioning of a page: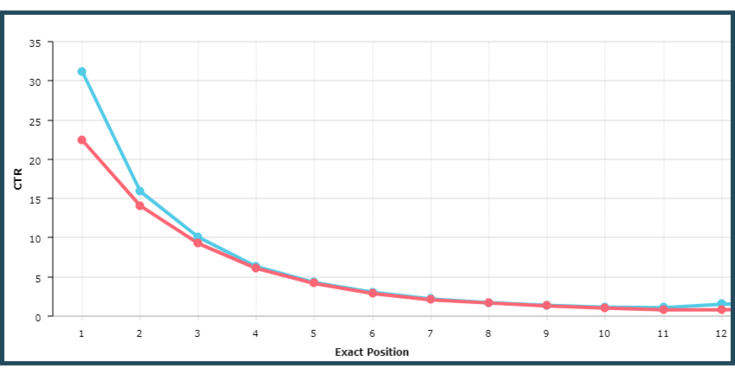 As of April 2019, the first result in the SERP receives over 31 percent of the clicks, and there is a sharp decrease for the rest of the pages. 
Due to this drastic increase in CTR based on page positioning, Google Ad Grants would help nonprofits achieve a higher CTR for their primary pages by elevating them to the top of the SERP for certain keywords. 
With access to the grant, you can expand your online marketing strategies to: 
Better reach your donors
Market multiple campaigns at once
Easily measure and track goals
Let's dive a little deeper into these three major benefits of Google fundraising. 

1. Better reach your donors
Many donors are searching for terms and content that relate to your cause, but don't run across your site because you're not listed at the top of the SERP. There are plenty of reasons donors may find it difficult to find your nonprofit in organic search. 
Maybe your organization doesn't have the time or resources to effectively build out your SEO strategies; the keywords related to your mission may be very competitive and difficult to rank for; or, perhaps you just don't know how to go about optimizing your online presence. 
Google fundraising with AdWords can help ensure that key terms related to your cause show up in search results for donors looking for you and your work.
You can target the ads to reach potential donors in a specific region, locally, nationally or internationally, with certain interests, like water conservation. This is a great way to reach donors that care deeply about your cause and are more likely to donate or otherwise engage with your mission.

2. Market multiple campaigns at once
Most nonprofits have a monthly giving plan and seasonal campaigns. With AdWords, you don't have to choose to advertise one or the other. You can create adgroups for both and the most relevant ad will show up to the user, depending on the keywords they use.
Your campaigns don't need to be all about traditional fundraising! Other campaign goals like recruiting volunteers, encouraging email sign-ups, and asking for in-kind donations can be just as useful and engaging for supporters.
For instance, if you own a thrift store, Google Grant AdWords can help you market various audiences. You may want to reach people wanting to benefit from your mission, those who want to support your cause, or fashionistas looking for new fashion statements. 

3.  Easily measure and track goals
With AdWords, you measure your results. Looking to increase traffic to your website? You can determine exactly how many people are coming to your website from the AdWords campaign.
Want to know which ads resonate best with your donors?
You can find out how much engagement each ad is getting, which gives you an idea of your brand awareness. And finally, you can track email signups or donations coming in as a result of your Google Ad Grant. 

How to apply for Google Grants
Have we convinced you that applying for Google Ad Grants is a good idea yet? It's time to get started with that application process. There are a few steps to walk through here: eligibility, set up, and success tracking.

Grant Eligibility
As we touched on earlier, your organization needs to first meet some specific guidelines. Let's freshen up on those major eligibility standards again: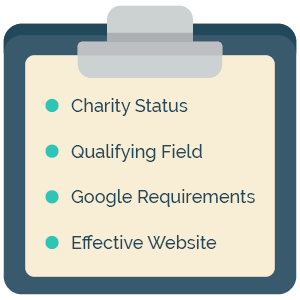 Your nonprofit must hold valid charity status. In the U.S., this usually means that the nonprofit must be a registered 501(c)(3) organization. 
You cannot work in a field related to government, hospitals or healthcare, or academics or childcare centers. 
You must agree to the requirements that Google asks of nonprofits before you'll be considered for a Google Ad Grant. 
You must have an effective nonprofit website that has information about your organization and is easy to navigate. 
That last point is the real kicker. In addition to filing for 501(c)(3) status and agreeing to follow Google's regulations, your nonprofit must make it a priority to update your website before applying for a grant. 
Plus, a modern, effective website will be better suited for converting your higher online visitation rates to higher donation rates.
If you're looking to revamp your website to match some of the latest and greatest content out there, check out these nonprofit web development strategies from a top web design agency, Morweb. 

Grant Account Set-Up
The first step to set up your Google Ad Grant is to make your account. You'll set your currency, language, and your first campaign. Make sure when you set up your account, you don't include your billing information. You won't need it when using grants. 
Set up your first campaign and write your first ad. You'll need the ad headline, subheading, URL, and description. Then, submit the application. 
Build out your campaigns and diversify them. Then, you'll need to take steps to identify and build out your keywords. This is the part that may seem a bit tricky. When considering keywords, you'll have a few elements to consider such as: 
Competition. Use the Keyword Planner tool included in Google account to see how competitive your desired keywords are. For instance, the term "fundraising" may be highly competitive with a higher cost-per-click. 
Specificity. Long-tail keywords tend to be more specific in nature, but have less competition. You may see fewer visitors overall, but a higher conversion rate of those visitors you do see when you choose highly specific keywords. 
Ad rank. Google uses an algorithm to decide how relevant different keywords are to the content it links to. Try to make sure the keyword is as relevant as possible to the ad in order to maximize the quality in the eyes of Google. 
Remember that the cost-per-click maximum for keywords with Google Ad Grants is $2.00. Develop your list of keywords, then bid on them as you see fit according to this metric. 

Results Tracking
Remember that in order to see the most success from your Google Ad Grants, you'll need to make sure your ad is as relevant as possible to the audience. 
Not only does Google pass judgments based on the relevance of your ads, but, in a way, so do your site visitors. If a new visitor clicks through to your site but feels the ad did not provide a proper indication as to where the link would lead, they'll exit your site quickly and move onto the next search result. 
It should be your goal to match the intentions of those who search the keyword in order to see the most success. 
Google Ads include a conversion tracking tool. This provides context and allows you to track how people interact with your ad. Do they sign up for your email newsletter? Do they provide a donation? Do they explore further on your site? 
In addition to watching the traffic rate for your site through Google Analytics, track the ad conversions to make sure you're hitting your larger campaign goals. Your Google Analytics ad results may look something like this: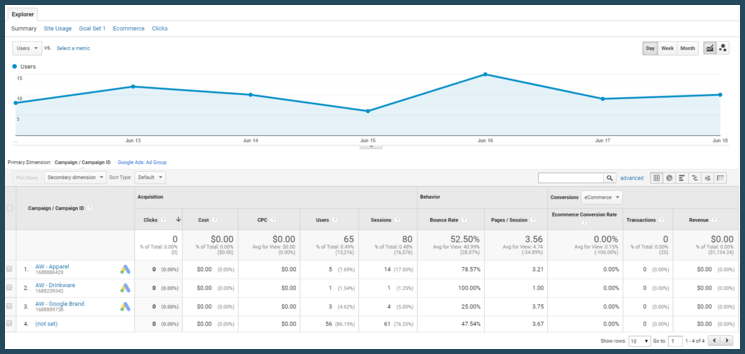 Youll be able to see the results over time, the cost-per-click, bounce rate, clicks, and cost of each Google Ad Campaign right within your Google Analytics account!
---
Traffic alone isn't the answer to all of your online fundraising questions. But it is one (key) piece of the online fundraising puzzle. If you qualify for the Google Grant program, there really is no great reason not to apply. It can help boost your organization's online traffic, awareness, and donations.
If you're looking for more resources to help your nonprofit boost your marketing and fundraising efforts, check out the resources below: