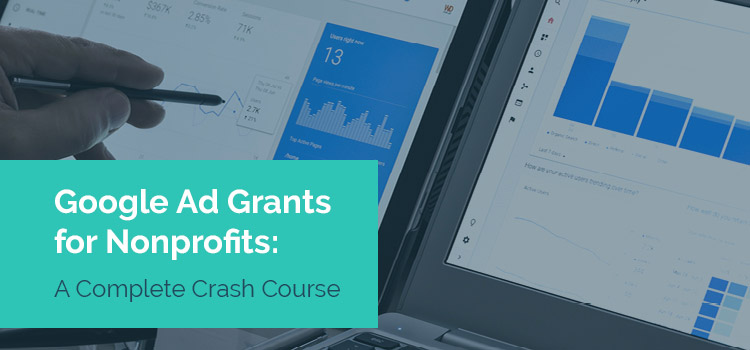 Nonprofit marketing is a necessary expense for nonprofits to get the word out about their cause and recruit new supporters. But with the tight budget that some nonprofits have, how can you be sure your marketing funds are going to good use?
That's where Google Ad Grants come into play. The Google Ad Grant is essentially free marketing funding that helps drive web traffic and boost donations for eligible nonprofits. In this article, we'll answer three basic questions about this program and how it can impact your organization.
In order to take advantage of such an opportunity, you need to understand how the grant works and develop an effective strategy for leveraging it to accomplish your goals. Let's start with the basics: what are Google Ad Grants?

What is the Google Ad Grant?
You've probably run across Google Ads in your personal search history. For example, check out this Google Ad from the ASPCA: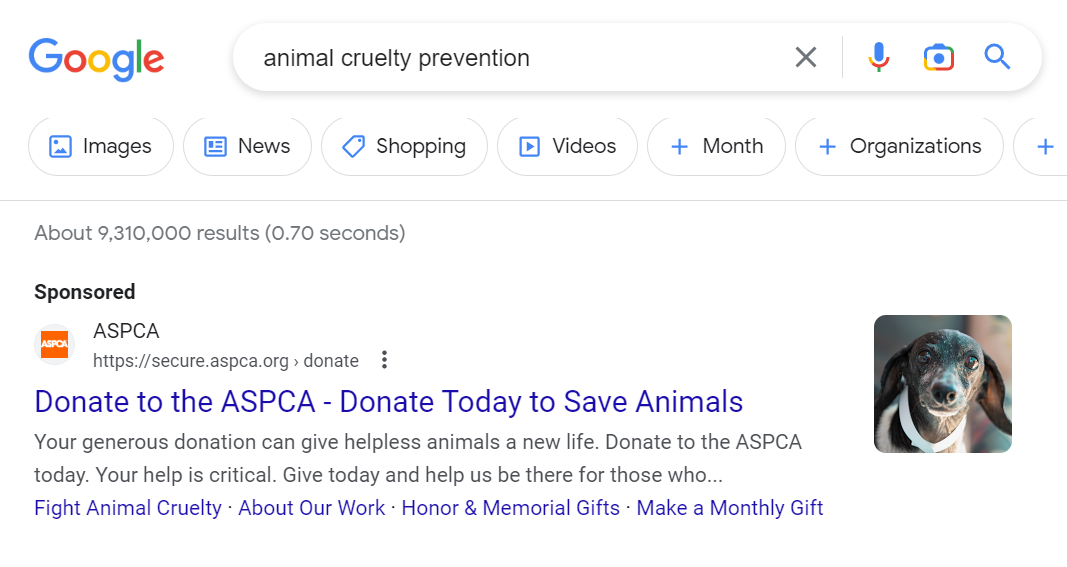 Through its grant program, Google provides eligible nonprofits and charities with $10,000 of in-kind Google Ads spending per month. This makes it more financially feasible for nonprofits to place Google Ads and have their website appear at the top of the search engine results page (SERP).
Only eligible 501(c)(3) organizations can apply for and receive the grant. In order to be considered eligible, your nonprofit must have:

Hold valid charity status. This means your organization must be registered as a 501(c)(3) nonprofit.
Work in a qualifying field. This means your organization's work must fall outside of areas related to the government, healthcare, and academics.
Agree to Google's requirements. Google holds certain requirements to receive the grant, such as restrictions about using donations received from the grant. Your nonprofit must have conversion tracking set up, a 5% click-through rate (CTR), and the proper location settings, among other requirements.
Have an effective website. As a nonprofit professional, you know the value of an effective nonprofit website. It's your digital home base! Google understands the value in this too and encourages it.
Don't be intimidated by these eligibility requirements—generally, the only issue preventing access to the grant is not knowing the program exists! Once you're sure your organization meets the criteria, you can proceed with your grant application.
How can Google Ad Grants help your nonprofit?
Ultimately, Google Ad Grants are designed to drive additional traffic to your nonprofit's website and donation page. By placing your organization higher on the SERP, Google Ad Grants can help your nonprofit achieve a higher click-through rate (CTR) for its primary pages. This means that your page positioning can mean the difference between a searcher clicking through your website to learn more about your cause and never visiting your site at all.
A high SERP ranking expands your online marketing strategies to reach donors, market multiple campaigns, and track your progress toward goals. Let's dive a little deeper into these three major benefits of Google fundraising.

1. Better reach your donors
You may already employ marketing tactics on multiple channels to gain social media followers or email subscribers, but the majority of searches about your cause happen within search engines. Google fundraising with Google Ads can help ensure that key terms related to your cause show up in search results for donors looking for you and your work.
You can target your ads to reach potential donors in a specific region, locally, nationally or internationally, with certain interests, like water conservation. This can help you reach donors that care deeply about your cause and are more likely to donate or otherwise engage with your mission.

2. Market multiple campaigns at once
Most nonprofits have multiple campaigns occurring simultaneously. With Google Ads, you don't have to choose to advertise one or the other. You can create ad groups for both and the most relevant ad will show up to the user, depending on the keywords they use.
Your campaigns don't need to be all about traditional fundraising! Other campaign goals like recruiting volunteers, encouraging email sign-ups, and asking for in-kind donations can be just as useful and engaging for supporters.
For instance, if you own a thrift store, Google Ads can help you market to various audiences. You may want to reach people wanting to benefit from your mission and those who want to support your cause.

3.  Easily measure and track goals
Google Ads allows you to measure your results, so you can understand your progress and adjust your strategy as needed. For example, if you're looking to increase traffic to your website, you can observe how many people are coming to your website through your Google Ad. If this number matches your goal amount of visitors, you'll have data-driven evidence that your ad is working.
You can also find out how much engagement each ad is getting, which gives you an idea of your brand awareness. When users engage with your ads, you'll know they're noticing and interacting with your nonprofit's online presence. Interaction isn't just website visits, though—track other engagements, like email signups and donations, that come in as a result of your Google Ad.
If these metrics aren't improving with your ads or reflecting the progress you'd like to see, consider adjusting your ads to better match search intent. Figure out which ads or keywords resonate best with your donors and position your ads to target their searches.

How can your nonprofit apply for Google Grants?
If you've handled other applications for your nonprofit, you might envision the Google Grants application as a complicated form. Quite a few processes go into applying for the Google Ad Grant, but it can be broken down into three basic steps: research, registration, setup, and submission.

Research Google Ad Grants agencies
Even though the Google Ad Grant is meant to make online advertising easier and more achievable for nonprofits, it can still take time away from your primary mission. From completing the application to crafting advertisements, ad management requires time and brain power from nonprofit staff members and leadership.
Before you start the application, research Google Ad Grant agencies and determine if their services would be beneficial to your nonprofit. These agencies can:
Apply for the grant on your nonprofit's behalf.
Maintain your eligibility requirements monthly.
Develop and optimize your ads.
Track and report performance data.
Some agencies will only handle specific tasks for your nonprofit, while others offer all-inclusive services. The top agency, Getting Attention, is a full-service agency specializing specifically in Google Ad Grant management. They also offer free consultations to help your nonprofit get started.
Not only can an agency save your nonprofit time and resources when applying, but they also serve as great crisis management solutions. For example, they can address any issues with your initial application or get your account reactivated in the event you lose eligibility and have an account suspension.

Register with TechSoup
If you do choose to apply for the grant yourself, you'll need to start by registering with TechSoup. This is a program that proves your nonprofit is a charitable organization to confirm your eligibility for the Ad Grant program.
If you don't sign up for a TechSoup account, you can still apply for the grant. Google will simply ask you extra questions on your application and send this information to TechSoup. Since this can delay the application process, it's best to go ahead and provide this information to TechSoup yourself.

Set up a Google for Nonprofits account
After verifying your eligibility, you'll need to set up a Google for Nonprofits account. Through this account, your organization will be able to collaborate with Google tools like Gmail and Docs, create videos with the Youtube Nonprofit Program, and most importantly, access the Google Ad Grant application.
To launch your account, you'll need to submit your contact information and TechSoup validation token (if you registered with TechSoup). It can take a few days or weeks for Google to approve your account, so don't worry if you don't hear back immediately!

Complete the application
Once your Google for Nonprofits account is up and running, you'll be able to log in to officially submit your application for the grant program. Complete the eligibility form and click 'Activate' to submit your application. In about three business days, you should hear back!

How should your nonprofit use Google Ads?
After receiving approval for the grant, nonprofits can choose the keywords for which they want to appear. Remember that in order to see the most success from your Google Ad Grants, you'll need to make sure your ad is as relevant as possible to the audience.
It should be your goal to match the intentions of those who search the keyword in order to see the most success.
Build your ads around the keywords that potential supporters will likely search for. Brainstorm for these keywords by researching your prospective donors and identifying which aspects of your nonprofit's goal they might search for. When considering keywords, you'll have a few elements to consider such as:
Competition. Use the Keyword Planner tool included in your Google account to see how competitive your desired keywords are. For instance, the term "fundraising" is likely highly competitive with a higher cost-per-click.
Specificity. Long-tail keywords tend to be more specific in nature but have less competition. For example, fewer organizations will compete for the keyword "fundraising ideas for community kitchens." You may see fewer visitors overall, but a higher conversion rate of those visitors you do see when you choose highly specific keywords.
Ad rank. Google uses an algorithm to decide how relevant different keywords are to the content it links to. Try to make sure the keyword is as relevant as possible to the ad in order to maximize the quality in the eyes of Google.
To set up your first campaign and write your first ad, you'll draft the ad headline, subheading, URL, and description. Build out your campaigns and diversify them. Then, use your grant money to bid on the keywords you established. Remember to pick relevant keywords, as your site visitors will stay on a website longer if it offers the information they expected to get when they clicked on its link.
This makes it even more important for your organization to measure the successes of your work to maximize your use of them using the most relevant keywords. Through your Google account, you'll have access to:
A conversion tracking tool
Results over time
Cost-per-click
Bounce rate
Clicks
Cost of each Google Ad campaign
Use this information to make your ads as relevant as possible to your target audience's internet searches. These metrics will also help you make sure you're hitting your larger campaign goals, whether you're trying to increase website traffic, drive donations, or recruit more volunteers.
To further encourage engagement and retain users for longer visits on your website, your nonprofit must make it a priority to update your website. A modern, user-friendly, and inspiring website will be better suited for converting your higher online visitation rates to higher donation rates. Adjust your web development strategies to improve your website's performance.
How to power up your Google Ad Grants
Traffic alone isn't the answer to all of your online fundraising questions. But it is a key piece of the online fundraising puzzle. If you qualify for the Google Grant program, there's no reason not to apply. Enlist the help of an Ad Grants agency, like Getting Attention, to get started on your application and ad creation!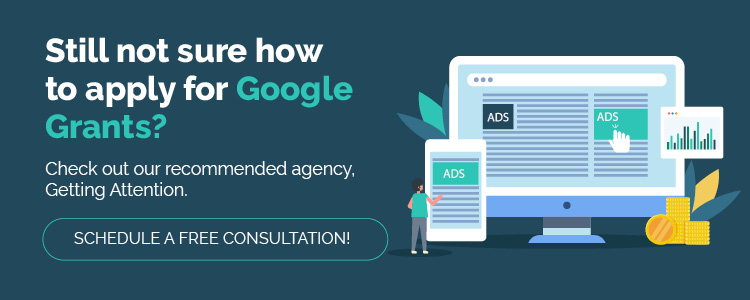 Additional Resources
If you're looking for more resources to help your nonprofit boost its marketing and fundraising efforts, check out the resources below: