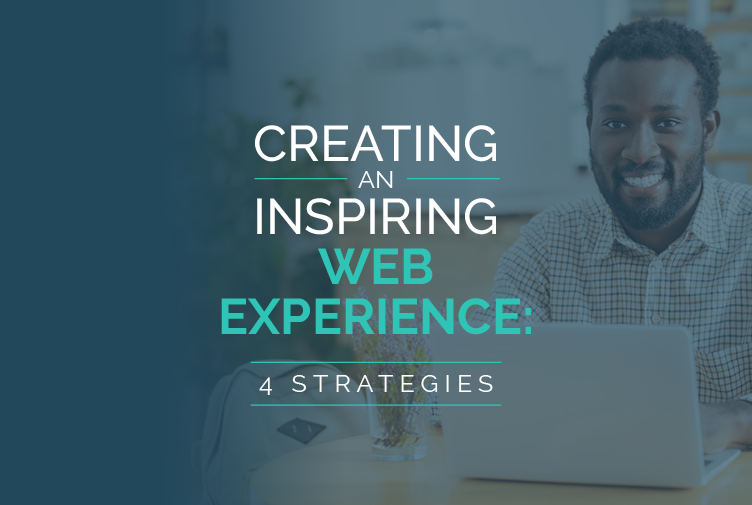 This is a guest post contributed by Lesley Molecke at Cornershop Creative. 
Your website is just one of many marketing tools in your nonprofit's outreach arsenal. But your website is unique. Not only does it serve as an internet outpost where people can learn all about your cause, but it can also encourage people to take the next step beyond just knowing about your mission—feeling inspired to take action!
To create an inspiring web experience, you'll need a strong design and seamless functionality. However, achieving these two things may seem easier said than done, especially if you're new to the world of web design. 
This guide will help you get started. In it, we'll offer four of our favorite strategies that will make the process easy, even if you're a tech newbie. Then you'll be well on your way to having one of the best nonprofit websites out there! 
1. Lean into the power of imagery. 
Did you know that we process images six to 600 times faster than words? This is why it's a little easier on our brains to enjoy a movie than it is to read War and Peace. It's also why websites that include well-thought-out visual elements make a better impression than websites that don't. 
But before you decide to add a batch of stock photos to your blog roll, remember that every image on your website should be there for a reason. Like paintings hanging in a carefully-curated art exhibit, every image on your website should be related to one central theme: your cause. 
To help you strategize how to transform your website with eye-catching visuals, here are some different types of imagery to consider: 
Brand elements:

From your logo to your color scheme, your

nonprofit's branding

can add to the visual appeal of your website. Plus, when your website is visually cohesive with the rest of your nonprofit's operations (other marketing materials, the decorations in your facility, etc.), you'll send a message to your community that you're a professional, unified organization. 

Real people doing real things:

People connect with images of other people. Share images of your nonprofit's team and volunteers at work. And, if you can, share images of the beneficiaries you serve! An image of someone working at your front desk or shaking hands with one of your staff members after receiving a service can resonate with visitors and get them excited to get involved. 

Well-designed informational graphics:

Maybe your nonprofit likes to share bar graphs showing your impact over time or pie charts demonstrating how donations to your organization are used. Create high-quality, shareable graphics that you can include on your website. As a bonus, you can easily share these infographics with your social media followers and get them circulating all over the web! 
Of course, it can sometimes be tricky to design a cohesive-looking website. Consider working with a nonprofit web design agency. Web design professionals have an eye for great design. They can guide you through fine-tuning the look and feel of your website until you have a visually-stunning final product!
2. Leverage multimedia content to evoke emotion.
On top of using still visuals across your website, you should also tap into the power of multimedia content. For example, a video with music or an audio interview with a long-time donor can further evoke emotion in your website visitors and motivate them to take action for your cause. 
For videos, use storytelling skills to inspire your audience. Create a narrative arc that shows a main character (like one of your beneficiaries) overcoming a challenge. Your audience can identify with and root for that character as they learn how to be part of that character's resolution. For example, you might show a dog in your animal shelter who needs life-saving surgery. Then, explain how the dog got the care it needed because of a generous donation from a supporter. With the combination of evocative visuals and sounds, you can help your supporters feel ready to make a difference themselves. 
Podcasts are another form of multimedia content and are especially useful for delivering actionable information. For example, you might interview your planned giving program director about the process of setting up a planned gift for your organization, sharing important information with your audience that they can then take action on. Or, you might interview a long-term volunteer to find out what inspires them to serve.  
To get the most mileage out of your multimedia content, place it in high-traffic areas on your website. For example, a video introducing your nonprofit's cause should probably go on your homepage or "About Us" page. Podcast episodes could be paired with relevant blog posts or have their own landing page where your supporters can check back for new episodes. 
According to Cornershop Creative's guide to nonprofit web design best practices, you should also optimize these elements for accessibility. For example, you should provide closed captioning on your videos and full transcripts for podcast episodes. This will allow anyone who visits your site to engage with this content!
3. Share regular updates on your nonprofit's progress. 
Your website should show that your team is hard at work moving your mission forward. This will indicate to your website visitors that your nonprofit is active and needs contributions, thereby encouraging giving. 
Thus, you should share regular updates on your nonprofit's progress toward its goals, whether those goals are raising a certain amount of money on Giving Tuesday or completing a large-scale capital campaign. These updates can come in lots of different forms, but here are some popular options: 
Announcements or news rolls on your homepage

Event landing pages or calendars

Regularly-updated blog
These are all great places to share what's going on with your nonprofit. As you consider what to share, remember to showcase your victories and needs. If your canned food drive fell 2,000 cans short of its goal of 10,000 cans of food, let your website visitors know. This honesty will motivate them to act and help you get your campaign to where it needs to be. 
4. Empower visitors to turn inspiration into action. 
After you inspire website visitors with your organization's latest video or a blog post recapping your in-kind donation needs for the holiday season, the last thing you want is for them to have to put off acting on the inspiration they're feeling. 
Instead, you need to provide them with simple and convenient ways to turn their inspiration into action. In other words, you want to help them convert from being a website visitor to being a donor, a volunteer, or an email newsletter subscriber—whatever your desired actions are for your nonprofit's community. 
Here are a few suggestions for empowering your visitors to act: 
Incorporate calls-to-action (CTAs) with clickable buttons throughout your website.

Link the buttons to action pages like your donation page or event registration page. To draw attention to your CTAs, use eye-catching language like "Join the fight today!" or "Act now to make a difference."

Streamline the giving experience on your donation page.

The donation process should be quick and easy. Keep your donation form short and sweet, and include suggested giving amounts so that supporters can easily select an amount to give. You can also

include a matching gift tool

so that your supporters can check their gift-matching eligibility and kickstart the process with their employers. 

Add social sharing buttons to your website.

By sharing your web pages with their personal networks, your supporters can inspire others! Make it easy for them to share on Instagram, Twitter, and Facebook by adding social sharing buttons to the footers of important parts of your website, such as your blog or "About Us" page. 
As soon as your website visitors complete an action, make sure that you're setting them up to return to your website to do so again in the future. For example, automate a thank-you message to donors and newly-registered volunteers. This will help you jumpstart the relationship-building process so that you can inspire your supporters to give again and again. 
---
Providing your supporters with an inspiring web experience is one of the best ways to get your community mobilized on behalf of your cause. Whether you lean into modern strategies like creating videos or resolve to provide weekly "News" page updates about your nonprofit's operations, you can use these strategies to set your website up to inspire those who care about your cause to act. You've got this!