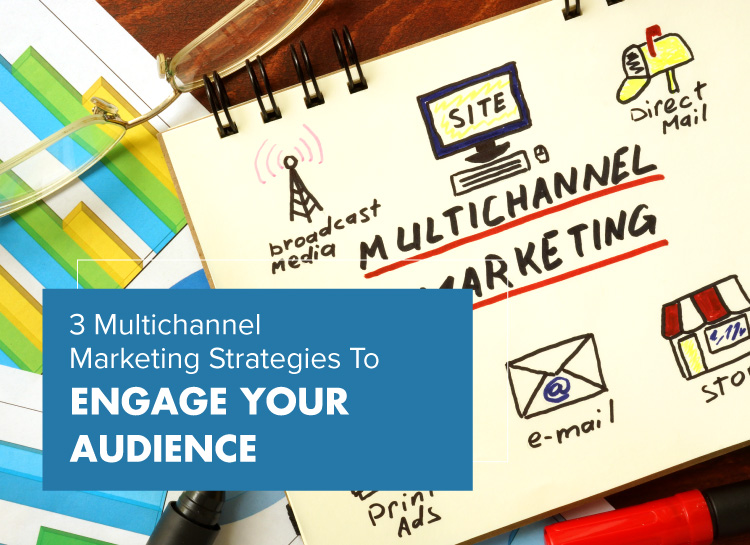 When it comes to effectively spreading the word about your mission, engaging as many supporters as possible, and building stronger donor relationships, a multichannel approach will always be more effective than limiting yourself to just one or two channels.
Multichannel marketing is the practice of blending several different communication channels to bring awareness to your organization or a specific campaign you're hosting. This technique goes far beyond the nonprofit world, but for nonprofit organizations, multichannel marketing remains one of the most successful strategies for effective fundraising, as well as higher donor engagement, retention, and acquisition rates. 
By reaching out to your target audience through multiple touchpoints, you can ensure that as many people as possible engage with your cause on their preferred platforms. If you're eager to begin using this strategy (or improve your current approach to multichannel marketing), consider these essential steps to an effective multichannel campaign:

With these tips in hand, you will be able to increase the impact, reach, and engagement potential of your nonprofit's multichannel marketing approach. Let's begin by looking at the best channels to kick off your campaign.
1. Choose your channels carefully.
There are several big differences between an organized multichannel marketing campaign and simply posting content about the same program or fundraising initiative on various platforms. 
The first big thing to consider is consistency in branding. In a multichannel campaign, every piece of content across your different channels works together to create a unified experience. For example, using similar colors, taglines, and verbiage will help to unite a piece of direct mail and a social media post from the same campaign. 
Another important thing to keep in mind is selecting the right channels for your campaign. In particular, the "big three" marketing and fundraising channels are direct mail, email, and social media. 
Of course, your nonprofit website is another central marketing tool that should be optimized to be as functional, accessible, and aesthetically pleasing as possible. Your donation landing page and website banner ads provide another opportunity for consistent campaign branding. Additionally, phone calls, text messages, and word of mouth are also incredibly important methods of outreach, but for now, we'll focus on the first three major channels: direct mail, email, and social media.
Direct Mail
In such an intensely digital world, it's easy to brush off direct mail as an outdated channel. However, physical mail is anything but obsolete—it's a valuable communication tool with high response rates, ROI, and visibility. Sending letters, postcards, pamphlets, and other mailers can not only help support your marketing activities, but make a valuable impression on supporters.
In fact, donors are 5 to 9 times more likely to read a direct mail appeal than an email appeal, and direct mail can be one of the most engaging mediums you employ, giving your marketing efforts a physical presence that donors can interact with. Direct mail also has the added benefits of:
Reminding supporters of your mission.

Receiving a piece of mail is sure to serve as a compelling and memorable reminder of your mission. After all, most people at least skim every piece of mail, and they're more likely to contribute if you're on their mind.

Connecting with older supporters.

Your older donor segment is likely to be the most responsive to direct mail. As your donors age, their channel partialities will continue to change. Be sure to keep up with the trends and channels that emerge to best communicate with various donor segments over time.

Keeping people updated on your efforts.

Supporters, by nature, are more likely to read their mail than other channels. Use your mail as your outlet for important stewardship information. Be sure to promote efforts such as events and opportunities.
The Meyer Partners guide to direct mail fundraising dives deeper into the benefits and best practices of this medium, emphasizing the intimacy of direct mail and how—with a targeted approach—it can be one of your most valuable channels. In particular, direct mail is a medium that thrives on storytelling, giving you the ideal platform to physically and emotionally connect with readers. 
As you build out your direct mail marketing and fundraising strategies, be sure to utilize major nonprofit storytelling techniques, such as concretely demonstrating the positive impact of your organization's work and connecting it back to your donors' contributions, to draw your audience in.
Email
Did you know that email is the channel that most inspires Baby Boomers to give? Additionally, Double the Donation's fundraising statistics resource also demonstrates that, behind social media, email is the second-most inspirational giving channel for Gen X and Millennial donors.
Both inexpensive and inspirational, email marketing and fundraising is a critical medium to engage with and continually keep in contact with donors. However, for best results, email communications should be integrated with other forms of outreach due to the tendency of recipients to overlook your messages or for your outreach to fall into the spam folder.
To minimize the number of donors who scroll past your emails or lose them in the clutter of their inboxes, use the following tips to stand out:
Include a compelling subject line to grab attention.

Create a visually pleasing layout.

Employ a clear call to action.

Tell a story in your body text.

Follow up regularly. 
Then, be sure to keep track of who opens and takes action on your emails, monitoring data such as conversion and abandonment rates, in order to gauge the success or failure of your campaign. This will allow you to send more effective email fundraising and marketing materials in the future.
Social Media
Social media marketing can be used in a variety of ways, and it is an excellent tool for reaching a wide array of potential donors. However, implementing a nonprofit digital campaign may be challenging due to the massive amount of posts on social media platforms.
Be sure to consider each social media platform as an individual entity and optimize your content strategy for the specific platforms you choose. For instance, Instagram is best used for images, Twitter for quick updates, and Facebook for long-form content.

Additionally, make sure your nonprofit's social media presence acts to supplement your larger outreach strategy. This can be done with a comprehensive social media content plan. As your campaign takes off, track your key performance indicators (KPIs) over time to provide content where your donors are scrolling. Then, when users begin to interact, listen and respond as much as possible. 
2. Craft the right message.
There are several factors that go into crafting impactful content that will personally appeal to donors and inspire them to give, volunteer, or otherwise support your cause.
The first thing to consider is timeliness. In other words, when is your campaign occurring, and how does that affect the size, complexity, and content of your campaign? For example, a small-scale summertime fundraising push is going to look quite different from a large-scale, complex year-end giving campaign. You'll want to keep that in mind as you allocate resources and determine the right messaging to inspire supporters to get involved.
Secondly, personalizing your messaging is a big factor in connecting with supporters and creating the right message. Use the information in your nonprofit CRM, or constituent relationship management system, to personalize messages to your supporters. People tend to respond better to more individualized communication rather than a generic call-to-action. 
Segmentation strategies also ensure you adhere to the interests of your supporters as you send messages to them. For example, you can send event opportunities to the donors who spend more time volunteering because they are most likely to respond and interact with these opportunities. 
Additionally, there are numerous ways to add personal touches to your marketing outreach. As mentioned above, people respond well when they see that a nonprofit has taken the time to specifically reach out to them. Thus, be sure to follow these essential tips:
Address them directly.

For example, in the introduction of an email or physical letter, use your supporter's preferred name rather than a "Dear valued supporter" or similar generic introductions.

Thank your donors.

As your donors interact with your marketing pushes, be sure to promptly thank them for their time and contributions. This gesture will go a long way in creating a personal connection with them.

Taking the extra time to cater to your donor segments can go a long way when it comes to securing their donation and deepening your relationship with them. With the right message, your content will stand out both on paper and in a social media feed.
3. Use effective imagery.
Now that you have your selection of platforms and you've determined messaging tactics, be sure to include some eye-catching photos and graphics in your marketing materials as well. These will draw attention to your content and encourage engagement. 
Generally, just one or two images can speak louder than a clutter of visuals. Using too many can often confuse the reader or distract them from the content. 
Effective imagery will help evoke emotion in the reader, creating the most significant impact possible. These types of images can look include:
Photos of outreach events

Photos of those people or pets your organization is actively helping

Fun moments from fundraising events

Infographics on goal-reaching data
With these dynamic visuals and effective image best practices, recipients and users will be able to picture themselves as a part of your organization or empirically see how your cause is making progress.
Of course, each marketing medium is unique and you'll want to be strategic and tasteful in how you share different images. For example, social media is ready-made for collages of images and videos to be plastered onto your organization's profile. In contrast, direct mail is built around language, so it would be more appropriate to accompany a fundraising appeal with only one printed visual that is enclosed within the same envelope.
---
Successfully pulling off an effective multichannel marketing campaign is no easy feat, and it can take quite a bit of planning and research to target the right audience with the right message on the right platforms. 
However, with these strategies, you will be in a far better position to not only grab the attention of current and prospective supporters, but engage them, inspire them, and guide them towards actionable next steps to support your mission.