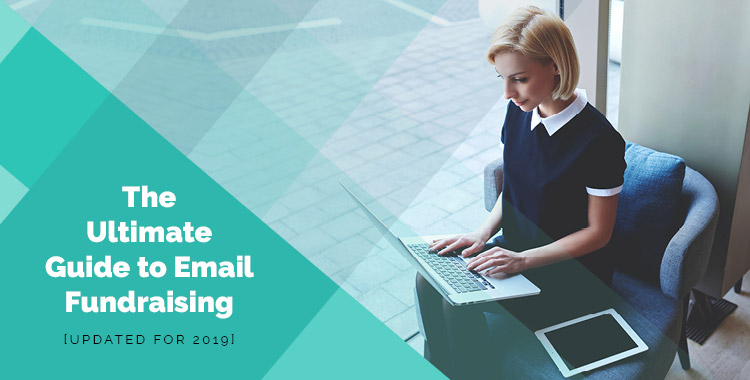 Successfully fundraising is no easy feat, but it is necessary for the survival of all nonprofits. Regardless of whether you host an in-person fundraiser or an online fundraising campaign, you will likely encounter obstacles along the way. 
While online fundraising does simplify many of the logistical challenges that you might encounter during a fundraising event, this does not mean online fundraising is simple. 
There are, however, certain tricks of the trade you can follow to make your online fundraising process run as smoothly as possible. Email fundraising is the best method of conducting an online fundraising campaign because of its wide reach and functionality. 
However, not all email fundraising campaigns are guaranteed success. Make sure you are sending higher quality emails to more qualified people and you will see an increase in revenue for your organization. 
This post will equip you with all the tools you need to effectively conduct an email fundraising campaign, starting with answering the most basic question:

Does email fundraising matter?
The short answer to this question is yes, but you'll most likely want some additional information to back up this claim. After all, there are so many methods of fundraising, how can you be sure that email fundraising is likely to be effective? 
According to the most recent M+R Benchmarks report, email messaging accounted for 13% of all online revenue for nonprofit organizations in 2018.  
Email marketing has an astonishing ROI, with nonprofits earning $38 for every $1 spent. With over half of US respondents checking their personal email more than 10 times a day, a well-planned email fundraising campaign can reach an incredible number of potential donors and easily boost your fundraising capacity. 
Email is likely such an effective way to engage your audiences because people are constantly on their phones throughout the day. This makes email easily accessible anytime, anywhere, which means it's the perfect tool for reaching newer supporters, reminding your past donors of your good work, and encouraging everyone to make a quick gift.
Now, let's walk through how these campaigns actually work, and how you can start setting up your own in just a few steps.

How to ask for donations via email: 8 steps
Designing an email campaign doesn't need to be a major source of stress for your organization. However, in a sense you are competing for the attention of donors with all other nonprofits operating in your space or with similar missions, so it is important that you carefully construct your email campaign. 
Asking for donations effectively requires that you follow email fundraising best practices, such as the following: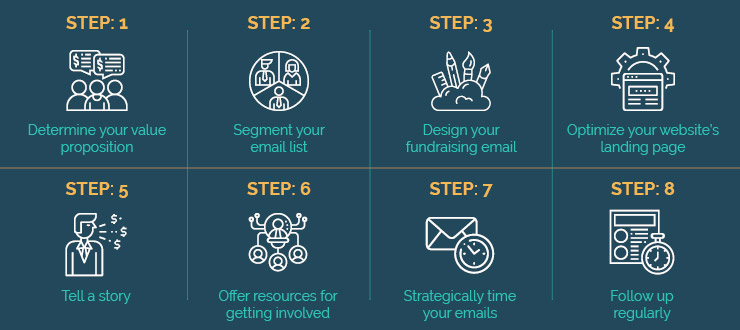 Let's not waste time and dive right into these best practices so you can know how to ask for donations via email!

1. Determine your value proposition.
Ultimately, your email fundraising strategy can proceed perfectly, but if it is not built upon a value proposition, it will likely not have the result you want. Your supporters and prospective supporters want to know why they should be interested in your organization, and it is your job to tell them. 
Simply put, a value proposition is what sets you apart from your competitors and incentivizes individuals to become involved in your organization. 
You can do this by considering all of these elements:
Appeal. Why should people donate to your organization? Emphasize the good that your organization does as it works toward its goals. 
Exclusivity. How is yours different than any other organization? While many organizations work towards common goals, your organization has a unique way of operating, history, and perspective that should be highlighted. 
Credibility. Why should people trust you? Offer donor testimonials, social proof numbers, statistics measuring your impact,  third-party trust marks, etc. to demonstrate the good work you have done. 
Clarity. What can someone's donation accomplish? Everyone receiving your emails should know exactly what problem you are trying to solve, how you are going about it, and what their role their support will play if they decide to donate. 
People want to know they will help make a difference. Your email campaign must be built on these principles because they'll explain why your organization is valuable and why people should care about supporting you.

2. Segment your email list.
Not every supporter should be stewarded with exactly the same approach. Segmenting your email list will help ensure you are reaching each donor with a message they are most likely to respond well to. 
A CRM, or constituent relationship manager, is essential to effectively segment your donors. Your email list can be segmented into a few different sections based on: 
Age
Gender
Donation preferences
Engagement history
Major gift potential 
For more detailed examples and best practices, check out Salsa's guide to nonprofit marketing campaigns.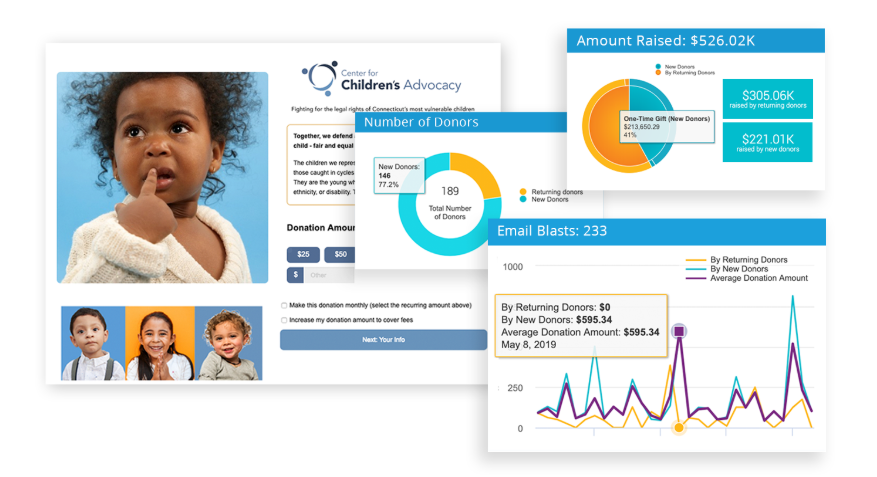 Dividing up your email list like this will ensure that you are able to write a fundraising ask that will better appeal to each segment of your audience. It can be difficult to write a compelling fundraising ask when you are trying to target a wide range of individuals with different reasons for being involved in your organization. By targeting more focused motivating factors, you'll increase your chances of success.

3. Design your fundraising email.
The design of your email will immediately determine whether or not someone who opens the email will be willing to read it. If your email is bogged down in huge paragraphs of text, people will likely swipe off of it, never to return. Your email should be scannable and should get to the point immediately. 
Use varied structure (short lines, bullets, bolding, italics, graphics, and visual branding) to break up the blocks of text and ensure important information draws the attention of the reader.
Don't forget to spend some time crafting the perfect subject line! Your subject line needs to hook people into clicking on your email—after all, if you want people to donate, they need to read your donation letter first! This is an often overlooked or underestimated part of an email, but without an effective subject line, your email campaign is dead in the water. 

4. Optimize your website's landing page. 
When your email recipients click on the links you include in your email, they should be taken to a page that's been specifically designed to give them all the information they need to engage with your organization. Most likely, the landing page for an email fundraising campaign will be your donation page.
Your donation page should include: 
Preselected donation amounts. Let your donors know the most common donation amounts and include buttons for round donation numbers ($20, $50, $100, etc). 
Explanations of donation potential. Inform your donors what their donation can accomplish. Can $50 help provide clean water to a village for a month? Your donors will feel more compelled to donate when they can imagine a tangible change. 
Recurring donation options. Give donors the option to make their donations recurring (monthly, quarterly, annually, etc.). 
A matching gift database. Make sure donors can determine their matching gift eligibility with ease and maximize the impact of their donation.
Branded stylization. Every aspect of your landing page must be branded to your organization so you can establish the page as trustworthy and as a seamless extension of your email campaign. 
Check out this example from Qgiv: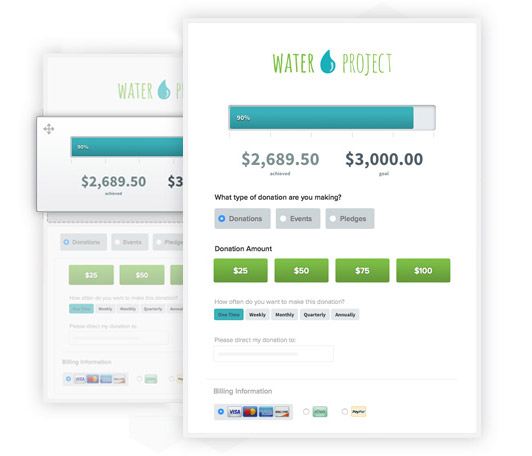 Your landing page should be strategically designed to inspire your email recipients to donate, and you can only do that by including the proper information in a clear and meaningful way.

5. Tell a story.
Storytelling is incredibly important for any type of nonprofit fundraising campaign. A powerful narrative is much more likely to capture someone's attention and encourage them to support your organization. Your email letter should move your recipient to empathize with your cause in a way that simply cannot be ignored.  
It is much too easy for people to ignore emails or become disinterested if the content is not: 
Compelling. 
Brief. 
Personal. 
You can approach your email's core story in many ways. From explaining how your organization can help create a better future with their help, to focusing on the impact of a single donor or beneficiary in a case study about your cause, your story should convey the importance of your organization and why you need the donor's support now.

6. Offer resources for getting involved. 
A common mistake in email fundraising is assuming your email recipients are going to be willing to go the extra mile to support your fundraiser. Your team should make sure your email contains all the resources they need to become involved in your organization. One of the best ways to do this is to include links to your organization's online donation page along with a brief explanation of the steps they need to take to donate.
Just check out these excellent online donation page examples that are the perfect resource to include in your email fundraising campaign: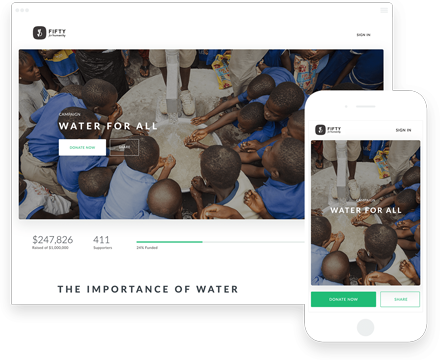 After donors read your email, they should have no questions about how they can support your organization. With one click or tap of a finger, email recipients should be able to read your email and immediately be on a donation page. 

7. Strategically time your emails. 
It is important to place our emails in front of people at the right time if you want them to respond positively. Although many people claim to know the perfect send time, your donors will tell you when they actually open your email. The average open rate for emails is between 15-18%, so your team needs to time the emails to maximize to appeal to the right email recipients. 
While there is relatively little variation in open rates during the week, weekends show a markedly decreased open rate, so your organization should be sure to send the email on a weekday. 
(Please note: Tuesdays and Thursdays are the most successful of the weekdays.) As far as the time of day goes, people are more likely to open their email during working hours (8AM- 5PM) with a peak at 10AM. 
If you follow these timing tips, you should be able to maximize the number of people who open your emails, and ultimately donate to your organization.

8. Follow up regularly. 
An email fundraising campaign is not finished just because you hit send on an email. Following up with your email list is essential to the success of your campaign.
On average, nonprofits send three email newsletters and two donation appeals every month. This is because most nonprofits recognize the need to cultivate a continuing conversation with donors that goes beyond a single donation appeal.
These 8 simple steps will help you craft your email fundraising strategy and set your organization up for success! However, if you are still unsure how to craft the perfect fundraising email, here are some samples:  

Sample fundraising emails 
There are many right ways to write a fundraising email, but if you want to put your best foot forward, you may want to consider using one of the following sample styles. 
Take a look at this example from Fundraising Letters: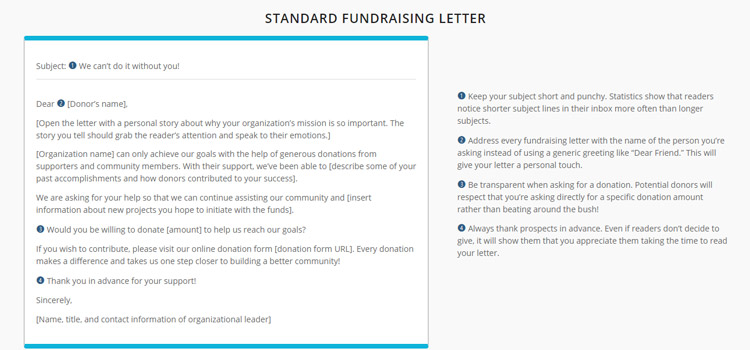 This example allows you to easily fill in the information that makes it specific to a single donor and to your organization. Make sure you note the opportunities to dive into your organization's goals and the important impact the donor can have. 
See these principles in action in this fundraising email example taken from Double the Donation: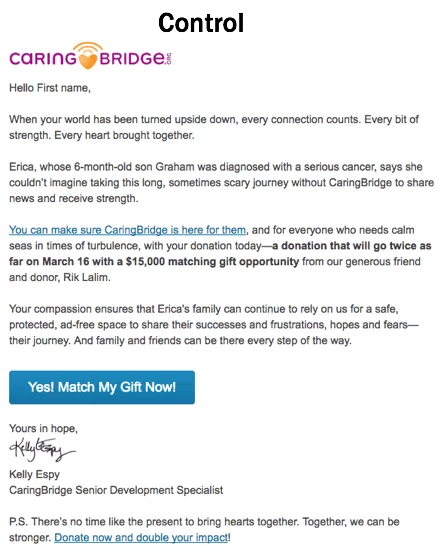 This email fundraising letter satisfies all the major requirements for a successful email and would be set up nicely to elicit a positive response from a potential donor. This email has: 
An opportunity to insert a personalized greeting. 
A hook that draws the reader in. 
A story that forges a personal connection between the reader and the cause. 
Clearly labeled links to donation opportunities. 
Specific dates and dollar amount to inspire the readers to action.
When you work to ensure your fundraising email includes all of these important factors, your organization will see more positive responses from its campaigns. Follow the above fundraising email examples to get started finding your own fundraising email preferences. Once you get the hang of writing letters based on this template, you will be able to craft your own masterpiece soon enough! 
---
Email fundraising campaigns have the potential to yield great rewards for your organization, if only you carry it out in the correct way.
By following this guide to email fundraising, you will be able to craft a fundraising email that is optimized to inspire your recipients to donate to your cause. Set your organization's email fundraising campaign up for success by incorporating these strategies now! 
---
Additional Resources for Email Fundraising