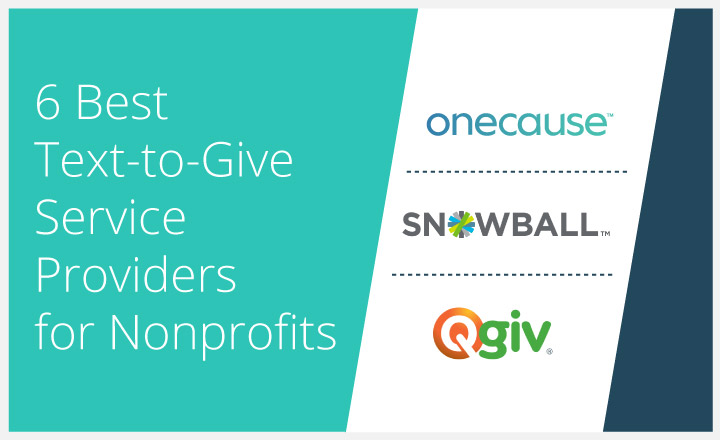 Text-to-give technology is a crucial tool for 21st century fundraising, with more donors than ever engaging with your web presence solely through their cell phones. This means that you need to provide mobile giving tools that allow all your donors to support you quickly and easily.
Sending a text message might just be the easiest and quickest way to donate.
Giving your donors the ability to support your work via text message donations is not only a convenient method that you should offer, it can also become an incredible tool for all of your other fundraising campaigns! Consider pairing text-to-give tools with a peer-to-peer fundraising campaign, for instance.
Text-to-give services providers, then, can be important partners for your fundraising campaigns. Some provide excellent all-around mobile giving support, while others can offer more niche expertise catered to the nature of your organization's work.
To help get you started weighing your options, we've selected our 6 top picks for best text-to-give service providers:
[go_pricing id="top_text_to_give_services"]
If you see a text-to-give provider that immediately strikes you as a great fit for your nonprofit's needs, use this table to navigate the entries.
Explore our picks for the best text-to-give service providers! You're sure to find a new fundraising partner perfectly suited to help you boost your donations and donor engagement in exciting new ways.

1. OneCause: All-Around Best Text-to-Give Service Provider
Service Overview
OneCause offers an exceptional text-to-give service. As a top provider of mobile giving support, OneCause can be an excellent partner for your nonprofit's mobile fundraising because of its fantastic, customizable features that will be at your disposal:
Full integration, reporting of donor information, and automated receipts
Multiple custom call-to-action keywords for your campaigns
Donation microsite hosting with custom donation amounts and interfaces
Streamlined donation processing for quick deposit
Through OneCause, it's easy to set up a custom mobile donation page to which you can immediately direct your mobile donors: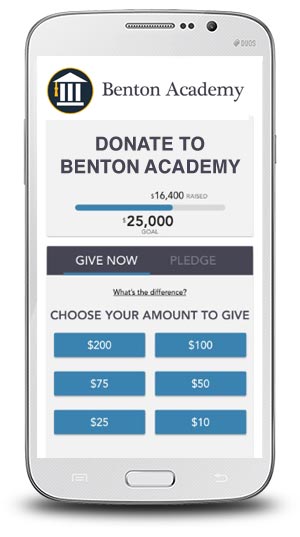 What Makes This Text-to-Give Service Great
OneCause is a fantastic choice not only for the overall quality of its text-to-give services but also because its mobile giving support integrates beautifully with the entire OneCause suite of online fundraising tools.
With OneCause, you can build a customized online fundraising package that includes services like text-to-give support, intuitive event management software, and mobile bidding and auction tools.
As such, OneCause mobile giving support and fundraising tool packages are extremely versatile tools perfect for any kind of fundraising. They'll help take your donor engagement strategies to the next level!
 Text-to-Give Service Pricing
OneCause offers three pricing plans for its text-to-give services. Explore your options and find the right plan for the size of your mobile giving campaign.
If any of OneCause's other fundraising solutions sound like they might be useful for your organization, contact them to discuss creating a fully customized fundraising software package!
Check Out OneCause's Text-to-Give Service!

2. Snowball: Best Text-to-Give Tool for Fundraising Events
Service Overview
Snowball is a leader in innovative online payment and donation technologies. 
With Snowball's unique text-to-give system, your donors can make mobile donations extremely quickly. Here's how the process works:
Donors text a keyword or donation amount to your preset text-to-give number.
Snowball will immediately send the mobile donor a link.
The link opens to a pre-written confirmation email.
The donor simply sends the email to confirm and finalize their donation.
By using email as a confirmation tool, Snowball offers one of the fastest text-to-donate systems available: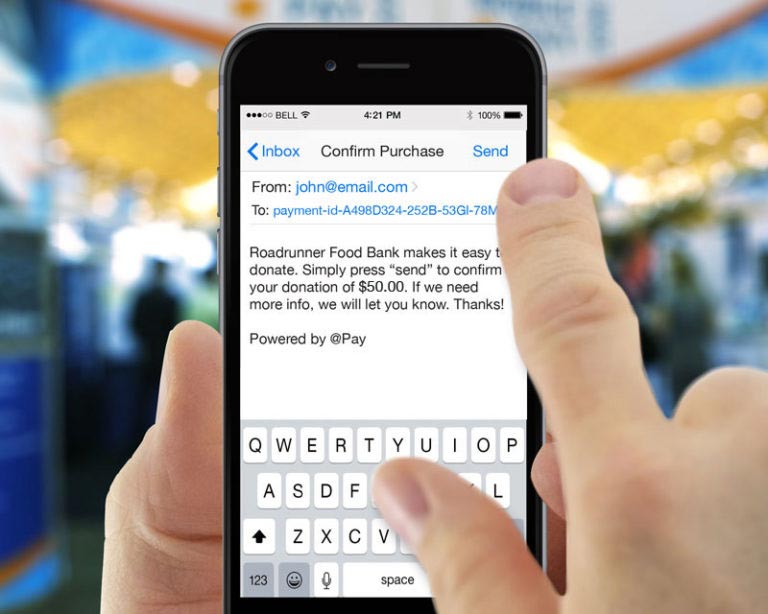 What Makes This Text-to-Give Service Great
Snowball's unique text-to-give mobile donation service stands above the pack for a number of reasons, but particularly for its speed.
As an extremely fast donation method to engage your mobile donors, Snowball text-to-give support is an ideal tool for your live fundraising events.
You work hard to engage your attendees at rallies, concerts, races, and raffles — now imagine giving them a way to donate from their cell phones in a minute or less!
 Text-to-Give Service Pricing
As a provider of multiple online fundraising solutions, Snowball offers several pricing plans.
Text-to-give support is included in the Snowball Premium package, which contains a number of other intuitive fundraising tools that could be perfect for your campaigns. Explore their site or contact Snowball for more specific pricing information.
Check Out Snowball's Text-to-Give Service!

3. Qgiv: Best Mobile Giving for Peer-to-Peer Fundraising Campaigns
Service Overview
If your organization is considering conducting a peer-to-peer fundraiser anytime soon, Qgiv can offer you the most comprehensive set of tools and support available for these extremely engaging campaigns.
One of these tools is an intuitive text-to-give service with some of the most user-friendly features on the market:
Fully-customizable donation amounts. Your donors choose exactly how much to donate.
Fast donation processing. Receive your donations in a few days transferred directly to your bank.
No unnecessary limits. Qgiv will process any number of donations and let you set up unlimited campaign keywords.
When used alongside Qgiv's comprehensive peer-to-peer fundraising tools, your mobile giving campaign can become an invaluable asset to your fundraising efforts. Check out an example of a Qgiv peer-to-peer fundraising campaign page: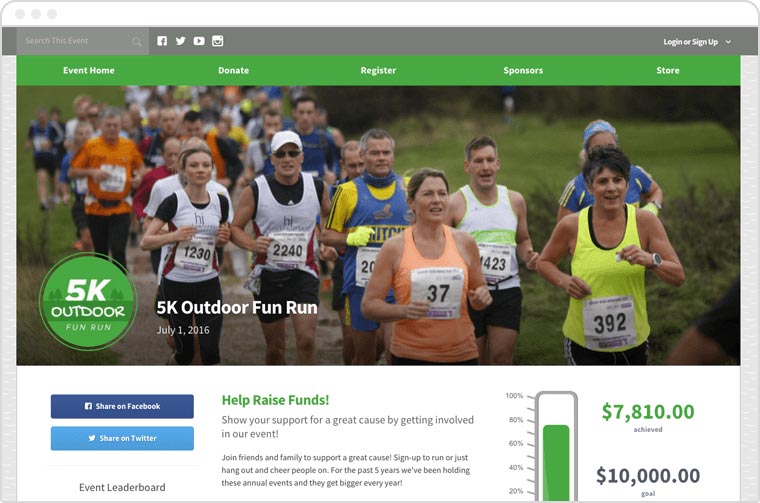 What Makes This Text-to-Give Service Great
Qgiv's text-to-give service is an ideal choice for organizations that conduct engaging online fundraising campaigns.
That's because Qgiv's flexible mobile giving service can allow your peer-to-peer fundraising campaign page hosts to set up individual keywords, letting you track the fundraising progress of each volunteer page. 
Fully incorporating text-to-give capabilities into your peer-to-peer fundraising campaign can create an excellent opportunity to boost engagement, hold fundraising competitions, and give your volunteers even more ways to reach donors.
 Text-to-Give Service Pricing
Qgiv offers several flexible pricing plans, with text-to-give tools included in their "Grow" plan.
Best of all, Qgiv gives you the freedom to switch between plans whenever you might need to. Check out their site or contact Qgiv for more information on which of their service plans is best suited to your needs!
Check Out Qgiv's Text-to-Give Service!

4. Double the Donation: Best Matching Gifts Software for Text-to-Give Campaigns
Service Overview
Double the Donation is not a text-to-give service, but is a vital part of any text-to-give fundraising campaign. Double the Donation offers nonprofits either a website branded to their organization or a customizable plugin for their website to offer donors the opportunity to research their employers' matching gifts policy.
By setting up a follow-up text with the link to one of these options, you can maximize your nonprofit's ability to leverage corporate philanthropy to help you reach your goals.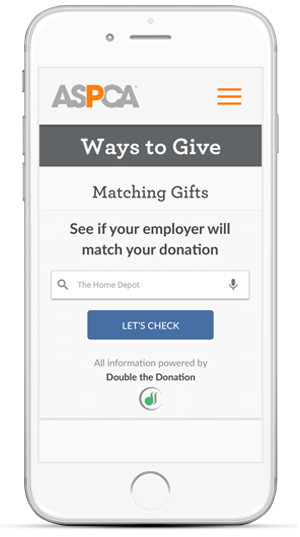 What Makes This Text-to-Give Service Great
Double the Donation does the research for you when it comes to matching gifts policies.
Double the Donation provides:
An effortless 5-minute setup process

A customizable look and feel for your viewers

Easy access to the necessary forms, guidelines, and instructions
If you can raise your supporters' awareness of their employers' corporate philanthropy programs, they'll be far more likely to complete the process to maximize the impact of their donation.
 Text-to-Give Service Pricing
The price varies based on the package you choose for your nonprofit, so contact Double the Donation directly for more information.
Check Out Double the Donation's Matching Gifts Database!

5. SecureGive: Best Text-to-Give Service Provider for Churches
Service Overview
As "the first and only giving platform created by a pastor for pastors," SecureGive offers effective mobile giving tools for churches and religious organizations of any size.
Among these is a powerful text-to-give platform. Some features of SecureGive's text-to-give service include:
Keyword customization for different categories of giving
Single login to all SecureGive donation interfaces
Options to create a custom phone number to receive donations
Easy setup for recurring donations
With these features, SecureGive can help you significantly boost donation intake by making it easier than ever for your attendees to support their church.
What Makes This Text-to-Give Service Great
SecureGive is an excellent choice for churches and religious organizations because its suite of fundraising and tithing tools was specifically designed with churches in mind.
Plus, SecureGive's customer support team is on-call during weekends, when you might need some help on short notice.
 Text-to-Give Service Pricing
SecureGive offers a number of tiered pricing plans for its products and services.
For its text-to-give tools, plans start at $109 per month, plus transaction fees per donation.
Check Out SecureGive's Text-to-Give Service!

6. Pledgeling: Best Text-to-Give Tool for Donor Engagement
Service Overview
Pledgeling can boost your text-to-give donations while engaging your donors in completely new ways.
With comprehensive tools to both manage your entire mobile giving campaign and interact with individual donors, Pledgeling's features could be a great choice for your organization:
Ability to send photo or video media with your text message donation appeals
Customized landing pages and donation widgets
Receive inbound messages for immediate feedback, contests, or collecting donor-generated content
Easy interface for reading and replying to individual inbound messages and questions
Particularly for smaller nonprofits (large nonprofits with plenty of staff), Pledgeling offers a great way to directly engage and communicate with your supporters while accepting donations.
What Makes This Text-to-Give Service Great
Pledgeling's text-to-give service is comprehensive and designed to fully engage your donors. 
Its media options and inbound messaging are excellent features, plus Pledgeling's analytics reporting will provide you with actionable campaign insights in real time.
 Text-to-Give Service Pricing
As a fully customizable and extremely scalable text-to-give fundraising service, the cost for Pledgeling will vary.
If you're interested in their services for your organization, contact Pledgeling to discuss a custom quote
Check Out Pledgelings's Mobile Giving Service!
---
The providers listed in this article certainly don't represent all of the text-to-give tools out there, but they do represent the best.
If you think that adding text-to-give capabilities to your fundraising toolkit might be a smart move for your organization, bookmark this page and use it as a handy reference while you research service providers.
Be sure to check out some additional resources on how you can boost your donations and donor engagement with other new digital tools: