Crowdfunding campaigns have quickly become one of the most reliable ways for nonprofits of all sizes to engage with supporters while raising funds online.
Crowdfunding is a smart choice if your organization is looking to immediately engage supporters and encourage donations. (Be sure to check out our top picks for peer-to-peer fundraising platforms if one sounds like a good fit for your nonprofit, too!)
Whatever your reason for choosing to start a crowdfunding campaign, we've compiled this list of our favorite crowdfunding platforms to help you cut through the clutter!
Some platforms simply aren't designed with nonprofits in mind, while others are designed for specific types of nonprofits. Some offer features and fundraising software that your campaign might find essential, while others offer the bare necessities to stay focused on your fundraising goals.
Use the list below to navigate our reviews of each crowdfunding platform:
Let's get started choosing a crowdfunding platform!



Fundly – All-Around Best Crowdfunding Platform for Nonprofits
 Crowdfunding Platform Overview
Fundly is a leader in nonprofit crowdfunding for good reason! With an intuitive, blog-like feel, Fundly is a fantastic choice for nonprofits of all sizes and individuals seeking to fund personal philanthropic projects.
That's because Fundly allows users to keep all the funds they raise, even if they don't reach their initial goal! It's inccredibly easy to start a crowdfunding campaign on Fundly. Check out some of their current projects!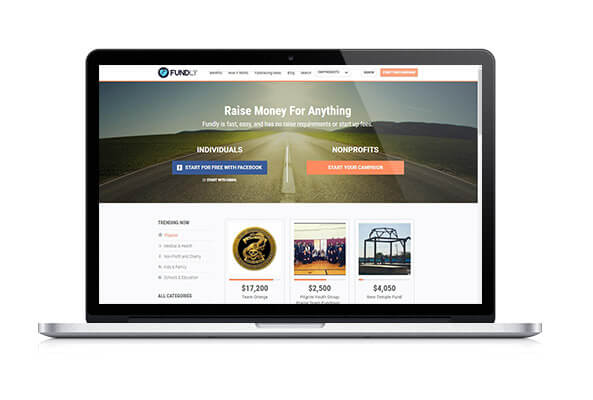 Features of this Nonprofit Crowdfunding Site
Crowdfunding is easy on Fundly thanks to the platform's smart features. Here are some of the ways that Fundly simplifies the entire crowdfunding process:
Easy customization and media uploads for your campaign pages
Blog-like posts and comments features to engage your supporters
Mobile app for 24/7 campaign management
Social media integrations for automatic sharing and updates
Campaign marketing tools and support
Plus, Fundly even offers customizable t-shirts and other merchandise to offer your donors as add-ons or rewards!
 Platform Pricing
It's completely free to create and share your Fundly crowdfunding campaign!
The only costs for your Fundly crowdfunding campaign are a credit processing fee and a 4.9% fee per donation. Large campaigns can receive automatic discounts!
Check Out Fundly's Crowdfunding Platform!

Bonfire – Best Crowdfunding Platform for Custom Products
 Crowdfunding Platform Overview
Bonfire offers one of the most unique and flexible crowdfunding platforms available! Including branded merchandise or custom t-shirts is always a great fundraising idea. Perfect for fundraising events, 5Ks or races, demonstrations, and everything in between, Bonfire makes raising funds with t-shirts easier than ever.
Catch your donors' attention with well-designed Bonfire products then direct them to your campaign pages to order their own. Once you reach your order goals, Bonfire ships each product directly to your donors and sends you your raised funds!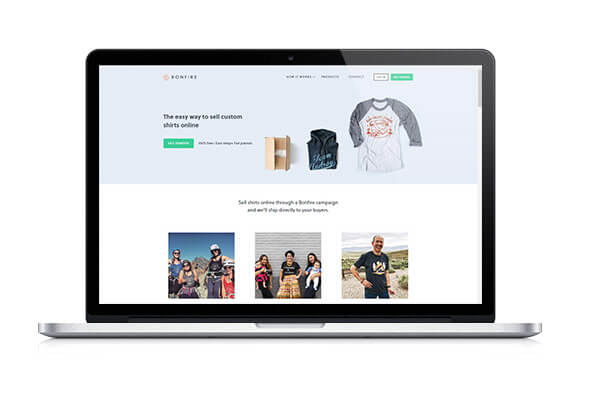 Features of this Nonprofit Crowdfunding Site
As a unique custom t-shirt and crowdfunding platform, Bonfire is a perfect choice to engage donors in unique ways. Bonfire stands out from the pack for a number of other reasons, too:
Fully customizable prices and fundraising goals
Dedicated campaign pages for your products
Intuitive t-shirt design platform and resources
High-quality apparel in many styles, including sweatshirts and tank tops
Smart campaign reporting and management tools
Bonfire even offers a direct wholesale option if you'd prefer to sell your custom t-shirts in person. Plus, there's no minimum order requirement for direct purchases!
 Platform Pricing
Starting and running a product crowdfunding campaign on Bonfire is 100% free! You completely set your own prices and fundraising goals.
You'll receive all your raised funds once your goal is met. If you choose to enable additional fundraising options to your campaign, Bonfire keeps just 8% of each extra donation made to your campaign.
Check Out Bonfire's Crowdfunding Options!

Qgiv – Best Crowdfunding Social Media Tools
 Crowdfunding Platform Overview
Qgiv is a leader in developing and offering online fundraising tools for nonprofit organizations. They even offer peer-to-peer fundraising capabilities if any of your core volunteers choose to fundraise on your behalf!
As a fundraising platform, Qgiv offers one of the most comprehensive suites of tools on the market. Among these are extremely effective social media tools like customizable fundraising thermometers and Facebook donation form integrations. Social media plays a huge role in the success of online fundraising, so these tools can have a major impact on your crowdfunding campaign!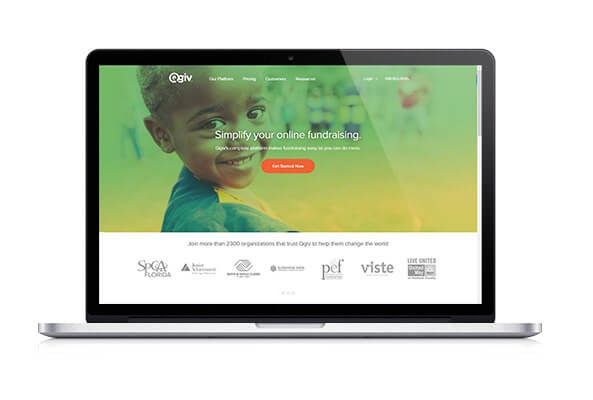 Features of this Nonprofit Crowdfunding Site
Qgiv makes an excellent fundraising platform for nonprofits of any size! Check out all the useful features they offer:
Dedicated campaign pages
Custom crowdfunding campaign thermometers
Text-to-give tools and mobile optimized donation forms
Peer-to-peer fundraising capabilities and campaign management tools
Individual donor account creation
With all these tools in your fundraising arsenal, your nonprofit's next crowdfunding campaign is guaranteed to quickly reach its goal!
 Platform Pricing
Qgiv offers several tiered service plans. Its starter package is completely free to use; you just pay a standard fee of 3.95% + $.30 per donation.
Their "Grow" level plan features access to crowdfunding thermometer tools, and it's their most popular package!
Check Out Qgiv's Crowdfunding Tools!

Donately – Best Stylish Crowdfunding Donation Pages
 Crowdfunding Platform Overview
Donately understands that where you're directing your online donors is just as important (if not more important!) as how you attracted them in the first place.
This is especially true for crowdfunding campaigns! Audiences from your website and social media pages should all be directed to a single, cleanly organized donation page. That's where Donately comes in. Its stylish donation tools can make the perfect addition to your crowdfunding campaign.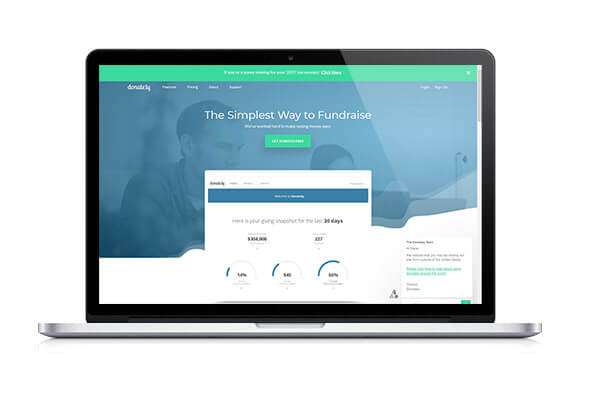 Features of this Nonprofit Crowdfunding Site
As a comprehensive but minimalist online fundraising platform, Donately puts user experience first. Imagine how these features can improve the entire user experience, donation, and data flows of your crowdfunding campaign:
Fully customizable and beautifully designed donation pages
Embeddable donation forms for other web pages and emails
Peer-to-peer fundraising capabilities and management tools
Automatic donation data reporting
Full integration with top apps and marketing tools
Being able to direct all your online donors to a single, well designed donation outlet from Donately goes a long way to simplifying your crowdfunding campaign and improving user experience!
 Platform Pricing
The suite of tools in Donately's fundraising platform is free to use and requires no contracts! Donately only charges an adjustable platform fee once your crowdfunding or other online campaigns earn over $100,000.
Standard fees of 2.9% + $.30 also apply to each donation, as Donately partners with leading payment processing service Stripe.
Check Out Donately's Crowdfunding Tools!

Snowball – Best Crowdfunding Platform for Growing Nonprofits
 Crowdfunding Platform Overview
Snowball offers a powerful set of online fundraising tools for growing nonprofits to unlock new levels of engagement from their donors.
Their toolkit makes it incredibly easy to get up and running online fast, and then you can quickly put together a crowdfunding campaign that's sure to energize your audience. Coupled with smart marketing strategies, a streamlined donation page and social sharing tools will go a long way to get your campaign off the ground.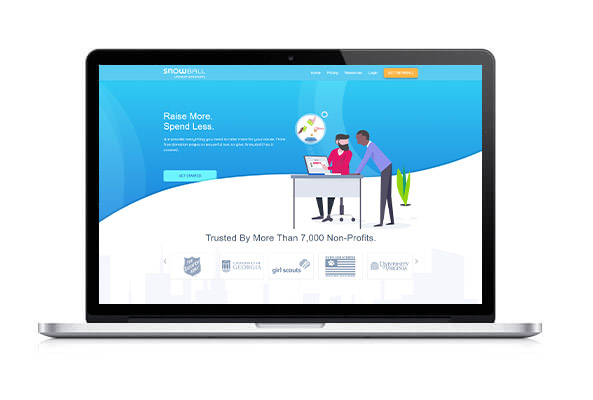 Features of this Nonprofit Crowdfunding Site
Snowball's full toolkit of fundraising features is easy to use, both for your team and for your donors. Your crowdfunding campaign will center around a donation page, but offering additional ways to engage with your project is still a best practice. The Snowball suite includes:
Streamlined, customizable donation pages
Social sharing and peer-to-peer fundraising options
Text-to-give tools
Fundraising thermometers
Event ticketing tools
No other fundraising suite offers this range of functionality for a low price for smaller nonprofits! Plus, Snowball prioritizes the user experience with its innovative, fast transaction process. You'll be building stronger relationships with donors in no time.
 Platform Pricing
The core set of Snowball's tools, including donation pages, is free to start using! There is a standard processing fee of 2.9% + $.30 per transaction.
Their complete set of fundraising tech is $549/year plus a reduced per-transaction fee.
Check Out Snowball's Suite of Crowdfunding Tools!

StartSomeGood – Best Crowdfunding Platform for Global Projects
 Crowdfunding Platform Overview
StartSomeGood's crowdfunding platform is an excellent choice for global-oriented social change initiatives. With a focus on positive social impact, StartSomeGood can be a great partner for your project.
Many crowdfunding platforms suffer from offering too general a service; StartSomeGood instead provides great tools and support by focusing on a single sector of the nonprofit and philanthropic world.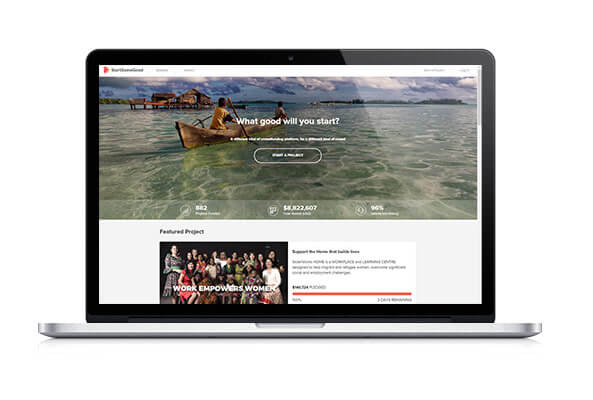 Features of this Nonprofit Crowdfunding Site
StartSomeGood provides a number of unique and helpful features for its crowdfunding users:
Personal support before and during your campaign launch
'Tipping Point' funding that won't charge donors until you reach a minimum
Access to exhaustive support and educational fundraising materials
Valuable connections to corporate and government matching grants
If your crowdfunding project is fully realized and focuses on global social issues, StartSomeGood might make an excellent partner.
 Platform Pricing
StartSomeGood charges standard payment processing fees on each donation plus a total service fee of 5% when your project reaches its funding goal.
Check Out StartSomeGood's Crowdfunding Platform!

Funded by Faith – Best Church Crowdfunding Platform
 Crowdfunding Platform Overview
Funded by Faith is a crowdfunding platform uniquely designed to serve the needs of churches.
By partnering with churches around the country, the platform serves as a one-stop donation hub for supporting all kinds of church activity. Above all, Funded by Faith prioritizes transparency.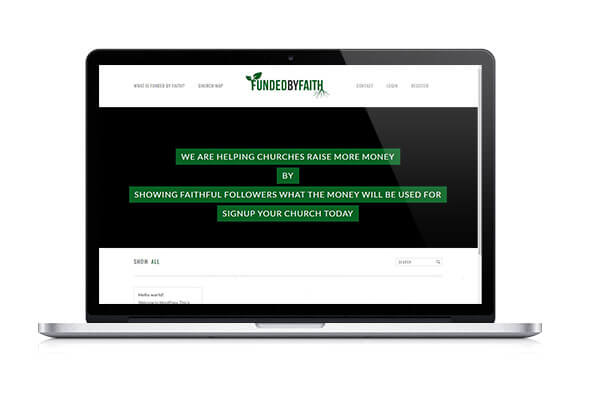 Features of this Nonprofit Crowdfunding Site
Funded by Faith offers some effective crowdfunding features that can help your church attract support from around the country:
Fully customizable campaign pages
Integrated social media sharing tools
Ability to open multiple campaigns at once
Vetting process for new partners, assuring ethical fundraising
Since churches fundraising on Funded by Faith's crowdfunding platform can open multiple campaigns, donors have the freedom to choose how their donation will be used. For instance, a donor may choose to donate an offering or contribute to a mission trip fund.
 Platform Pricing
Funded by Faith charges churches a standard processing and platform fee of 3.9% + $.30 per donation for credit cards, and 2% + $.30 per donation for bank transfers.
Check Out Funded by Faith's Crowdfunding Platform!

Causes – Best Crowdfunding Platform for Social and Political Causes
 Crowdfunding Platform Overview
Causes is a unique crowdfunding platform because it essentially functions as a social network!
Individual users or nonprofits create profiles, share their passions, and connect with others. When ready, they post a new campaign and start spreading the word. Powered by an extended social network, Causes is a powerful tool for nonprofit organizations of all sizes to connect and engage supporters in new ways.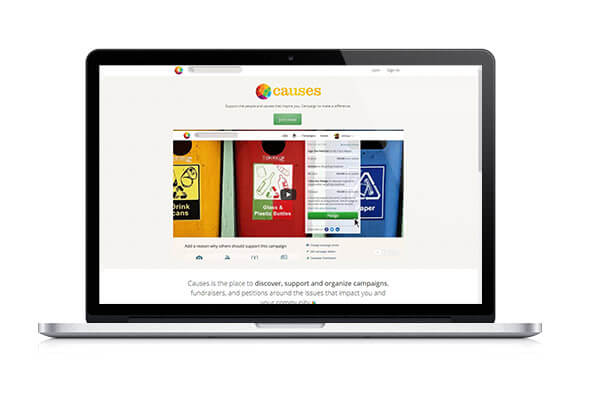 Features of this Nonprofit Crowdfunding Site
As a unique blend of social network and crowdfunding platform, Causes offers a number of features geared towards creating meaningful connections:
Personalized profile pages for individuals, nonprofits, and companies
Create connections and build networks around shared causes
Custom pages for any new campaigns you start
'Personal campaign' peer-to-peer fundraising tools
Petition capabilities
Only tax-exempt nonprofit organizations are eligible to start and manage campaigns, but the networked structure of Causes makes it easy for every supporter to get involved in promoting your campaign.
 Platform Pricing
As primarily a type of social media platform, Causes is entirely free to use.
If your nonprofit creates a crowdfunding campaign, you'll pay only the standard donation processing fees. Causes charges no additional transaction or platform fees.
Check Out Crowdfunding on Causes!

DonorsChoose – Best Crowdfunding Platform for Teachers and Schools
 Crowdfunding Platform Overview
DonorsChoose is the best crowdfunding platform designed specifically to help teachers fund special projects for their classes!
Plus, as a nonprofit themselves, DonorsChoose functions as a unique partner for schools. Each DonorsChoose campaign lists specific materials that a class needs. When the required funds are raised, DonorsChoose purchases the materials and ships them to the school! It's an incredibly simple and transparent process.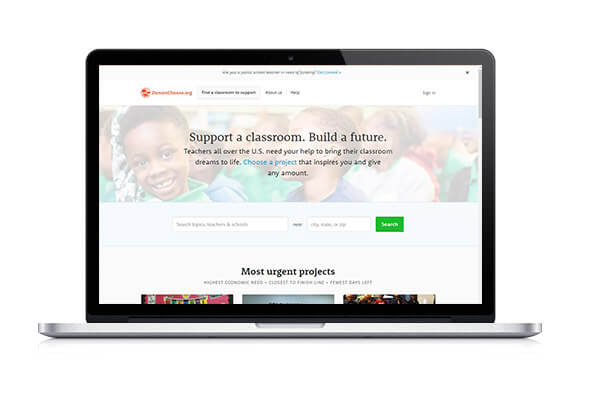 Features of this Nonprofit Crowdfunding Site
As a unique type of crowdfunding platform, DonorsChoose offers the features you'll need to reach your goals for your next classroom project:
Custom campaign pages
Social media sharing tools
Media uploads to tell your story and describe your needs
Extremely quick campaign setup
DonorsChoose is a perfect partner for educational projects and has a proven track record of helping teachers quickly and easily complete their projects.
 Platform Pricing
As a nonprofit, DonorsChoose is completely free to use! Any materials that DonorsChoose purchases for your project belong to you.
Check Out the Crowdfunding Tools of DonorsChoose!

Kickstarter – Best Crowdfunding Platform for Entrepreneurs
 Crowdfunding Platform Overview
While not geared towards nonprofit organizations, Kickstarter is a leader in entrepreneurial crowdfunding. Individuals, companies, and nonprofits of all sizes post their creations, ideas, and creative project on the platform to gauge public interest and offer special rewards for support.
If you're a nonprofit looking to fund a creative project or entrepreneurial concept, definitely consider promoting your campaign on Kickstarter. Note, however, that you cannot accept donations on Kickstarter. Rather, donors pledge payments that will only be processed once you reach your funding goal; these funds must be used only to complete your project.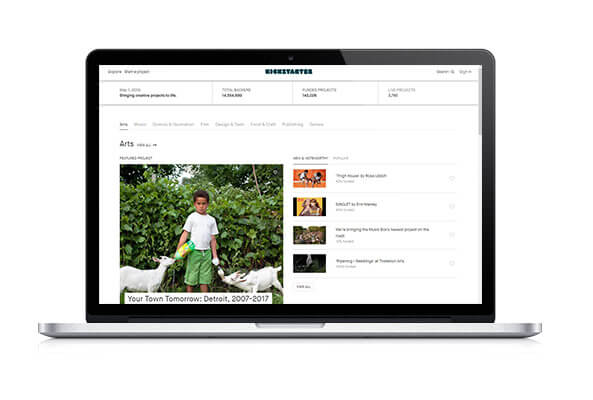 Features of this Nonprofit Crowdfunding Site
Kickstarter supports a wide variety of creative and entrepreneurial projects, including:
Arts and crafts
Dance and music
Design and fashion
Film and video
Journalism
Technology
Kickstarter prioritizes transparency and truthfulness on its platform, so campaign creators are required to provide tangible prototypes of their proposed project.
 Platform Pricing
If your project is fully funded, Kickstarter charges a 5% service fee in addition to the variable payment processing fees applied to each pledge.
If your project is not successfully funded, no one is charged!
Check Out Kickstarter's Platform!

FundRazr – Best Crowdfunding Platform for Enterprise-Level Groups
 Crowdfunding Platform Overview
FundRazr is a top crowdfunding platform for larger nonprofit organizations or companies with valuable connections to leverage.
While the platform would certainly be useful for groups of any size, it offers a suite of crowdfunding tools that are especially well-suited to the needs of large organizations.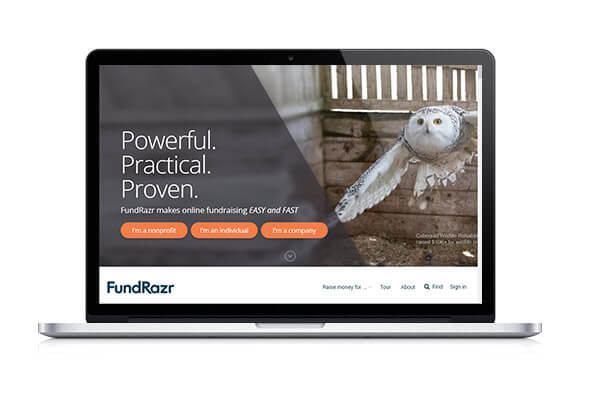 Features of this Nonprofit Crowdfunding Site
FundRazr's features might be the perfect tools for your organization to break through an online fundraising slump:
Quick campaign setup
Advanced social media tools
Donor engagement options like rewards
Customized automatic tax receipts for donors
Campaign template and cloning capabilities
Corporate sponsorship and branding tools
As a crowdfunding platform, FundRazr offers heavy duty but fully user friendly tools ideal for larger nonprofits looking to engage their online supporters. 
 Platform Pricing
FundRazr offers a more basic package of its fundraising tools for free; you'll just pay standard processing fees of about 2.9% + $.30 per transaction.
The Advanced Professional Toolset, however, includes the full range of FundRazr's tools and support and is available for a platform fee of 5%.
Check Out FundRazr's CrowdfundingTools!

Double the Donation – Best Crowdfunding Platform for Matching Gifts
 Crowdfunding Platform Overview
While not a crowdfunding platform itself, Double the Donation is a tool you can use side-by-side with your crowdfunding campaign to maximize your donation revenue. Double the Donation offers a comprehensive database that allows donors to search for their employers and determine whether their donation to a crowdfunding campaign can be matched.
A matching gift is a charitable donation that a company makes to match an employee's donation to a nonprofit. With Double the Donation, all users need to do is search their company's name to find the guidelines for submitting a matching gift request through their employer. This software can be used next to your crowdfunding campaign to increase the donation amounts you receive.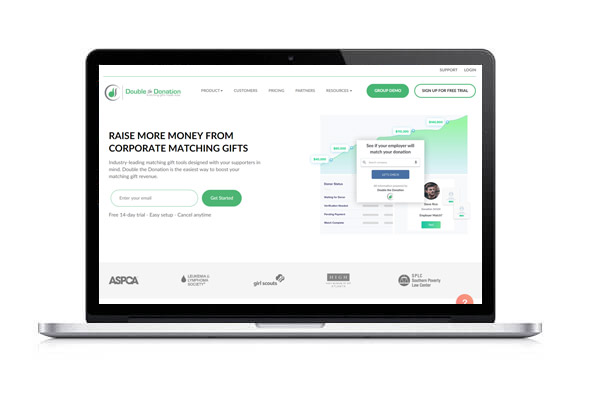 Features of this Nonprofit Crowdfunding Site
Double the Donation can give you searchable and user-friendly matching gift information from anywhere on your website. Based on your plan, here are some of the features you can use to maximize your fundraising revenue:
Embed the matching gift tool into your crowdfunding website to make the plugin appear.
Add the plugin to any part of your website, including the thank-you page.
Take advantage of the most comprehensive source of matching gift forms and instructions, with more than 20,000 companies on it.
 Platform Pricing
You can start with Double the Donation's Small Nonprofit Plan at $799 per year. Learn more about their other 360MatchPro pricing tiers here.
Check Out Double the Donation's Crowdfunding Tools!
---
Conducting a crowdfunding campaign can be a smart move for any nonprofit organization!
They're often very easy to set up and can be extremely successful when managed properly and matched with the right platform. If you plan on conducting a crowdfunding campaign in the future, be sure to reference this list as you research platforms. The tools and websites listed here certainly don't represent all of your options, but they do represent the best.
If you're interested in other kinds of fundraising, be sure to check out some additional resources, too:
jQuery(window).on("hashchange", function () {
window.scrollTo(window.scrollX, window.scrollY - 100);
});