Celebrating a birthday is always fun! While people celebrate their special day in different ways, people traditionally blow out candles, eat a slice of cake, open some presents, read greeting cards, and hear from loved ones. Recently, there's been a growing trend to launch birthday fundraisers and give back to charitable causes instead of receiving presents.
Working at a nonprofit, you're the one always making the ask. You make every effort to diversify your revenue streams. Now, your supporters can do it for you! With some creative ideas like donation eCards and wishlist campaigns, it won't take much convincing to inspire supporters to launch birthday fundraisers connected to your cause.
Your committed supporters will be excited to use their special day to create a meaningful impact on a cause that's close to their hearts. To help you make the most of the opportunity, we'll share everything you need to know, including how you can set supporters up for success. Here's what we'll cover:
Your nonprofit has the opportunity to deepen donors' connections with your cause with a creative approach like birthday fundraisers. You'll make their special day more meaningful when they leverage it to support your cause. Let's get started!

What Is A Birthday Fundraiser?
Birthday fundraisers combine someone's birthday celebration with their passion for a specific nonprofit cause. Instead of asking for tangible gifts, someone will ask for donations to their preferred nonprofit organization on their special day.
This type of fundraising capitalizes on the fact that gift-givers are already in a generous mood. They want to celebrate their loved one's special day. They'll simply channel that energy into making a charitable gift to make their loved one happy.
The key to getting supporters on board with birthday fundraisers is to communicate how easy they are to launch. Also, you'll need to emphasize that it's a way for them to make a bigger impact on your work. In turn, they'll be excited to make their birthday even more meaningful by using it to raise donations for your cause.

Reasons to Encourage Birthday Fundraisers
For donors and nonprofits alike, birthday fundraisers can be incredibly impactful. As a form of peer-to-peer fundraising, these campaigns have the power to expand your reach and help make powerful strides toward your mission.
Harnessing the power of birthday fundraising means you can expect the following benefits: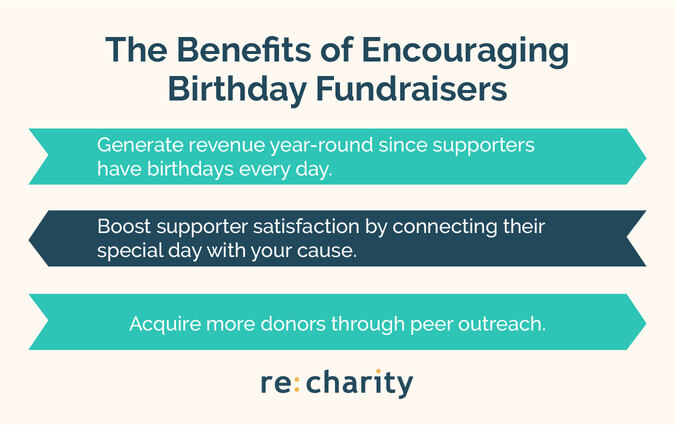 Year-round revenue. Birthdays happen every day, making birthday fundraisers extremely helpful in generating year-round revenue.
Increased supporter satisfaction. While your nonprofit receives funds, supporters will feel proud that they made a notable difference and leveraged their special day for good. Fostering deeper connections this way can directly impact donor retention.
Donor acquisition. When someone gives to their loved one's birthday fundraiser, they'll become your nonprofit's supporter, too! There's never been a more unique way to spread awareness for your cause.
Whether you want to shine more light on your cause or connect on a deeper level with current supporters, birthday fundraising is a great option. They provide a sense of fulfillment for campaign hosts and supply the resources your organization needs to thrive.

Best Practices to Maximize Birthday Fundraising Results
Adding a new tactic to your fundraising strategy can be tricky, but luckily, there are some tested best practices that'll set you (and your volunteer fundraisers) up for success.
As you get started, lay the groundwork for your supporters, enabling them to reach their fundraising goals and making their birthday fundraisers as impactful as possible. Here's what we recommend to get up and running:
Suggest supporters launch a campaign close to their birthdays. As with any campaign, the key to a successful birthday fundraiser is timely communication. Track supporters' birthdays in your CRM. When their big day approaches, send them an early message and encourage them to launch a birthday fundraiser for your cause.
Give them step-by-step instructions. Launching a fundraiser can be tricky for newcomers. Once they're sold on the idea of a birthday fundraiser, make sure they have everything they need to get started. For starters, that means supplying them with creative ideas and providing tips for using relevant fundraising tools.
Teach supporters how to ask for donations instead of birthday gifts. Not everyone is a master fundraiser. Give them some solicitation advice, such as asking for specific donation amounts. For example, campaign hosts can encourage their loved ones to give $5 instead of spending it on their daily latte.
Tell them to emphasize their connection to your cause. Maximizing results will require people to tap into storytelling methods. Why is your cause so important to them that people should donate? Encourage campaign hosts to share mission-related stories and photos to communicate why they're fundraising.
With a fool-proof plan, your supporters will feel confident when launching birthday fundraisers for your cause. In turn, supporting your mission around your birthday will become a tradition they look forward to year after year.

9 Creative Birthday Fundraiser Ideas
You can't expect people to launch birthday fundraising campaigns if they don't have engaging ideas to choose from! While it can be easy to direct people to your nonprofit's online donation form, that's not interactive enough to entice supporters to use their birthday to support your mission.
You'll need more creative ideas to get people on board. To help, we've crafted 9 of our favorite birthday-themed ideas we think you'll love.
Best of all, these birthday fundraiser ideas work for any occasion. Think along the lines of anniversary campaigns, holiday fundraising, and other dates in donors' personal lives that are connected to your cause. For instance, leverage these ideas to raise money around Christmas or Giving Tuesday, too! Your options are limitless so long as you get creative.
Birthday Fundraising eCards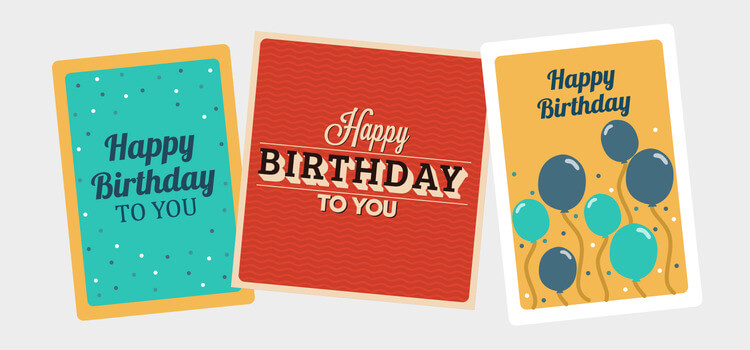 Everyone loves receiving a greeting card on their birthday. Encourage supporters with upcoming birthdays to direct their loved ones to your site to send them an eCard instead of a traditional gift. From here, their friends and family can donate to your nonprofit in exchange for an eCard. Then, they'll select their favorite celebratory design, fill out contact details, add a personalized message, and hit send.
As explained in Fundraising Letters' donation eCard guide:
"It's a meaningful way to say 'happy birthday' and support a cause the recipient is passionate about. Not to mention, it also removes any pressure of having to buy and wrap a physical gift, making it a smart fundraising strategy for any organization!"
To make the most of this birthday fundraising idea, we recommend adding suggested giving amounts to provide a frame of reference for how much to give. Donors can give however much they feel is appropriate. Alternatively, sell the birthday cards for a set price in your fundraising eStore.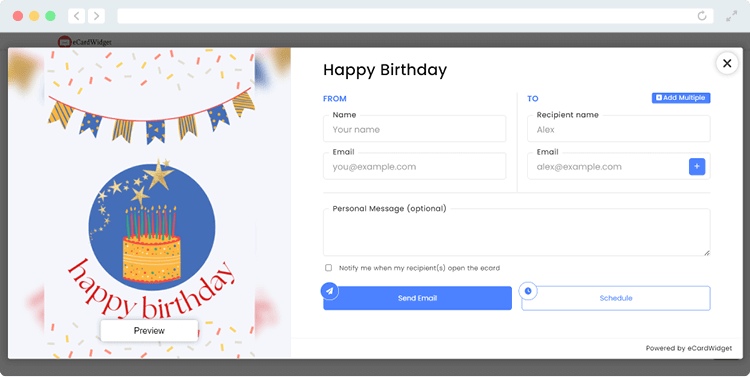 Either way, we recommend this fundraiser for a number of reasons:
Donation eCards are easy to send, making it easy for people to wish loved ones a happy birthday from wherever they are.
Donors can schedule their celebratory eCard to be sent on the recipient's birthday.
Your nonprofit can collect key data such as sender and recipient email addresses, empowering you to build relationships beyond the fundraiser.
Donors can be confident that their donations will go to support the nonprofit, rather than trusting someone else to collect everyone's gifts and submit the donation on their behalf.
To create birthday fundraiser eCards, you'll need to start with the right software. We recommend eCardWidget. Its intuitive design tools and integrated fundraising features make it easy to create cards connected to your cause for any occasion. That includes birthday cards, complete with confetti, balloons, cake, and any other graphics or animations you want. By enabling tribute giving, someone can even give in someone else's honor and send a card letting them know.
Best of all, you're not limited to birthdays with this idea. Whether your supporters are celebrating a birthday, anniversary, or holiday, they can send one of your digital greeting cards to spread cause awareness.
Individual Birthday Fundraising Pages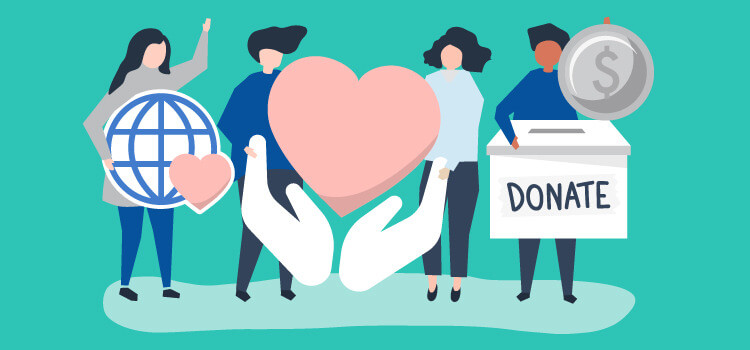 A traditional peer-to-peer fundraiser is an excellent birthday fundraising idea due to its convenience. Your nonprofit likely already has peer-to-peer or crowdfunding fundraising technology in place, making it easy to intertwine this campaign method with special occasions.
Ahead of someone's big day, they can set up an individual campaign page and launch a birthday fundraiser that benefits your organization.
Don't leave them to fend for themselves, though. To set your supporters up for success, take these steps:
Ensure your campaign pages are mobile-friendly, making it easy to donate from any device.
Provide your fundraisers with a peer-to-peer toolkit for birthday fundraisers, including graphics and outreach templates.
Choose a platform that makes it easy to set goals and share fundraising pages across a variety of platforms.
Compared to virtual greeting cards, this option takes a bit more effort on the supporter's part. As mentioned, they'll have to create a campaign page and actively promote it. Meanwhile, eCards only require them to share the opportunity with their loved ones. That way, they can enjoy their big day and receive festive greeting cards to celebrate!
Facebook Birthday Fundraiser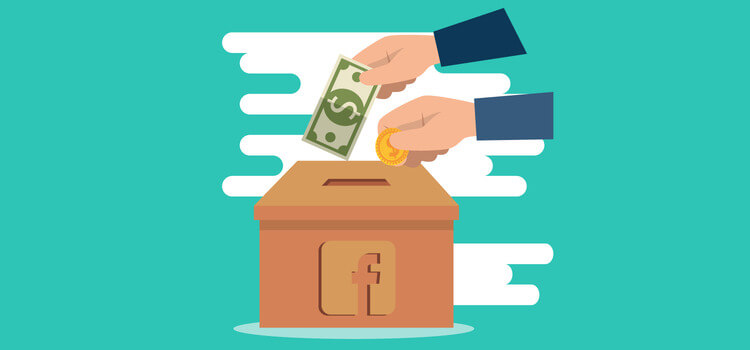 If you're active on social media, you're likely familiar with Facebook fundraisers. As you scroll through your feed, you'll occasionally come across a birthday fundraiser in which someone encourages their followers to donate to a nonprofit to celebrate their special day.
According to eCardWidget's birthday fundraisers guide, here's what the Facebook fundraising process typically looks like:
Facebook notifies an individual of their upcoming birthday, prompting them to create a birthday fundraiser.
The supporter chooses their favorite organization from a drop-down list.
The supporter sets up their campaign, defining their fundraising goal, end date, and a brief message.
This type of birthday fundraiser is heavily dependent on your nonprofit's social media activity. How active you are on social media will affect how high you'll rank on Facebook's drop-down list for birthday fundraisers.
Unlike eCards and traditional peer-to-peer fundraisers, you won't have the same level of access to donor data, though. While Facebook offers payout reports with donor details to enrolled organizations, they don't include donations made directly by Facebook, including donations to birthday fundraisers. That means you won't have the same opportunity to foster relationships with contributors.
T-Shirt Sales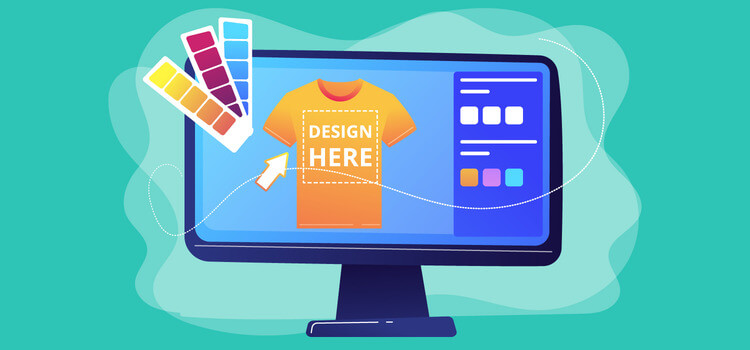 If you've ever made branded merchandise for your cause, you know how much power a t-shirt holds for spreading cause awareness. Enable your supporters to promote your mission and raise money on their special day by creating t-shirts. Some elements they might include in their designs are:
Your nonprofit's logo
The fundraiser's name and birthdate
During the design process, they can either work with a local t-shirt printing company or work with an online platform to bring their vision to life. From here, they can sell the t-shirts to community members, giving all proceeds to your organization. Just make sure they're well equipped by providing your nonprofit's brand guide, complete with your visual guidelines.
While this birthday fundraiser can take a bit of work, it's a great way to encourage supporters to let their creativity flow — making it perfect for your artistic supporters. Plus, they'll feel more connected to your work by creating a one-of-a-kind item that ties their special day to your cause.
Wishlist Fundraiser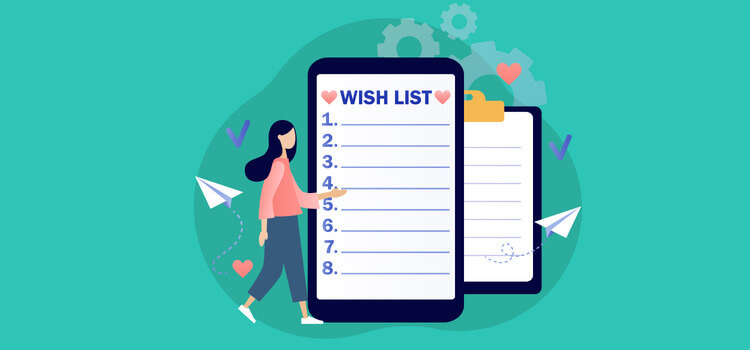 Everyone loves giving gifts for someone's birthday. Why not have them give gifts to your nonprofit instead?
A wishlist birthday fundraiser is a terrific way to solicit support without requesting monetary donations. Instead of giving money, someone can opt to give something tangible to your organization.
Encourage supporters to create an online wishlist with items that could benefit your cause. For example, if your nonprofit helps low-income teachers cover classroom expenses, someone can create a wishlist with classroom supplies to donate to your organization.
Alternatively, your organization can create a wishlist, then encourage supporters to direct their loved ones to purchase the items. This strategy may come across as more trustworthy, ensuring donors their in-kind gifts will go directly to your cause.
Birthday Walk/Run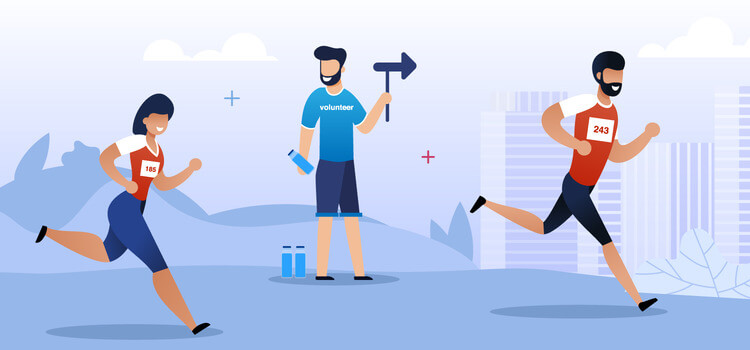 For active supporters, encourage them to host a birthday walk or run to raise funds for your nonprofit. This event requires registrants to raise pledges using donation software, then run to collect donations from their loved ones for every mile or kilometer they complete.
Note there's quite a bit of logistics involved with this birthday fundraising idea. You'll need to leverage pledge software. Then, anyone who hosts a run will need to collect pledges ahead of their birthday and share updates with their followers.
Virtual Birthday Party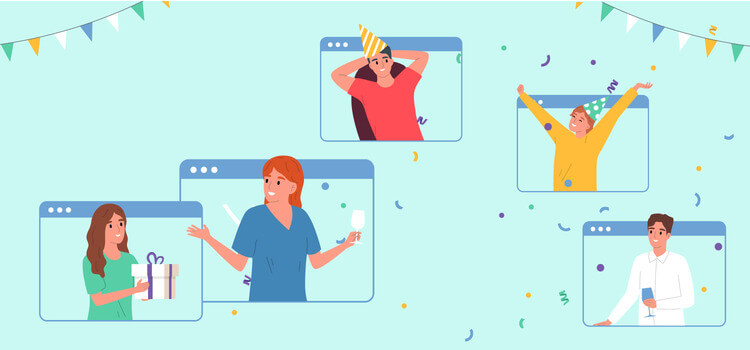 Encourage partygoers to go digital with their celebration by throwing a virtual birthday party. To power this event, the host will need to leverage a video conferencing platform, like Zoom.
From here, here's how they can make this birthday fundraiser idea a hit:
Create an event page. To support your cause, the organizer can create an event page using a fundraising platform.
Invite guests. From here, they'll share the event page and invite friends and family to donate in honor of the birthday person.
Come together on a video call. When it comes time for the party, guests can join the video call, where they'll join in the celebration, play games, and interact with one another.
Offer fundraising incentives. During the party, the host can encourage additional donations through challenges or contests. For example, the organizer could offer to donate a certain amount for every guest who sings a karaoke song.
Thank party guests. To wrap up the event, the organizer can announce how much was raised for your cause and thank everyone for their participation.
Ultimately, this birthday fundraiser idea is a fun way to celebrate someone's birthday while also giving back to your cause. Plus, going virtual allows people to attend no matter where they are. That makes it perfect for someone to see their loved ones who live across the country or globe!
Item Collection Drive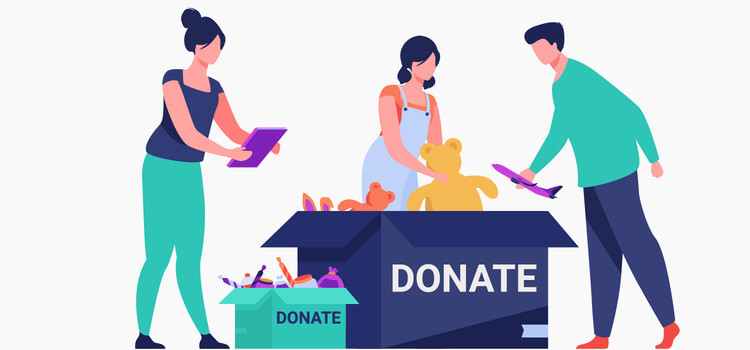 Similar to a wishlist fundraiser, this type of birthday fundraiser requires in-kind donations. To leverage this idea, we recommend adding a page on your site with a list of acceptable in-kind donations that would support your mission. Then, have supporters host a collection party or organize a drop-off on their birthday.
Let's say you work at a food bank. Your supporter can launch a food drive. Then, their loved ones can donate canned goods or other non-perishable items to the individual's drive. Alternatively, donors can drop off their donations themselves, reducing the amount of work on your supporter's special day.
Balloon Raffle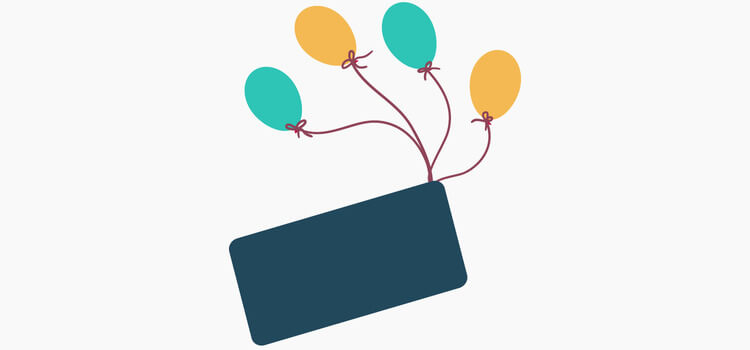 Balloons are a classic symbol of birthdays, so bring them into your supporters' birthday celebrations by suggesting balloon raffles.
Encourage participants to host a birthday party, complete with a theme and music. As part of the event, they can designate an area for their balloon raffle. The rest of this fundraiser is pretty simple. Here's how it works:
The party's host will put a raffle ticket in each balloon.
Guests purchase balloons for a set price, such as $10 or $20 per balloon.
Once all balloons are sold, guests pop theirs, revealing the ticket inside.
Participants collect the prizes corresponding to their tickets.
The proceeds go to your nonprofit.
It takes some setup work, but the results will be worth it. After all, who doesn't love a fun party game? It won't be hard getting partygoers amped up for this event!
The excitement of not knowing what prize is inside each balloon can make it incredibly fun for party guests. Just know that ahead of time, hosts should purchase prizes that can easily be covered by the money raised at the event.

Wrapping Up
Put the fun back into fundraising by encouraging your supporters to launch birthday fundraisers. Everyone will love coordinating their special day with your nonprofit, especially when you make it easy for them and provide interactive ideas.
By inspiring their loved ones to give to your cause, they'll feel like they're truly impacting your cause, making them immensely more connected to your work. From online greeting cards to balloon raffles, there are countless ways to celebrate each supporter's big day. It's up to you to supply them with the ideas and knowledge to make their campaigns a success.
As you push forward with your birthday fundraisers, continue learning how to make each campaign a success with these resources: