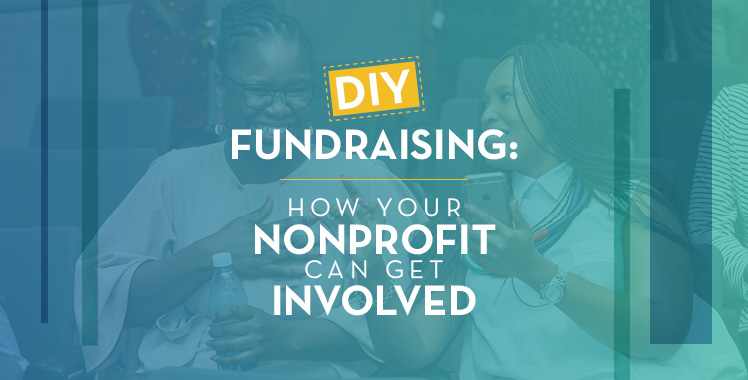 As a nonprofit professional, you understand how much effort can go into fundraising. Between reserving a venue, booking catering, and advertising your event, fundraising is time-consuming and can require a lot of people power. However, did you know there's a way to empower supporters to lead fundraising efforts on your behalf?
Do-it-yourself (DIY) fundraising is a type of fundraiser where you give supporters the full reins and empower them to fundraise on your behalf – in personalized and custom ways. This helps supporters share their passion for your organization, expands your reach, and boosts donor engagement. Plus, your nonprofit saves valuable time that can be put back towards furthering your mission.
In this article, we'll walk you through the ins and outs of DIY fundraising. Then, we'll go over how your nonprofit can launch your own DIY fundraising options for supporters:
With a strong DIY fundraising strategy, your nonprofit can grow its revenue and maximize support. Before we jump into how your nonprofit can get involved with DIY fundraising, let's cover the basics.
What is DIY fundraising?
Do-it-yourself (DIY) campaigns are a popular peer-to-peer style fundraiser. According to OneCause, DIY fundraising is "a strategy in which supporters create personal fundraising pages, campaigns, or events, to raise money on behalf of your cause." These fundraisers can take place around life events like birthdays, graduations, memorials, and personal challenges like fitness goals.
A DIY fundraiser is slightly different from an event-based or organization-driven peer-to-peer fundraising campaign because it can take place at any time and is not part of a broader organization-wide campaign. They are often personalized campaigns that allow individuals to fundraise "their way" by hosting events, creating challenges, donating occasions, and personalizing their passion for your cause.
Your supporters can jumpstart their own DIY fundraisers anytime, anywhere, potentially giving your nonprofit a multitude of new revenue streams that require little direct input and management. The best part — there's a lot of flexibility with DIY fundraising! Typical DIY campaigns and events can include:
Birthday fundraisers
Memorials, anniversaries
Personal challenges
Team fundraisers
Fun events
By tapping into their own personal networks, your supporters can help your nonprofit acquire new donors and loyal supporters. This will lead to more visibility in the community as supporters' friends and family take note of their loved one's passion for your mission. At the same time, you'll build deeper relationships with your DIY fundraisers by letting them be more actively involved in supporting your work.
Now that you know what DIY fundraising is, let's jump into how your nonprofit can incorporate this opportunity in its fundraising strategy.
Choose your DIY fundraising software.

While your supporters will be in the driver's seat, they'll still need your help creating a fundraising page with sharing capabilities. This is where peer-to-peer fundraising software comes in hand. Peer-to-peer fundraising software will help your nonprofit facilitate DIY fundraisers for an easy set-up process.
There are several tools that you'll want to look for in peer-to-peer fundraising software, including:
Customizable campaign pages. Give your supporters the ability to add in photos and their fundraising story (why they're supporting your nonprofit's cause). Your software should come with built-in templates to make the design experience easy and help supporters get to fundraising as soon as possible.
Social media integration. In order to raise awareness of their DIY fundraiser, your supporters will need to share it far and wide. Social media integration enables your supporters to conveniently share their campaign page's link on Instagram, Twitter, Facebook, and other relevant platforms.
CRM integration. Make sure that your peer-to-peer fundraising software can integrate with your customer relationship management (CRM) system. With an integration, data generated through DIY pages is automatically reported to your nonprofit's CRM. This way, you'll have access to new donors' information so you can continue to engage with them and develop strong relationships.
While these features are specific to helping your DIY campaigns be even more successful, you'll also want a peer-to-peer software with a fuller set of robust peer-to-peer features. This includes live streaming, text donation alerts and replies, and text-to-give options so that your software will remain useful to your nonprofit across all types of online campaigns.
Promote your new option and recruit your first fundraisers.

In order for your DIY fundraisers to be a success, you'll need to market the option to start a DIY campaign. Your supporters can't start their own campaign if they don't know they have the ability to! Make sure to market the option widely through email and any relevant social media platforms.
In your communications, you should include:
An explanation of DIY fundraising. Many of your supporters might be unfamiliar with this peer-to-peer style fundraiser, so provide a basic overview of it.
Why DIY fundraising is impactful. This is where you'll convince your supporters why they should make a DIY fundraiser! Emphasize how the money raised will allow your nonprofit to better serve its community. Also, be sure to highlight how this is a highly rewarding experience that offers supporters a lot of creativity and freedom to make a meaningful campaign.
A strong call to action. Use active voice and create urgency when asking supporters to create a DIY campaign.
You can also identify and recruit a handful of fundraisers to get the ball rolling and show the community how it works. Reach out to people that have shown dedication to your cause, whether that's through frequent giving or volunteering.
You can identify DIY fundraisers through the following ways:
Using donor data management. With customer relationship management software (CRM), or donor data management system, you can easily conduct research to identify donor trends and pinpoint frequent givers and people with the highest giving capacity. Loyal donors can be helpful fundraisers since they're enthusiastic about your cause and want to see your nonprofit succeed. Plus, you can look up their preferred communication method (email, text, etc.) and use this for your outreach.
Conducting outreach to volunteers. Your volunteers are uniquely familiar with your nonprofit's operations and would therefore be great fundraising leaders. Contact your most active, passionate volunteers to set up a DIY page.
Reaching out to corporate sponsors. If you're in a corporate partnership, you can reach out to the business's officials or employees to get involved in DIY fundraising. Well-connected sponsors can increase your fundraiser's impact or even refer you to someone that they think would be a great DIY fundraiser.
In your outreach to prospective DIY fundraisers, make sure to make your communications personal! You should address supporters by their first name and express gratitude for the help they've extended to your organization so far. This will help your supporters feel valued and more connected to your nonprofit—and therefore more likely to jumpstart a DIY fundraiser.
Explain how supporters can DIY fundraise.

Once you've advertised this option to supporters and received interest, provide supporters with a standard set of instructions on how to make a DIY campaign come to life.
Have an email template ready to go that explains each step of developing a DIY campaign and any nonprofit-specific guidelines they should follow. Once you've covered the basics, you'll want to make sure your supporters understand the following:
How to build custom campaign pages. A personalized campaign page is the foundation of a great DIY fundraiser. Familiarize your supporters with how they can create a page, add elements like photos and a fundraising story, and publish it live. Plus, give your supporters ideas on how they can tie the campaign to life events, such as a birthday fundraiser, to attract more support.
How to use peer-to-peer tools. Your peer-to-peer software will likely have a lot of tools, so make sure your supporters know how to take advantage of them to maximize their campaign's success. For instance, your supporters should know how to integrate the page with social media and share the link widely.
How to explain the campaign to their networks. Your DIY fundraiser should be able to explain to family members and friends how to donate on their campaign page. This includes using text-to-donate and matching gifts to cater to donor convenience and increase the impact of their gift.
How to make their campaign successful. Share general tips to get your supporters ready to run a well-designed campaign! For instance, you can explain how to effectively set goals and market the fundraiser across different platforms.
Even though a DIY fundraiser is a mostly hands-off fundraising strategy for your team, you'll still need to provide any tech support or general help as needed. Be prepared to answer supporters' questions and let them know they can always reach out for assistance.
Incorporate gamification strategies.

In order for your DIY fundraisers to be a hit, you'll need to engage donors and your campaign leaders. Gamification can help stir up healthy competition and get people excited to support the fundraiser.
Consider incorporating the following gamification strategies:
Leaderboard. Allow your DIY fundraising leaders to compete to see who's leading the pack at any given moment. You might also offer donor-focused leaderboards within each campaign so your fundraisers' personal networks can compete among each other to give the biggest gift. To further incentivize people, consider offering a prize to the DIY fundraiser who led the most successful campaign that year or quarter.
Fundraising thermometer. A fundraising thermometer gives insight into a campaign's progress so donors can see how much more funds are needed to achieve the fundraising goal. This can boost participation and encourage donors to give more to watch the thermometer fill up.
Milestone tracking and badging. Motivate your fundraising team by giving virtual badges when they get closer to their goals! For example, if a DIY fundraiser has a goal of $1,000, let them know they've hit a milestone when they've raised $250, $500, and $750. This will encourage them to continue marketing their event widely to boost revenue.
Make sure to choose peer-to-peer software that has these gamification features and more so you can easily apply them to your DIY campaigns. Gamification is a great way to keep supporters' spirits high and push them past the finish line to accomplish the overall fundraising goal.
Express appreciation.

As with all fundraisers, you'll want to give heartfelt thanks to your donors as well as the supporters who fundraised on your behalf. Thanking people from your DIY supporters' personal networks will help retain casual supporters and turn them into loyal followers of your organization.
When thanking your supporters who created DIY campaigns, make your communications personal and heartfelt. After all, these people volunteered their time to amp up your nonprofit's fundraising strategy, so showing appreciation is a must. Here are some ways you can make your dedicated supporters feel extra valued:
Send them branded nonprofit merchandise.
Shout them out in your newsletter.
Spotlight them on social media or your nonprofit's website.
Set up a call or face-to-face meeting.
Host an annual event specifically for celebrating their achievements.
By expressing gratitude, these supporters will be more likely to run a DIY campaign again in the future, maximizing your organization's support. Let your supporters know how these funds will be used and the impact their campaign made. This will help drive home how important DIY fundraising is, and will build supporters' confidence that they're giving back to the right cause.
---
DIY fundraising is a valuable opportunity for your nonprofit to improve its fundraising strategy and build stronger relationships with supporters. Make sure you have the necessary tech solutions and give instructions to empower supporters to make their own campaigns—then, your supporters will take charge with creative DIY fundraising ideas and help your organization reach more people than ever before.