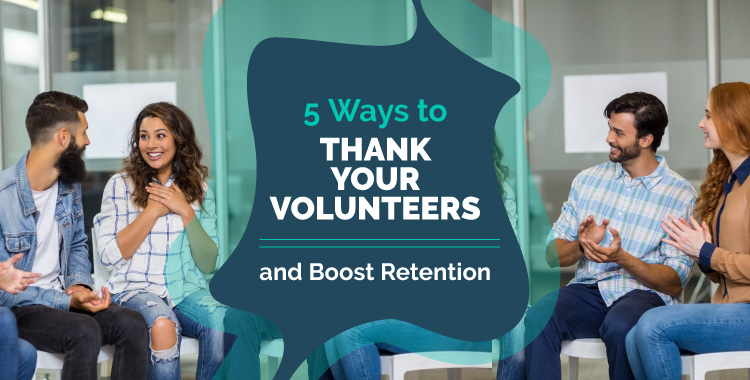 Imagine this: You spend four hours on a hot and sunny Saturday morning volunteering with a community gardening nonprofit. The work is very hands-on and even strenuous at times, but you're happy to do it because you believe in the organization's mission. However, once the volunteer opportunity concludes, you don't hear anything from the nonprofit — not even a simple thank you. This strikes you as odd, making you rethink working with that organization again.
This is an example of poor volunteer recognition. Needless to say, your nonprofit wants to avoid this outcome at all costs because a lackluster appreciation strategy can lead to a lower retention rate for your volunteer program.
You might be well aware that saying thank you to volunteers is of the utmost importance for your volunteer management processes, but perhaps you're not sure where to start when it comes to revamping your appreciation strategy. You've come to the right place!
Let's take a look at five effective ways to show appreciation for your volunteers and encourage them to continue supporting your organization over the long haul:
Offer volunteer appreciation gifts.
Plan an appreciation event.
Offer volunteers more ways to get involved.
Support volunteers' personal goals.
Ask for volunteers' feedback.
The approximate value of a volunteer hour in the United States is $28.54. Your volunteers offer their time, expertise, and support, with no strings attached, to help advance your mission.
That means your volunteer appreciation strategy should be the bedrock of your communications with volunteers. Your thank-you efforts are the least you can offer to these hardworking supporters. And when volunteers know that their contributions are valued and appreciated by your organization, they'll be much more inclined to continue participating.
1. Offer volunteer appreciation gifts.
You'd be surprised how motivational thank-you gifts can be for volunteers. At the end of the day, people truly love stuff. Whether a comfy t-shirt they can wear to bed or a stylish mug to add to their collection, volunteers of all ages appreciate tangible gifts they can hold onto and use in daily life.
InitLive offers plenty of volunteer appreciation gift ideas to wow your volunteers, including:
T-shirts
Water bottles
Mugs
Blankets
Goody bags with an assortment of small gifts, such as stickers, keychains, and hand sanitizers
Event tickets for sporting events, concerts, and other live events
Something as simple as a shoutout on social media can go a long way when it comes to recognizing volunteers. That's a great place to start with your volunteer appreciation approach, but offering one or more of these thank-you gifts can make an even more positive impression on volunteers.
Plus, when your volunteers use your gifts in public or share information about them with their family members and friends, they contribute to greater brand awareness for your volunteer program. It's a win-win scenario for both your organization and your volunteers!
2. Plan an appreciation event.
Often, a fun experience can be just as valuable as a tangible token of appreciation. By planning an exciting, engaging appreciation event, you can offer volunteers the opportunity to meet new people, make fond memories, and get to know your organization (and your team) on a deeper level.
Here are a few ideas to help you start planning your next appreciation event:
Happy hour: Invite volunteers to a local restaurant or brewery for a casual happy hour with free food and drinks.
Appreciation gala: Give supporters the chance to get dressed up and be treated like a celebrity for a night with a formal appreciation gala, complete with a red carpet.
Game night: Engage volunteers in a fun activity, such as bowling, an escape room, or mini-golf.
Use these events to thank all volunteers and offer special awards or recognition to your most active volunteers who go above and beyond the call of duty.
3. Offer volunteers more ways to get involved.
One of the most effective ways to show your volunteers that your organization appreciates them is to provide them with multiple ways to get involved. You'll show your volunteers that you trust them to take on different roles and projects that are of utmost importance to your nonprofit's mission.
As a result, your volunteers will feel like equal partners in helping reach your goals and truly make a difference. Plus, they'll be able to explore other opportunities that suit their skills and interests.
Use your communication strategy to introduce volunteers to the following additional opportunities:
Volunteer grants: Also known as dollars for doers, volunteer grants are donations that companies make to nonprofits that their employees regularly volunteer with. Volunteer grants allow supporters to support your organization in multiple ways and make the most of their volunteer involvement. Encourage your volunteers to investigate their volunteer grant eligibility and apply for these donations.
Peer-to-peer (P2P) fundraising: P2P fundraising empowers volunteers to raise funds on behalf of your nonprofit, leveraging their personal networks of family and friends to earn donations.
Advocacy: Your organization might be engaged in multiple advocacy efforts, from contacting representatives to earning petition signatures. Some of your volunteers may be well-suited to participating in your advocacy campaigns if they have previous lobbying experience or persuasive writing skills.
Engaging volunteers in multiple aspects of your mission can also help boost your supporter retention rates. You can increase the number of ties your volunteers have with your organization, making it less likely for them to stop supporting your cause anytime soon.
4. Support volunteers' personal goals.
Typically, your volunteers engage in your organization's activities to support your mission, with no expectation of receiving anything in return. But that doesn't mean you shouldn't take any opportunity you can to return the favor and support volunteers in their endeavors, too.
By offering volunteers support in their professional lives, you show them that their involvement in your program can help them reap long-lasting benefits. Show your support for volunteers' ambitions by offering them:
E-learning opportunities and other training: Offer volunteers comprehensive training materials that not only prepare them to participate in your volunteer program but also equip them with valuable, lifelong skills. These might include coding skills, graphic design skills, plant identification techniques, or first aid training.
Leadership positions: Empower volunteers to take their involvement a step further by becoming peer leaders. Allow your most engaged, active volunteers to lead shifts themselves or manage the volunteer training process. This can equip volunteers with valuable leadership skills that can come in handy in the job search or career development process.
Professional references: Offer to act as a professional reference for volunteers, whether they're applying for scholarships or new jobs. Take a few minutes to endorse their skills on professional sites like LinkedIn, too.
Incorporating these professional development opportunities shows volunteers that participating in your volunteer program won't just leave them feeling warm and fuzzy after completing a good deed. It can also equip them with substantial professional benefits that might help them secure a spot at their number one college or perfect a new skill that leads to a promotion.
5. Ask for volunteers' feedback.
As a volunteer manager, it's your job to make the volunteer experience as engaging and enjoyable as possible. You may use clues such as attendance data and qualitative observations to assess whether your volunteers are enjoying your program's activities. But the best way to determine your program's impact is to ask your volunteers themselves!
When you ask volunteers for their feedback on your program, you show them that you value their opinions and care about making the volunteer experience as positive as possible. Take a strategic approach to gathering feedback by sending volunteer surveys with questions like:
Would you recommend our volunteer program to a friend?
Do you have any recommendations for how we might improve the program?
How much of a positive difference do you feel our volunteer activities make?
Do you feel valued by our organization? How could we improve our appreciation efforts?
How can our organization better support you through our volunteer activities?
Use your volunteer management software to identify your most active volunteers and promote your surveys most heavily to this audience to ensure their voices are heard. Double the Donation recommends using volunteer management tools that allow you to segment volunteers based on shared characteristics and send tailored messages to each group. Plus, you can use robust software solutions to send automated surveys promptly after each opportunity.
Your volunteers help make up the foundation of your organization's success. If they aren't happy or satisfied with their roles, you won't be able to achieve the retention rate your program needs to flourish. But by making your appreciation known and helping volunteers achieve their goals, you can develop stronger, longer-lasting relationships with volunteers.
---
Author: Shreya Tragad, Digital Marketing Specialist at InitLive
Shreya is a creative content creator focusing on delivering information about the importance of volunteerism for nonprofit organizations. She is passionate about creating engaging content, writing, and graphic design to help viewers easily retain information. You can find her work at www.initlive.com or on Linkedin and Twitter.