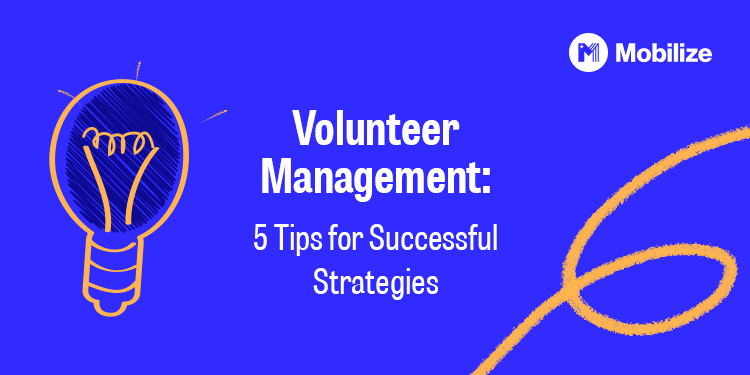 Your organization's volunteers are one of your most valuable assets. Their free support helps you take care of administrative duties and pursue your overall mission even with a limited number of paid staff members.
Yet in order to both maximize the effects of your existing volunteers and recruit new, eager individuals to help, you'll need a strategic volunteer management plan in place. 
At Mobilize, we work with thousands of nonprofits to equip their teams with the volunteer management tools they need to thrive. And through our many years of experience, we've put together this handy list of tried-and-true tips for ensuring a successful volunteer program. Here, we'll cover the following:
Strategically recruiting volunteers

Incorporating virtual volunteering

Training volunteers well

Leveraging volunteer grant programs

Investing in volunteer management software
Effective volunteer management is more than simply keeping track of your volunteers. Are you ready to learn more about these powerful tactics and see how they can help improve your nonprofit operations? Let's jump in. 
1. Strategically recruit volunteers.
The first step in any effective volunteer management strategy is ensuring effective volunteer recruitment. After all, this is how you solicit key support for your organization in the first place. So how can you make sure you bring in the best and the brightest volunteers to help drive your mission forward?
Our volunteer recruitment guide from Mobilize suggests the following best practices:
Offer a range of volunteer opportunities.

Your base of potential volunteers likely spans a wide range of skills and experience, which means your volunteer opportunities should cater to each. In today's world, this should definitely

include virtual volunteerism (which we'll dive into later). The more volunteer opportunities offered, the more likely prospective volunteers find a good fit and become involved with your organization.

Leverage strategic networking.

Effective volunteer recruitment is all about strategic networking. For example, your existing volunteers likely have a number of individuals in their own networks who might also be willing to help out. By encouraging volunteers to reach out to their own friends and family, you have the power to expand your volunteer base exponentially. Alternatively, you might look into existing networks of online support to recruit new volunteers, including your social media followers and through volunteer-specific platforms like Mobilize.

Cater your recruitment strategies to the volunteer position.

Some volunteer positions are easier to fill than others, which means it's a good idea to adjust your recruitment strategies accordingly. For example, your general event-based volunteer positions can likely be filled by posting calls to action on social media. However, other positions, such as

capital campaign

volunteers, might require more intensive screening—and a more personalized approach. 
Between these and other tried-and-true volunteer recruitment tips, you're sure to garner enough support for your mission. Then, you can focus on engaging with volunteers and stewarding them into long-term, invaluable team members. 
2. Incorporate virtual volunteering.
As many nonprofit professionals are working from home for the time being, it makes sense to allow your supporters to volunteer from home as well. This way, you can create a more accessible volunteer program while still garnering support for your mission.
Here are a few ideas that your virtual volunteers can help out with:
Technical skills:

Do some of your supporters have experience with graphic design? What about copywriting? These ideas can easily be translated into virtual volunteer programs where volunteers are encouraged to help support your marketing and communications efforts and get the word out about your mission.

Fundraising:

Using innovative virtual fundraising and digital communication tools, it can be easier than ever for volunteers to help raise money for your mission. You can either equip volunteers with a personalized online fundraising page to solicit donations from their own friends and family or provide them with a list of contacts to reach out to and request a donation phone-banking style.

Advocacy:

If your organization has ties to social or political movements, online advocacy can be a fantastic way for volunteers to get involved. For example, supporters can help circulate online petitions, participate in click-to-call campaigns, and more. Then, they can encourage their family and friends to do the same!
When you include and promote virtual volunteer opportunities to your supporters, you can drastically increase the number of individuals who are willing and able to help drive your mission forward. Though many organizations have just begun incorporating virtual volunteerism due to COVID-19 and social distancing requirements, it's a fantastic strategy that should continue to be leveraged for years to come.
3. Train volunteers well.
Once you've recruited volunteers in a variety of positions, it's time to get them trained and ready to help support your mission. Although this step is of utmost importance (as it can introduce volunteers to the organization, familiarize them with the mission, and provide them with necessary resources), it is often neglected due to time and/or budgetary restraints by volunteer-backed nonprofits. However, the most effective volunteer training programs follow these best practices:
Encourage virtual learning opportunities.

Live-streamed virtual training and pre-recorded, on-demand resources can each be valuable for nonprofits looking to effectively train their new and existing volunteers—each with its own unique pros and cons. For example, you can leverage

free nonprofit training courses

on topics such as fundraising, event planning, and even constituent relationship-building. This way, volunteers can engage with the content on their own terms, whenever and wherever is most convenient for them.

Tailor your training to the average learner.

Your nonprofit likely has a unique training program even compared to other similar organizations, and it will be dependent on both your mission and your volunteers. For example, if your volunteer base tends to be made up of older generations, you might be wary about including a heavily tech-based training program. On the other hand, younger supporters will likely be ready to jump on board with new technology and virtual training opportunities in no time.

Implement a volunteer mentorship program.

One of the best ways for new volunteers to learn more about your mission and their role in it is to leverage your seasoned volunteers for assistance. By implementing a volunteer mentorship program, you can provide a unique and powerful social incentive for involvement while also incorporating training methods that have been proven to work successfully time and time again. This can even be done virtually thanks to video conferencing platforms, etc. 
The bottom line is that you can't simply throw a volunteer into a new position and expect them to thrive. Making sure your volunteers are well-trained for their respective positions is critical for ensuring effective volunteer management processes overall. 
4. Leverage volunteer grant programs.
Volunteer grant programs, also known as Dollars for Doers, can be an excellent way to increase the financial value of your volunteer programs. This describes a type of corporate social responsibility effort where employers will gift a monetary grant to a specific charity in exchange for a number of volunteer hours completed by their employees. 
Although the exact process will vary between volunteers (and, specifically, their employers), the basic walkthrough is as follows:
An individual volunteers with your organization and records the number of hours worked.

The individual researches their eligibility for a volunteer grant through their employer.

If eligible, the individual submits the required paperwork to their company requesting a volunteer grant for your organization.

The volunteer's employer reviews the request and confirms the individual's completed volunteer hours.

The company sends a monetary donation to your organization.
When volunteers can see that their generous donations of time are making an even greater impact through their employers' monetary grants, it can significantly increase their willingness to serve your organization and its mission. Plus, you'll get some additional funding from corporate partners. It's a win-win!
5. Invest in volunteer management software.
If you want to bring your volunteer management processes to the next level, having the right software in your toolkit is essential. After all, this guide explains that "volunteer management software matters for mission-driven organizations because it generates long-term value." 
However, not all software solutions were created equal. If you're looking for a top-tier volunteer management software provider, be on the lookout for features like these:
Communication tools:

One of the most obvious functions of your volunteer management software lies in its communication and outreach capabilities. For example, you'll need to be able to reach out to new volunteers, convey shift information, and provide an easy way for individuals to seek out more information and ask questions about what they'll be doing.

Peer-to-peer recruitment features:

We already touched on the importance of networking in volunteer management and recruiting. Luckily for you, having the right software can help! With peer-to-peer recruitment features, you can equip existing volunteers with the tools they need to request support from their own family, friends, and colleagues.

Data reporting:

Now that you've put a strategic volunteer management program in place, it's important that you're able to collect and analyze data to understand what is—and isn't—working. With data reporting tools, you can explore powerful insights into your processes, showing you where there's significant room for improvement and where you're already thriving.
Volunteer management software can be a big help to any volunteer-backed organization, but it is especially important for nonprofits that wish to grow. Without the right tools, you'll likely be overwhelmed with logistical processes and become stagnant, hindering your potential to push your mission forward.
---
Volunteer management is a critical component of any volunteer-backed nonprofit. When you take these strategies into consideration, you'll set your organization (and its volunteers!) up for continued success. In fact, according to Double the Donation's guide to volunteer management, "your organization can build a more strategic, positive volunteer experience and cultivate long-term, mutually beneficial supporter relationships."
Just remember, equipping your team with the right tools is an important prerequisite for any efficient management strategies. Good luck!
This guest post was contributed by Mobilize.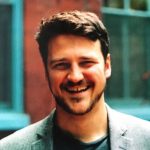 Allen Kramer is the Co-Founder and President of Mobilize. Before starting Mobilize with Alfred Johnson, he worked on Hillary Clinton's 2016 campaign, in management consulting at Bain & Company, and helped grow a great social enterprise called Assured Labor. Allen was born and raised in NYC, loves a wide range of music, and—on his better days—running.