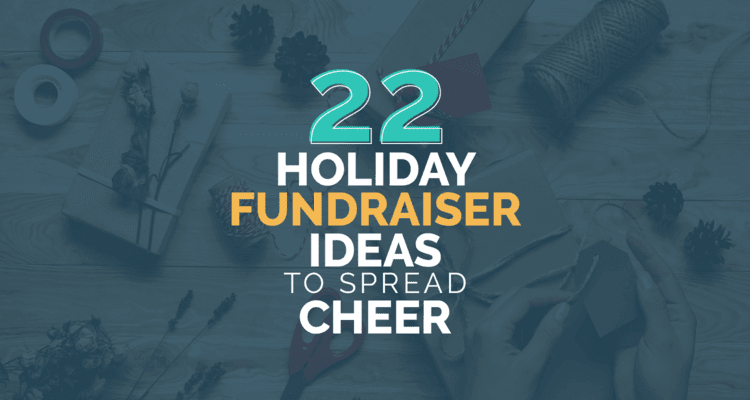 'Tis the season to be jolly — and charitable. The year-end holiday season is consistently the most charitable time of year. In fact, fundraising sources estimate that December is responsible for 30% of all annual giving, with about 10% of annual donations coming in the last three days of the year.
This generosity is due to several major holidays like Christmas, Hanukkah, and Kwanzaa that inspire a spirit of giving. This makes holiday fundraisers a must for your annual development strategies.
Those impressive numbers are something you don't want to ignore! To direct prospects' attention toward your school, church, or other nonprofit, you need to go above and beyond. After all, so many other organizations are vying for their attention in search of those last-minute donations.
To power your year-end efforts, we've compiled a list of 22 holiday fundraiser ideas that are sure to spread some cheer. All you'll really need is a festive spirit and the right fundraising software to back you up. We've broken our ideas into these categories:
As donors reflect on their year and consider how to help those less fortunate, give them a reason to support your work with engaging holiday fundraisers. If you're ready to end the year on a high note, let's dive in!

Our Favorite Holiday Fundraiser: eCards
Greeting cards are a classic way to celebrate the holidays and let loved ones know you're thinking of them. With a bit of creativity, your nonprofit can leverage holiday greeting cards in its fundraising efforts and inspire donors to spread some holiday cheer.
Backed by an eCard creation platform, design holiday cards that capture the festive holiday spirit and communicate your cause.
Instead of traditional cards, eCards are much more convenient since they're designed and sent digitally. When used as a holiday fundraiser, the proceeds of each card will go toward your nonprofit's cause. There are a couple of ways to leverage cards in your year-end fundraising push, including:
Offer them in exchange for donations. Let donors give whatever amount they want in exchange for a festive card to send to loved ones. You can even enable tribute giving. With this strategy, someone can give in someone else's name and send a card to let them know. This way, your holiday eCards can serve as a present, replacing the need for the donor to purchase a tangible gift.
Sell them for a fixed price. Fundraising Letters' guide to selling charity eCards explains that you can sell each eCard for fixed rates. The guide suggests selling them anywhere from $1-$25. That way, they're affordable yet still impactful on your work.
Use them to encourage year-end donations. Send holiday greetings to your committed supporters to let them know you're thinking of them. This can inspire them to reflect on the past year and submit last-minute donations.
Create designs for every year-end holiday you can think of, from Thanksgiving to Hannukah to Christmas. This will maximize the number of eCards you're able to sell, ensuring all supporters can support your cause and spread some holiday cheer.


Creative Holiday Fundraiser Ideas
Bring some creativity and charitable opportunities into your supporters' holiday festivities. We've curated a list of different ideas that can work for any year-end celebration, so you can bring your entire community together no matter what occasions they celebrate.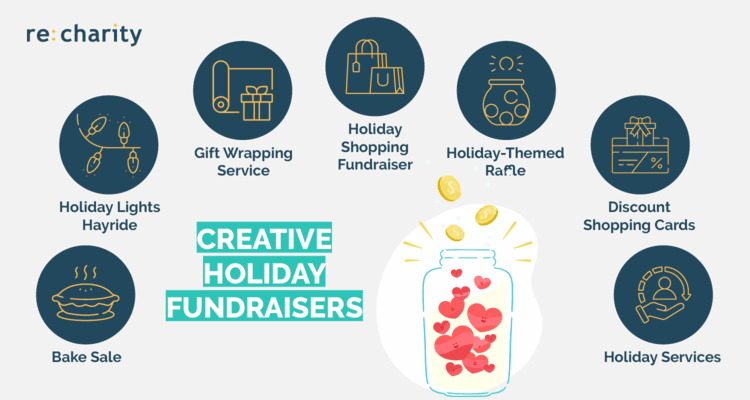 Holiday Lights Hayride
Colorful lights are a signature symbol of the holiday season. Offer to take supporters around your community to admire the lights in exchange for a donation.
Sell refreshments like hot chocolate and apple cider to really set the mood and keep everyone warm if it's a particularly cold night.
Holiday Bake Sale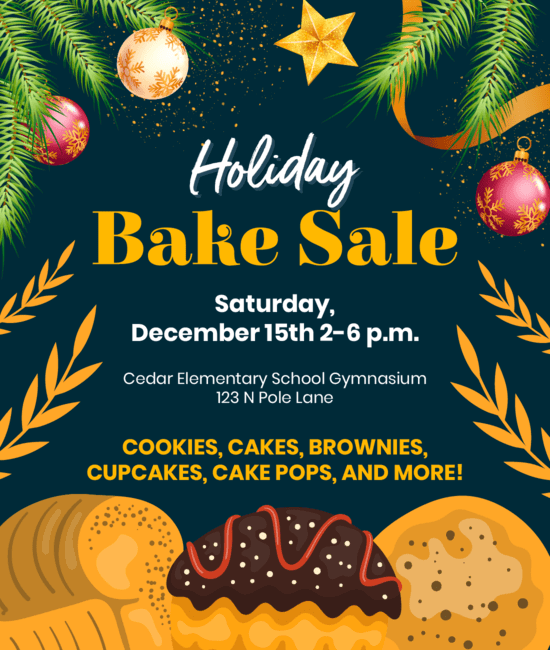 A holiday bake sale can be a fantastic way to bring your community together and raise funds for a good cause.
The idea is simple: volunteers from your community bake holiday treats to sell at a designated location. Then, they can sell holiday-themed goodies, such as:
Gingerbread cookies
S'mores cookies
Brownies topped with crushed candy cane flakes
Cake pops
Hot chocolate cupcakes
The key to success is to offer a variety of items, including gluten-free and vegan options, and to promote the bake sale on social media and in the community. Your nonprofit can also partner with local businesses to sell baked goods in their establishments, which can help increase visibility and sales. To promote your bake sale, post on social media and design some creative flyers to post around the community!
Need some design inspiration for your bake sale flyers? Check out our guide to creating fundraising flyers.
Gift Wrapping Service
Most winter holidays are associated with gifts. Take some of the pressure off gift buyers by wrapping their presents for them.
Offer a gift wrapping service for a small fee at local malls or other high-traffic areas. Use festive wrapping paper and ribbon, and make sure to advertise that proceeds go towards a good cause.
Make sure your volunteers have some wrapping expertise to ensure the gifts look professionally wrapped.
Holiday Shopping Fundraiser
During the holidays, there's a spike in retail sales as people scramble to find gifts for their friends and families. Position their shopping as a way to give back with a holiday shopping fundraiser.
The mechanics of this campaign can vary. Either partner with a local retailer to donate a portion of all their sales to your nonprofit during the holiday season or ask to receive a portion of the profits for specific products. You can also host an online fundraiser in which case you'll partner with an online shopping fundraiser program.
ShopRaise's online shopping fundraiser guide explains that more than 268 million people shopped online in the United States last year, and that number's projected to reach 285 million by 2025. The rise of online shopping makes this an incredible opportunity to raise funds for your caues during the holidays.
Whether in-person or online, this holiday fundraiser works for a few reasons:
It allows the nonprofit to tap into the holiday shopping frenzy.
It provides supporters with a way to contribute without necessarily donating.
It drives more customers to the business since they'll view the retailer as socially responsible.
Be sure to choose businesses and products that align with your mission and audience. In turn, this holiday fundraiser can be a win-win-win for your nonprofit, supporters, and the business as people flock there for holiday shopping.
Holiday-Themed Raffle
Everyone loves the thrill of potentially winning prizes, especially when the proceeds go to a good cause. Bring that excitement into the holiday season by hosting a raffle.
When you host your raffle, feature holiday-themed prizes such as:
Wreaths
Holiday lights
Inflatable yard decorations
A Christmas tree
Tickets to holiday events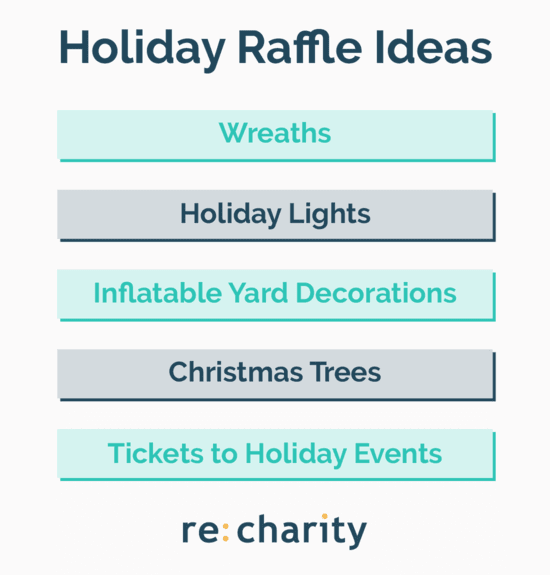 Curate raffle items by requesting in-kind donations from your community. Then, you can purchase generic tickets or go all out by creating custom tickets with fun holiday designs.
The best part of this holiday fundraiser is that everyone can get in on the action. Open your raffle to the public, so everyone can buy tickets, even if they don't already support your cause.
Discount Shopping Cards
Looking for an opportunity to connect with your local corporate partners? Look no further than a discount shopping card fundraiser!
For this holiday fundraiser, you'll need to work with socially-responsible local businesses to offer exclusive deals and discounts to consumers. Then, sell the cards for a flat rate. While your nonprofit can generate revenue, local businesses can attract new customers and boost sales. If you're running low on time, there are also companies that create discount cards with popular chains.
Either way, this campaign works because instead of donating, supporters get something tangible in return. Then, they'll think of your cause every time they save money on everyday purchases.
Remember to put expiration dates on the cards. We suggest a year, so you can transform this into an annual holiday fundraiser for your cause.
Holiday Services
The end of the year can be chaotic. Your supporters are slam-packed shopping for gifts, decorating their homes, traveling to visit family, and baking cookies. Ease their workload by offering services such as:
Childcare services where people can tackle holiday shopping or attend Christmas parties
Shopping services where people can drop off their lists for your volunteers to complete their shopping
Gift wrapping services where people can drop off their gifts to be wrapped and labeled
Christmas tree pickup to help people get rid of their trees post-holidays
Not only will you help people check items off their to-do lists, but you'll also raise money for your cause with this holiday fundraiser. Plus, people may be willing to chip in a little extra when they know the funds are going to a worthwhile cause. Be sure you're backed by a team of volunteers to make this holiday fundraiser a success!

Holiday Fundraising Events
The holidays are all about coming together to celebrate. Your nonprofit can bring the community together in support of your cause by hosting some holiday-themed events.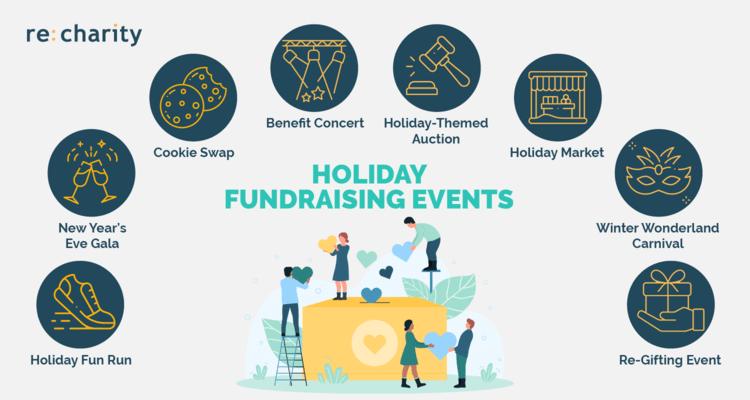 New Year's Eve Gala
Encourage supporters to start the year off on a positive note by supporting your cause. A New Year's Eve gala gives everyone an opportunity to get dressed up, reflect on the year, and kick off the New Year by celebrating your work.
Sell tickets, and encourage people to come dressed in cocktail attire. Then, set a fundraising goal to meet by midnight. People can use your text-to-give tools to help make your final fundraiser of the year a success.
To pull this holiday fundraiser off, try out these strategies:
Look back on the past year and recognize standout sponsors and donors.
Theme your event around New Year by including champagne toasts, music, and a countdown.
Incorporate additional donation opportunities throughout the event by including a raffle, auction, or text-to-give options.
Project a fundraising thermometer on a screen to encourage donations.
When the clock strikes midnight, you'll have one more successful fundraiser in the books!
Holiday Fun Run
Perfect for active supporters, this holiday fundraising event lends itself well to different holidays and themes, whether you want to host a Thanksgiving- or Christmas-themed race.
Encourage supporters to dress up as their favorite holiday characters, like Santa, Mrs. Claus, elves, Rudolph, turkeys, and so on. Then, give your fun run a catchy name, like:
Turkey Trot
Jingle Jog
Reindeer Run
Frosty 5K
Santa Sprint
People can join in on the festivities by paying for entry. You're not limited to fun runs though — you can host a walkathon where people raise pledges and go as far as possible instead!
Cookie Swap
A cookie swap is a fun and tasty way to fundraise during the holiday season. Here's how it works:
Invite supporters to whip up and bring their favorite holiday cookies to share.
Ask for donations at the door or have guests pay to participate in the swap.
At the event, everyone swaps cookies, so each person leaves with an assortment of delectable treats.
You can also sell other goodies and refreshments for people to enjoy while they mingle. To add a competitive element, have a cookie decorating contest or award prizes for the most creative cookies.
As one of our favorite holiday fundraiser ideas, a cookie swap is a wonderful way to bring people together to enjoy some homemade holiday treats.
Holiday Benefit Concert
Combine the power of music with fundraising for a good cause. A holiday benefit concert features a lineup of performers who donate their time and talent to raise money for a worthwhile mission. You can turn to local bands, symphonies, or choirs.
Once you have a solid lineup of performers with festive music squared away, then you can start fundraising! Attendees will purchase tickets or donate to attend the concert, and the proceeds will go directly to your cause.
Don't forget to sell refreshments for people to munch on and drink as they enjoy the music. You might sell:
Hot chocolate, apple cider, and eggnog
Candy canes and other holiday-themed candy
Holiday-themed cocktails and mocktails
Gingerbread cookies and other desserts
By selling items on theme with your event, you'll provide attendees with delicious refreshments and raise additional funds for your organization.
No matter what refreshments you sell, holiday benefit concerts can be a fun and festive way to support a cause while enjoying holiday music with friends and family.
Holiday Auction
We've all attended or at least heard of fundraising auctions. Put a fun twist on yours by giving it a holiday theme. Set a wintery atmosphere with holiday decorations. Then, your nonprofit can auction off items such as:
Themed gift baskets with holiday goodies like chocolate, wine, and other treats
Jewelry like earrings, necklaces, and bracelets that are perfect for gift-giving
Holiday event tickets to winter concerts and street festivals
Home decor like wreaths, ornaments, and beautiful table centerpieces
Packages such as dinner at a restaurant paired with tickets to a local show
Travel packages that include flights, accommodations, and activities for a unique holiday experience
Bidders have the chance to win exciting items that they can potentially give to their loved ones for the holidays! As with any charity auction, you'll need to rely on in-kind donations and leverage your corporate partnerships to pull this holiday fundraiser off.
As explained in Handbid's silent auction rules guide, you'll want to use mobile bidding software to make this event run as smoothly as possible. That way, you can avoid having to decipher bad handwriting or incorrectly-placed bids.
Holiday Market
Get people in a festive spirit with a holiday-themed bazaar. At your event, people can browse and buy handmade crafts, decorations, baked goods, and gifts featured by local vendors.
Charge a small admission fee, have vendors pay for booth space at your event, and offer refreshments to create a festive atmosphere. Don't forget to add lights and other holiday decorations to give it a whimsical feeling!
Winter Wonderland Carnival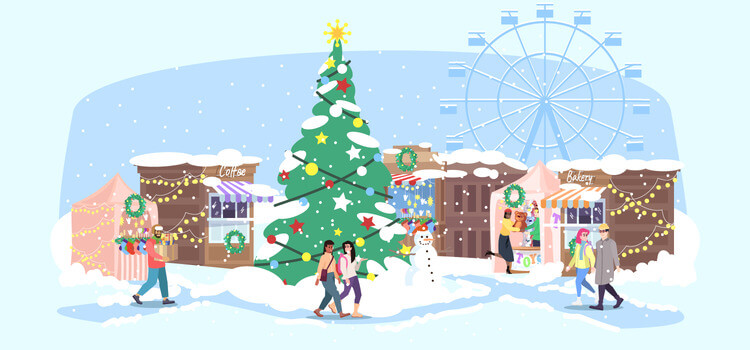 Transform a nearby venue into a winter wonderland complete with holiday decorations and carnival games. Rent or create carnival activities with a festive twist, like:
Snowball Toss: Players toss snowballs (AKA white foam balls) into a series of targets for points.
Pin the Nose on Rudolph: We've all heard of Pin the Tail on the Donkey. In this creative rendition, players are blindfolded and attempt to put Rudolph's red nose in the correct spot.
Holiday Ring Toss: Have players toss rings onto holiday-themed objects, like candy canes, presents, or snowmen, for points.
Penguin Shuffleboard: Players slide penguins (or other winter-themed objects) down a shuffleboard table, aiming for the highest-scoring areas.
Don't forget to set up cookie decorating stations and sell holiday treats like hot chocolate, apple cider, and cookies. You can also sell limited-edition merchandise like cozy mugs to really kick your holiday fundraiser up a notch!
Re-Gifting Event
We've all received a gift that we didn't exactly love but didn't want to ask for a return receipt to get rid of. The sweater stayed on the hanger, the complicated tech gadget stayed in your drawer, or the shoes that weren't your style stayed on your closet floor.
Give those unwanted gifts a new home with a re-gifting event. For this event, individuals will donate unwanted or gently-used items they received as gifts during the holidays. Then, your nonprofit can sell them at a discounted price with proceeds going toward your cause.
This event is perfect for environmental organizations looking for eco-friendly holiday fundraiser ideas! It promotes sustainability by giving unused items a second life and encourages people to declutter and donate rather than throwing away perfectly good items.
Bonus: This event is perfect for rehoming unwanted birthday gifts, too! Encourage supporters to bring any unwanted (yet still useful) gifts they've received throughout the year. Check out our ultimate birthday fundraising ideas guide for more ideas to help celebrate.

Christmas Fundraising Ideas
If you're specifically looking for Christmas fundraisers, look no further! We've pulled together our favorite Christmas fundraising ideas that are sure to get your supporters feeling jolly.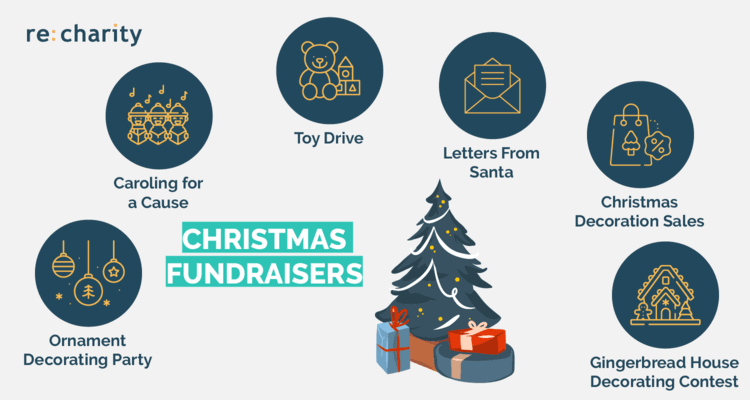 Ornament Decorating Party
Perfect for creative individuals and children, an ornament decorating party is a festive way to raise money during the holiday season. Participants can purchase blank ornaments, then decorate them with paint, glitter, and other craft materials. This family-friendly event lends itself well to school fundraisers, where children can let their creativity flow.
If you're catering your event to adults, you can turn it into a wreath-decorating party or a Christmas cookie-baking party where you teach creative decorating techniques.
Regardless, host your event at a public venue like a community center, park, or church. To raise funds, charge registration fees or sell the decorations at a holiday market with proceeds going to your organization.
Christmas Caroling For A Cause
Caroling is a staple tradition around Christmastime. Offer a singing telegram service where volunteers dressed in holiday costumes deliver carol-grams to people's homes or workplaces.
To transform this into a Christmas fundraiser, charge a fee for each performance. Alternatively, go door-to-door to carol and collect donations.
Toy Drive
Every child dreams of opening gifts on Christmas morning. If it's related to your cause, your nonprofit can make those wishes come true by hosting a toy drive. This holiday fundraiser involves collecting toys from donors to give to children in need during the holidays.
To pull this off, you can choose one of these approaches:
Set up a drop-off location at a local business or another high-traffic area in your community.
Host a donation box at an event like a holiday market.
Organize a holiday party where guests bring new, unwrapped toys as admission.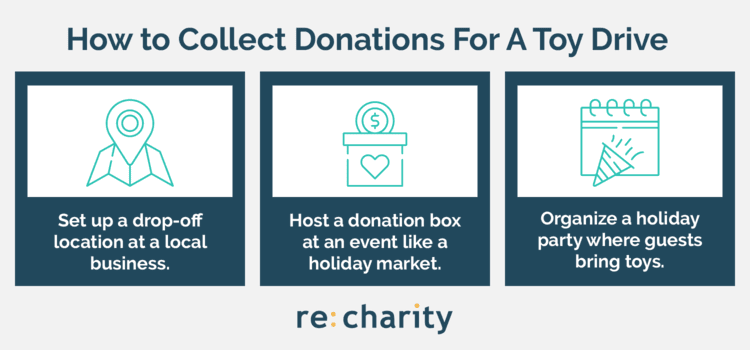 Then, you can deliver the toys to your beneficiaries or partner with a local hospital or social service agency to distribute the donated items.
This type of holiday fundraiser not only provides children with gifts they may not otherwise receive but also promotes a spirit of giving during the holiday season.
Letters From Santa
Offer personalized letters from Santa Claus to children in exchange for a donation to your nonprofit. Parents and grandparents can pay to have these delivered to their loved ones and spark some joy and excitement for the holidays.
Be sure to include the child's name, age, interests, and holiday wishes in the card. That'll bring each letter to life.
Not only will this Christmas fundraiser raise money for your cause, but it'll also create a memorable experience for families during the holiday season. Make sure your donation tools are ready to go, so parents know where to submit donations for their personalized letters.
Christmas Decoration Sales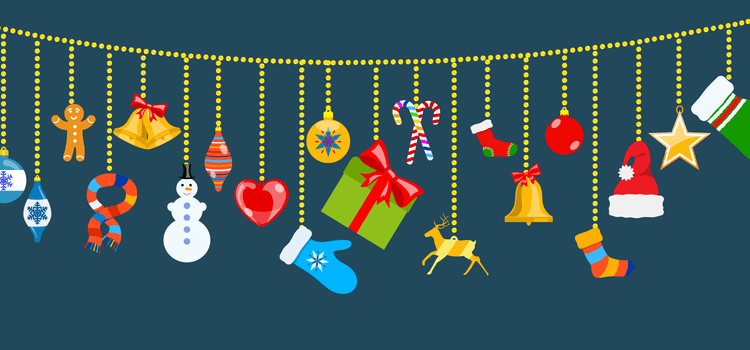 All the hustle and bustle of the holidays makes finding reasonably-priced holiday decorations a hassle. Help your community out by selling various types of quality decorations, like:
Christmas trees
Ornaments
Garland
Lights
Wreaths
To make the most of this fundraiser, nonprofits can partner with local businesses, such as tree farms or Christmas shops, to obtain bulk discounts on decorations. They can also set up an online store or sell at local holiday markets to reach a wider audience.
This fundraiser also ties into some of our other holiday fundraising ideas, like the ornament decorating party and the holiday market. You can sell handmade items your artistic supporters create for you, adding a personalized touch to your sale.
Gingerbread House Decorating Contest
Bring some competition into the holidays with a gingerbread house contest. Encourage individuals or groups to enter their gingerbread houses into the competition.
Award prizes for designs in different categories, such as:
Best Traditional Design: This award recognizes the best classic and traditional gingerbread house.
Most Festive Design: This award recognizes the gingerbread house that best sparks the holiday spirit.
Most Creative Design: Give this award to the most original and imaginative design.
Best Details: Use this award to recognize the gingerbread house with the most intricate details.
Best Overall Design: This award recognizes the best gingerbread house overall, taking into consideration creativity, originality, and execution.
To raise funds, you can sell gingerbread house kits or charge entry fees. Alternatively, make it a community event by having participants set up elaborate displays showcasing their gingerbread houses. Then, community members can vote for their favorite designs with their dollars.

Wrapping Up
By honing in on the most charitable time of year, you can drive incredible results for your cause. These holiday fundraising ideas will give your community something to look forward to when the season rolls around.
Known for their convenience and affordability, holiday eCards can make your nonprofit stand out during the year-end season. That's why it's our favorite holiday fundraiser. Everyone can send their favorite festive designs to their loved ones while also supporting your nonprofit. In no time, you'll get everyone into the holiday spirit!
If you want to continue exploring these ideas and many more, check out these helpful resources: