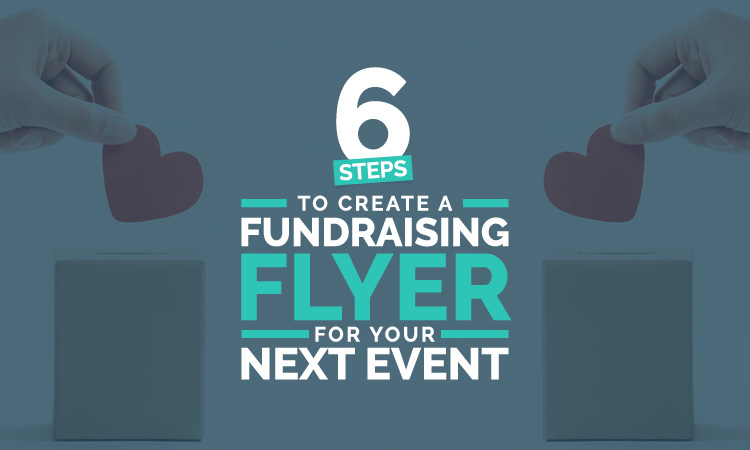 Your supporters see thousands of advertisements a day, both in print and online. They're likely overwhelmed by the constant stream of visuals that fight for their attention. So how can you get them to stop, read, and engage with your organization's content?
When it comes to spreading the word about your nonprofit and building stronger donor relationships, look no further than fundraising flyers. Fundraising flyers are an effective way to stand out to potential donors or volunteers and convince them to support your nonprofit's mission.
There's a reason why this marketing technique has been used for centuries: flyers work! Whether you're raising awareness for an upcoming event or driving donations towards a campaign, flyers are guaranteed to get your message across.
In this guide, we'll cover everything you need to know about fundraising flyers, including:
Ready to make an impact with beautifully crafted fundraising flyers? Let's get started!


Fundraising With Print Flyers: What You Need to Know
Digital marketing channels, like pay-per-click ads and social media, are the new norm. Virtual flyers can be made online and distributed to hundreds, if not thousands, of people in an instant. But that doesn't mean we should discount the power of print!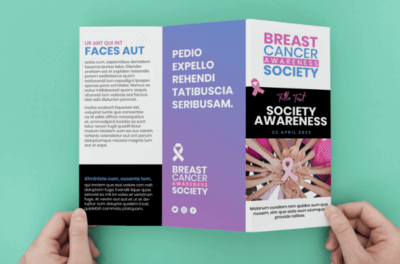 Print materials are a tried-and-true method for reaching target audiences and sparking action. Plus, when added to your multichannel marketing efforts, you can ensure that as many people as possible engage with your cause on their preferred platforms.
If you need another compelling reason to incorporate printed flyers into your communication strategy, consider that recall for print advertisements is 70% higher than for digital. To put it simply, print is memorable.
Here are a few more benefits of printed fundraising flyers:
Visibility: Despite living in an increasingly digital world, printed flyers are valuable because people actually read them. Websites are often cluttered with advertisements, making it easy for supporters to overlook your message. With flyers, however, supporters are more likely to notice your content.
Low-Cost, High-Impact: Flyers are a cost-effective way to get the word out about your campaign or event. All you need are paper, a printer, and an eye for design. Your organization will see a high return on investment with all the proceeds and engagement that one tiny flyer can bring.
Customizable: Flyers are easy to make and incredibly customizable. You can start by using templates or creating your own. Choose the color scheme, fonts, layout, and visuals. Then, send them through the mail, hand them out at events, or even display them in your main offices.
Whether in print or online, fundraising flyers are sure to make an impact with the right information and design.

Important Information to Put on a Fundraiser Flyer
Flyers are meant to convey important information about your event or campaign. But with the standard flyer size being so small, you may be wondering, "What should I put on my fundraising flyer and what should I leave off?"
Well, your fundraising flyer is the main takeaway for anyone who's interested in participating or contributing to your cause. Therefore, it should include the details of your campaign, answer common questions, and motivate supporters to take action. Use bullet points, graphics, and other visuals to save space and effectively communicate your core message.
Let's take a look at the key elements that every successful fundraising flyer should have: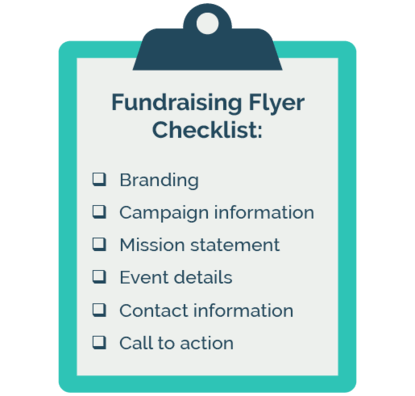 Name, branding, and logo. Branding is what defines your organization and sets it apart from the competition. With the right design strategy, your name, logo, and color scheme will automatically communicate who you are and what you stand for. Plus, your supporters are more likely to recognize your content and take action when you have consistent visuals throughout your solicitations.
Campaign information. When launching a new fundraising campaign, you want to make a memorable first impression. That's why it's important for each campaign to have an easily identifiable name or slogan. Imagine your organization wants to launch a fundraising campaign about fighting food insecurity. Adding the title "Giving
the Strength to Smile" to your campaign flyer will make an impact on readers.
Short description of your cause. If your cause isn't made clear through branding, consider adding a brief mission statement to your fundraising flyer. Visuals can help communicate what your nonprofit supports without the use of lengthy text. For instance, if your church is hosting a pancake breakfast fundraiser, you can include a pancake graphic with a quick tagline like, "We're here to feed our hungry brothers and sisters."
Event details (if applicable). If your nonprofit is putting out flyers for an upcoming event, include essential information like the date, time, and location. You should also provide an overview of the activities that will take place, such as the age ranges allowed at the event. Let's say your elementary school is hosting a 5k. Be sure to note that it's a family-friendly event, so you can maximize the number of event registrants.
Contact information. Let readers know how they can contact you for more information. Include email and social media logos to make it clear where supporters should go to reach you.
A call to action. Ensure readers understand what it is you're asking for with a clear call to action. Do you want people to donate? Volunteer? Attend an event? Get straight to the point with action words like "donate today" or "join the fight" to drive engagement.
It's important to follow the rules of design when putting this information on a fundraising flyer. Start by using simple, bold fonts that are legible from a distance. Then, maintain visual hierarchy by placing the most important information at the top and in the largest font. That way, with just a quick glance at your flyer, people will understand your mission and feel compelled to take action.
Now that you have all the necessary information for your fundraising flyer, it's time to get creative!

How to Create a Fundraising Flyer: 6 Steps
1. Lead with a bold statement
Studies show that the human attention span is 8 seconds, shorter than that of a goldfish. This means you have only a few seconds to grab a potential supporter's attention and prompt them to take immediate action.
When creating a fundraising flyer, make your purpose or call to action clear. You want your audience to understand what you're trying to accomplish before they get distracted by another, equally important ad. One way to accomplish this is by leading into your flyer with a bold statement that:
Puts the reader at the center of your cause. Address your readers directly to make them feel important and elevate the need for their help. Imagine receiving a flyer that says, "We need your help" or "Together, we can make a difference." These statements are difficult to ignore since the fate of the campaign lies in your hands.
Asks a question. Engage with your supporters by asking them a pertinent question. Not only is a question thought-provoking, but it also makes readers stick around for the answer. Consider the following leads: "Too many people suffer from hunger" versus "When was your last meal?" The second one is more enticing and pulls the reader into the importance of your mission.
Gets to the point. Readers appreciate transparency and recognize when something is being sold to them. The best way to be successful is to be upfront about your goal by saying something like "Help us reach our fundraising goal!"
Uses active voice. Write your hook in language that evokes immediate action. It will resonate more with readers and be more likely to encourage action. For example, instead of writing "Talent show tickets can be purchased on our website," write "Visit our website to buy your talent show ticket today!"
A bold statement is sure to catch a supporter's wandering eye and persuade them to keep reading.
2. Add a QR code
The popularity of tablets, smartphones, and other mobile devices increases every year, and with it, the percentages of mobile web traffic climb steadily. If you want to keep up with the trends, consider adding a QR code to your fundraising flyer.
This code can be scanned by any mobile device and will take users to your online resources, whether that is a donation page, registration form, or fundraising campaign site. Rather than having a lengthy URL on your flyer, a "scan-to-give" or "scan more information" QR code will allow your supporters to make an impact from the convenience of their phones.
All you have to do is use a free website to generate your unique code. Then, download it and paste it onto your flyer. When someone views your flyer, they can use the camera app on their smartphone to access the link.
If you have a lot of information to add to your fundraising flyer, QR codes also have the benefits of saving space and maximizing the efficiency of your flyer.
3. Use compelling visuals
The best flyers use compelling visuals to tell a story. If a picture is worth a thousand words, then graphic design is no different.
In graphic design, visuals help create a connection with the text and can evoke powerful emotions. An image on its own, however, is not enough to be meaningful. That's why you should add the following graphic design elements to your next fundraising flyer:
Color palette: Choosing a color scheme that corresponds with your nonprofit's brand is crucial. Pick shades and tones that make sense with your specific campaign or event. You can then color coordinate your different solicitations going forward.
Data visualizations: A good visualization highlights useful information and helps readers understand difficult concepts. For instance, if your nonprofit has been building schools in another country for 5 years, use a chart to show how the number of schools in the area has grown since you started.
Testimonials: Put a face to your organization. Include a picture of the CEO of your nonprofit, a current donor, or a community member that you're helping. Then, add a thought bubble next to their face with a compelling quote about how your mission has affected their lives. This will drive home the impact of your fundraiser or event.
Instead of cramming a bunch of words onto the page, consider adding graphics to show your impact rather than saying it. Attractive visuals and effective communication of ideas will increase traffic and engagement with your nonprofit.
4. Vary your typography
Even if your flyer uses more images than text, don't underestimate the power of typography. It's a powerful tool that can convey the specific tone of your nonprofit and impact the emotions and thinking patterns of your audience.
Typography consists of the font you choose, your use of capitalization, and the hierarchy of text headings. It helps to promote legibility and communicate your message effectively. A serif font, usually used in newspapers and books, conveys a sense of trustworthiness. Sans serif, on the other hand, is described as modern and sleek. Just make sure to keep your typography consistent and legible throughout your flyer.
5. Take it digital
Although print is powerful, it's also convenient to create and distribute flyers online. Many websites nowadays offer free pre-made templates, graphics, fonts, and images. All you have to do is input your information and decide where you want to post your flyer. You can share it on social media, publish it on your website, or send it out in an email blast.
When sending flyers directly to a supporter's email address, remember to use a compelling subject line. This can be the same lead that you use in your flyer, such as "We need your help." Then, simply embed the flyer into the email and press send!
Don't forget: You can have the best of both worlds. You can print and post your paper flyer around town, plus use a digital version to amplify your social, email, and web marketing.
6. Hire a graphic designer
From planning fundraising campaigns to hosting events, you have enough on your plate. Don't waste your time designing flyers. Professional graphic designers will handle the entire design process so that you can focus on what's important: powering social good.
Whether you have a specific vision or need inspiration, subscription services like Kwala will match you with the best graphic designers in the industry. These designers are well versed in web and print designs, including flyers, logos, business cards, infographics, brand style guides, and more!
---
Fundraising flyers are still a popular form of communication and now they're easier than ever to make. Whether you design your own template or outsource that work to a professional graphic designer, your fundraising flyer will be sure to turn heads with its compelling graphics and typography.
Check out these additional resources for more information on incorporating graphic design into your fundraising strategy: