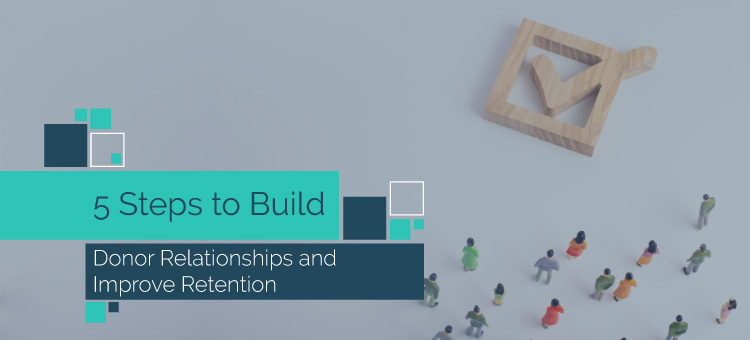 It takes substantially more resources, funding, and time to convince a new donor to give to your cause than it does to convince one of your current donors to give again. Your current donors already have an emotional connection to your mission, have shared their contact information with your nonprofit, and are familiar with your donation process. 
This makes it easy to omit three of the first steps of the donation process: establishing an emotional connection, finding contact information, and setting up their recurring donations. Oftentimes, when you reach out to an existing supporter, they're ready to give again with just one click. 
Of course, retaining donors throughout the years is only possible when you've established meaningful relationships with those donors. Establishing strong donor relationships take time, and there are a few key steps your nonprofit should keep in mind to start building relationships that will last: 
Track the donor journey. 

Use strategic communication techniques.

Make the donation process safe and easy. 

Provide plenty of engagement opportunities.

Show your appreciation.
By building these relationships, your nonprofit can receive increased donation amounts and more reliable support. Let's get started. 
1. Track the donor journey.
The donor journey consists of all the steps a donor takes from the moment they first become aware of your nonprofit to the point where they hit submit on their completed donation form. But the donor journey doesn't stop there as you will continue your relationship-building efforts to encourage another donation.  
CharityEngine's guide to monthly giving emphasizes the key role that donor stewardship plays in the donor journey. While acquiring donors requires significant time and resources, many of them will only give once. However, donors who do make a second donation are significantly more likely to continue giving. This makes your stewardship efforts after a donor gives for the first time some of the most important steps in the donor journey. 
This doesn't mean that you should stop trying to attract new donors. Donor acquisition is still key for expanding your supporter base. Rather, you should focus on maximizing your organization's return on investment for each and every supporter you acquire. 
The first step to building this relationship with supporters is tracking their engagement from the very beginning. Focus on tracking engagement metrics such as: 
Past donations.

This will help you take note of average gift size, frequency, and other important metrics. 

Supporter connections.

Track family members and other details that supporters may have in common with one another. 

Matching gift eligibility.

Top matching gift databases

will make it easy for donors to check their eligibility based on their employer. (Be sure to look for integrations with your other software!)

Web activity.

Use online tracking codes to see how and when supporters are interacting with your website.
Collecting these metrics is only the first step. You also need to know how to best store their data and use it to inform your nonprofit's donor retention strategy. 
Storage
You can store information about your metrics in your nonprofit's CRM. A CRM, or constituent relationship manager, is a software solution for managing your supporters data, allowing your nonprofit to view and use your data as needed.  
Additionally, some CRMs come with features that allow you to collect data directly. This means the data from donation forms, event registrations, email lead captures, and other sources is streamlined into your database, cutting back on the necessary amount of manual input from staff members dramatically. 
Inform Strategy
With access to all of this data, you can look at certain metrics in relation to one another to gain a comprehensive view of your nonprofit's fundraising efforts. This is how you can get accurate information about your fundraising strategy's effectiveness as a whole. With these metrics on hand, you can make data-driven decisions to improve your strategy. 
You can also use this data to improve your donor relationships. Customize and personalize your nonprofit's messages to supporters, creating unique appeals and better donation requests. 
If your nonprofit is looking for a CRM for your data collection, storage, and strategy needs, take the time to research and assess your options thoroughly. There are many nonprofit CRM guides and online resources that can help you discover new solutions and determine how well they might fit with your current strategy.
2. Use strategic communication techniques.
As briefly mentioned, collecting data and metrics can help you tailor your communication strategy to each supporter. Let's look at a simple example: when you receive a letter in the mail, are you more likely to read it in-depth if it opens with "to whom it may concern" or with your preferred name? 
People tend to respond better to personalized communication. 
But how can you create effective, personalized communication strategies? By carefully documenting key data points along your supporters' donor journeys, you'll have the information you need to implement two important strategies that can impact the direction of your donors' relationship with your nonprofit and allow you to create better messages.
Donor Segmentation
Manually writing out each unique email, social media message, and text you send to each of your supporters isn't practical. Instead, to maximize the use of your staff's time, and still create personalized messages, you should separate donors into lists based on shared characteristics. 
The characteristics you choose to divide your donors based on should be relevant to your overall relationship building strategies. For example, you might create a segment specifically for new donors to help welcome to your nonprofit and encourage them to make their second donation. Or, you could create segments based on past actions, such as sending out a unique invite to your next event based on whether or not the receipt attended the previous one. 
Once you've chosen your segments, you can compose message templates that will be more relevant to each group of your audience rather than if you sent the same message template to everyone. 
Major Gift Tracking
When it comes to communicating with donors, you need to know where they are in the donation process and what types of contributions they're making. Are they a first-time donor? A recurring donor? A long-term major donor? After all, you wouldn't communicate with a major gift prospect in the same way that you would a first-time donor. 
To help start your relationships with major donors off right, your CRM should provide you with major gift tracking tools. Major gift tracking shows where prospects fall in the process for major giving. 
This helps you keep track of where all of your major donors are in the giving process, providing insight into how you can best communicate with them. For instance, if someone is in the final steps of the giving process, your messages should focus on thanking them and answering any last-minute questions. Meanwhile, someone who is still in the early stages of their donor journey may appreciate being presented with more engagement opportunities instead. 
As major giving generally makes up about 80% of a nonprofit's total donations, your messages to major donors need to be crafted to strategically appeal to your key prospects. If your nonprofit needs help with your overarching major gift strategy, it may be worth hiring a nonprofit consultant.
Craft Your Message
Whether you're communicating with major prospects or first-time donors, there are some key communication strategies you can always rely on.  
First, choose your nonprofit's communication channels carefully. The channel you choose to send a message on will vary depending on the donor. For example, your mid-level donors will generally respond to email and social media messages, whereas a major giving prospect is more likely to prefer an in-person meeting for their donation requests.
Email is one of the top messaging platforms that nonprofits employ to reach out to their donors. With the right CRM software, you can craft your email and automatically send it out to your donor segments. 
Some actionable tips for crafting thank you emails include: 
Making a good impression with timeliness and proofreading of the message.

Letting the donor know exactly where their money will go. 

Including contact information for further questions or information about the cause.

Personally signing the letter. 
You should also be sure the software you use allows you to brand your email with your organization's logo, colors, and fonts to maintain visual consistency across platforms. Ensure your emails are focused on encouraging your supporters to take one specific action, such as providing a donation to your giving page, and that your email provides clear direction for how to do so.
3. Make the donation process safe and easy.
For many supporters, the decision to give happens quickly. As soon as they make their initial emotional connection with your nonprofit, they're likely to visit your donation page and make a contribution. While this is an exciting moment in the donor journey, you're not out of the woods until the donation is complete as there is still danger of the support second-guessing their decision to give. 
To make the most of this pivotal moment, ensure your donation process is optimized to prevent page abandonment. Page abandonment is when a supporter changes their mind and leaves the donation page without making a contribution. One way you avoid this is to speed up the giving process. 
A fast, streamlined donation process gives donors less time to reconsider their gift, making it more likely that they'll complete the entire donation form. In order to speed up this process, your nonprofit can use your tech resources to:
Simplify the donation page.

Only include form elements that are immediately necessary, such as payment and contact information. 

Keep a card on file.

Offer the option for donors to keep their credit or debit card on file so that they won't need to re-fill out their payment information the next time they give. Plus, when a supporter has chosen to keep their card on file, they can simply select a donation amount and donate with a single click. 

Focus on recurring donations.

Offer a recurring donation button so your supporters can give automatically every month. 
When you offer quick and easy giving options for donors, keep in mind that your nonprofit will still need to prioritize their payment information's safety. Data breaches can significantly impact your donors' trust in your organization and may lead to losses in support.
Look for a platform with a payment processing system that is PCI-certified. PCI compliance means that a company has conducted a compliance audit internally, meaning they likely have strong protection measures. However, PCI certification requires a third party to audit the payment processing software, holding it to a stricter set of standards. If you're looking for the safest donation option possible, choose a process that is PCI-certified. 
4. Provide plenty of engagement opportunities. 
Nonprofits who consistently pester their donors about money are likely to turn off some supporters. Most people simply can't afford to give money every time they receive a donation request, and repeated asks after they've just given can become less than welcome. However, your nonprofit should regularly message supporters to engage them and build lasting relationships. 
Fortunately, the solution to this problem is easy: provide engagement opportunities for supporters that don't require donating. 
There are plenty of ways supporters can give back to your mission without ever dropping a dime (or donating for something in return). You can provide opportunities for them to: 
Become a fundraiser in your next

peer-to-peer fundraising campaign

.

 

Register to attend an event in support of your organization's mission. 

Participate in a click-to-call advocacy event. 

Sign a petition in support of your cause. 

Provide in-kind donations rather than financial ones. 

Participate in a passive fundraiser. 
These types of engagement opportunities are a great way to provide supporters with new ways to get involved without asking for more gifts. Of course, there is still a time and place to ask for more donations. Carefully consider where donors are in their journey before sending your request. For example, you might ask a donor to consider giving a little more after they've participated in multiple engagement opportunities or once they've been with your nonprofit for a significant amount of time.
5. Show your appreciation. 
Each of your donors has a unique reason for giving to your nonprofit. Some might have a personal connection to your mission, while others might give after seeing an emotional story from your nonprofit. NPOInfo's charitable giving statistics show that approximately 44% of affluent donors give due to their personal history with an organization, which makes retention all the more important. 
You can remind donors why they give and make them feel even better about giving by showing your appreciation. As mentioned, your communication strategy should include thank you messages, but there are other ways you can express your gratitude, such as:
Appreciation events.

You can show your donors you care and help build a sense of community around your organization by inviting your supporters to come together for an appreciation event. Whether it's a formal gathering like a gala or something more casual such as a virtual trivia night, these events should offer plenty of opportunities for you to speak with and get to know your donors. 

Public shoutouts and spotlights.

Sometimes a little public recognition can make a donation feel all the more special. Check in with your donors to make sure they're comfortable with an online shout out first, and if they are, highlight their generous contribution through a social media shout out, a blog post, or a spot in your newsletter. 

Small gifts.

Small presents from t-shirts and hats to keychains and fridge magnets can be a nice little bonus for your donors. Send them in the mail with your thank you cards to make your appreciation a little more memorable. Plus, when donors show off their branded gifts in public, they'll also promote your cause. 
These strategies can work well for your average donors but remember that your appreciation strategies will look a little different for your major donors. Major donations usually only come after several one-on-one conversations, and you should be sure to schedule time for another one-on-one chat when you thank them for their gift. 
---
Your nonprofit has a unique relationship with each of your donors, but you can stay organized and improve your retention by taking careful note of each step on the donor journey. Whenever you email a donor, send a thank you message, or receive a gift, make note of it in your CRM. By doing so, you'll stay up to date with each donor and be set to make smart decisions to continue building your relationships and improve retention. Good luck! 
---
Author: Leigh Kessler
Leigh Kessler is VP of Marketing and Communications at donor management software platform CharityEngine and a frequent speaker on branding, fundraising, data and technology.  He is a former nationally touring headline comedian and has appeared on numerous TV shows including VH1's "Best Week Ever", CNN's "Showbiz Tonight", Discovery Channel & Sirius Radio.​ He has overseen and informed research and branding strategies for some of the most well known brands in America.