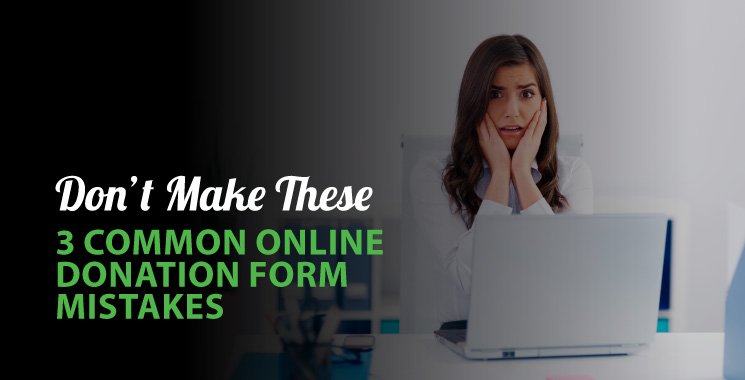 With online fundraising increasing every year, it only makes sense to ensure that the tools and the software you use are doing all they can to leverage opportunities for your organization. One of the common places that often go overlooked and where nonprofits lose conversions is the online donation form.
Your online donation form is where you gather key information about your supporters and how you receive online gifts. It seems simple enough — just have a form collecting donor name and payment information, right? However, for various reasons, your donation form can be the very thing that causes a potential giver to turn away.
If you're looking to improve your online fundraising efforts, the first place you should evaluate is your own giving form. Between the form taking too long to fill out and not showing up right on the device being used, there are a number of common mistakes that nonprofit leaders make without realizing the detrimental effects. 
In order to take the steps to optimize your online donation form, research is key. We at iATS Payments are dedicated nonprofit partners that aim to help organizations securely process payments. We have written this guide to walk you through those common online donation form pitfalls and how you can avoid them:
Making your online donation form hard to find.

Investing in an insecure nonprofit payment processor.

Asking irrelevant questions.
Ready to learn more? Let's begin. 
1. Making your online donation form hard to find.
A common trap that nonprofits fall into is making their online donation form hard to find. This is usually not on purpose, but rather due to poor website design and development. Let's say a prospect learns about your organization from a friend or through a post on social media. They look up your nonprofit name and find the site after looking at the first couple of results. Yet once they're on your site, they have trouble locating your online donation form and end up clicking away.
In this scenario, there are two points where the prospective giver had trouble finding your online donation form. Your website was not the first result on the search engine results page and your donation form was not clearly advertised within your website. This is due to a poor focus on user experience (UX).
According to Kanopi, the best nonprofit websites all prioritize UX, especially if they want to optimize their online efforts. When potential supporters explore and engage with your online offerings, this experience should be seamless and intuitive. 
To increase your search rankings for your nonprofit website, it's critical that you consider SEO (search engine optimization) improvements as well. These are simple changes that organize the structure of your website so that it is easier for search engines to read and associate with relevant keywords. This will include your nonprofit name and your mission. This article can provide some needed SEO tips. 
Once the user is on your website, it shouldn't be hard for them to find their target action — your online donation form. In order to drive donations, make sure your website has an overarching menu with direct links to your most popular pages. This should include your donation form, fundraising event calendar, about us, and mission statement page. Along with this menu, make sure to incorporate calls-to-action in the form of bright buttons or links that also lead site visitors to your online donation form.
2. Investing in an insecure nonprofit payment processor.
For organizations of all sizes, whether for-profit or nonprofit, data security is essential. For nonprofit organizations, in particular, a risk that you don't want to take is investing in an insecure payment processor.
When people give online gifts to your nonprofit, they're doing it out of the kindness of their hearts and because they're passionate about your mission. However, with any online transaction, there is the fear that sensitive information, like bank account details or card numbers, may be breached. 
Taking insight from this iATS Payments guide to nonprofit payment processing, the donation tool you use should: 
Be PCI-Compliant

. Every tool that processes online transactions needs to comply with the Payment Card Industry guidelines. 

Implement tokenization and encryption.

These are protective measures that hide sensitive information like card information as it goes through the payment process. 

Host dedicated fraud protection tools.

The payment processor should provide protective tools such as IP blocking, address verification system (AVS), and card verification code requirement capability (CVV2).
The donation software that your organization uses to process online gifts is critical. One bad data hack can put your organization in a negative light and cause your online fundraising to crash. Without the necessary protective measures in place, your nonprofit and its data is open and accessible to hacks.
3. Asking irrelevant questions 
One of the best parts of online fundraising is how convenient it is for your supporters. No longer do they have to go to your office in person or make a phone call if they want to support your organization and mission. They can simply look up your nonprofit website, learn about exciting upcoming campaigns, register for events, and submit an online gift on your donation page. 
This convenience is immediately taken away when your donation form asks irreverent questions and takes too long to fill out. Shopping cart abandonment is a real phenomenon, and your donation form should do all it can to prevent this. 
For instance, look at your current donation form and make sure it's only asking for these essentials:
Name.

How should you address the donor? If you want to better engage your donors and develop relationships with them, collecting their names is the first step. Better keep track of who has donated before, personalize your email content and subject lines, and accurately identify your most active supporters.

Contact Information

. How can you continue this donor relationship? Collecting emails, phone numbers, and/or physical addresses is crucial if you want to open up a communication channel. This ensures that the donor is updated on any relevant campaign information, receives a donor appreciation email, and much more. 

Donation Amount.

How much did the donor give? This is crucial, especially if you want to accurately report whether you've reached your fundraising goal. 

Billing Information.

How is your donor going to pay? The billing information you collect will depend on how they want to give but might involve a bank account number or a card number. 
After these fundamental elements, there are additional ways you can customize your online donation form to increase fundraising efforts. This can be something like an option for the donor to pay the processing fee or a question asking how the donor found the online donation form. 
These should be marked as optional. However, you should still avoid adding too many extra fields. Limit these additional questions to 1-2 so that your donation form isn't asking for too much irrelevant information. 
Wrapping Up
As we come to the end of this article, it's crucial to remember a couple of key points. When it comes to your online donation form, make sure to always consider how everything would look from a potential giver's point of view. Use this article for guidance and remember to prioritize user experience, ensure a secure payment process with the right tool, and keep the donation form short and to the point. Good luck!
---
Matt Dunne
Driven by his desire to support numerous charitable causes in his home country of Ireland, Matt joined the iATS Payments Team in March 2016 to leverage his entrepreneurial experience in support of the non-profit industry. He empowers partner organizations to provide impartial, accurate and valuable payments information and knowledge to the Nonprofit community.