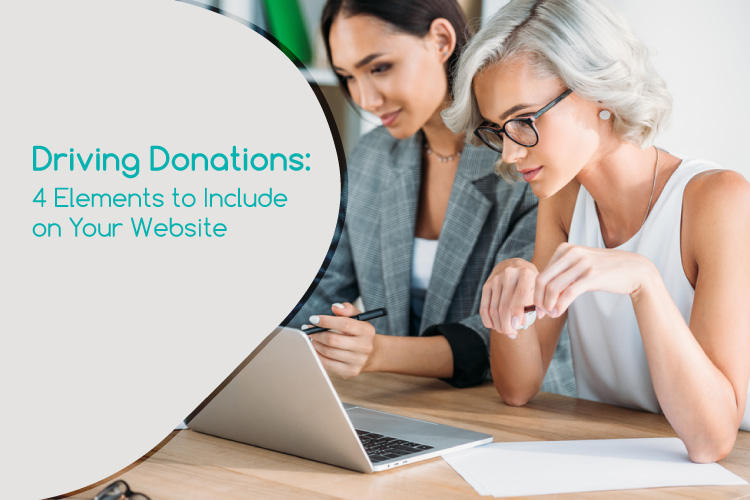 Younger generations are drawn to online giving, but an incredible 75% of young donors are turned off by out-of-date websites. Modern nonprofits are now responsible for communicating with a technology-dependent society, and a strong digital presence has quickly become an imperative part of an effective fundraising strategy. 
The cost of ignoring these changes will only continue to grow, so it's important to get ahead and update your tech strategy. Your first stop should be to optimize your organization's website.
Your nonprofit's website is your mission's primary online identity, and it serves as the center-point of your digital marketing strategy. Supporters visit your site when they're looking to learn more about your mission, and new prospects often form their first impressions of your organization by reviewing the information you provide on your website. That being said, it's vital that you make your nonprofit's site as engaging as possible. 
Here at Morweb, we understand the nuances of effective nonprofit web design and aim to make it possible for organizations like yours, regardless of your design knowledge and technical skills. Through our award-winning design agency and industry-leading CMS, we help nonprofit professionals build stunning websites that boost donor engagement and advance their causes. In turn, we understand which elements are key in driving donations.
To help your organization produce a beautiful and engaging nonprofit website, we've created a quick design guide, complete with four elements that every effective nonprofit website needs, including:
A Well-Designed Donation Page

Social Media Tools

Information on Matching Gifts

SEO Tools
Your nonprofit's website is one of your most important assets. It empowers your team to position your mission as a worthy cause, making it a powerful tool for boosting donations. Without further ado, let's dive in so you can optimize your website for your donors.
Element 1) A Well-Designed Donation Page
When attempting to boost donations through your website, it only makes sense to start with a compelling donation page. Donor engagement is at its peak as they submit a donation, and the last thing you want is for supporters to back out due to a poorly-designed donation page.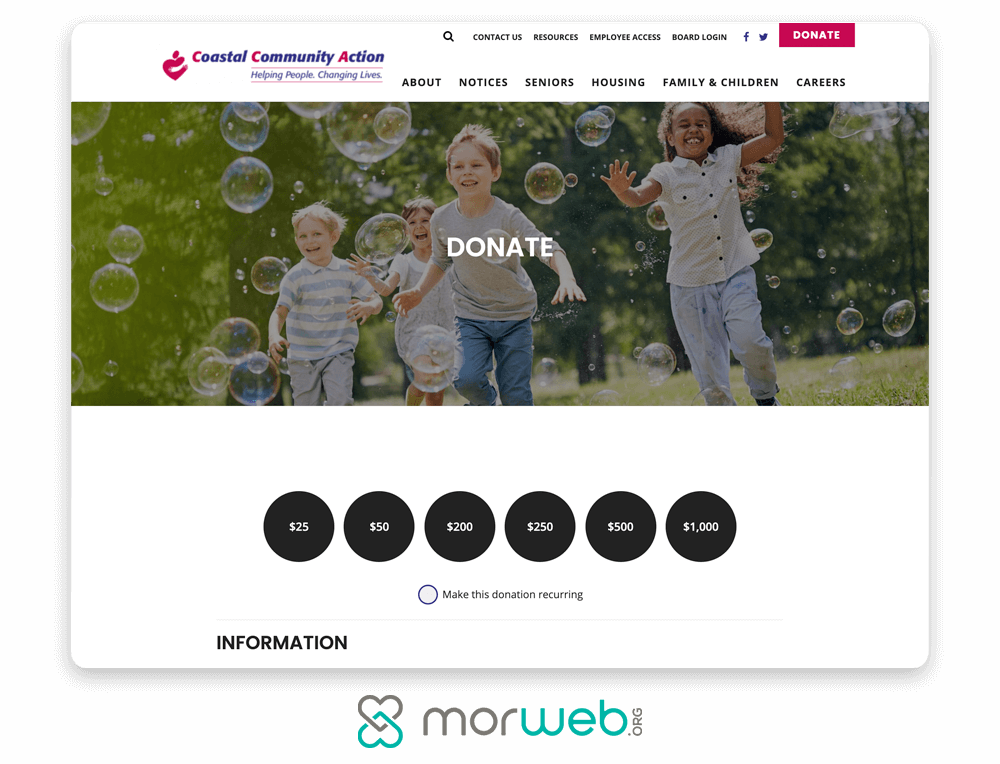 According to Morweb's donation page design guide, one that appears untrustworthy, lengthy, or difficult to use will lead to higher donation abandonment rates, which results in less money for your nonprofit. Avoid this by adhering to these best practices:
Map out a minimalist design.

Condensing your donation form is crucial for driving conversions. Declutter your page by sticking to a single compelling banner image and by limiting the number of fields to only require the essentials (e.g. name, contact details, and payment information). Otherwise, too many elements will overwhelm visitors.

Optimize your design for mobile.

Studies estimate

that around 25% of donations come from mobile devices, meaning you should prioritize creating a seamless mobile experience. A CMS that offers automatic mobile responsiveness will automatically adjust your form so that it looks great on any device. This way, donors won't have to zoom in and out or rotate their devices to fill out the form.

Brand it to your organization.

Visual consistency maintains your donors' trust as they navigate to your donation page. Ensure you prioritize brand consistency by clearly displaying your logo and using your organization's colors and fonts. Otherwise, your donors may think they've somehow ended up on an untrustworthy third-party website.
With society's increased dependence on technology, online giving is consistently growing. In fact, Double the Donation estimates that it's grown 12.1% in previous years, and this number has likely increased due to the shift to entirely digital operations during the COVID-19 pandemic.
Whether you work at an enterprise-level nonprofit with an established web presence or a grassroots organization that's just starting out, designing an effective donation page is not something that your team should overlook. 

Element 2) Social Media Tools
Regardless of your organization's stance on social media, its immense impact on the nonprofit fundraising space is something organizations can't ignore. 
Nonprofits can leverage social media to increase their donor networks and build stronger relationships by keeping supporters updated on industry news, upcoming fundraisers, and the organization's work. In fact, around 29% of surveyed online donors indicate that social media is the communication tool that most inspires them to give, making social media tools a strategic move for your website.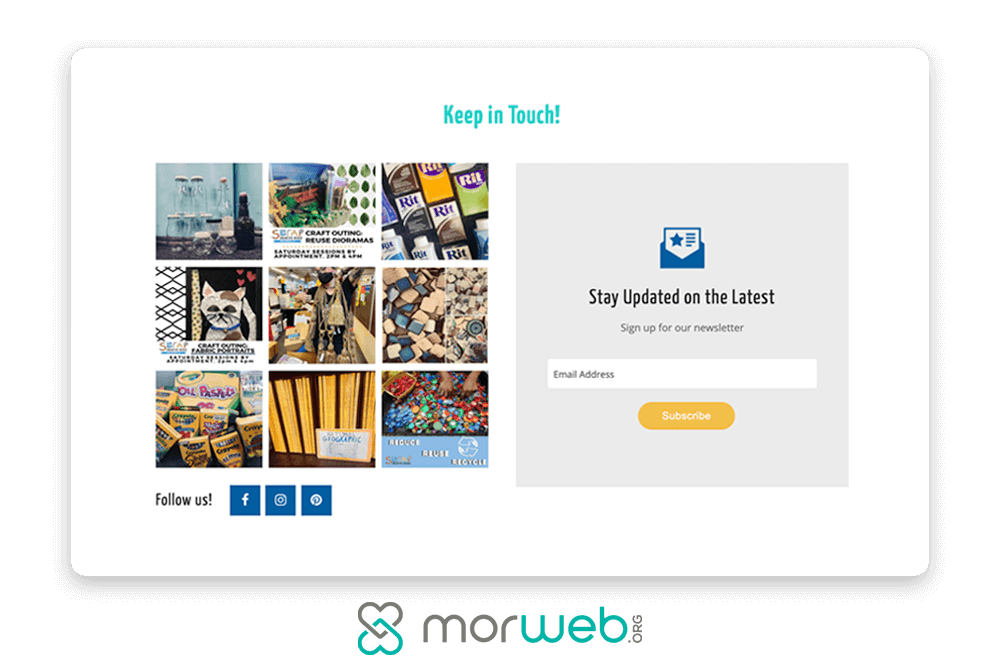 With the help of your CMS, you can connect your website with your social media platforms, directly engaging your audience. Here are a handful of options for incorporating social media on your website:
Embed social media feeds.

Live feeds will update each time you post to your linked social media pages. Embedding them on your website allows visitors to see your posts in real-time without having to navigate away from your site.

Add social media share buttons.

When you've optimized your website's content (e.g. engaging blogs and well-designed forms), make these pages easy to share with social media share buttons. Your website builder should allow you to incorporate these on your donation page, event pages, and blog posts, so supporters can easily share your content and fundraisers with their personal networks.

Link to your social media pages.

In either the header or footer of your site, link to your social media accounts. This way, visitors can follow your accounts without having to navigate to each platform and locate your page themselves.
Overall, social media is a fantastic way to connect with new supporters and drive higher engagement levels with your current donors. Integrating social media elements as a part of your organization's web design will help improve your digital presence and connect with your audience on a more personal level.

Element 3) Information on Matching Gifts
Your donors care about your mission and are willing to help out however they can. When they can increase their impact without spending more money, everyone benefits. Provide your supporters with the opportunity to increase their gifts by searching for their eligibility to participate in corporate matching gift programs. 
Matching gifts are a form of corporate philanthropy in which companies agree to match their employees' donations to eligible organizations. Depending on how you market matching donations, you can earn substantial revenue through this channel.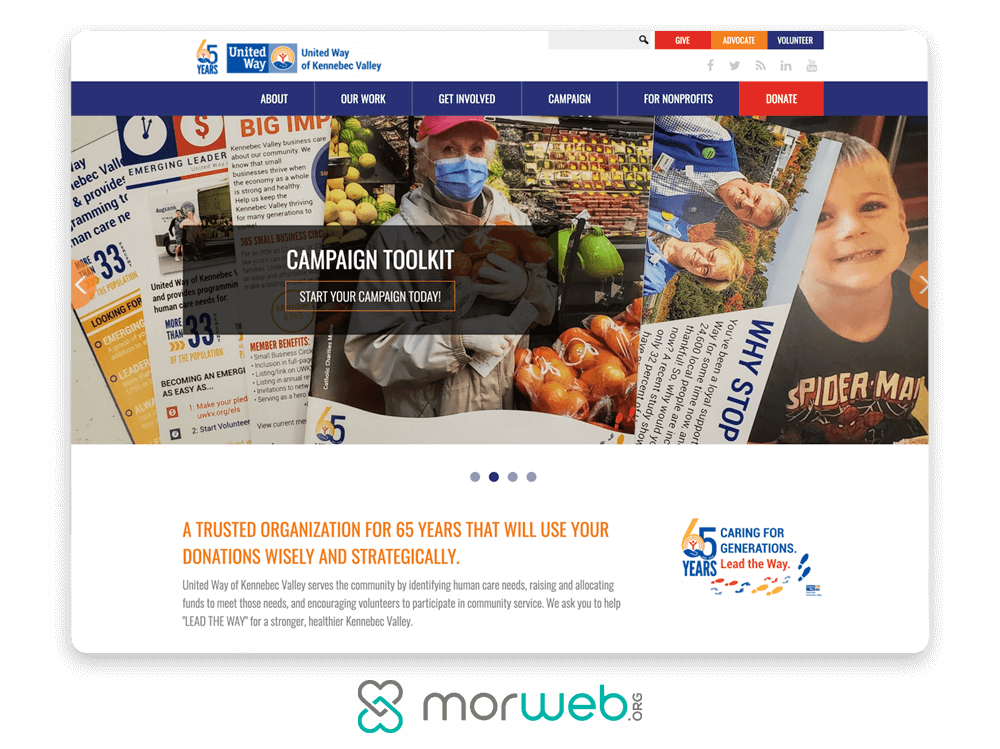 For instance, this resource claims that 84% of donors say they're more likely to donate if they know their donation will be matched, whereas 1 in 3 donors says they'd be willing to increase the amount they originally planned to donate. 
Considering these impactful metrics, it's important to provide your donors with every opportunity they need to learn about growing their impact, and your website is a prime opportunity to do so. Two main ways you can promote matching gift awareness through your website include: 
Add a matching gifts tool.

When

building your fundraising toolkit

, consider embedding a tool directly to your donation page and confirmation screen allows each donor to research their eligibility for their company's program as they contribute. By entering their employer's name, they'll receive information regarding employee requirements, nonprofit requirements, and any available next steps or forms.

Create a dedicated matching gifts page.

On this page, provide educational content detailing what matching gift programs are, what the typical steps to request one include, and how they can be used to benefit your mission. This is also an optimal place to embed your matching gifts tool.
Many nonprofits don't devote sufficient time and energy to promote matching gift programs, because they don't have the staff power or resources. However, simply embedding a matching gift database and providing educational content on your website can go a long way. Spending a little time implementing these changes upfront can lead to a major impact on contributions as your donors learn more about them.

Element 4) SEO Tools
In 2019, organic traffic (website traffic that's generated by unpaid search results) made up 44% of all nonprofit website visits. In other words, adhering to search engine optimization (SEO) best practices can help you get in front of more prospects and ultimately pull in more donations.
Simply put, SEO is the process of strategically improving your website to increase its visibility on popular search engines, like Google or Bing. This directly impacts your nonprofit website's performance by boosting the quantity and quality of web traffic.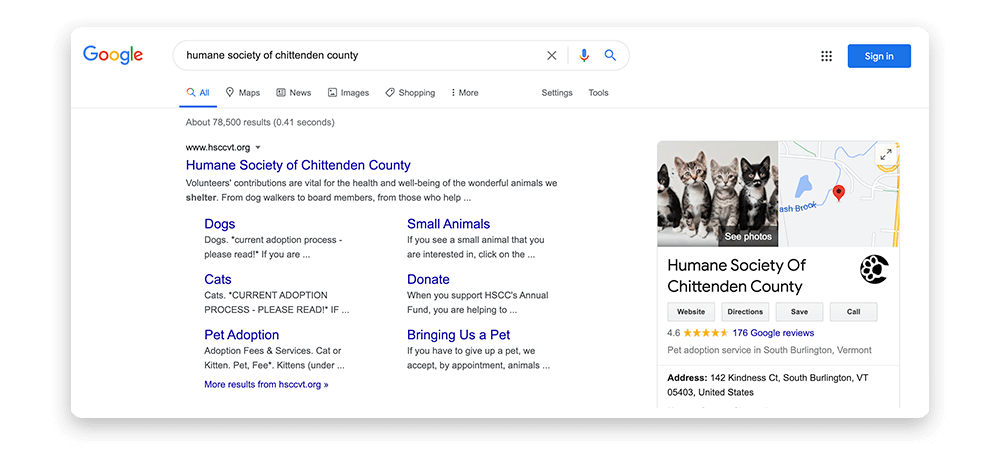 SEO plays a major role in a well-rounded digital marketing strategy. While you might not have any experience with this strategy, some nonprofit website builders come equipped with built-in tools to help you harness this power, such as:
Meta title editors.

A meta title specifies the title of a web page that is displayed on the search engine results page (SERP). It also helps search engines understand what your page is about. Ensure your CMS allows you to customize this title for each page on your site.

Custom meta descriptions.

A meta description summarizes a page's content and its purpose. Search engines display this on the SERP as a brief introduction to the page, which can directly influence click-through rates. Make sure your CMS allows you to customize this as well.

Customizable URLs.

URLs that are too long or don't relate to the content are unappealing to visitors and search engines. Plus, incorporating your target keywords into your URLs can indicate to search engines what each web page is about, so being able to update this is an important factor to consider.
Mastering SEO best practices will take time and extensive research, but implementing dedicated tools that simplify the development process will make it easy to optimize your content. With the right CMS, you'll be well-positioned to rank higher on search engines and connect with new prospects who are researching causes like yours.
The Gist
Optimizing your nonprofit's website isn't as challenging as it may seem at first glance. Start by improving the online donation process itself. Then, start adding other elements, so you can maximize your website's potential.
Remember, the right CMS will take a lot of the guesswork out of the development process, so you can focus on producing quality content and engaging your audience. Be sure to take the time to select a website builder that offers complete customizability as well as tools necessary for fundraising. This way, you can spend less time developing your site and more time securing fundraising dollars.
By investing in a powerful CMS and adding the right elements to your site, you'll connect with new prospects, engage current supporters, and boost your online fundraising in no time.
_____________________________________________________________________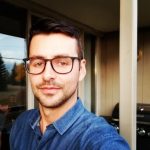 Guest Author: Murad Bushnaq, Founder and CEO of Morweb
Murad Bushnaq is the Founder and CEO of Morweb. Since its inception in 2014, Murad has acted as Creative Director and Chief Technologist to help nonprofits spread their vision online through engaging design, intuitive software and strategic communication.