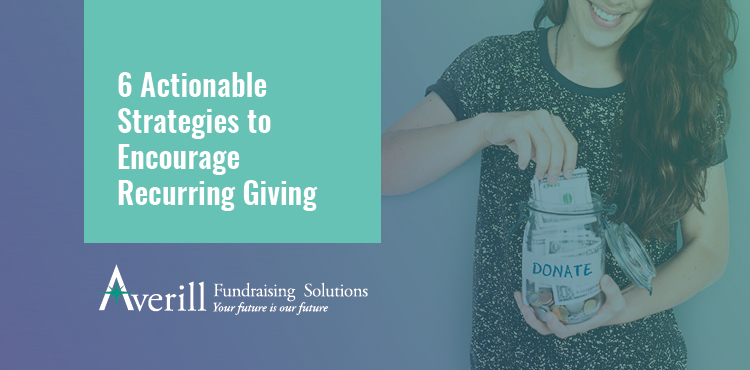 Recurring gifts are critical to any nonprofit's success. Whether recurring annual gifts or monthly gifts, the generosity of your most dedicated supporters allows you to look beyond immediate projects and plan for long-term goals.
Monthly giving establishes a reliable revenue pipeline to fund your nonprofit's projects, services, and any other miscellaneous costs that come up along the way. With more room in your budget, your organization can focus on advancing its mission. Plus, donors will get to play a more rewarding role in your nonprofit's journey, helping you build strong relationships with existing supporters. 
As you create your nonprofit's strategic plans for the future, incorporate these six actionable strategies to grow your ongoing giving: 
Even during the most turbulent of fundraising landscapes, recurring giving can provide invaluable stability to your organization. Let's dive into our top tips for encouraging this type of giving among supporters. 

1. Create a compelling case for support. 
The supporters who are most likely to become loyal givers are those who believe in your organization's mission and goals. To encourage recurring giving, share your goals with your supporters and keep them updated on your progress toward reaching those objectives.
You can do this by creating a compelling case for support. You might be familiar with the concept of a case for support if your organization has carried out a capital campaign in the past. In a capital campaign, a case for support is a formalized, written document that explains to supporters why your campaign is worthy of their support. 
You can create a more informal case for support for your recurring giving campaign as well. This case for support doesn't have to be a written document. Instead, you can work with your team to develop a few key arguments for why supporters should consider becoming recurring or monthly givers. Then, you can include these arguments in your marketing outreach to potential new recurring givers. 
As you craft your case for support, keep the following tips in mind: 
Describe the impact of recurring giving on your mission.

In your recurring giving marketing efforts, explain exactly how regular gifts help your nonprofit accomplish more. For example, you might use recurring gifts to keep your community center up and running or purchase necessary materials for your volunteer program. When potential donors see the impact their gifts can make, they'll be more inclined to support your campaigns. 

Explain the benefits of joining your recurring giving program.

Do you offer any benefits for recurring donors, such as exclusive event invites, spotlights in your email newsletter, or other perks? Highlight those benefits in your new donor outreach. 

Share your annual report.

Transparency is key when recruiting new supporters for your recurring giving program. Reading your annual report will help supporters better understand your organization's history and how you've made the most of past gifts. This can reassure them that your organization is trustworthy and always working to expand its positive impact. 
When your supporters see that their gifts are helping your nonprofit reach its goals, they'll be more motivated to become recurring givers. 

2. Understand your supporters' giving capacities and preferences.
Your supporters share an interest in your nonprofit's mission and are dedicated to helping you reach your goals. But they will each have different preferences when it comes to how they give. Your nonprofit will form stronger and more lasting connections with supporters when you approach them according to their individual giving preferences.
To reach out to your supporters most effectively, your organization will need to measure and understand key analytics, including your supporters' giving capacity and affinity for your cause. This process is known as prospect research. 
Giving capacity assesses wealth markers to help your organization understand the appropriate size gifts to ask for from different supporters. Wealth markers include:
Real estate ownership

Stock holdings

Job titles and business affiliations

History of giving to political campaigns
Giving affinity takes into account philanthropic indicators, providing your nonprofit with a clearer picture of your supporters' giving histories. Philanthropic indicators include:
A history of giving to your organization

A history of giving to other nonprofits

Volunteer work for nonprofits

Expressed support on social media or other platforms for nonprofits and the causes they address
You can use this research to identify potential new recurring givers. For example, you might identify a supporter who has given to your organization three times over the past year and who might be interested in getting involved in your monthly giving program.
You can also use this research to identify potential major recurring donors. These are individuals who exhibit both a high giving capacity and affinity for your cause. Rather than giving monthly, these individuals can provide larger recurring annual gifts to support your organization's annual fund. 

3. Personalize your outreach.
Supporters want to give to organizations that value their personal interests and concerns. Take the time to learn about the specific causes or aspects of your work that motivate your supporters to give.
When you learn more about your supporters' passions and motivations, you can create personalized outreach messages that catch their attention and encourage them to get more involved through recurring giving. 
One of the most effective ways to personalize your marketing content is to segment your supporters. Doubleknot defines donor segmentation as "the practice of separating your overall donor population into smaller groups." This allows you to create more personalized content for each group rather than using generic messages to speak to your entire supporter base at once. 
Create segments using your nonprofit's donor database. You can use the following criteria to build your groups: 
Giving level.

You can create different segments for small, mid-tier, and major donors to send each group more relevant fundraising information. 

Interests or passions.

Have your supporters demonstrated their interest in a specific aspect of your mission? To appeal to them and encourage them to keep supporting you, reference these interests in your communications with them.

Communication preference.

Different supporters will prefer different communication styles. Create segments for supporters who prefer email, phone calls, direct mail, or other

marketing channels

.
After creating your supporter segments, you can reach out to each group using their preferred communication style to spread the word about your recurring giving options. Supporters will be more receptive to your message when it's delivered in a way that appeals to them. 

4. Simplify the giving process. 
Your supporters are happy to give to your organization, but many of them will be deterred if the giving process is overly complex or time-consuming. No matter how much they give or what method they choose, supporters will be motivated to make recurring gifts when the process is simple.
Your smaller and mid-level supporters will likely use your online giving page to submit their gift. That's why it's important to use the right giving software that facilitates a streamlined online giving process. Re:Charity's guide to giving software highlights top options based on a variety of nonprofit needs. 
To facilitate a smooth recurring giving process using your online giving tools, follow these tips: 
Include a recurring giving option on your giving form.

Make it easy for donors to turn their one-time gift into a recurring gift by offering the option on your online giving page. For instance, look at how the

Ronald McDonald House Charities giving page

allows donors to select a button to transform their one-time gift into a monthly gift: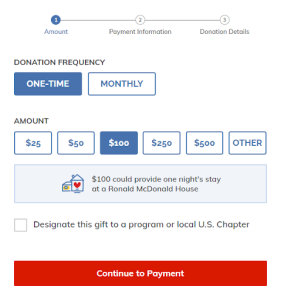 Design calls to action for your online giving page.

Calls to action (CTAs) are buttons or links you use to direct website visitors to your giving page and recurring giving option. Create buttons or pop-up messages on your website that allow donors to head directly to your online giving page to submit a monthly gift. 

Allow donors to review and update their giving preferences.

Look for online giving software that allows donors to create donor portals. With a donor portal, monthly givers can take control over their involvement by reviewing their giving history, updating their payment information, and adjusting their recurring giving amount. 
Supporters with the potential to be major givers will most likely require a different approach. For these essential supporters, an individualized approach is key. Your team should focus on building relationships with specific supporters who have the potential to make major gifts. Then, you can process major gifts depending on each donor's preferred giving method. 
No matter what type of supporters you're engaging with, a simplified, convenient giving process is key to earning more recurring gifts. 

5. Express donor appreciation.
Your organization depends on the generosity of your supporters, especially those who make recurring gifts, to keep your good work going. Your supporters are more likely to give repeatedly when you demonstrate how much your organization values them.
Keep these two steps in mind when thanking online donors and major supporters: 
Send a thank-you email every time you process a recurring gift.

The first and most essential step in showing your gratitude for your supporters is thanking them after they give. Online donors should receive an instantaneous thank-you email as well as some form of supporter acknowledgment that records their gift information. This is important not only for thanking your givers but also for helping them keep track of their records for tax purposes.

Create a more formalized acknowledgment strategy for major donors.

For your major supporters, you'll want to make sure that you thank them in conversation in addition to a formal acknowledgment letter. Consider asking board members to make personal thank-you calls. 
Use your thanks and acknowledgments to let supporters know where their gifts are headed. Let them know that important projects wouldn't be possible without their generosity!

6. Keep your fundraising strategy flexible. 
Your nonprofit can encourage recurring giving by reaching out to your supporters in inventive ways and offering them flexible giving options. The more options you offer your supporters, the more they'll find ways to stay involved with your organization. Whether that means allowing supporters to adjust their monthly giving amount or accepting in-kind recurring gifts, supporters will appreciate your efforts to appeal to their giving preferences. 
Not sure how to expand your giving and involvement offerings beyond those that you currently offer? If you're working with a fundraising consultant, they'll be able to provide advice and guidance for your recurring giving strategy. 
Reference Averill Fundraising Solutions' guide to hiring a fundraising consultant to learn how your organization may be able to benefit from a consultant's expertise. Ultimately, you'll want to look for a consultant who has experience working with similar organizations and understands what your nonprofit needs to succeed with recurring giving. 
---
Focusing on expanding your recurring giving program will allow your organization to diversify its revenue and continue its valuable work, even in turbulent times. And, when you make the giving process convenient for your supporters, interact with them on a personal level, and recognize them for their essential support, they'll be much more likely to become recurring givers.