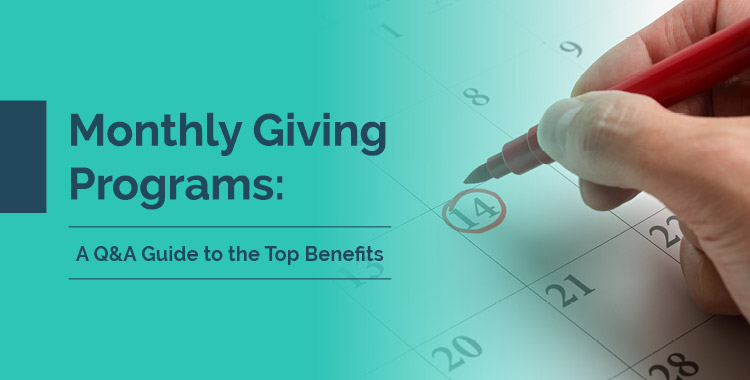 One of the most important metrics your nonprofit should keep an eye on is the lifetime value of your donors. Lifetime value refers to the total contribution that a donor gives to your organization throughout the entirety of their involvement with your nonprofit. 
As a nonprofit professional, you are well-aware of how important it is to measure your organization's fundraising metrics. In order to successfully run a nonprofit, you need to effectively bring in money throughout the year to support your efforts, projects, and mission. However, to do this, you need to measure the right data and this can pose a challenge. 
You want each donor's lifetime value to be high and to reflect their continuous interest in your organization, as it is cheaper to steward existing donors than it is to seek out new supporters for more donations. The best way to keep donors around longer is to make them happy and satisfy their needs. One key way to do this is by incorporating a monthly giving program into your fundraising strategy. 
Despite being such a great way of bringing in more money, monthly giving programs are still overlooked by many nonprofits and are immensely underutilized. This post will walk you through the basics you need to know about the value of monthly giving programs by answering these questions: 
With the answers to these top 3 questions, you will be well on your way to increasing individual donor's lifetime value and your nonprofit's fundraising capacity. So, let's get started!

What is a monthly giving program?
Monthly giving programs for nonprofits allow donors to enlist to donate automatically to your organization each month. The process behind a monthly giving program is incredibly simple: 
Upon donation, a donor can select to enroll in a monthly giving program. 
The donor chooses the amount they would like to give each month. 
Every month, the amount is automatically contributed by the donor without them needing to do anything at all! 
Recurring donations come in many different forms and frequencies including bi-monthly, quarterly, and annually, but monthly giving programs are, by far, the most popular type of recurring giving program. 
When instituting a monthly giving program at your nonprofit, make sure to follow these best practices: 
Create readily available donation options. Make sure the option to become a monthly donor is easily accessible and that when donors go to donate, with one click of a button, they can become a monthly donor. This can increase your monthly giving conversions by 35%.
Provide clear donation information. Donors should know what their monthly contribution can accomplish. Make sure you offer some pre-determined monthly contribution amounts with an explanation of what that specific amount can do to further your cause. 
Include a compelling call-to-action. Why should donors care about participating in a monthly giving program? Make sure your donors know how important your mission is to the community and what steps your organization takes to further that mission.
Monthly giving programs, when following these best practices, can be truly influential in your organization's ability to fundraise. 

Why does your nonprofit need a monthly giving program?
Fundraising campaigns often run into obstacles when raising money wherein they are either forced to seek out new donors or spend valuable resources on following up with existing donors. Therefore, your nonprofit should make monthly giving programs a priority to increase your organization's efficiency. 
Monthly giving programs have the potential to drastically increase the amount of money your organization is able to raise over the course of a year. While the average one-time donation to nonprofits is $128, the average monthly online donation is $52, meaning your organization receives $624 every year from that donor.
With recurring donors giving about 42% more than one-time donors annually, your organization is already receiving more money than they would otherwise. But you also must consider how efficient monthly giving programs are.
Instead of asking donors to give every month, the donations are automated, giving your fundraising team more time to appeal to new donors and follow new leads.
Not only will a monthly giving program increase your revenue throughout the year, but it is also a great way to expand your audience. Many younger donors are not capable of making large donations all at once, but they can donate smaller amounts over a long period of time. Without a monthly giving program, you would likely see one donation, or sporadic donating from younger demographics, but a monthly giving program enables easy regular donation in manageable amounts. A whopping 52% of millennials are more likely to give over time than they are to give a large single donation. 
Fundraising is such an essential component of your organization's success, so your fundraising team should do everything in its power to ensure its strategy reaches its full potential. Monthly giving revenue has seen a 23% increase for nonprofits, as opposed to a 13% growth of one-time giving. Embracing a well-conceived monthly giving program can greatly impact your organization. 
For an example of a clear, well-defined online monthly giving program check out The Spring by charity:water: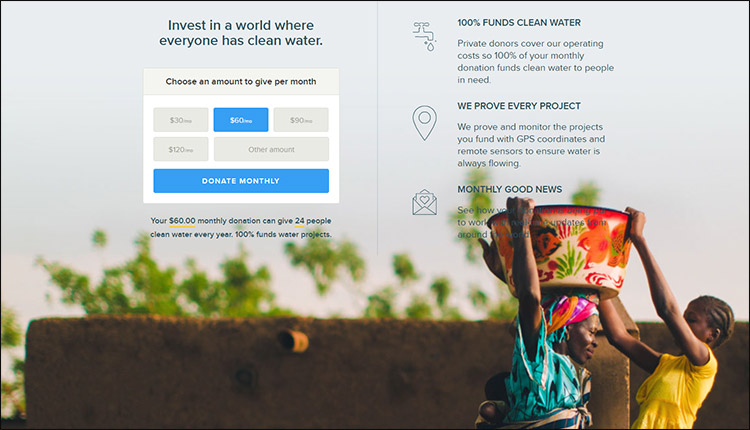 This organization has paid significant attention to building out their monthly giving program and as a result, are able to provide almost 40,000 people with clean water each month. This demonstrates the incredible power of a monthly giving program and the good it can do for your organization and your cause. 

Why is being a monthly donor good for your supporters? 
While the benefits for your organization may be clear, you may still need to convince your donors to participate in a monthly giving program. Your donors will want to know why they should care about monthly giving programs and why being a monthly giving donor is ultimately better for them. 
There are many potential benefits, but make sure you emphasize the following: 

Being a monthly donor is convenient.
There is a reason why subscription services are so popular in today's culture. From automated monthly shipments from Amazon to streaming services like Netflix to automated bill pay, we are used to monthly billing. Monthly payments spread out the cost over a series of months and make them more tolerable for budgets and allow people to plan accordingly. 
The same principle of convenience is solidly behind monthly giving programs. Donors are able to factor their monthly charitable giving costs into their budget and not break the bank.
Make sure to reassure donors that it will still be easy to keep tabs on their charitable giving for the year so they can report it come tax season. Donors can choose whether to receive a single tax receipt for the year or receive monthly tax receipts to ensure they have constant access to their donation information. Just because they are donating more frequently doesn't mean their experience with your organization needs to be more complicated. 

Being a monthly donor means fewer asks, more conversations.
When a donor becomes a monthly donor, there are more opportunities to engage in meaningful conversations and develop a relationship than if they merely donated once. Monthly donors can expect to be engaged by members of the fundraising team, but the approach they use will be very different than if they were a new donor. 
Normally, if a donor gave $240 as a one-time donation to an organization, they would be stewarded for additional donations throughout the year. It is typical to see seven or eight additional fundraising asks when you have previously demonstrated interest. However, these donors often prefer to donate on their own terms and are unreceptive to persistent donation requests. 
Meanwhile, donors who give $20/month (for a total of $240 a year) will be more likely to respond positively to additional fundraising asks once or twice a year (or even increase their monthly giving amount by $5 or $10!). This reduces the number of asks your organization needs to make to maximize donor lifetime value. Plus, donors will love not receiving an enormous number of fundraising asks.  

Monthly donors get special treatment. 
We know why monthly donation programs are beneficial for your organization, but sometimes donors respond more positively to additional tangible incentives to get involved.
Your organization should consider offering tangible incentives that donors will love in return for their involvement with a monthly giving program.
This insider treatment may include offering custom reports on the impact of your organization or even access to branded merchandise like t-shirts, water bottles, and stickers. 
These should be offered out of your gratitude for supporters' dedication to your organization and will help your donors feel appreciated. 

Monthly donors have a bigger impact. 
Donors who give monthly are able to have a greater impact on your organization and help further your cause more so than a one-time donor would. Donors who are truly invested in the outcome of your efforts and who want to see real change being affected are more likely to appreciate this benefit of monthly giving. 
For instance, if your organization helps donors sponsor children in need, a monthly giving program allows the donor to see the child grow up, see them being well-fed and cared for, in a way that a single donation would not allow. When monthly donors witness this good that is a direct result of their contributions, they will see the clear rewards of participating in a monthly giving program and be more likely to want to continue their participation in your monthly giving program. 
---
Monthly giving programs can help your organization raise more funds and cultivate relationships with people who are passionate about the cause. Not only will you see more revenue, but your donors will be able to see the impact they are making and benefit from a closer relationship with your organization. 
---
Additional resources for monthly giving programs
Stewardship Stories: 4 Things You Have to Do. Learn how to better steward your monthly donors with this resource!
4 Steps to Build Donor Relationships and Improve Retention. Find out how you can improve your relationships with your monthly donors and keep them committed every month.
Monthly Giving Programs: A Q&A Guide to the Top Benefits. Learn more about the main benefits of maintaining a monthly giving program!