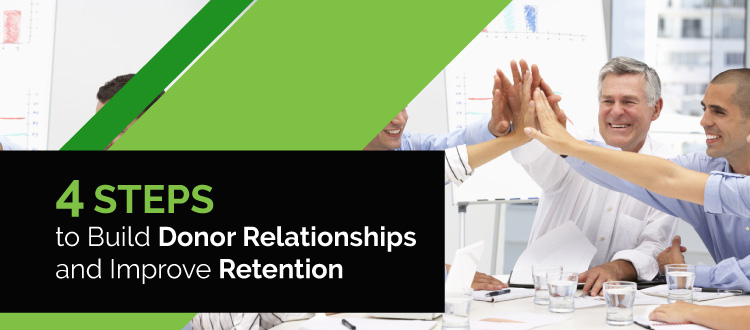 This post was contributed by our friends at CharityEngine.
It takes substantially more resources, funding, and time to convince a new person to donate to your cause than it does to convince a past donor to give again. 
Past donors already have an emotional connection to your mission. They know that it feels good to give to a cause they care about. Plus, you likely already have information to reach out to them, making communication easier.
This makes it easy to omit two of the first steps of the donation process: finding contact information and establishing an emotional connection. Essentially, when you reach out to an existing supporter, you get to start at step 3!
Retaining donors throughout the years is only possible when you've established effective relationships with those donors. And to establish those relationships, there are a few important key steps your nonprofit should keep in mind:
The quantifiable result of building donor relationships is the increased donation amounts and improved donor retention rate. But your nonprofit should also want to create these relationships. It's how you show your gratitude for the support provided by those who contribute to your mission.
Ready to learn more? Let's dive in!

1. Track the donor journey.
The donor journey is the journey embarked upon by supporters when they begin their relationship with your nonprofit.
CharityEngine applies two of the fundamental principles in the for-profit world to donor acquisition and retention. These two principles should drive the donor journey your nonprofit encourages. The principles include:
Lifetime Value: Those donors who your nonprofit works to build a relationship with are more valuable than those you don't. This is because the longer "lifetime" a donor has with your organization, meaning they're retained, the more value they provide.
Smarter engagement: It's a smart financial choice for your nonprofit to work to retain donors because the cost is less than working to acquire new supporters.
This doesn't mean that you should give up on acquisition altogether! Donor acquisition is still key for expanding your supporter base. This means that you should focus on maximizing your organization's return on investment for each and every supporter you acquire.
The first step to building this relationship with supporters is tracking the engagement from the very beginning. Focus on tracking engagement metrics such as:
Past donations. This will help you come up with average gift size, frequency, and other important metrics.
Supporter connections. Track family members and other details that supporters may have in common with one another.
Matching gift eligibility. Top matching gift databases will make it easy for donors to check their eligibility based on their employer. (Be sure to look for integrations with your other software!)
Web activity. Use online tracking codes to see how supporters are interacting with your website, and how frequently.
Collecting these metrics is only the first step. You also need to know how to best store them and use the data to inform your nonprofit strategy.
Storage
All of these metrics should be stored in your nonprofit's CRM. A CRM, or constituent relationship manager, is designed to store this information in a way that makes it easy for your nonprofit to view and use the data as you see fit.
What's even better is when your CRM includes functionality (or integrates with software with functionality) to collect the data. This means the data from donation forms, event registrations, email lead captures, and other resources is streamlined into your database. It cuts back dramatically on the necessary amount of manual input from staff members.
Inform Strategy
With access to all of this data, you can combine metrics for a comprehensive view of your nonprofit's fundraising data. This how you can get accurate information about the effectiveness of your fundraising strategy as a whole. You can accurately make changes to your strategy for better big-picture results when you have these averages and metrics on hand.
You can also use this data to customize and personalize your nonprofit's outreach strategy with individual supporters to individualize your appeals and better build relationships. We'll discuss this further in the next section.
If your nonprofit is looking for a CRM that will best reflect your needs for data collection, storage, and strategy, check out this comprehensive nonprofit CRM guide. This guide will lead you to make the best investment decision while simultaneously meeting all of your nonprofit's needs.

2. Use strategic communication techniques.
As we briefly mentioned before, collecting data and metrics can help your nonprofit create a more individualized approach for your communication strategy with supporters.
Let's look at a simple example: when you receive a letter in the mail, are you more likely to read it in-depth if it opens with "to whom it may concern" or with your preferred name?
People tend to respond better to more individualized communication.
But how do you better customize communication? We can't stress this point enough: it's all about maintaining data. Two of the most important data strategies we recommend for effective communication include donor segmentation and major gift tracking. After you've established these two strategies, it'll be time to actually craft your message.
Donor Segmentation
It would take far too long to write a completely individualized email, social media message, or text to each and every one of your nonprofit's supporters. Instead, to maximize the use of your staff's time, and still create personalized messages, you should separate donors into lists based on a common denominator.
Then, when it's time to communicate, you can include information that will appeal to each segment of donors instead of individuals. Donor segments can be used proactively or retroactively to establish good communication habits.
Proactive segments can be formed based on supporters' demographic information, common connections, geography, or other information you have access to before sending the message. You can use this information to predict which methods of communication the supporter will respond most positively to.
In contrast, retroactive segments are formed based on the response rate of supporters to various strategic factors you've tried. For instance, you may create a segment of donors who prefer to give online or a segment for those who frequently open and click through your emails. These segments are used to evaluate existing strategies and best appeal to known preferences.
Major Gift Tracking
When it comes to communicating with donors, you need to know where they are in the donation process. Are they a first-time donor? A recurring donor? A long-lasting supporter? You wouldn't communicate with a major gift prospect in the same way that you would a first-time donor.
Major gift tracking is a key strategy for your nonprofit, a tool for which should be accessible in your CRM. Major gift tracking shows where prospects fall in the process for major giving.
This helps you best communicate strategically for those in various process phases. For instance, if someone is in the final steps of the giving process, you may be more focused on thanking them. Meanwhile, someone early in the cultivation process would require a different message.
As major giving generally makes up about 80% of your total donations to your nonprofit, it's very important to craft these messages strategically and best appeal to your key prospects. If your nonprofit needs help with your overarching major gift strategy, it may be worth hiring a nonprofit consultant. Check out this guide by Averill to walk through the hiring process.
Craft Your Message
Whether you're communicating with major prospects or first-time donors, there are some key communication strategies you should always keep consistent.
First, carefully choose your nonprofit's platform. Think about things such as: major prospects are usually best communicated with during in-person meetings while everyday donors generally respond best to email or social media messages.
Email is one of the top messaging platforms that nonprofits employ to reach out to their donors. With the right CRM software, you can craft your email and automatically send it out for targeted segments of donors.
Some of the actionable tips about crafting emails by re:Charity, specifically regarding thank you emails, include:
Making a good impression with timeliness and proofreading of the message.
Letting the donor know exactly where their money will go.
Including contact information for further questions or information about the cause.
Personally signing the letter.
You should also be sure the software you use allows you to brand your email with your organization's logo, colors, and fonts to maintain visual consistency across platforms. Make it easy to make a next step, such as a button that will lead the donor your donation page.

3. Make the donation process safe and easy.
When a supporter makes their initial emotional connection with your nonprofit, that's when they're most likely to visit your donation page with the intention of contributing to your mission. This is a key point in the process. This is when your organization is in danger of losing the donor if that supporter second guesses themselves and their willingness to donate.
When a supporter second guesses themselves during the donation process, then leaves the donation page, it's called shopping cart abandonment. You should try to avoid this abandonment as much as possible. One of the best ways to do this is to speed up the process.
Speeding up the donation process gives donors less time to second guess their gift, making it more likely that they'll complete the entire donation form. In order to speed up this process, your nonprofit can use your tech resources to do a few things:
Simplify the donation page. Only include the absolutely necessary form elements for your organization to collect. Usually this includes payment information and contact information. Fully customizable forms will allow you to best simplify in this way.
Keep a card on file. Offer the option for donors to keep their credit or debit card on file so that they don't need to fill out their payment information every time they want to donate to your cause.
Focus on recurring donations. Offer a recurring donation button so that your supporter doesn't need to think about giving every month. Their contribution is automatically collected without any additional work for them.
The best software offers both recurring donation buttons as well as one-click giving options. This is when a supporter has saved their card to their file and can simply select a donation amount and donate with a single click. For more donation page best practices, check out the helpful resource linked here.
When you offer these quick and easy options for donors, keep in mind that your nonprofit will need to prioritize the safety of their payment information. If anything were to happen and their information was leaked, your organization would lose a lot of supporter trust.
Look for a platform with a payment processing system that is PCI-certified. PCI compliance is good, but it means that a company can conduct a compliance audit internally. A PCI certification requires a third party to audit the payment processing software and holds it to a stricter set of standards. Therefore, it's a safer option.
If your organization is serious about security (and you should be), PCI-certified software is the way to go.

4. Provide plenty of engagement opportunities.
Nonprofits who consistently pester their donors about money are likely to turn off some of their supporters. Most people simply can't afford to give money each and every time they wish to support your mission. However, your nonprofit needs to maintain engagement in order to establish a lasting relationship.
This leads to quite the predicament for many nonprofits. But, truthfully, the solution is easy: Provide engagement opportunities for supporters that don't require the contribution of funds.
There are plenty of ways supporters can give back to your mission without ever dropping a dime (or donating for something in return). You can provide opportunities for them to:
Become a fundraiser in your next peer-to-peer fundraising campaign.
Register to attend an event in support of your organization's mission.
Participate in a click-to-call advocacy event.
Sign a petition in support of your cause.
Provide in-kind donations rather than financial ones.
As you can see, there are plenty of ways your supporters can get involved. Making these types of options available to them is a great way to provide opportunities without pestering them too much about finances.
Of course, you should always make sure the opportunity to donate is also always available. Be sure your donation page is in an easy-to-spot location on your website and has a button linked to it in your emails.
It All Comes Full-Circle
Remember how we discussed the importance of tracking data earlier? When you provide other contribution options and engagement opportunities, be sure this data is stored away safely in your CRM.
This data will allow you to adjust and reformat your donor retention and relationship building strategies on your own to best suit your unique needs. 
---
Author: Leigh Kessler
Leigh Kessler is VP of Marketing and Communications at donor management software platform CharityEngine and a frequent speaker on branding, fundraising, data and technology. He is a former nationally touring headline comedian and has appeared on numerous TV shows including VH1's "Best Week Ever", CNN's "Showbiz Tonight", Discovery Channel & Sirius Radio.​ He has overseen and informed research and branding strategies for some of the most well known brands in America.