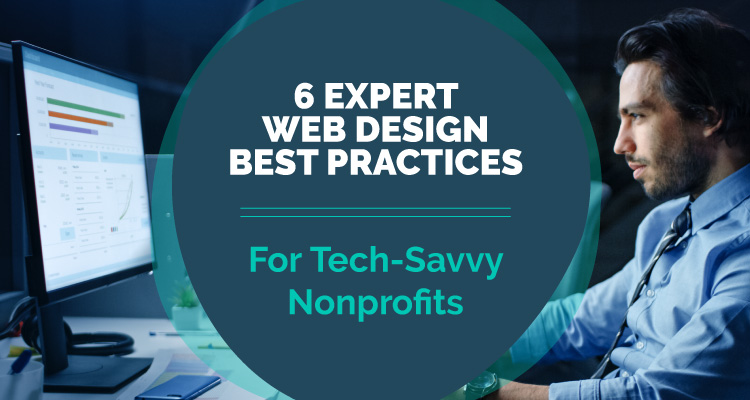 An essential part of online fundraising is having a well-designed website. Your website is the heart of your online presence where supporters will learn more about your organization, participate in engagement opportunities, and generally form an impression of your organization.
Modern audiences expect more from nonprofit websites than just simple, static pages. To appear professional and trustworthy, nonprofits need websites that employ interactive visuals, a variety of content, and modern user experience sensibilities.
To help optimize your nonprofit website and reach your online fundraising goals, this article will explore six design tips for creating a better and more engaging user experience:
To improve your website's design and functionality, consider hiring a nonprofit technical consulting firm. While some changes, such as ensuring your branding is consistent, can likely be accomplished by less tech-savvy teams, tasks like integrating with a CRM or creating a new navigation system will likely require the assistance of an expert.

1. Maintain a consistent brand.
A strong brand identity helps your nonprofit accomplish several things at once. It conveys your values and purpose, it allows supporters to immediately recognize your content, and it establishes your nonprofit as a professional organization.
As the face of your online presence, your website should reflect your branding on every page, creating a consistent experience for visitors. By fully branding your website, you will create a better user experience that:
Eliminates distractions
Imagine visiting a website where every page has a different aesthetic and color scheme. The experience would likely be confusing, distracting, and make you doubt the organization's professionalism. Many visitors might question if each page is from the same organization or if they are being linked to new websites whenever they follow a link.
Even a brand identity that's visually consistent but displayed in different ways across a website's pages can be distracting. This is why when you do change your brand elements, ensure all of your pages are updated. It's not uncommon to encounter a website that has a few overlooked pages that follow the organization's previous brand guidelines. Obvious mistakes like these can make the group behind the website appear disorganized.
Additionally, a consistent brand is visually appealing and conveys a sense of unity as visitors navigate potentially diverse content on your website.
Builds your online presence
No matter where donors see your content, your brand will let them know that they're interacting with your nonprofit.
For example, if a donor follows a social media link to one of your blog posts, that person should be able to tell what organization's website they are now on with a quick glance to your logo and color scheme. Branding your website makes each one of your pages more shareable, as they still individually represent your nonprofit when separated.
Double the Donation's guide to nonprofit logos even advises creating logos that can stand completely alone. For example, the World Wild Life Foundation's iconic, simple logo can easily be added to any of their outreach materials to mark them as coming from the WWF. These types of logos are especially useful for mobile accessibility, as visitors viewing your website on smaller screens should be able to recognize your branding without needing excessive, small details.
Establishes trust
A professional, branded design is a key tool for reassuring donors that your organization and website are trustworthy. This is especially important for donation forms and other online interactions that require donors to share sensitive information.
If donors visit a page that lacks your branding, they may doubt whether they are still on your website and hesitate to give out information or even interact further with your organization. By maintaining a consistent brand, donors will know who they're interacting with at all times.

2. Place your "Donate" button in a prominent location.
Your website has several purposes, the most important of which is arguably to lead visitors to your online donation page. To achieve this goal, consider how you present your donation button.
Essentially, your donation process should be as straightforward and streamlined as possible. Donors should be able to find a link to your donation page within seconds of navigating to any page on your website. Accomplish this by strategically placing your donation button in prominent locations, such as:
The navigation menu
At the top of the page in the lefthand corner
Over your hero image
As a call to action after compelling text, videos, and other content
In summary, when your donation button is easy to find, you will earn more donations and create a better user experience. You can also further improve your donor buttons by making them more distinct. Many nonprofits will use a color for their donor buttons that contrasts with the rest of their website's design and ensure that the button is noticeably larger than the surrounding links or text to help it stand out.

3. Keep navigation simple.
Your navigation directly influences your website's overall structure and how visitors will approach your content. As such, it deserves solid strategic planning.
The most user-friendly navigations are the most simple. While some nonprofits may logically assume that an exceptionally detailed navigation system is preferable, their supporters will likely prefer a more simplistic layout.
To keep your navigation simple, ensure you:
Use short labels. Menu items and labels should be 2-3 words maximum, making your navigation easier to scan. Additionally, use language that reflects your supporters' assumptions about what content it will lead to. For example, would supporters expect to find information about how to contact your nonprofit under an "about" item label or under "get involved"?
Use dropdown menus. Dropdown menus allow you to categorize and divide your content. However, keep your dropdown menus to one level since nested dropdown menus with multiple tiers can be overly complex and difficult to interact with.
Only include crucial content. Be deliberate about what content is linked to from your navigation menu. Only include the information that donors immediately need, such as links to your donation, about, and program pages.
Where you display your navigation is just as important as the content that you include. Traditionally, navigation can be placed in two locations: at the top or on the side of the page. However you decide to display your navigation, make sure that it's easily visible when first landing on your page.

4. Integrate your website with your CRM.
Your website is built with multiple online forms—including donation pages, event registration forms, and subscription boxes—that collect donor data.
That data can be used to cultivate relationships with interested supporters and potentially lead them to support your organization further. However, you will need a place to store your data and organize it in a way that's easy for your nonprofit staff to locate and use. For most nonprofits, this will be their CRM.
To ensure data flows seamlessly out of these online forms for future reference, you will need to integrate your website and CRM. Doing so will save your team the time of manually transferring data and keep all of your information organized in one centralized location. Additionally, storing multiple types of data together will make it easier for you to compare information and identify trends, which can help you improve your website and other fundraising efforts.
Depending on your CRM, the integration process can be quite complex. DNL OmniMedia's guide to nonprofit consulting firms cites integrating software as a common reason for hiring a professional technical consultant. A consultant can help you organize your data to ensure the integration and subsequent migration of data goes smoothly.

5. Provide donors with engagement opportunities.
In general, the longer a supporter stays on your website, the more likely they are to make a conversion. By providing donors with multiple engagement opportunities and content to explore, you can increase the chances they will become invested in your cause and take action.
You should also strive to continue engaging website visitors after they have made a conversion. For example, after donating, signing up for your newsletter, or reading a blog post, your website you should prompt visitors to other relevant content to learn more about your nonprofit.
While your website should aim to eventually lead supporters to your donation page, it can be beneficial to start with lower investment requests first. Keep in mind that your nonprofit's digital strategy has many steps, and while the initial ones may seem less valuable than earning a donation, they serve an important purpose of getting supporters familiar with your organization and invested in your cause.
For example, you might direct visitors to complete simple actions, such as:
Following you on social media.
Engaging with relevant resources at the end of blog posts.
Exploring information on upcoming events.
Signing up for your newsletter.
Not only will providing donors with multiple ways to stay involved help you develop deeper relationships with your donors, but these interactions could lead to additional donations from your current supporters, as well.

6. Update your website on a regular basis
Nonprofit web design trends are constantly changing, and visitors will notice whether your website's design is up-to-date with current expectations immediately.
By updating your website on a regular basis, you ensure that your website stays current, making it more credible and authoritative to visitors. You should consider updating your website every 2-4 years, but these updates usually will be minor changes rather than a design overhaul.
Conversely, nonprofits who haven't updated their websites in a long time should consider making larger scale improvements if:
The current layout or design looks outdated.
The website isn't mobile-responsive.
The nonprofit has gone through a recent rebranding.
When it comes to deciding what needs to be updated, you should evaluate current trends and seek outside help from a fundraising professional like a consultant or website design firm.
A professional can give you feedback on what improvements will be the most beneficial to your nonprofit.
---
Your website represents your nonprofit and will inform how visitors view your organization and whether they go on to become supporters. You can improve your website's design by following best practices, such as maintaining a consistent brand and simple navigation. If you are in need of a website redesign, reach out to a professional nonprofit website design consultant for help assessing your current design and potential improvements.