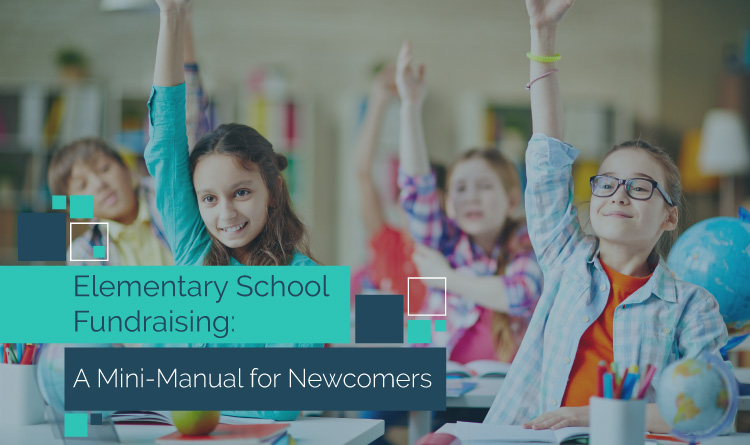 When it comes to fundraising, elementary schools have unique advantages and challenges to navigate when compared to other types of organizations. This means that those new to elementary school fundraising might have a little trouble finding their footing in the beginning, whether they're assisting others with plans or trying to brainstorm their own fundraising ideas.
Elementary school fundraisers also tend to be very public as your school's student body and community are encouraged to participate. Instead of focusing your efforts on a few individuals, your fundraisers target an entire community. This means getting things right and having a well-thought-out plan is essential for maintaining your long-term credibility. 
To help newcomers avoid common mistakes and get a handle on elementary school fundraising basics, this mini-manual will discuss how to:
Keep your fundraising calendar full. 

Use free and low-cost online tools. 

Choose fundraisers your students will love. 

Make participating easy. 

Analyze your results and thank supporters. 
While this might seem overwhelming at first, elementary school fundraisers are also almost always collaborative. From your school's staff to your students and their parents, everyone is rooting for your fundraiser to succeed. Let's get started. 
Keep your fundraising calendar full. 
Your school can raise more and provide opportunities for students at the same time by keeping a full fundraising calendar throughout the year. Planning a fundraiser can be time-consuming, so choose events and activities that vary in scope and necessary resources to earn revenue without overworking your staff.
To help inspire your future fundraisers, Read-A-Thon's recommended elementary school fundraising ideas has a few options that might work for your school:
Library fundraiser.

If your school's library needs a boost, you can host a library fundraiser. Get students to create lists of books they would like to see in their school's library, then encourage them to gather donations for your cause. You can even combine your library fundraiser with a read-a-thon where students collect pledged donations based on how much they read over a specified period of time. 

Shoe drive.

Kids tend to outgrow their shoes quickly, which makes shoe drives a logical fundraiser for elementary schools. Shoe drives work by first partnering with a shoe drive program. Then, your school collects new and gently used shoes and sends them to your partner, who sends back a check based on the amount of shoes collected. 

Auctions.

Auctions

are a way to generate revenue and give your supporters tangible items in exchange. You can make your auctions elementary school-friendly by having students contribute to class baskets or putting items up for auction that appeal specifically to your students, such as a "principal for a day" prize.
These are just a few of the many potential fundraisers schools can run, including talent shows, raffles, crowdfunding campaigns, box tops, car washes, product fundraisers, and more. When picking fundraisers, choose a mix of ones that require more extensive planning and resources and fundraisers that can be run conveniently throughout the year. 
Use free and low-cost online tools. 
Having to invest in new software and tools can come with a hefty price tag, and it might make your school doubt whether the fundraiser is worth it, especially if it doesn't quite hit your fundraising goals. You can ease your staff's worries and add more variety to your fundraising calendar by making use of free online tools. 
There are a variety of free online fundraising programs designed specifically to help schools, including:
Read-a-thons.

Online read-a-thon tools allow your school to more easily coordinate, manage, and promote your read-a-thons. Have students create their accounts and log their hours as they read. This shows off to donors how much a student has read, and can serve as a testament to a student's accomplishments, encouraging them to continue reading even after your fundraiser. 

Shopping programs.

Online shopping fundraisers for schools allow your community

to give to your school without any additional spending on their part. Essentially, your school signs up with an online shopping program, who will create an account for you. Then, your school just needs to encourage parents and community members to download your school's app or browser extension. When they make online purchases using the app, a percentage of their sales total will be sent to your school at no additional cost. 

Free online donation tools.

While it's true most online donation tools require a subscription or platform fee, some services are free for schools to use. Similarly, there are some platforms that might have a base fee but then allow schools access to bonus features for free that make fundraising as a team and running multiple campaigns easier. 
Many services for nonprofits also offer discounts on their tools for schools. When investing in online tools, see if they have an option for schools that is free or low-cost to help your school make the most of your resources. 
Choose fundraisers your students will love. 
As a leader at your elementary school, part of your role is ensuring your students have a fun, memorable school experience that prepares them for the future. When choosing your fundraisers, take into account not just what has the highest earning potential, but can be turned into an engaging experience for your students. 
There are a number of school fundraising ideas that are enjoyable for your students first and a fundraiser second (though they are still a fundraiser and have the potential to earn revenue). A few examples include:
Talent shows

Field days

Bake sales 

Concerts 

Carnivals 

Cook offs

Karaoke night

Haunted house

Holiday decorating 

Bingo 

Scavenger hunts
Of course, while running these events, your school can also hold fundraisers more strictly focused on fundraising such as crowdfunding campaigns and product sales. These types of events benefit from student participation as well, but may be slightly less exciting than a fundraiser that lets them perform on stage. 
Make participating easy. 
One advantage schools have over other types of nonprofits is their many eager students who will likely be happy to volunteer in your fundraiser. You can maximize participation among students, parents, staff, and your PTA members by making getting involved as easy as possible.
Here are a few ways you can facilitate greater participation at almost all of your fundraisers:
Offer virtual participation options.

Ensure everyone can participate in your fundraising activities. This is especially important when many of your students and teachers are

attending class from home

and will appreciate virtual alternatives to many popular fundraisers. 

Ensure parents and students are aware of the fundraiser.

Your community needs to be aware of your fundraiser in order to participate. Make sure your marketing materials clearly spell out what your fundraiser is and how participants can get involved. This can include step-by-step directions as well as links to any relevant online resources. 

Try passive fundraisers.

Passive fundraisers require very little additional effort on your participants' part. These include programs such as shopping and grocery fundraisers, where community members can support your school by taking actions they were likely going to anyway. 
Additionally, ensure fundraisers that invite students to get involved account for all of your students' ability levels. Your school should practice inclusivity as a matter of course, so make sure you don't forget to make your school's fundraising activities accessible as well. 
Analyze your results and thank supporters. 
Throughout your fundraiser, you should keep an eye on your overall progress towards your goal. Doing so can help you make adjustments to your overall fundraising strategy and goals based on the data you're seeing. Some virtual fundraising tools even have real-time data reporting, letting you stay on top of new information as it comes in. 
Be sure to reach out to your volunteers and donors throughout your campaign to thank all of them for their continued support. Showing your appreciation can help motivate your volunteers, whether they're students or parents, to continue working hard to make a difference for your school. 
For some types of fundraisers, your school can consider creating awards for the top students who brought in the most donations. For example, during a read-a-thon you might make several awards, such as one for the student who read the most books and one for the student who raised the most. These types of awards can give students an extra incentive to try their best, making the experience more impactful. 
After your fundraiser, be sure to review your data and assess your overall campaign. This should be an opportunity to take note of what went well and what could be improved on. Then, for your next fundraiser, you'll be able to course correct for previous mistakes ahead of time or have solid plans to take advantage of opportunities that arose last time. 
---
Elementary schools have several responsibilities. Their fundraisers should, of course, aim to draw in revenue, but these events can also be turned into fun, memorable experiences for your students. To fundraise effectively while keeping your students included, be sure to plan a variety of fundraisers that everyone at your school can participate in from field days to read-a-thons. Good luck!