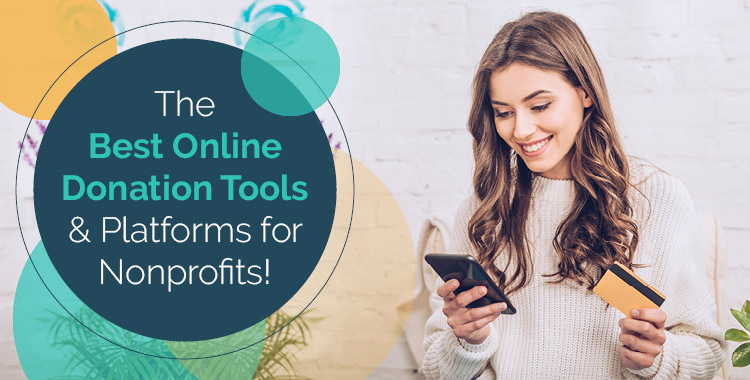 Digital tools have completely revolutionized the ways that nonprofit organizations fundraise. This rise in popularity has brought forward a plethora of tools and platforms for nonprofits to use, and you might be wondering which solution is best for your organization.
Bringing in a new donation tool to help your organization fundraise is a significant decision—fundraising is absolutely essential for a nonprofit to carry out its work, and purchasing a new platform is an investment. It can take a lot of time to research each available fundraising tool before you make your choice, so we've gathered the ultimate list of online giving platforms for you:
If you're already pretty familiar with what your organization needs and see something that would be a great match, feel free to jump ahead! However, if you're feeling a bit overwhelmed with all of the options, read on for a deeper look at each.
---

1. Double the Donation – Best Online Matching Gifts Tool
Overview of this Donation Tool
Matching gift programs are a type of corporate philanthropy through which businesses match the nonprofit donations made by their employees. Too many nonprofits and donors are unaware of the incredible opportunities available through corporate matching gift programs.
Double the Donation is the ultimate tool to help you discover and capture these hidden funds.
When an employer matches a gift made by an employee, the effects of the original donation are amplified. Can you imagine if you amplified every donation received during your most successful campaign?
The Most Important Features
Double the Donation's tools are extremely straightforward but present an invaluable opportunity for nonprofits looking to boost their donation revenue. Check out the matching gift tools you could start using today:
Access to Double the Donation's extensive database

of corporate matching gift policies across the country. 

Dedicated matching gift pages

allow doors to quickly search for their matching gift eligibility and begin the application process.

Embeddable plugins

to include on your other pages or email contacts, so you can spread the word about matching gifts regardless of how you're engaging with donors.
One of the biggest obstacles to receiving a matched gift is lack of education on the process. With Double the Donation's tools, you can ensure donors are aware of these opportunities. 

Pricing of this Online Donation Platform
Double the Donation is available in tiered pricing levels, so you'll be able to choose the level of service that best corresponds to your organization's capabilities. 
For more information, or to sign up for a 2 week free trial with the software, check out their website.
2. iATS Payments – Best Nonprofit Payment Processor
Overview of this Donation Tool
Payment processing is an integral part of accepting donations that every nonprofit must deal with to turn donations into useable funds. While many organizations use an aggregator like PayPal, a dedicated payment processor designed for nonprofits can really make the difference for speed and functionality. 
iATS Payments is the best option out there for dedicated payment processing made specifically with nonprofits in mind. 
Your organization can't run without the help of your donors, so why not make sure their donations reach your account quickly and easily? 
The Most Important Features
iATS Payments combines easy use with powerful payment processing to make it an invaluable tool for nonprofits. Their features include: 
Up to ninety-nine customizable donation forms per account

that can be designed to fit your branding, message, and specific web pages. 

Fast payment processing

that can get donations from across the globe into your account in 24-48 hours. 

Easy data transfer and management

for Salesforce users via their

Brickwork

app. 
Why deal with the hassle of building your own forms or waiting for an aggregator to send you your funds when you can use iATS? 
Pricing of this Online Donation Platform
Check out iATS Payments' website for more details on pricing! 

3. Donately – Best Online Donation Tool for Nonprofits & Churches
Overview of this Donation Tool
Donately specializes in creating beautiful and streamlined online donation pages. Able to suit organizations small and large, Donately provides comprehensive solutions fitting any organization's budget.
The platform takes an attractive, minimalist design approach that is easily molded to any organization's branding. Further, it's one of the few platforms with features specifically targeting both religious (ex: accessible recurring gift processes) and secular organizations (general giving forms) alike.
The Most Important Features
Donately holds a user-centric view in creating their online donation offerings. Check out a few of the platform's stand-out features:
Customizable donation forms

that are embeddable on your website

and

mobile-accessible.

Campaign-specific giving pages

for supporters to give to a specific initiative.

Peer-to-peer fundraising options

to empower supporters to fundraise on your behalf.

Text messaging

to keep supporters in-the-loop regarding your nonprofit's latest fundraisers.
Donately prides itself on creating attractive digital giving solutions for any organization, suiting both faith-based and more generalized organizations. If you're looking for a comprehensive and affordable online donation platform, Donately might be what you're looking for.

Pricing of this Online Donation Platform
Donately offers three pricing tiers— Startup, Team, and Enterprise— with the lowest-cost option starting at $0/month with a 4% platform fee. For more information on the platform's pricing options, check out Donately's website.

4. Salsa – Best Comprehensive Online Donation Tool
Overview of this Donation Tool
Salsa is one of the most comprehensive and intuitive CRMs for nonprofits on the market as it provides all the features you need to manage and direct every aspect of your fundraising campaigns.
With flexible tools designed for every side of donor management and engagement, you can handle everything from donation pages and processing to donor management and analytics. The best part? It's all contained within one software!
The Most Important Features
Salsa's offerings are both comprehensive and user-friendly, allowing you to easily process donations and streamline your entire management operations. Check out Salsa's features, which handle every aspect of your organization's campaign:
Online fundraising tools

allow you to create forms, process payments, and manage registrations.

Peer-to-peer options

so supporters can launch campaigns and fundraise on your behalf.

Donor and member management

to store and analyze exhaustive data for trends.

Digital marketing tools

to automate and simplify your online marketing strategy.
In addition, Salsa gathers data from every step of your fundraising process for analysis, allowing you to continuously fine-tune your fundraising strategies.

Pricing of this Online Donation Platform
Salsa offers a variety of software options, including fundraising software packages, full CRM systems, and advocacy-oriented planning tools. Pricing varies across options, so if Salsa seems like a good fit for your organization, request a quote on their website.

5. Bonfire – Best Online T-Shirt Fundraising Tool
Overview of this Donation Tool
Branded t-shirts are a fundraising staple, and Bonfire specializes in helping organizations promote their cause through their campaigns. T-shirts help your nonprofit raise both funds and awareness while giving your donors a fun keepsake of their contribution.
While there are a plethora of t-shirt manufacturers to choose from, Bonfire specifically works to meet nonprofit organizations' needs. All you need to do is design your product, set your goals, and price accordingly. They handle the rest!
The Most Important Features
Bonfire has a few features which make product fundraising easier and more risk-free, than ever. Check out a few of its key attributes:
Full customization

to create shirts seamlessly branded to your organization.

Risk-free minimums

and a digital inventory to help you order exactly as many shirts as needed.

Online promotion tools

which allow donors to share their purchase and spread the word.

Verified nonprofit badge to show donors your campaign is legit and qualify your organization for reduced payment processing fees.
Bonfire gives your organization complete control of your fundraising campaign, from initial design to marketing and donations. Further, the donation platform allows you to easily download a .CSV file of your supporters' contact information!

Pricing of this Online Donation Platform
As Bonfire's services are highly customizable, your organization's cost will vary depending on the parameters you set for your campaign such as deadlines and prices. With these parameters, you'll essentially choose your own profit margin and have full control over your fundraising.
If you're interested in using Bonfire's services during your next product fundraising push, check out their website for further pricing information.

6. Fundly – Best Online Crowdfunding Donation Tool
Overview of this Donation Tool
Though there are a plethora of online crowdfunding tools to choose from, Fundly is unique in that it's a crowdfunding platform designed specifically for nonprofit use.
Created with intuitive web and mobile tools, the platform allows you to quickly get your organization's campaign page up-and-running without needing previous IT experience. Further, with no raise requirements or start-up fees, you're able to focus first and foremost on raising donations for your organization.
The Most Important Features
Fundly is probably not the first crowdfunding platform you've encountered. However, there are a few features that make it especially useful in setting up your campaign quickly and efficiently:
Mobile-optimized fundraising pages

allow access on all devices, from laptops to smartphones.

Social media tools

let donors easily raise awareness of your campaign.

Fully customizable campaign pages

to keep your organization's branding and mission at the forefront.

Ultra-secure payment methods

so donors feel safe in giving to your cause. 
For some inspiration on how to best utilize Fundly to reach your organization's goals, check out some of the top-performing nonprofit campaigns held on the platform. 

Pricing of this Online Donation Platform
Unlike other platforms, Fundly has no minimum raise requirement for your organization to keep the donations it raises. However, there is a 4.9% fee associated with each donation you receive as well as a 3% processing fee for all credit card transactions.
You can find more information on Fundly's website.

7. Morweb – Best Fundraising Website Builder
Overview of this Donation Tool
Morweb is the perfect solution for nonprofits looking to build a robust fundraising website without having to outsource the task to technology consultants. Due to the platform's user-friendly tools, there is no coding experience needed to get the most out of a Morweb-hosted website.
In addition to easily-adaptable layouts, Morweb's donation processing features allow you to create a website that can easily gather donations.
The Most Important Features
Morweb offers a variety of features to help even the most novice webmasters create a successful website. Check out a few below:
A live editor

in which you can make changes directly to your site's pages and see the updates as you make them.

Drag & drop functionality

prevents static layouts and allows for extensive customization.

A responsive support team

so you can collaborate with experts to create your site.
Further, Morweb boasts other 100+ included features, ensuring any specific functions your organization's website needs are more than likely available.

Pricing of this Online Donation Platform
Morweb offers pricing options to suit nonprofits at every level, with their entry tier starting at $99/month. From there, pricing ranges up to $199/month, and you can find more information regarding what's included in each tier on the donation platform's website.

8. 360MatchPro – Best Automated Matching Gifts Tool
Overview of this Donation Tool
360MatchPro is the ultimate matching gift automation platform on the market for nonprofit organizations. The platform automatically tracks match-eligible donors and provides them with materials regarding their employer's matching gift program.
Matching gift programs involve a corporation matching the donations its employees make to a nonprofit organization. One of the biggest obstacles surrounding matching gifts is a lack of awareness surrounding eligibility, and 360MatchPro removes all guesswork to drastically increase the donations your organization receives!
The Most Important Features
360MatchPro is a hefty solution for any nonprofit looking to increase their matching gift donations. Check out a few of the platform's key features:
Email domain identification

where the software identifies donor matching gift eligibility.

Automated email communications

ensures each eligible donor is contacted regarding their eligibility.

Donation forecasting predicts the potential increase in donations you see from match-eligible donors, allowing enhanced targeted marketing and financial planning.
This platform's robust functionality provides everything your organization will need to forecast track, and increase donations to your organization through matching gifts.

Pricing of this Online Donation Platform
For all pricing information, you can contact 360MatchPro for a quote via their website.

9. Soapbox Engage – Best for Salesforce Fundraising
Overview of this Donation Tool
Soapbox Engage is a fundraising solution designed specifically to integrate with one of the most popular cloud-based CRMs: Salesforce. Offering a plethora of apps spanning donation gathering, event planning, and even advocacy initiatives, this platform is sure to increase your donations while keeping all your data organized through its Salesforce integration.
Because the platform covers a variety of functions, you can choose any combination of Soapbox Engage apps to create the perfect set of tools for your organization.
The Most Important Features
While its Salesforce integration is arguably one of the most important features of Soapbox Engage, the platform offers a handful of other features to help you get the most out of your data:
Mobile-friendly interface

allows supporters to make donations whenever, wherever, and through whichever device they prefer.

Peer-to-peer fundraising capabilities

for supporters to fundraise on your behalf through social sharing.

Unlimited, customizable donation pages

ensuring you're never hindered by technology in future fundraising endeavors.

Marketing tools that track data across campaigns and record it all directly in Salesforce.
Soapbox Engage is specifically designed to cover all of your organization's digital fundraising needs and securely record the associated data in Salesforce.

Pricing of this Online Donation Platform
If you're interested in just the platform's donation app, you can access it for $49/month. However, for a more comprehensive solution, Soapbox Engage offers a more built-out Salesforce toolkit of six apps starting at $199/month. 

10. Snowball – Best Mobile Fundraising Tool
Overview of this Donation Tool
Snowball understands that the actual point of transaction is crucial in linking your organization and its donors, and therefore focuses on creating tools to ensure donating is a quick and easy process.
With its smart mobile giving tools, you're able to reduce any points of friction at the transaction point and reduce donor abandonment. If your organization is looking to optimize your online donation or mobile giving processes, Snowball has a number of tools that can help.
The Most Important Features
Snowball's tools were specifically created to streamline your online donation processes. Check out a few of the platform's solutions for online and mobile giving:
Text-to-give functionality

allows donors to initiate the giving process as easily as sending a single text message.

Optimized donation pages

that provide smart design and intuitive payment options.

Passwordless login software through Swoop, allowing donors to easily and securely access your page.
These tools can generate substantial donation increases for nonprofits of all sizes, making the giving process easier and more secure than ever.

Pricing of this Online Donation Platform
Snowball prices its online donation services using tiered levels, starting with their core package which is free with a flat rate of 2.9% + $.30 per transaction. To see which package best fits your organization's needs, check out Snowball's website.

11. OneCause – Best Event Management and Donation Tool
Overview of this Donation Tool
OneCause offers powerful fundraising solutions for pretty much any fundraising event you can think of. The platform's extremely effective online donation and event registration tools allow you to optimize all of your live fundraising for the future.
Whether an auction, a run/walk/ride, or any other event your team dreams up, OneCause's tools will help streamline your registration, payment processing, and mobile giving needs.
The Most Important Features
OneCause offers a handful of helpful features that you can combine in whatever configuration best suits your nonprofit's needs. Check out a few of the platform's fundraising event-management offerings:
Intuitive event software

to manage registrations, ticketing, payments, and data collection at all of your live fundraising events.

Mobile bidding and auction systems

available for use at both in-person fundraising auctions and online-only events.

Mobile giving technology

to allow supporters to donate quickly and spontaneously when the inspiration strikes.
All of OneCause's tools work in harmony to ensure you have the most effective fundraising strategy for your next event.

Pricing of this Online Donation Platform
OneCause allows your nonprofit to choose the exact tools that best serves your needs. Because of this, pricing is handled on a custom basis, and you can contact the platform through its website for a quote.

12. 99Pledges – Best Event-a-Thon Fundraiser Tool
Overview of this Donation Tool
99Pledges is an easy-to-use solution for nonprofits big and small, looking to run a simple fundraising campaign. 
When you create a fundraiser with 99Pledges, you can then create accompanying pages for participants to share with their social media network. Turning donors into fundraisers on your behalf, 99Pledges is the perfect solution for group fundraising for schools, sports leagues, or church groups.
The Most Important Features
99Pledges  is perfect for event-a-thon fundraisers, with helpful features to simplify the process:
Participant tracking

to track and share individual and group progress.

Simple set-up

so even fundraising newcomers can successfully navigate the platform.

Social sharing capabilities

for participants to easily broadcast the fundraiser they're supporting.
99Pledges' tools allow for the quick and easy creation of social fundraisers, making them accessible for fundraisers of every skill level.

Pricing of this Online Donation Platform
99Pledges is completely free until donations are made, with no minimum raise requirements. Once you start raising donations, you keep 100% of those made through cash/check and 90% of those made online. 99Pledges takes this a step further, by covering all credit card transaction fees.
For more information, check out the platform's website.

13. Qgiv – Best Online Peer-to-Peer Fundraising Donation Tool
Overview of this Donation Tool
While there are many online donation platforms focusing on optimizing the crowdfunding process, Qgiv works to provide you with the best peer-to-peer fundraising tools. As social media networks have prospered, this type of campaign has become a popular option for nonprofit fundraising and Qgiv has mastered the art.
Qgiv offers software solutions that cater to all online donation processes but specialize particularly in peer-to-peer processes. With this platform, you're able to empower your donors to fundraise on your behalf.
The Most Important Features
While Qgiv shines through its peer-to-peer capabilities, it offers a variety of online fundraising features to streamline your processes. Explore some of their main features:
Peer-to-peer campaign management tools

to utilize internet connectivity to raise more funds and attain new donors.

Donation page optimization

ensures your peer-to-peer supporters can donate with efficiency.

An event-builder allows you to easily build attractive, desktop and mobile-friendly event pages.
Any effective peer-to-peer fundraising campaign will need a number of strategies to succeed, and Qgiv ensures you have all of the functions you need to do so.

Pricing of this Online Donation Platform
Qgiv's base platform starts at $0/month with a 3.95% + $0.30 fee per transaction. As you add specialized packages, such as "Data," "Mobile Suite" "Peer-to-Peer," and "Auctions" to your platform, the price increases.
Billing can be done on a monthly or quarterly basis. For more information on Qgiv's pricing, check out the platform's website.

14. CircuiTree – Best Summer Camp Fundraising Donation Tool
Overview of this Donation Tool
CircuiTree is the top camp registration and management tool on the market, and aims to help camps with every aspect of their mission. This includes camper registration and management, counselor hiring and management, camp family communication, and discount and scholarship management. If you're working in the summer camp realm, CircuiTree has all of your needs covered in one software!
Specifically looking at fundraising, the platform can facilitate all financial efforts— whether that's raising money for a capital campaign, scholarship fund, or even purchasing camp supplies.
The Most Important Features
As fundraising isn't usually the main focus of a summer camp, a software solution needs to be fully prepared to support your staff throughout the process. Check out a few of our favorite CircuiTree features that do just that:
Product sales and add-on options

allow you to include a donation button directly in the camp merchandise purchasing process.

Easy communication tools

which can create segmented lists that you can email directly within the platform.

Online donation options allows you to embed your donation button directly on the main camp menu, so parents can easily find it and contribute.
Because CircuiTree includes its fundraising functions directly in your camp management software, you can handle both processes without any extra software needed.

Pricing of this Online Donation Platform
CircuiTree works closely with your camp to create a customized software solution, so the cost of the platform varies. For a quote, contact CircuiTree through the platform's website.

15. CharityEngine – Best Donor Journey Management Tool
Overview of this Donation Tool
CharityEngine's constituent relationship management (CRM) software is built with two facts in mind: a long-term donor is more valuable than a one-time donor, and it's more cost-efficient to keep a current donor than acquire a new one.
It's designed to be an all-in-one solution for donor management, giving you a 360-degree view of all donor interactions. With this, you're able to personalize every supporter interaction and guide them through their relationship with your organization— creating donors for life!
The Most Important Features
CharityEngine's all-encompassing software addresses all donor management interactions your nonprofit might handle. Check out a few of our favorite features:
All-in-one fundraising

so you can manage both your online and offline fundraising within one platform.

Email and direct mail capabilities

cover all donor communications you may need.

Peer-to-peer, crowdfunding, and event management capabilities

to allow you to leverage the social connections of your organization and its supporters.

Major gift management

to allow a full view of every step of the major gifts process.
CharityEngine's features are made with a focus on retaining donors and building relationships for the long-term.

Pricing of this Online Donation Platform
Contact CharityEngine through their website to set up a demo or request a quote for your organization's ideal solution.

16. Funds2Orgs – Best Creative Donation Tool
Overview of this Donation Tool
Funds2Orgs encompasses three brands, Sneakers4Funds, ShoesWithHeart, and Cash4Shooz. It uses the shoe drive fundraiser model to help nonprofits raise funds for their organization, and benefits other communities in the process.
You start by contacting Funds2Orgs via their website to develop a plan for your shoe drive. Then, you simply collect gently worn, used, and new shoes to send back to Funds2Orgs via their pre-paid shipping bags.
Within 48 hours of processing your shoes, the company sends you a check in the mail. They then use these shoes to empower business people in other communities!
The Most Important Features
Funds2Orgs has created a stress-free, low-cost method to pair with your next big fundraising push. Check out a few of the company's best features:
Creative fundraising methods

provide a unique experience for your donors and you.

Pre-paid shipping bags

ensure the process is both easy and low-cost for your organization.

Ethical and sustainable repurposing methods

benefit both other communities and the planet overall.
With the above features, your shoe drive fundraiser is sure to be both effective for your organization and enjoyable for your donors.

Pricing of this Online Donation Platform
Holding a shoe drive fundraiser with Funds2Orgs is actually completely free for your organization. If you're interested in hosting one of these fundraisers, contact the company through its website.

17. DonorsChoose – Best Online Donation Tool for Teachers
Overview of this Donation Tool
Although education funding is vital for preparing upcoming generations, securing money for a classroom project can be difficult. Recognizing this unique challenge, DonorsChoose emerged as the easiest and most reliable crowdfunding platform for teachers.
The platform itself is a charitable nonprofit and works to provide a place for teachers to create campaigns, promote them, and reach their goals. It's had a nationwide impact since its start in 2000 and has helped over 36 million students— and counting!
The Most Important Features
In addition to DonorsChoose being one of the few platforms specifically dedicated to serving teachers, the platform has taken steps to ensure it's one of the simplest ways to crowdfund. Check out a few key features:
Simplified project posting to

 get your campaign up-and-running

and

reach your fundraising goal in mere days.

Direct purchasing of your project materials by DonorsChoose

, with the platform shipping the needed items directly to your school.

Easily provide feedback

to ensure the platform adequately and transparently serves the teaching community.
Further, DonorsChoose is run by former teachers—  so you can be sure it's operating with educators in mind!

Pricing of this Online Donation Platform
Outside of sending thank you notes to donors after your project is completely funded, using the platform is completely free of charge. For more information, check out DonorsChoose's website.

18. MyPledger – Best Mobile and Online Pledges Tool
Overview of this Donation Tool
MyPledger is described as an "easy, effective accelerator for nonprofits." Dealing most often with text-to-give and text-to-pledge services, the platform aims to take the stress out of these processes by automating outreach and follow-ups.
When you don't have to focus on these time-consuming details, you can better direct your attention to your organization's overarching fundraising strategy. Because of this, it's particularly helpful for smaller nonprofits operating without full-time fundraising resources.
The Most Important Features
MyPledger boasts a handful of automated tools and customizable features, each of which can transform the way your organization operates its fundraising:
Automated messaging capabilities

through text, call and email that can be targeted with donor segmentation and timeframe.

Customizable options

for full personalization of every aspect of donor engagement.

Advocacy tools

to strengthen your donors' relationships with your cause.
MyPledger's automation and personalization capabilities save your organization time and money, which you can then allocate elsewhere.

Pricing of this Online Donation Platform
If you think MyPledger is the perfect addition for your nonprofit's toolkit, contact the platform via its website to generate a custom quote to fit your needs.

19. iDonate – Best Donor-Facing Processes
Overview of this Donation Tool
iDonate aims to be an all-in-one platform to handle all of your digital fundraising needs.
The platform has the features that have become necessities in the world of digital giving, including mobile and desktop friendliness, peer-to-peer fundraising and events donation management. However, they've increased their offerings to include a few unique features to really enhance your online donation offerings.
The Most Important Features
iDonate has features to cover all of your digital giving needs:
Web and mobile giving

ensures your digital giving form is easily accessible through both desktop and mobile devices.

Donation shopping cart

allows supporters to efficiently give to multiple initiatives in one transaction.

Text giving options

so supporters can donate faster than ever by simply texting the word "give."

Noncash giving options

so donors aren't tethered to cash giving methods.
These features are all enhanced by the platform's ability to integrate with some of the major CRM systems on the market.

Pricing of this Online Donation Platform
iDonate has flexible pricing, so if you're interested in the platform you should visit their website and submit a contact form. By doing this, you can get a personalized quote tailored to your nonprofit's needs.

20. 4aGoodCause – Best All-In-One Tool for Small to Midsize Nonprofits
Overview of this Donation Tool
4aGoodCause aims to provide all of the tools a small to midsize nonprofit would need to begin digital fundraising.
Both providing comprehensive features and doing so in a way that's easily tailored to your organization's specific needs, the platform is accessible without being sparse. From general online donations to peer-to-peer, crowdfunding and event registration initiatives, 4aGoodCause has you covered!
The Most Important Features
4aGoodCause's features provide comprehensive customization and convenience when doing so. Check out a few of our favorites:
Donation pages

that are seamlessly branded to your organization as well as mobile and desktop friendly.

Peer-to-peer and crowdfunding campaigns

that are quickly and easily set up and managed.

Essential integrations

with popular nonprofit software, including CRM systems, email management systems and even social networks.
With these features, your nonprofit should have every tool you need to dive into the world of digital fundraising.

Pricing of this Online Donation Platform
4aGoodCause carries a platform fee of $49/month, with a flat rate of $0.49 per transaction. For more information or to request a demo, check out the platform's website.

21. DonorPerfect – Best Online Donation Tool for Integrations
Overview of this Donation Tool
DonorPerfect aims to cover all of your organization's digital fundraising needs—  and if it can't, it has an integration that can.
While the platform offers its own fundraising services, including donation processing, events management, and a fundraising CRM, where it really shines is in its integrations. Through DonorPerfect's marketplace, you can easily browse all of the platform's integrations and craft the perfect software solution for your nonprofit.
The Most Important Features
With DonorPerfect's features, the possibilities for your organization's digital fundraising are endless. Check out a few of the platform's features:
An integrations marketplace

where you can browse software solutions covering auctions and events, email and text marketing, accounting, advocacy, matching gifts and more.

A fundraising management software

built off of 25 years of experience in the field.

Online fundraising forms which are pre-designed templates or customized specifically to your organization.
DonorPerfect's features ensure that you're able to craft the perfect fundraising solution for your nonprofit, whether using the platform's tools or expanding on those with its many integrations.

Pricing of this Online Donation Platform
DonorPerfect is priced at three tiers of subscription, ranging from $89 to $264 a month. Request a demo and find the best option for your organization on the platform's website.
---
The right online donation tools can drastically improve your organization's digital fundraising capabilities, so make sure you're informed throughout the process. For more information on digital platforms for nonprofits, check out the additional resources below