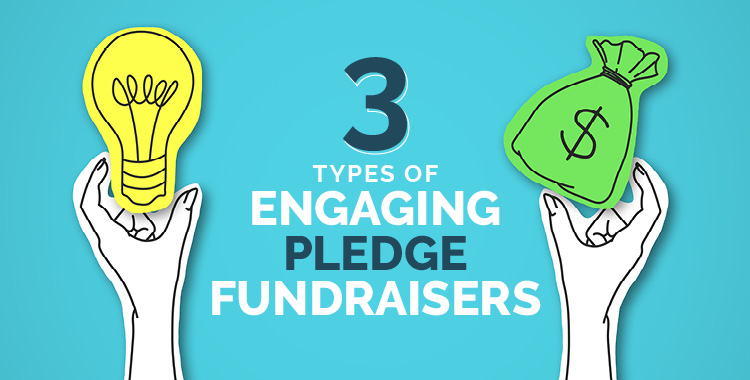 Pledge fundraisers are one of the most versatile and effective ways to fundraise. During a pledge fundraiser, supporters promise to give a certain amount of money to your organization, and you collect those donations at a later date. Often, these pledges are based on an activity that supporters complete. For example, if you hold a car wash fundraiser, you could collect pledges for each car washed during the event.
The pledge model works for almost any organization or cause. These fundraisers can help schools and nonprofits raise money or serve as part of a business's corporate social responsibility program. You can also adapt the fundraisers your organization already uses to fit the pledge model as a way to raise more.
In this guide, we'll look at three popular pledge fundraisers your organization could hold:

These are just a few of the different types of pledge fundraisers out there, so it's easy to choose one that's tailored to your organization's focus. If you're fundraising for your school band, you could launch a "practice-a-thon" where supporters donate a given amount for every ten minutes spent practicing or for each line of music memorized. Other options (like fun runs) that encourage participants to get active might be best for sports teams. Let's get started!
1. Fun Run
A fun run adds a unique twist to a traditional race fundraiser like a 5K. During this fundraiser, you can add a specific "fun" element like asking participants to dress in Halloween costumes, wear glow stick jewelry, or agree to get doused in colorful paint. Because you're free to choose any theme you want, you can adapt this idea to fit a variety of age groups, organizations, and causes.
Setting up a fun run is easy and affordable. In 99Pledges' guide to launching a fun run, the process is broken down into three main steps:
Organizers plan the event.

Figure out basic logistical details about your event like a date, time, and location, and get any permissions you need to hold the event. This is also the stage to pick out your favorite "fun" element for the race and devise an advertising strategy.

Participants register and create custom donation pages.

Ask supporters who want to participate in the fundraiser to complete a registration form. Then, using peer-to-peer fundraising software, instruct each registered participant how to set up their own donation pages that they can share with friends and family. 

Supporters pledge their donations.

Once participants set up their personal donation pages, they can begin collecting pledges from their friends and family members. Because the pledge model is a type of peer-to-peer fundraising, it allows your organization to leverage the power of your supporters' social networks to extend its reach and maximize revenue.
To simplify the process even more, choose a fundraising platform you can use to host donation pages. Look for a platform that allows supporters to donate online, doesn't require transaction fees, and has extensive security measures in place to protect donor privacy.
2. Read-a-thon
"A-thon" fundraisers are a popular type of pledge fundraiser, and they come in many different shapes and sizes. You might hold a "dance-a-thon" to raise money for your dance squad or a "kick-a-thon" for your soccer team. Read-a-thons are great school fundraisers because they encourage more reading and are easy for students of all ages to get involved in.
During a read-a-thon fundraiser, participants will collect donations based on how much they read during a given time period. Depending on your participants' reading level, you can define each "unit" supporters pledge to as chapters finished or hours spent reading. To ensure your students have plenty of time and motivation to read, allow them to read any books they want, whether they're at home or at school. 
Remember to track pledges as they come in so you can make sure each donation gets collected when the fundraiser ends. Because tracking, collecting, and processing supporters' contributions can be stressful, leverage donation software to make the process more convenient.
3. Trivia Night
Trivia nights are a classic fundraiser that any organization can put together. Participants love the suspense and competition of the trivia game, and they don't involve a huge investment of time or money for your team. 
During a traditional trivia night fundraiser, you might raise money by selling entry tickets. While this method can be successful, you're likely missing out on additional revenue you could gain from collecting pledge donations instead. Ask participants to collect pledges from family and friends based on how many questions they get right or how many rounds their team participates in.
Applying the pledge fundraiser method is an easy way to maximize revenue by expanding your pool of supporters. Here are a few other ways you can raise more with a trivia night fundraiser:
Market to your community.

Take the time to create a marketing plan for your fundraiser, even if it's simple. Choose a few media channels to spread awareness through, ideally ones that your target audience already uses. For instance, for a school fundraiser, you could post about the fundraiser on the school website, send emails to parents, and

hang flyers

around campus.

Pair with another fundraiser.

Because trivia nights don't require months of preparation or a big budget, you can easily pair them with another fundraiser. Consider adding a raffle or silent auction to the fundraiser and announce winners between rounds of trivia. You can also sell snacks and drinks for participants or have merchandise branded to your organization available for purchase.

Leverage matching gift programs.

Matching gifts

are a type of corporate philanthropy through which employers match the financial contributions their employees make to a charitable cause. This means you can quickly double your revenue just by spreading awareness about matching gifts to your audience prior to the trivia night fundraiser. Then once the event rolls around, your supporters will be equipped to request a matching gift from their employer based on any donations they make.
Don't forget about the most important part of hosting a trivia night fundraiser: writing engaging questions. Keep your audience in mind, focusing on topics they are interested and knowledgeable in. If your attendees vary widely in age and interests, consider creating a few separate trivia rounds dedicated to different subjects and levels of difficulty.
Whether you're part of a nonprofit, school, church, or sports team, pledge fundraising can help you secure the funds you need. As you start browsing through pledge fundraiser ideas and plan one of your own, remember to look for the best fundraising software for your organization to make tracking pledges and accepting donations easy for your team.