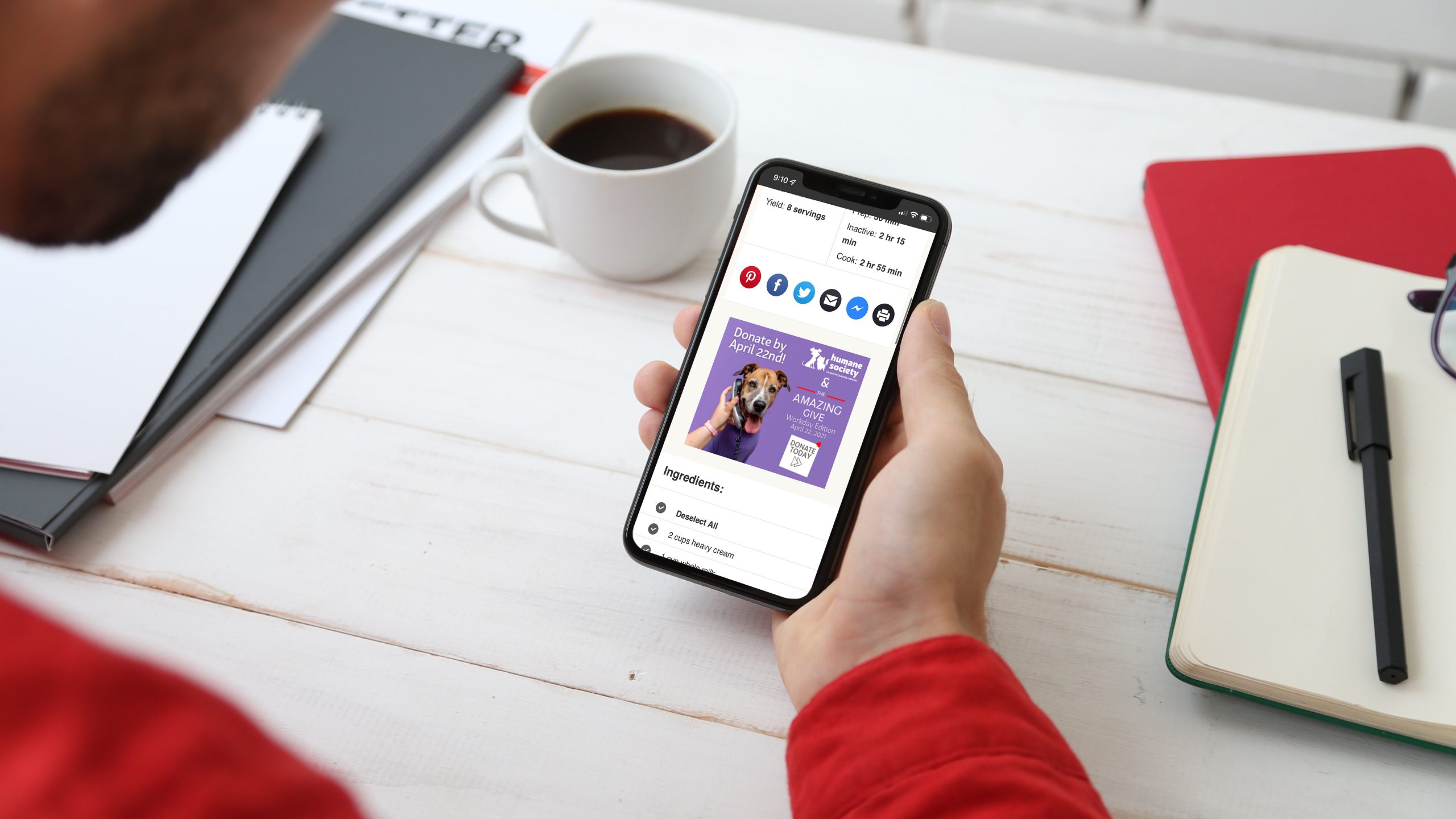 When hosting an event, both business and mission-driven organizations need to focus on promotion to ensure they maximize their investment. For nonprofits, marketing is key to getting the donations they need to earn revenue and further their mission.
Nonprofits rely heavily on email marketing to promote their events, fundraisers, and volunteer opportunities. And with nonprofits enjoying some of the highest open and click-through rates of any industry, it's clear why email campaigns are used in so many nonprofit marketing strategies. While these campaigns fare well on average, nonprofits can incorporate new strategies into their email campaigns to further boost success.
These email campaign tips can help you reach more potential attendees to maximize your event's success:
One of the most important aspects of email marketing is getting your audience to give your message a chance by opening the email. The best way to do this is with a compelling subject line. Let's dive in to learn more!

Write clear, engaging subject lines
Your nonprofit probably sends out regular, general marketing emails to engage your audience in addition to those promoting your next fundraising event. Your subject lines should stand out from these general marketing emails as an invitation to an exciting fundraising event. A unique subject line is the first step to getting your supporters excited to learn more about your next event.
An effective email subject line should clearly state what the email is about and entice your audience to open the email. These tips can help you create an engaging subject line your supporters can't resist clicking on:
Set the tone. An email's subject line should signal the tone of the rest of the email. The tone could be clever, funny, serious, or urgent (but be sure not to overuse urgent subject lines). If possible, aim to convey an air of mystery so your audience feels compelled to open the email and find out more.
Keep it short. Because most people check their email on smartphones, subject lines must be very short to fit on their screens. To avoid your perfectly-crafted subject line getting cut off, keep them limited to 40 characters or less.
Test different subject lines. Experiment with different subject lines to discover which strategies garner the most engagement from your supporters. Feathr's email marketing guide suggests conducting A/B tests in which your organization sends two different emails to separate halves of your audience. Then, you track which has the higher open rate to see which one was more effective.
Add personalization. Personalize subject lines using the data you have about your supporters. For example, if your event will take place in their city, include the name of the city in the subject line so they know it's a local opportunity.
Remember to clearly indicate that these emails are related to your nonprofit's next event. For example, you could start the subject line with a phrase like "you're invited!" Then, your supporters know about the event before even opening the email.

Include your organization's branding
On average, people only spend about ten seconds looking at promotional emails. Make the most of these ten seconds by putting your visual brand front and center. Branding your emails helps supporters immediately recognise that the email is coming from your nonprofit.
To brand your email, include your nonprofit's logo, brand colors, graphics, and branded images. These visual branded elements can make your email appear more professional and engaging, and they have the benefit of being recognized by viewers more quickly. Your supporters will likely pick up on visual branded cues faster than simply including your organization's name in plain text.
In the age of email phishing scams, your supporters are probably scanning the messages they receive for cues that emails they receive are legitimate, whether they realize it or not. If you're selling charity tickets online, for example, you don't want your supporters to worry about clicking through the links included in your email to register. Adding your branding makes your emails appear more trustworthy and professional so supporters know they are safe to interact with them.
Branding your emails can also make for a smoother, more cohesive experience for your supporters. Include the same branding on your online registration form so supporters won't be thrown off by different branding and visuals between resources from your organization. This helps you build a strong first impression for your donor event.

Get specific about your event
Be sure to include the most important information about your event in the invitation email. The first vital element to include will be links to other relevant information about your event.
Make signing up convenient by including links to other important information in the email so your supporters don't have to go searching for it. For example, if your nonprofit is using fundraising event software with an online registration tool, provide a link to the page in your email with sign-up instructions. To make donating simple, also include a link to your online donation page.
While you should strive to include all important event details in your email, remember to keep the email short and to the point so viewers can read through it quickly. Some nonprofits choose to include the same information that they would on a skimmable flyer. According to Double the Donation's guide to creating a fundraising flyer, your organization should include details like:
The fundraising event's name.
Location.
Date and time.
Your organization's name.
The event's purpose.
How supporters can participate.
Entry fee or suggested donation.
Your supporters might ignore or forget about vague emails that lack important details about the fundraising event. Informative emails that give your supporters access to all of the information and event resources they need can help drive attendance at your event.

Use email mapping
With an email mapping campaign, you can reach a new audience of potential attendees with ads across the internet.
Email mapping allows nonprofits to target ads to lists of email addresses, integrating your email and digital marketing channels. This technology allows your organization to reach your target audience across multiple platforms, ensuring they see repeated information about your event rather than just a single email. More specifically, your nonprofit's database of email prospects will receive web and social media ads directing them to your organization's website or event registration page.
Here is an overview of the steps required to launch an email mapping campaign:
Define a goal. Before launching the campaign, you'll need to decide what the conversion will be. For example, does your nonprofit want more event registrations, donations, or volunteer sign-ups?
Set a budget. Create a realistic budget that fits into your nonprofit's overall marketing budget. Keep in mind that this budget will decide the size of your email mapping campaign.
Choose a timeline. Determine how long you want the campaign to run. This timeline should make sense with the campaign's focus — for an event, you'll most likely want to end the campaign on or before the event date.
Target an audience. For the best results, you'll need a list of about 2,500 email addresses. Ideally, these emails should belong to marketing prospects rather than your established members or supporters so you can acquire new event attendees.
Create eye-catching visuals. Be sure to include visuals in your ads that will capture your audience's attention. A good rule of thumb is to include a strong branded visual like a logo, a bold headline, and a specific call-to-action. You might even include a gif or moving image to really draw your viewers' attention.
Sometimes, audiences won't respond to a traditional marketing email, no matter how engaging the subject line is. Email mapping can help you reach your organization's marketing prospects outside of their inbox on the sites and social media apps they already frequent.

Use calls to action
A call to action is a part of your marketing materials that directs your supporters to take a specific action. Calls to action can help boost online ticket sales and overall event attendance by clearly designating the action or response you want your supporters to take (like registering for your event).
These strategies can make your calls to action more effective:
Include buttons and links. Make it easy for your audience to click through to the page you want them to visit and, subsequently, complete the desired action. Convenience is key for your supporters, so be sure to direct them to the exact page they need to get to.
Make them specific. Ensure your supporters know which page they'll land on when they click on the call to action. For instance, writing "Donate Now" tells them more than a generic call to action like "Click Here." Before you send out your email campaign, double-check that the pages you link to align with the call to action so that you don't accidentally link a button that says "Donate Now" to a volunteer registration page.
Make them relevant. Don't include calls to action that are unrelated to your email's topic. In an email promoting your next fundraising event, it makes more sense to include a call to action encouraging your audience to purchase tickets rather than to check out your latest blog post.
Inspire your audience to do more than just attend your event. In emails, add links to other ways they can engage with your event. For example, your call to action can lead to a peer-to-peer campaign related to your event or a registration form for better volunteer management.
While your nonprofit may be familiar with traditional email campaign strategies, new and innovative marketing ideas can help you reach new audiences to attend your fundraising events. Make sure your newly acquired supporters have a smooth event experience by using nonprofit event software to manage your event operations. Choose a solution that provides a toolkit with everything you need for your next fundraising event from event registration to data management.