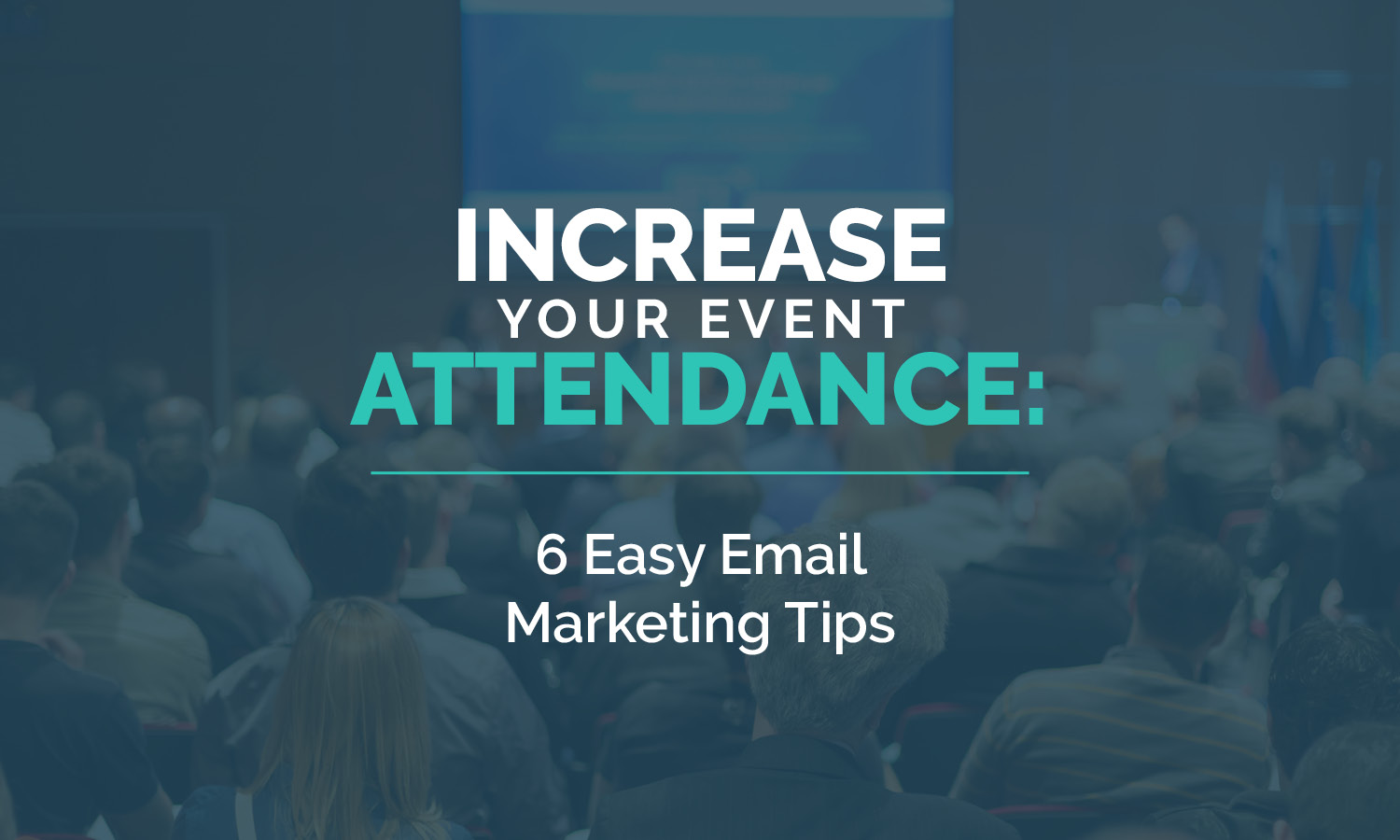 When it comes to promoting your nonprofit's events, there is no shortage of marketing platforms to choose from. Social media, your website, and direct mail might all play critical roles in getting the word out. But developing strong email marketing strategies should be one of your top priorities to generate greater engagement and attendance.
Why is email so important? Email marketing consistently has a very high ROI — for every $1 spent on email marketing, organizations receive $36 in return. Email marketing lets you speak directly to potential event attendees by connecting with them via their inboxes. 
With that in mind, here are our favorite email marketing tips to help you boost event attendance: 
Email is an inexpensive way to stay in touch with your supporters before your next event. Plus, it offers a natural opportunity to promote your online fundraising initiatives alongside your event details. Let's dive in!
1. Segment your email list.
The cardinal rule of email marketing is the more targeted your message, the better. This doesn't mean that you should write an individual email for every single person on your contact list. The most effective and efficient way to target your messages is by segmenting your potential attendees. 
Segmentation is the process of grouping email subscribers based on shared interests to send relevant emails to each group. By tracking the campaigns someone has contributed to or past events they've attended and storing that data in your donor database or CRM, you can make educated assumptions about their interests and create segments accordingly. 
Consider grouping subscribers based on the following criteria: 
Gift frequency:

For example, you might create a group for donors who have given once but not twice, lapsed donors, monthly donors, and long-term loyal donors. 

Age:

You may create segments of young professionals, established careerists, and those nearing retirement. You can vary your communication style for each group to ensure that your message resonates with them. 

Interests:

Dig into your supporters' engagement histories to identify specific programs or projects they've supported in the past, volunteer opportunities they've participated in, or events they've attended. This will allow you to group volunteers based on specific parts of your mission that appeal the most to them. 

Geographic location:

Segmenting based on geographic location can come into play when marketing hybrid events. You might highlight the in-person event opportunities to audience members who live nearby and can feasibly attend in person. For those who live further away, you can promote your virtual option.  
Recipients will appreciate your efforts to send emails that align with their interests, which can help increase your email campaign's ROI. 
According to Bloomerang's donor management guide, maintaining proper data hygiene is also essential to segmentation to ensure that your donor data is updated and accurate. Bloomerang recommends regularly auditing your database to remove inaccurate information and supplementing your records with a data append as needed to add missing details. 
2. Personalize your email messages.
When was the last time that you opened an email or a letter that said "Dear Valued Supporter" and actually wanted to keep reading?
Rather than creating generic messages, personalized emails to each member or supporter. Personalization requires marketing software that can pull data from your donor management system into your email platform, but it's a tool that will instantly pay for itself. 
Your email marketing tool should allow you to draft emails and then autoflow information from fields in your supporter profiles into the email. The most important aspect to include in your email invitation is your supporter's name, so ensure that the opening reads something like, "Dear Sarah," instead of "Dear Friend." 
Other examples of important information you might want to include in your emails are: 
Supporters' employers:

"We'd love to have a representative from [employer] at our next networking event!" 

Their location:

"We're hosting an event in [city] and wanted to make sure you're there."

Their engagement history:

"Thanks for attending [previous event]. Did you know there's another event in your region coming up?"

Their interests:

"We know you've supported [specific program or project] in the past with a generous $[gift amount] donation. Our upcoming event will support that very same cause!" 
These personal touches make your supporters feel like your organization cares about them and wants to provide a positive experience. This level of familiarity makes them more likely to attend your events because they know that you really want them there.
3. Automate your follow-ups. 
As an email marketer, you know that the number of people who open and respond to your email outreach on the first message is a small percentage of your overall supporter population. That's why you should follow up through a drip campaign when marketing your events! 
Drip campaigns involve setting up emails that are sent at regular intervals to encourage supporters to take specific actions. In this case, the action will be registering for your event. 
Automating your ongoing communications reduces the chance that someone gets lost in the shuffle. Automation strategies can be based on timing or member activity, but the most comprehensive strategies combine both to ensure that your event stays top of mind for interested supporters. 
You might use automation strategies such as: 
Setting invitation emails to go out 90 days, 60 days, and 30 days before the event. Don't forget to remove supporters from these emails once they've registered for your event!

Sending a next-day reminder email to someone who opened your email but didn't click through to the registration page. 

Decreasing "shopping cart" abandonment by sending out reminder emails to supporters who got partially through registration but didn't complete their ticket purchase. 
Include enticing content in your follow-ups to build excitement. For example, offer free merchandise to supporters who register before a certain date or send subscribers a sneak peek of the items you will have available at your auction event. 
Combining intriguing content with well-timed follow-ups gives you the best chance of connecting with supporters who need that extra push to sign up. 
4. Make your emails more engaging. 
Your emails shouldn't just contain essential event details — they should also be interesting to look at. 
Long text blocks can be intimidating, especially for those who don't have enough time to carefully read every word to make sure that they're getting the most important information. It's your job to design content that gets the point across quickly and easily in a visually appealing way. 
Engaging text combined with compelling media can add visual interest to your emails. Our favorite ways to add rich content to an email are to: 
Optimize your subject lines.

Use A/B testing to figure out the most effective email subject lines for each audience segment. Best practices for writing subject lines include keeping them brief and using emojis to capture attention. 

Embed a video in your email.

This could be a video featuring all the fun your attendees had at your last event or a testimonial from an attendee about what they learned through your past experiences. 

Include high-quality pictures of attendees from your last event or a similar one.

Images break up chunks of text and create visual intrigue. By adding one to two images per message, you can add visual interest without drawing the reader's eye away from the essential information within your email.
Make sure your emails also look clean and professional in both the desktop and mobile view before sending them off. Ensure the formatting is mobile-friendly and that any buttons you use are large enough to be easily read and clicked on from a mobile device. 
5. Spotlight your event branding.
Your event might have a unique brand that differs from (but ties into) your nonprofit's overall branding strategy. Your email marketing campaign is the perfect opportunity to promote this distinctive brand and foster awareness. 
By designing your emails with your event branding, you can give potential attendees a better idea of the vibe of the event and what they can expect from attending. For example, emails marketing a charity 5k or eating contest should be written differently than emails marketing a fundraising lunch. Make sure your emails reflect your event's unique:
Color scheme

Logo

Typography

Slogan/tagline

Event hashtag

Theme
Your branding will act as another design element to catch supporters' eyes and let them know what your event is about. Plus, supporters who have attended and enjoyed the same event in the past will know that it's that time of year to sign up again. 
6. Track email data to improve future outreach. 
Data from your current email campaigns can be used to improve future marketing initiatives. 
Use metrics such as your open rates, click-through rates, and conversion rates for different email streams to determine which messages were the most successful in your event promotion and which could use a tune-up before your next event.
Take a look at this data and ask yourself some of the following questions: 
What subject lines prompted the highest open rates? 

Which "Register Now" buttons or hyperlinks had the highest conversion rates?

Which images and headlines were used in the highest-converting emails?

Which step in the lead drip had the highest drop-out rates? 
The specific questions that you need to ask will vary based on your supporters' engagement and your organization's goals, but these questions offer a general starting point to set you in the right direction. 
---
With these email marketing strategies, you can keep your event on supporters' radars without being too pushy. After your event concludes, continue using email engagement to ask attendees for their feedback and start strategizing how to make your event even better next time around. Good luck!
About the Author: Joshua Meyer
Joshua Meyer brings more than 20 years of fundraising, volunteer management, and marketing experience to his current role as the VP of Demand Generation for Bloomerang. As a member of the Bloomerang marketing team, Josh manages the organization's growth marketing efforts. Through his previous roles at the Human Rights Campaign and OneCause, he has a passion for helping to create positive change and helping nonprofits engage new donors and achieve their fundraising goals.