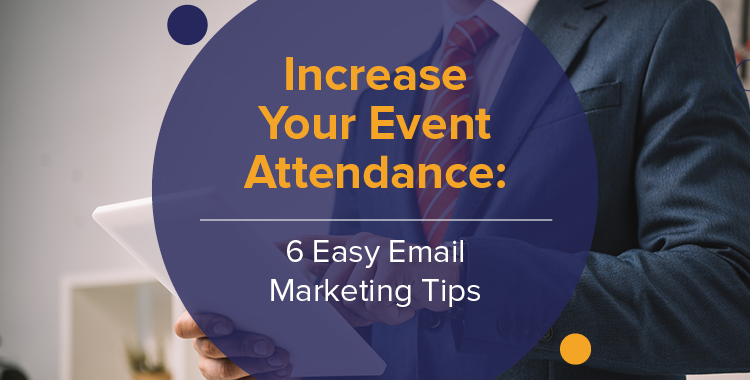 Over the past year, nonprofits adapted to a number of hurdles resulting from the COVID-19 pandemic. While virtual events are optimal for social distancing, your nonprofit's event planning process will require a special touch to continue gaining traction.
Although there may be fewer snack tables to gather around, virtual live-streamed events are a great opportunity to engage your supporters and other community members while everyone has  fun. The primary ingredient for a successful event recipe is attendees.
There are many communication platforms you can use to invite community members to your organization's virtual events, but email will likely be your go-to channel. It's quick, it's easy, and it's inexpensive. But a lazily written email addressing all of your members at once won't do the trick! There are specific tactics that your events team can use to increase your email success and attract more attendees. 
Our favorite email marketing strategies include: 
Segment your supporters. 

Personalize your emails. 

Automate your follow-ups.

Entice your supporters with attractions.

Use rich text and media in your emails. 

Use email data to improve in the future. 
When you keep these smart email marketing tips in mind, you can score more event registrations and make your nonprofit's event the talk of the town. Let's dive into the details of each tactic and learn how each of them can help increase your event attendance! 
1. Segment your supporters.
The cardinal rule of email marketing is that the more targeted your message, the better. This doesn't mean, however, that you should write an email for every single person on your invitation list. While this would indeed result in the most personalized messages, it also requires more time and energy than it's worth. The most effective and efficient way to target your messages is by segmenting your potential attendees. 
Segmentation is a strategy wherein you split your mailing list up by supporter commonalities to send more specific and intriguing emails to each group. For example, if you keep track of what past campaigns someone has contributed to or past events they've attended in your donor database or CRM, you can use that data to make educated assumptions about their interests and create segments accordingly
Say that a group of your environmental organization's supporters have shown a specific interest in bird watching. . If you're hosting a virtual event that will include a panel or discussion that includes a birding expert, sending that segment an email emphasizing that aspect of the panel might be a good way to accentuate the aspect of the event that they'll be most interested in.
Some common segments to break your whole population down into are: 
Gift frequency (given once but not twice, lapsed donor, monthly donor, long-term loyal donor, etc.)

Volunteer vs non-volunteer

Age (young professionals, established careerists, and those nearing retirement, etc.) 

Interests, as denoted by their engagement history. 

Previous event attendance.

Geographic location. 
Once you've broken down your supporters into segments, it's time to draft out your emails and highlight the parts of your event that will be of most interest to each group in your CRM. 
It might seem like more work to create multiple emails to target each of your segments, but the effort will be worth it when your open rate and click-through rate (CTR) both skyrocket. 
Conversely, you should consider organizing events for specific segments, rather than simply inviting all of your supporters to the same event, even if the emails are customized for specific segments.
For example, consider holding an exclusive event for only monthly donors. Obviously, you would only invite monthly donors to this event. Segmenting works both ways!
2. Personalize your emails.
The next step in writing emails that people actually want to read is to personalize them. When was the last time that you opened an email or a letter that said, "Dear Valued Customer," and actually wanted to keep reading?
To prevent this from happening to your emails, you should personalize your emails to each member or supporter. Personalization requires marketing software that can pull data from your CRM into your email platform, but it's a tool that will pay for itself almost instantaneously. 
Your email marketing tool should allow you to draft emails and then autoflow information from fields in your member or supporter profiles into the email. The most important thing to include in your email invitation is your supporter's name, so that the opening reads, "Dear Sarah," instead of "Dear Friend." 
After segmenting your supporters and ensuring you can pull their preferred names for the email salutation, you can more effectively tailor your emails based on who your supporters are and how much they've interacted with your nonprofit in the past. The examples in this guide show how you can combine segmentation and personalization strategies to best appeal to your supporters. For example, you can create a general template for a segment of your supporters such as corporate sponsors and then personalize it for each corporate sponsor you reach out to.  
Other examples of important fields to flow into your emails, depending on the context, are: 
Supporters' employer:

"We'd love to have a representative from [employer] at our next networking event!" 

Their location:

"We're hosting an event in [city] and wanted to make sure you're there."

Their engagement history:

"Thanks for attending [previous event]. Did you know there's another event in your region coming up?"
These personal touches really make your members and supporters feel like your organization cares about them and their experience with the organization. This level of familiarity makes them more likely to want to attend your events, because they know that you really want them there.
For an even more personal touch, consider peer-to-peer texting, a communication strategy where your team of volunteers send text messages directly to your supporters, starting conversations with them about your nonprofit's upcoming events. With virtual events, engaging with your supporters is trickier than ever, but peer-to-peer texting ensures that your supporters always do get to talk to someone at your nonprofit, even if they never meet them in person. 
3. Automate your follow-ups. 
As an email marketer, you know that the number of people who open and respond to your email outreach on the first message is a small percentage of your overall supporter population. That's why you should follow-up through a drip campaign when marketing your events! 
Drip campaigns are handy marketing tools that enable your organization to line up a number of emails that are sent at regular intervals, leading supporters to take a specific action. In this case, the action will be registering for your event. 
Follow-up strategy automation reduces the chance that someone gets lost in the shuffle. When your marketing software is responsible for sending out follow-up emails, you can rest assured that you're staying in the forefront of supporters' minds. 
Automation strategies can be based on timing or on member activity, but the most comprehensive strategies combine both to ensure that your supporters are always reminded of your upcoming event. 
Some of our favorite automation strategies include: 
Setting invitation emails to go out 90 days, 60 days, and 30 days before the event. Don't forget to remove supporters from these emails once they've registered for your event!

Send a reminder email to someone who opened your email but didn't click through to the registration page the day after they opened it. 

Decrease "shopping cart" abandonment by sending out reminder emails to supporters who got partially through registration but didn't complete the ticket buying process. 
Following up is the best way to ensure that you snag the attention of your members over time. Many people will ignore an email the first time they see it because they prioritize reading emails that they can respond to immediately. By reminding them about your event after the original invitation, you can increase your registration rates. 
Our only warning is to practice good data hygiene when you automate marketing strategies to make sure the emails you're sending out contain the right information for the right recipient. Bad data hygiene may result in a supporter receiving multiple of the same (or slight variations of) your emails. You might accidentally include incorrect information or even spell their name wrong! This can hurt your relationships with prospective attendees and actively drive them away. 
4. Entice your supporters with attractions. 
Your staff works really hard to make sure that your virtual fundraising events are engaging and exciting for your attendees, so make sure your supporters know what they'll be missing if they don't attend! Use your emails as a 'teaser trailer' for the highlights of your upcoming event. 
People love new and exciting things. It's just natural. In order to take advantage of this instinct, use your emails as a way to incentivize them to register and attend your event. This will look different for every event, because of the varying nature of different types of events, but here are some of our favorite strategies: 
Offer custom merch to supporters who register before a certain date

. If your organization offers branded merchandise for your event like mugs or t-shirts, bundle one into the registration fee for your supporters. They'll want to register early and take advantage of the free gift! You get higher attendance rates, and your merch acts as marketing collateral as supporters sport it around town. It's a win-win. 

Offer registrants a sneak peek at some of the items up for auction

if you're hosting one for fundraising purposes. This will get them excited to bid for the coolest items, and the auction format lends a bit of healthy competition to your event.
If you're nervous about your event living up to the hype in your email then get to planning! Choose your event attractions and activities based on your nonprofit's event goals, whether that's donor acquisition, retention, or simply furthering engagement.
Donorly's step-by-step fundraising guide explains how you'll need a specific plan to reach the right audiences and meet your organization's goals. Whether you're planning a charity auction, networking luncheon, educational panel with discussion, or any other type of event, you'll need to decide how the event fits into your larger strategy. 
The only limit to planning engaging event attractions is your imagination. Your marketing should make your potential attendees want to sign up. If you can't think of a way to spin your main attraction as something desirable and exclusive, you might need to go back to the drawing board. 
5. Use rich text and media in your emails.
Not only should your emails contain interesting information, but they should also look interesting to your readers. If you open an email and are immediately bombarded by a wall of text, you won't want to read the whole thing. 
Lots of text can be intimidating to folks, especially those who don't have enough time to carefully read every word to make sure that they're getting the most important information. It's your job as the crafter of emails to design content that gets the point across quickly and easily in a visually appealing way. 
Rich text and media are the best ways to add visual interest to your emails. By this, we mean adding graphics and textual variation to emphasize different aspects of the email. Our favorite ways to add rich content to an email are to: 
Embed a video in your email.

This could be a video featuring all the fun your attendees had at your last event, or a filmed testimonial from an attendee about what they learned through your past event offerings. 

Use different sizes, colors, or fonts.

This strategy allows you to emphasize the most important parts of your email, like the what, where, and when of your event. When your reader opens the email, these key elements will jump out at them.

Include high-quality pictures

of attendees from your last event or a similar one. Adding images breaks up chunks of text and creates visual interest. Just be careful not to overdo it. By adding one to two images per message, you can add visual interest without drawing the reader's eye away from the important elements of your email.
Rich text and media will ensure that once your reader opens your email, they'll commit to reading the whole thing (or at least skim for the important information!). Be sure to also check how your email looks on mobile before sending it off.
While beautiful, HTML emails can make your organization and event look world-class, they also have a higher chance of getting caught by spam folders. You can mitigate this by employing plain text emails sent one-at-a-time from your board members or CEO to individual, high value supporters. 
For example, you could segment out a list of major donors or major donor prospects, and send each of them a "did you see our event invitation?" email through Gmail, Outlook, or whatever day-to-day email tool your team uses. Segmented mass emails are still mass emails; don't overlook the impact of personal outreach, even by email.
6. Use your email data to improve in the future.
The primary goal of your email marketing campaign is to increase event attendance. However, while conducting this campaign, don't forget to track your data and metrics in order to plan future fundraising strategies. 
Data from your email campaigns now can be used to improve your email campaigns in the future, so don't waste any time. Use your open rates, click-through rates, and conversion rates for different email streams to determine which emails were the most successful and which could use a tune-up before your next event. Research shows that 18% of donors stop supporting an organization due to poor communication. Up-to-date-email strategies don't only keep your events well attended, they sustain your nonprofit's supporters. 
Take a look at your data and ask yourself some of the following questions: 
What subject lines prompted the best open rates? 

Which "Register Now" buttons or hyperlinks had the highest conversion rates in our emails?

Which images, headlines, etc. were used in the highest-converting emails?

Which step in the lead drip had the highest drop-out rates? 
The questions that you need to ask will vary based on your supporters' engagement and your organization's goals, but using your data intelligently will help any organization grow and improve in the future.
---
Email marketing is a highly effective tool, especially when inviting your supporters to your events. Don't let a single individual slip through your fingers by incorporating these smart email marketing tactics! 
AUTHOR: STEVEN SHATTUCK
Chief Engagement Officer at Bloomerang
Steven Shattuck is Chief Engagement Officer at Bloomerang and Executive Director of Launch Cause. A prolific writer and speaker, Steven is a contributor to "Fundraising Principles and Practice: Second Edition" and volunteers his time on the Project Work Group of the Fundraising Effectiveness Project and is an AFP Center for Fundraising Innovation (CFI) committee member.