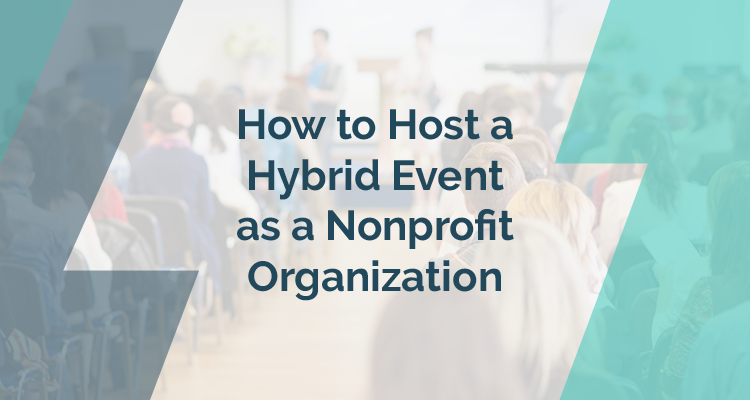 With the rise of nonprofit technology, hybrid events have risen in popularity over the past few years. In fact, 73% of event organizers said they believe hybrid events will continue to be common in the future.¹
In this article, we'll discuss the remarkable benefits of planning and hosting a hybrid fundraiser or gala event as a nonprofit organization. You can engage with both a virtual and live audience, bringing the digital and physical world together. Helping maximize your exposure and optimize your success, a hybrid event combines digital elements and online experiences with traditional fundraising avenues.
Whether you plan to raise funds for a good cause, gain support for an ongoing mission, or improve your reputation within the community, a hybrid event can optimize your ability to reach your goals. 
Hybrid Event Ideas
Ready to impress your guests by offering interactive online experiences alongside your next fundraiser or gala? Let's explore some of the best ways to incorporate digital elements into your next event.
First, allow us to spark your imagination with a couple of ways to combine online event ideas with a traditional in-person fundraiser or gala.
Digital Donations 
Enhance attendees' experience by providing additional entertainment, activities, and apps that can be accessed using a mobile device. You can also use apps during your hybrid event to facilitate digital donations. 
Often, people prefer to donate anonymously, and apps can easily accommodate this. Not only does offering digital donation opportunities set your fundraiser apart from a typical gala, but it also allows hosts to capture key data, too. By asking guests to submit their contact information and tick a box to allow you to contact them at a later stage about upcoming fundraisers, you can create a highly targeted and relevant email list for marketing purposes. However, make it crystal clear that supporters' anonymous donations will not be connected with their contact information.
To help facilitate your hybrid experiences, partner with a knowledgeable event expert like PayBee. PayBee supports both live and silent auctions, empowering nonprofit organizations to offer virtual elements during an event. Using a smartphone device, guests can enter bids, which are then taken into account with live in-person bids at the gala or fundraiser, allowing you to determine the top bid in real-time.
Discover how to boost your return on investment when hosting a hybrid event in 2021.
Virtual Fundraising Dinners
Another way to offer a digital and physical experience is by hosting a virtual fundraising dinner party. While guests might not meet you and your team in person, they can still enjoy an evening of fine dining.
To plan a virtual dinner, create a menu and share it with your guests. Ask guests to pay for dinner party tickets, and select their meal, which can be delivered to their door. On the day of the online event, all guests can dress up and sign in, join a live video call, and dine together. Raise a toast virtually and celebrate your success introducing virtual and delicious elements to your next gala.
Pro tip: Consider partnering up with a local restaurant or catering company that can deliver participants' meals and manage the food aspect on your behalf.
QR Codes To Enter A Virtual Reality
Another way to engage your guests online during a traditional fundraiser is to use QR codes. Guests can scan QR codes to unlock interactive online elements during a live event or scan to donate and support your cause. 
QR codes are a great way to provide additional information, educational content, and videos about your nonprofit's mission. For instance, DKMS, an organization that provides blood cancer patients with a second chance at life, recently used QR codes during a fundraising gala. The nonprofit organization saw a 38% conversion rate and received an average donation of $823.91, demonstrating the benefits a hybrid event can have on the financial support you receive.² 
Virtual Concerts
Live-streaming a concert is another way to engage an online audience while also sharing the live experience with guests who are able to attend in person. The global pandemic has undoubtedly made it challenging to host gigs, concerts, and live events, so when in-person guest numbers are restricted, you always have the option to extend your reach by taking your event online. 
Whether you are using social media to provide behind-the-scenes content or streaming the entire performance around the world, thanks to technology, virtual concerts are one way to combine digital and physical event elements.
Virtual Sponsorships
Combine both digital support with in-person donations by offering supporters the ability to create a sponsorship page in support of your event. 
Suppose a supporter wants to challenge themselves to climb Mount Everest, virtually. They can enter the number of steps it would take, 85,238, their timeframe, and how their family members and friends can donate to your charity once the supporter completes the challenge. Perhaps they could even time this to complete the challenge on the night of your live fundraiser. This would create a buzz around your event and be entertaining for your other supporters to follow. 
Considering a virtual gala? Learn more about PayBee's live streaming, live auction, and live interaction features.
Platforms To Help You Launch A Hybrid Event
Now you have some creative ideas on how to turn your next gala into a hybrid event, let's talk technology! 
What are the best platforms on the market to help you launch this style of fundraiser? Since some guests won't be tech-savvy, it's always best to use a simple, easy-to-use, and reliable platform such as PayBee. Since it's able to support video chat features, live streaming, and interactive events, PayBee is well-positioned for multi-platform fundraising events. Find out more about PayBee's wide range of benefits here.
Promote Your Hybrid Event
Once you've chosen your virtual event ideas and signed up for a reliable platform, it's time to promote and market your upcoming hybrid event. Here are a couple of ways to create buzz:
Social media marketing –

As a

nonprofit organization,

you know your target audience better than anyone, so make sure to promote your upcoming event on relevant social media platforms. While you can post on the general social media feed, you can also take your digital marketing strategy a step further by joining social media groups related to your cause and sharing news about your fundraiser. While written content is still king online, video snippets are a great way to optimize conversions and gain interest.
Email marketing- When ticket sales go live, launch an email marketing campaign that is highly targeted and relatable. Remember, the average email user gets around 416 promotional emails per month, so make sure your subject line is impactful and grabs attention.³ To generate engagement, consider offering the first 50 tickets at a discounted rate to urge interested users to book quickly. Highlight both the in-person event and the

virtual event

option in an email campaign. Should a user not be able to attend in person, they can still show support by signing up for the virtual gala.
Remember, PayBee makes it easy for nonprofit organizations to build hybrid event registration pages and ticketed campaigns in just a few clicks.
3 Top Tips For Hybrid Event Success
Last but not least, let's highlight 3 top tips for hosting a successful hybrid event.
1. Brief Your Team
Your team is often your most valuable asset as a nonprofit organization, so keep them in the loop when planning a hybrid event. Ask for their input, feedback, and ideas and brief them well in advance. This will allow you to flag any concerns and potential issues before the big day. 
Also, delegate in-person event tasks and virtual event jobs to different members of your team, making sure to divide responsibilities evenly and invest time and resources on both sides of the fundraiser. If you feel you need additional help, hire more team members or bring on volunteers to support you during the event. Consider designating virtual hosts to manage the digital side, and chat moderators to answer guest questions.
2. Rehearse Before The Big Day
Practice makes perfect, so allocate some time before the live hybrid event to rehearse all elements. During this time, double-check that your team is confident using the online platform while hosting the virtual elements of the event and that any interactive features work well. PayBee allows event organizers to run simulations of an upcoming hybrid event to properly rehearse beforehand.
3. Follow Up
Never neglect following up after a hybrid event. Show your appreciation by contacting all guests and thanking them for their support and donations. An interesting way to do this is by recording mini video clips of each member of your team thanking attendees. 
Provide additional information on how interested parties can continue supporting your nonprofit organization as well as future events you plan to host. Provide links to your website, donation page, and social media profiles and encourage guests to follow you online. Share your success stories from the event and key figures such as attendance numbers, the total number of donations, the total amount raised, and how you will put all donations to good use. 
PayBee can help event organizers with post-hybrid event follow-up campaigns, as the platform automatically records all of your event statistics. You will also be able to send pledge reminders and check payments made during the event with ease.
So, what are you waiting for? Master the art of combining digital elements with a traditional fundraising event and take advantage of PayBee's free online demo here.
References:
1:https://www.meetingspotlight.com/article/stats-73-event-planners-expect-hybrid-events-be-more-common-future 
2:https://zoeamar.com/2020/12/23/digitalfundraising-covid19/
3:https://blog.winspireme.com/8-email-campaign-tips-promoting-nonprofit-fundraising-event