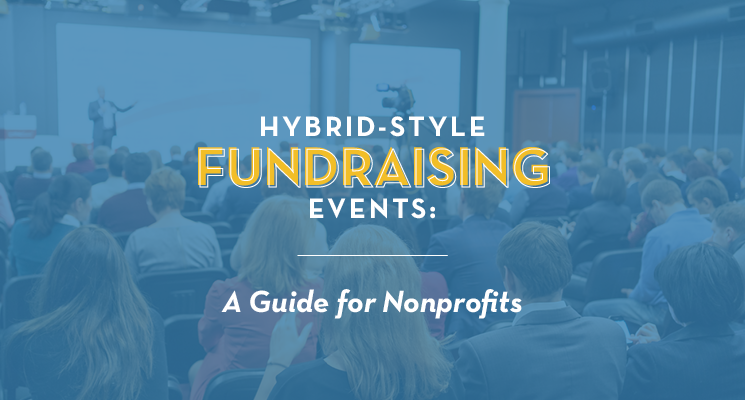 In these times of social distancing, fundraisers across the country are finding new ways to reach donors, new and old, and raise money to fuel their causes.
Pivoting to virtual events proved to be successful for many organizations throughout 2020. But where do we go from here? How do we plan for future fundraising events?
Many nonprofits are considering moving towards a hybrid-style fundraising event, combining virtual and in-person tactics (when the conditions are safe for controlled, in-person gatherings).
At OneCause, we've helped nonprofits of all sizes meet their donors where they are at the current moment. Over the past year, the fundraising world has moved to online and virtual fundraising. But looking beyond 2021, you'll have to keep adapting for the new era of hybrid fundraising. In this guide, we'll walk through the vital steps of a hybrid fundraising event. Here are the questions we'll cover:
What is a hybrid event?
What's needed for hybrid events?
What are common types of hybrid fundraising events?
How do you plan a hybrid fundraising event?
Let's get started!
What is a hybrid event?
Plain and simple, a hybrid fundraising event consists of an in-person event combined with a live stream for virtual attendees to participate in the fundraising. There are really two things to consider when analyzing whether a hybrid event would make sense for your organization and donor base:
Determine how many guests you can accommodate in-person based on:

State, city, and county regulations and requirements
Venue regulations and requirements

Determine key donors and what their preferences are:

Who wants to attend an in-person event?
Who would prefer to attend virtually?
For a comprehensive look into what hybrid events are, check out this OneCause hybrid guide. Once you've got a solid grasp on the basics, let's get started planning your fundraiser.
What's needed for hybrid events?
No matter the scale or timeline of your upcoming event, you'll need a few necessities to pull off a hybrid experience without a hitch. These essentials are:
Your physical venue. Take a look at your budget, ideal number of in-person attendees, and each potential venue's COVID-19 safety requirements. Nail down your venue at the date that makes sense for your target local audience.
Live streaming software. A must for reaching your audience at home! Research what solution fits best with your hybrid fundraising event, whether it is hiring a third-party company, using a social network, or a live stream software solution built for nonprofits.
Virtual fundraising software. Host your auction, peer-to-peer event, or online giving campaign on software built for raising more and reaching more—no matter if your audience is at home or in-person.
Promotional marketing materials. Get the word out! Printed materials, social media, email marketing—do it all. Your donor reach is endless with a live stream event.
Event planning software. Having a helping hand with event management is always a good thing. Make the most of your event with dedicated software that keeps all the moving parts organized.
If you've already hosted virtual events over the course of 2020, you've likely got a few of these tools already. The main idea is to prepare early. Hybrid events can be logistically complex, so it pays to be prepared.
What are common types of hybrid fundraising events?
Hybrid fundraising events are extremely flexible and can be adapted for all kinds of event formats and audiences. Here are four of our favorite hybrid event ideas that can work in a variety of contexts:
Gala-style auction event
If you are itching to get back to your in-person gala-style event (albeit likely with smaller in-person celebrations for now), grab your venue (with necessary public health precautions in mind), get your virtual fundraising software, and put on a live program with entertainment and mission moments for those in-person and tuning in at home.
There are a few key elements to a successful hybrid fundraising auction with mobile bidding software:
Early registration. To get people registered for your auction, marketing and digital promotion is key. Your mobile bidding site will be the one-stop-shop for all things mobile bidding, so it's best to get as many supporters in there and bidding as soon as you can!
Pre-bidding excitement. One of the smartest strategies you can implement in your online charity auction is pre-bidding. Pre-bidding allows you to jumpstart your fundraising, build excitement for your main event, and extend the life of your auction.
Scoreboards. Use leaderboards and scoreboards via live stream to gamify your auction and get everyone focused on the goal of supporting your organization's mission. Scoreboards spark healthy competition and make giving FUN!
Auctions in a hybrid-style event can be extremely effective ways to raise money while engaging your donors with an exciting experience (and amazing items). Take advantage of their fundraising power!
Small group watch parties
Turn table sponsors into small group watch parties! Virtual Tables of 8 or 10 can gather in a table sponsor's home and view the live stream event together. Here are 3 tips for awesome and engaging watch parties:
Pre-Event Contests: You can gamify your watch parties by organizing a competition! Announce that the table with the most silent auction bids placed before the event wins a prize to be enjoyed during the live stream event. Wine, dinner, and/or a shout-out during the event with video/pictures shared to the in-person event are just some options to choose from. Make it unique to your mission!
In-Event Gamification: Try gamification during the event, as well. Create a competition between each "table" (small group party) and offer a prize to the winning group. You could build your competition around the number of social media shares, a number of bids, or any other engagement metrics you're looking to boost.
Social Media Competition: Have individuals post pics of their viewing parties on social media and use a special hashtag. Reward your top 3 favorite posts or the posts with the most likes. You'll be surprised what great (and free) visibility you can drive with this easy tactic.
Having small groups gather together for your mission will create a community unique to your event and more memorable experiences for attendees. It's an easy way to drive engagement and boost your hybrid event's results.
Dessert Frenzy / Dinner Party
For this idea, partner with a local bakeshop or restaurant. Your culinary partner can come up with special dishes or desserts for registered attendees to bid on in advance. Then, volunteers deliver the dishes to the winners on the day of the event prior to the event's start time.
The key is to open bidding 2-3 days before the event to allow for the correct food prep time and build excitement for your donors.
Close bidding the day before the event so supporters can enjoy your livestreamed program without having to focus on bidding on treats.
Have the winners post on social media, tagging you and the local business!
Encourage watch party pictures and social sharing during your live stream—especially if they are lucky enough to win an amazing dinner or delicious dessert!
Wine Wall
Create a fixed price package in your OneCause Planner and call it "Wine Wall", "Wine Pull", or something of the sort. Here are a few quick success tips:
Open the fixed price package prior to the event.
Arrange for winner pick up or drop-off.
Close it before the event so the winners have the wine to enjoy during your livestreamed program!
You could also go another route—a sign-up party wine pull! A supporter donates a small get-together with hors d'oeuvres and drinks at their home. Attendance requires a bottle of wine (or liquor) at a minimum value.
The bottle(s) that each party goer provides are donated to your virtual Wine (or Liquor) Pull, or you can execute the wine pull on the night of the live stream.
How do you plan a hybrid fundraising event?
Now that we have an idea of what a hybrid fundraising event is, what you need, and ideas for some event styles—it's time to start planning and executing.
Let's break it down into 7 steps:
1. Plan and budget
Before jumping in, take some time to evaluate the pros and cons of taking your fundraising hybrid. Determine the exact format you'll use, outline a budget, and start laying out some concrete plans with your team.
2. Secure sponsors if applicable
Whether you reach out via email, phone, or through a personal connection, it's all about creating value when soliciting corporate sponsorships. Lead with your mission, create an emotional connection, and emphasize the value a corporation stands to gain by partnering with your nonprofit.
When hosting a fundraiser online, make sure to communicate the benefits and perks of sponsorships in the virtual world. The biggest message to communicate is the brand visibility the sponsor will receive during a hybrid event via your fundraising software and in your other promotion channels (social media, website, email, etc).
3. Build your hybrid toolkit
Choosing the right solutions for your toolkit will help make your event a success. Beyond your mobile bidding and event management software, it's important to think about the actual auction item packages (if applicable), marketing, donor management, and other elements that are part of the mix.
For your donors, the giving experience plays a large factor in turning one-time donors into lifetime supporters. If your donors can give easily, they're more likely to have a favorable opinion of your nonprofit and engage in the future.
4. Promote your event and explain how it works
For your hybrid event to succeed, it has to stand out online. Donors need to know about your event, how to sign up, and what to expect on the big day. Get them excited with promotions via email, social media, and peer-to-peer tactics.
When supporters have the choice between attending your event either in-person or virtual, more explanation and communication will be necessary to leave little room for confusion. You know your donor landscape, so get creative in the different ways to grab their attention online and clearly explain how the event will work!
5. Develop engagement strategies in advance
Reaching people, capturing their attention, and inspiring them to give is key to event success. Leveraging diverse virtual event strategies can differentiate you and make your mission stand out to remote donors as well as in-person donors. Peer-to-peer fundraising tactics and the ideas listed above are great examples to keep in mind.
6. Use gamification tactics during the event
To prevent a "donor slump," turn your campaign into a competition. With bragging rights at stake, your participants are more motivated to stay engaged until they reach (or exceed) their goal. Leaderboards, contests, and fundraising thermometers are classic and easy ways to boost engagement with gamification.
7. Actively communicate before, during, and after
Communication is key for minimizing donor confusion. You should communicate with your attendees before, during, and after your hybrid-style fundraising events.
Before: Promoting your upcoming online event is essential for success. Having the right audience can propel your organization above and beyond its fundraising goals and invigorate those working towards your mission.
During: The day of the hybrid fundraising has come, and it's time to open the fundraising! Once your event has officially been launched, make sure you optimize donor communication in-person and online for the best engagement. Consider recruiting both a live and virtual emcee to keep the event flowing smoothly for both audiences. Designate a tech support lead and/or virtual monitor to actively communicate with and help remote attendees, too.
After: One of the best parts about having all of your donor data in one central location (your fundraising software) is how easy post-event follow-up can be. After your event concludes, recognize everyone, especially your stand-out donors, for the key roles they played in making it a smashing success!
---
One thing we know is that event fundraising has changed and continues to evolve beyond COVID-19. Nonprofit organizations are rethinking how they deliver event experiences in a virtual world.
Hybrid-style fundraising events could be the "new normal" of fundraising. When done right, they could be just the secret recipe that catapults your fundraising to new heights. Use this guide as a foundation for your next or first hybrid event. Meet your donors where they are—whether that is in-person or online. Happy fundraising!
Author: Karrie Wozniak, Chief Marketing Officer, OneCause

Karrie has spent more than a decade bringing innovative technology and fundraising strategies to the nonprofit industry. As one of the first executives at OneCause, Karrie combines her 20 years of experience in marketing with her passion for helping nonprofits expand their reach, leading industry research, marketing strategy, and fundraising consulting initiatives. She is also an active speaker on donor and fundraising trends, and has been featured on Forbes.com, Philanthropy Journal, and Nonprofit Hub.