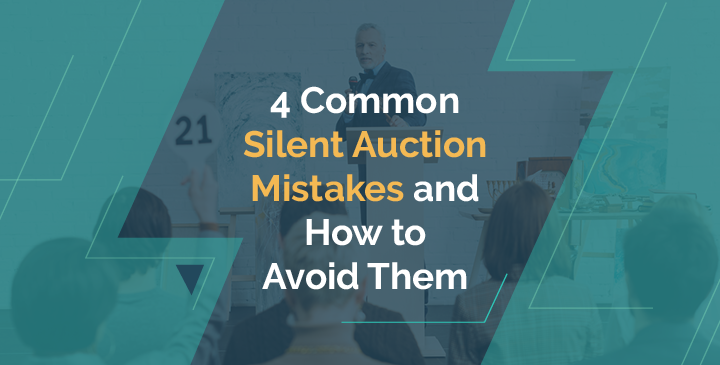 As a fundraising professional, you've probably hosted your fair share of fundraising events. You also know there are plenty of strategies that can set your fundraisers up for success. But on the flip side, there are also plenty of things organizations do that cause them to fall short of their revenue goals.
There are many successes that come with accomplishing a fundraising event. So, when you look back at your last auction, you probably remember these major successes. But that means we also tend to overlook our shortcomings. 
It's not fun to focus on our mistakes. Don't get down on yourself, though! Mistakes simply mean we have more opportunities for improvement. We can learn from them and have even more successes to celebrate in the future.
Here at Handbid, we've seen it all when it comes to nonprofit auctions and understand what it takes to pull off a successful event. In this article, we've compiled a list of four common mistakes that we've seen organizations make so you can be one step ahead and prevent them in your own online auction planning. Let's dive in.
Mistake #1: Not Using the Right Online Auction Platform
Nonprofit auctions can have pretty high stakes. You're relying on the revenue generated from the event to justify the costs of hosting it and the amount of effort you put into planning it. With all that rides on your nonprofit's online auction, don't leave it up to chance! Instead, invest in the right online auction software to streamline the planning process and facilitate a stellar event.
Dedicated technology will centralize your efforts and ensure you don't overlook a single important detail during your online auction. As you're reviewing potential software solutions, look for one that will:
Prioritize data privacy and security. When collecting payment data and other sensitive information, security is paramount. Lookout for a platform that's PCI compliant or PCI certified. Double the Donation's payment processing guide explains that "If you aren't using a PCI-compliant payment processor, you're not only putting yourself at risk of a breach, you're also missing out on donations!" This is because supporters will feel better about bidding (especially for high-value items) through a system that they know will keep their information safe.
Be easy to use. Your silent auction software should be easy for both your team and your guests to use. Consider which features will help your audience easily get set up and engage with your event activities whether they're in-person or joining your event online. You might even consider offering a guide that provides step-by-step instructions for getting set up to participate in the event.
Offer the support you need. While you should look for intuitive software, it's always nice to know there's a team of people behind you ready to help if you need it. For example, let's say you're hosting an online event and need help resolving a question from one of your attendees. A solution that offers readily-available support will be a major asset to resolving the issue quickly.
When you start looking for software solutions, make a list of the features that you need to make your event possible. Then, make another list of features that would be ideal, but maybe not strictly necessary for your event activities. This way, you won't get distracted by fancy bells and whistles of solutions that may be missing key features during the silent auction software research process. Look for software that has all of your "must-have" features and most of your "wish-to-have" ones.
Keeping your priorities in order and carefully considering the features that your organization needs will ensure you end up having the perfect solution to host your next nonprofit silent auction.
Mistake #2: Having Poorly Described and Poorly Set Up Auction Items
Whether you're hosting an in-person event with items carefully organized on tables or an entirely virtual event with an online catalog, the setup and descriptions of your auction items is integral to your event's success.
In either case, your auction software will be essential to best present your auctions. Gone are the days of paper bid sheets with indistinguishable handwritten bids. Instead, you can use auction software to post an online catalog and enable your auction attendees to bid online via their phone.
If you're hosting an in-person or hybrid auction, make sure there's room between auction items at the tables (to prevent blockages and holdups) and provide the descriptions printed out so that supporters can read about them in person. Then, post the same description on your online catalog so that supporters can bid from their tables. For online auctions, you'll also need to add the item's name, designated number, description, and photo to your auction catalog.
The hardest part? Writing your item descriptions. Enticing descriptions are key to showing bidders the value of the auction items you offer. For instance, "everything you need for a dinner party at your house" is not a compelling or informative description. Rather than providing a generic description, imagine describing each item to someone who can't see it, taste it, or feel it.
From here, set fair starting bids and bid increments for each item. Selecting improper ones can result in NO BIDS, leaving your team without the vital funds it needs. Let's walk through a few steps to ensure you set starting bids and bid increments that will drive revenue:
Determine each item's fair market value (FMV). Handbid's silent auction guide explains that the FMV of items can be used to help your organization set a starting price and helps attendees decide how much to bid. Be critical but fair with your estimates. For instance, the FMV of a $100 gift certificate is clearly $100, but not every item is that simple to evaluate. Search for similar items online to see how much they typically sell for. Then, gather an expert opinion if possible.
Select a fair starting price. Attract bidders with a low (but fair) starting price based on your estimated fair market value. A fair starting price all depends on the item because there is no universal formula that works for every item. Starting prices that are too high will deter potential bidders, some of whom would otherwise help drive up bid prices by inciting friendly competition.
Choose good bid increments. With traditional silent auctions that use paper bid sheets, it's common practice to set moderately high bid increments to incentivize participants to check bid sheets. But with mobile bidding, the effort required for a bidder to place a higher bid is much less (all it takes is a few taps). Overall, higher bid increments will dissuade people from placing bids, so keep bid increments as low as possible.
Fair starting bids and bid increments play a major role in the success of any auction and will ultimately lead to higher levels of engagement. In the age of mobile bidding, it's much easier to drive higher revenue on desirable items, so take the time to walk through each of the above steps for each auction item.
Mistake #3: Offering Too Many or Too Few Auction Items
When planning fundraising events, a common misconception is that more is always better. While racking up items for your auction can certainly be exciting, you'll still need to be selective in your procurement strategy. Otherwise, you'll wind up with too many auction items, which will dilute the excitement and lead to lower bids overall.
In fact, a major element of a successful silent auction is the possibility of not ending up with anything, just as much as it is about winning an item. With too many items, people won't feel as driven to bid, because it'll eliminate the all-important element of friendly competition.
This is why you shouldn't necessarily accept every item that's tossed your way. However, this can be challenging, especially for smaller nonprofits worried about not procuring enough items. Remember, quality always beats quantity. Select items that best suit your audience. Otherwise, you'll wind up filling your online auction catalog with unappealing items that don't fit your bidders' interests.
If you do have too many items, look for ways to bundle the items to create assorted baskets, raising the value of the basket. Then, eliminate any remaining unwanted items. 
On a similar note, you also don't want to offer too few auction items. Limited options can drastically limit your spectrum of potential bidders, whether it's due to their budget size or interests.
While too many items will lead to lower motivation, too few will exclude a large portion of your donor base. Striking the perfect balance will prove invaluable once your silent auction wraps up and you've reached your revenue goals. As a general rule of thumb, aim to have one item for every two or three registrants. 
Mistake #4: Not Giving Guests Enough Time to Bid
Similar to choosing the right number of auction items, choosing the timing of your auction event requires balance. Closing your auction too early may cause you to leave money on the table. But leaving it open for too long will eliminate the sense of urgency for attendees to bid.
Let's say you're hosting a traditional or hybrid-style gala, complete with a bar that's serving drinks. Chances are, the bar will be your in-person guests' first stop before strolling through your silent auction display areas. This, paired with the mingling that will likely occur, can throw off your timeline if the activities aren't accounted for in advance.
For an in-person event, the general rule of thumb is to open as early as possible and close as late as possible. If guests only have that day to submit their bids, you should give them the time they need to peruse the items, place their bids, and check in on their favorites several times throughout the event.
One way to make the most of this in-person opportunity is to publish your item catalog several days early as a part of your promotional strategy. This gives supporters a headstart on viewing your items so they know what they want to bid on before they even arrive. It can also generate excitement about the event!
If you're hosting an entirely virtual event, you might decide to give a little more time for your bidding. For instance, you might give between three days to a week for the auction itself. It's up to your organization's discretion as to how much time to leave your auction open, but keep in mind that you should keep the urgency high.
Have you ever shopped for something online, then left the item in your cart for weeks at a time, only to ultimately decide you didn't want it? That's the type of attitude you should avoid with your audience. By creating a sense of urgency, your supporters will feel more inclined to submit their bid now for fear of missing out rather than leaving it under consideration for hours or even days.
---
When it comes to silent auctions, there are several moving parts that your fundraising team won't want to overlook. Avoid the common mistakes discussed in this article by employing the right technology, accurately displaying and describing auction items, creating a procurement strategy, and providing the right amount of time to bid. Soon, you'll be well on your way to hosting a successful silent auction!
Author
Jeff Porter, Founder & CEO of Handbid, has spent 18 years in the nonprofit industry. In 2004 he founded the Prader-Willi Syndrome Association of Colorado where he still resides as board chair. Jeff learned early on that nonprofits desperately needed better and more affordable fundraising solutions.  Leveraging his software background, he built most of the tools his charities used, and in 2011 he launched Handbid at his own fundraising event. 
The goal was to improve the guest experience, reduce administration and increase revenue.  Handbid accomplished all of those goals, effectively doubling revenue in its debut. Nine years later, Handbid's suite of tools has delighted over a half-million guests, generated millions of bids, and helped thousands of charities raise well over $100 million.