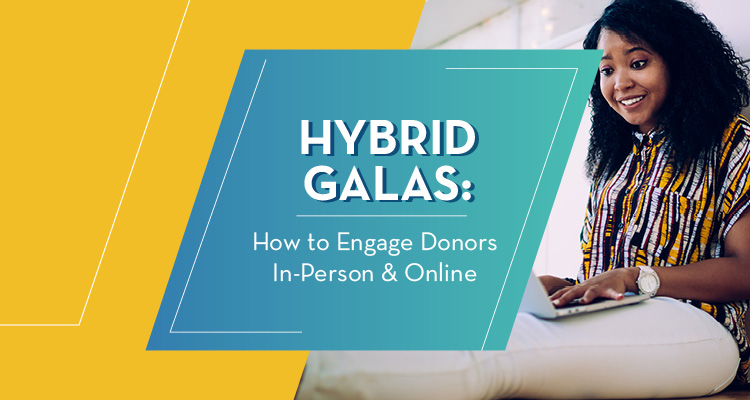 If your nonprofit is ready to boost revenue and drive engagement, a gala is the right event for you.
Galas are exciting formal events that bring your supporters together for a great cause. However, with innovations in technology, galas don't have to be held solely in-person. Hybrid galas have increased in popularity and offer plenty of benefits for nonprofits, from the ability to connect with in-person and remote audiences to offering supporters increased flexibility and convenience.
Plus, by expanding your audience to supporters from all over, your organization can maximize fundraising success and attract net new donors. It's a win-win for your cause and your supporters.
With the right hybrid strategies, you can connect with dual audiences (your in-person and remote guests) and raise more:
While planning a hybrid event requires more considerations than an in-person or virtual event, you'll reap the rewards of offering your donors choices, options, and tailored giving experiences. And hopefully this intentional planning will pay off in greater fundraising results. Let's dive in.
Understanding How Your Dual Experiences Fit Together
Before we explore best practices for engaging hybrid audiences, let's take a look at how to curate an event experience that will satisfy both in-person and virtual attendees.
Keep in mind that you're not hosting two separate events for your in-person and remote attendees, but rather curating two unique experiences. These experiences should still be designed with your "at-home" and in-person guests in mind. You may need to offer slightly different activities or create modifications so the in-person and virtual experiences are equally engaging.
When creating a dual experience, consider this roadmap: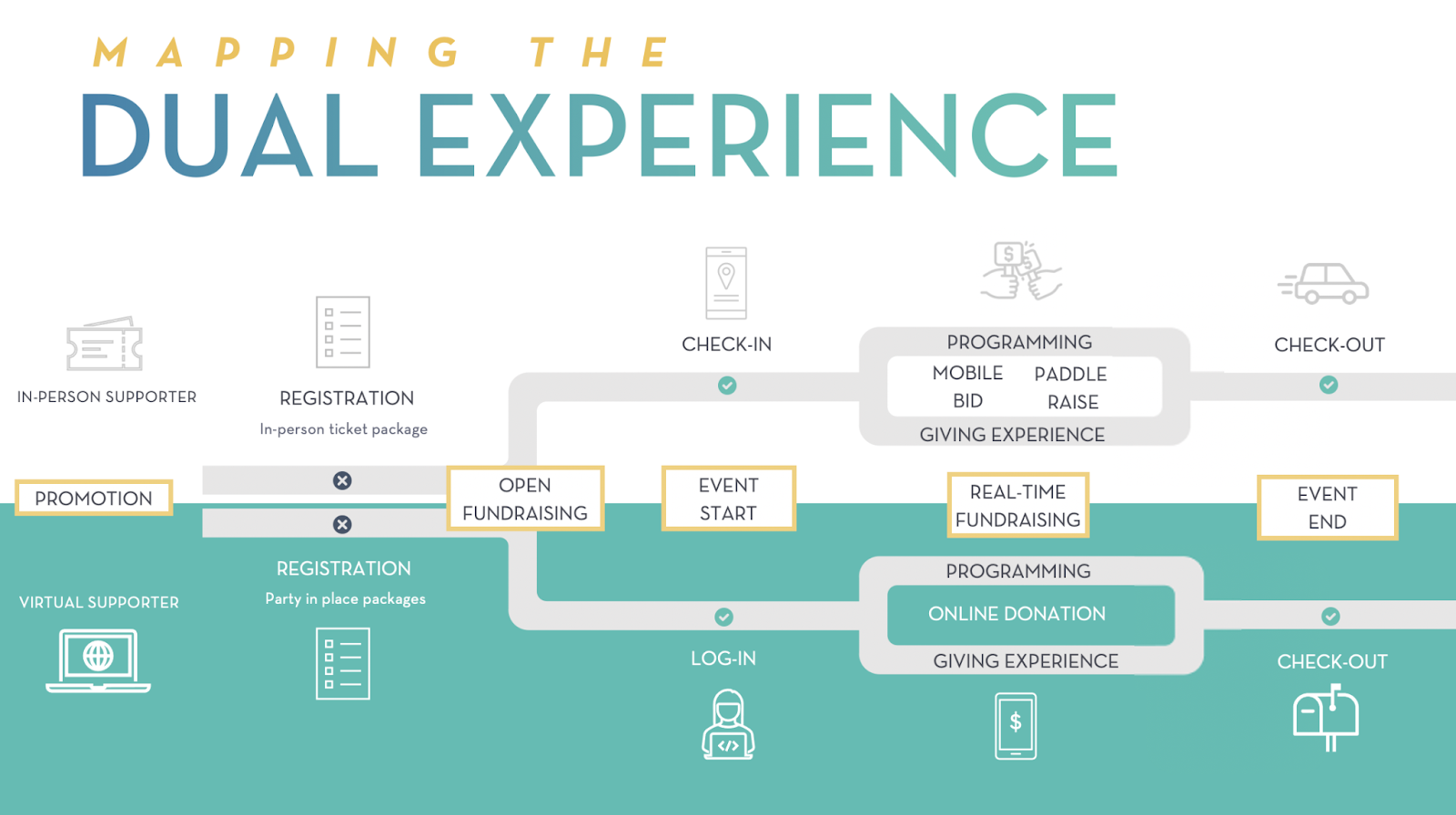 This map shows how the in-person and virtual experiences overlap in some places, but diverge in others. As you plan your hybrid event, map out a similar diagram for your event's experiences. Be sure to identify:
Areas of overlap: These will be the portions of your event that are enjoyed simultaneously by both audiences and will need to be live streamed. Speakers, ceremonies, and limited bidding periods are common examples for galas.
Areas of divergence: These will center around any in-person activities that can't translate well for virtual audiences or would drag on too long to keep their attention. For example, when your onsite audience is eating dinner, dancing, or participating in the full silent or live bidding portions of your event, you'll need to offer your virtual audiences a different experience.
Once you've mapped out your hybrid fundraising flow, you'll need to consider questions such as: How will those logistics work? What can you offer virtual attendees instead of a plain live stream of the ballroom?
Let's examine specific tips for maximizing engagement during both experiences below.
Driving More Engagement with Both Audiences: 6 Tips
As your hybrid event roadmap comes into focus, you should get a clearer idea of your in-person and virtual experiences. From there, it's time to plan ways to ensure an engaging, smooth experience for both audiences. Here are our top recommendations:

1. Understand your audiences.
Who are your in-person attendees? Who are your virtual attendees? What are their expectations of your event?
Understanding these essentials early gives you a major leg-up when planning specific engagement tactics. You'll be able to focus your offerings and activities to activate both audiences based on what appeals to them.
Some organizations segment their dual audiences based on average gift amounts or lifetime value. Others focus on generational grouping, or new/existing/lapsed donor segments. Once you know the segmentation for your audience, create a ticketing structure that attracts in-person and virtual attendees. For example, you could offer:
VIP experiences for a subset of in-person attendees
Standard in-person ticketing levels
Enhanced virtual experience packages with delivered goodies and perks
Free virtual admission for any supporters who want to join or a donation-only option
By following a tiered ticketing structure, you intentionally create personalized in-person and virtual audience experiences. This will help make your event appeal to wider donor segments, provide options for participation, and allow you to raise more funds through targeted experiences.

2. Leverage the right software.
To maximize your hybrid event's success, you'll need the right tools on your side. This is especially important when engaging virtual attendees. The OneCause guide to fundraising platforms recommends looking for a software solution with the following features:
All-in-one live stream event experience. Choosing a fundraising platform with a full suite of live streaming tools allows you to seamlessly curate and stream your content in real-time and increase attendee engagement with live chats and gamification tactics (fundraising thermometers, countdowns, and donor leaderboards).
Streamlined event ticketing. Make the event ticketing experience easy for your guests by going online. Your fundraising software should come with the ability to generate custom ticket options, group packages, and in-person and virtual ticket packages. As an added bonus, you should enable your attendees to manage their own tickets and make profile/"guest of" changes as needed.
Mobile bidding. If you incorporate an auction into your gala, make sure you have mobile bidding capabilities. Rather than managing paper bids, mobile bidding simplifies your event execution, makes bidding for guests easy anywhere, and helps generate more revenue. Plus, it makes the bidding process more accessible and exciting for supporters, allowing them to receive outbid notifications and other key alerts to drive more bids.
Real-time analytics. Assess your fundraising progress by receiving giving, donor engagement, and event results in real-time. This way, you can adjust your approach to maximize fundraising results during the event and identify opportunities to improve fundraising effectiveness after your event.
The right software can make a huge difference in your fundraising success, so do your due diligence to find a user-friendly and easy-to-use software for you and your guests.

3. Focus on targeted communication.
Hybrid events can be a bit more complex. Take the extra time upfront to clarify and clearly explain how your gala or ticketed event will work for both in-person and remote audiences. Here are a few top tips:
Map out a communication plan, covering what you'll send to your registrants and when.
Create dedicated email streams explaining how the event will work for each audience of registered attendees to receive separately.
Use targeted text messaging to provide updates to both audiences on the day of the event.
For your virtual audience, use chat features to keep them engaged, direct their attention, and share announcements.
If you set up a microsite and/or use a virtual event center to host the virtual experience, make sure to keep your branding clear and consistent. Kwala's guide to nonprofit branding explains that you should incorporate your organization's unique color palette, typography, logo, images, and tagline. This will help to build your visibility and allow new supporters to learn more about your organization's identity.

4. Keep your live streamed program concise.
For the portions of your hybrid event that both audiences will experience simultaneously (whether in-person or via live stream), keep it short. No one has an attention span or desire to sit through hours of programming anymore. Run too long and you run the risk of donors (both in-person and virtual) tuning out and turning off their participation!
Live streaming can be a powerful way to help virtual attendees feel involved in the action, but overdoing it can dull the experience. Use these strategies to optimize your live stream:
Keep the main live streamed segment of your program concise, around half an hour. 30 minutes is the recommended sweet spot. Use this time to focus on your most important speakers, mission moments, and donation appeals.
If your gala involves an auction, try splitting up the bidding periods and experiences to ensure a smooth process for everyone. Your in-person audience can browse item displays while your virtual audience has access to online bidding in the background. Then, live stream the live bidding on a selection of your top items for both audiences to join in.
Save the main attraction for last. Give your attendees a reason to stick around. This may mean having two live streamed portions of your event with other virtual activities in between for remote attendees. Your headlining entertainment or top auction items are natural grand finales.
The main idea is to stay aware of the experiences that you're offering through live streamed programming. Your onsite audience will inherently feel more engaged, but your virtual guests need more than just a video feed.

5. Make sure both audiences have participation opportunities.
Building on the previous tip, you'll need to keep remote attendees engaged with your mission from start to finish. The following content can help keep energy levels high and connect supporers with the purpose behind your event:
Pre-recorded videos of your leaders, volunteers, ambassadors, and constituents that highlight your organization's accomplishments, goals for the future, and fundraising goal for this hybrid event.
Virtual "rooms" for mingling to foster a strong feeling of community among remote guests.
A live chat for guests to engage with one another and with your organization.
Look back to the hybrid event roadmap we outlined earlier. During the periods of divergence, when you're not live streaming the onsite activities, determine exactly what you'll offer virtual guests instead.

6. Drive real-time competition and social media engagement.
Finally, use gamification tactics and social media alongside your hybrid event to increase engagement. This could mean:
Launching a pre-event peer-to-peer fundraising campaign. Offer prizes and recognition to your top fundraisers during your event. This will help expand your audience and build stronger emotional connections with supporters.
Holding incentive contests. During your event, challenge supporters to place the largest bids or submit the largest donation to see their name on the leaderboard. You could also create a social media contest that encourages supporters to post about your event and receive the most amount of likes or comments to win.
Including polls, challenges, and matching gifts. Quick feedback polls, fundraising appeal challenges, and matching gifts windows from your partners or sponsors add an extra level of excitement and engagement.
The pre-event and real-time engagement that competition and gamification produce is invaluable, especially for your virtual attendees to keep the momentum flowing. If you notice lulls in giving or bidding, adjust your approach and add in more gamification and engagement tactics.
With the rise in hybrid fundraising, your organization has a prime opportunity to expand its donor base and form stronger relationships with its supporters. However, planning a hybrid gala takes time and effort, so make sure to work closely with your team and invest in the right technology to streamline your event management. A well-designed hybrid gala can be exactly what your organization needs to meet and exceed its fundraising goals.
Author: Sarah Sebastian
Sarah Sebastian is the Director of Corporate Communications at OneCause. She's a marketer and brand geek at heart with eight years of experience in the nonprofit tech space. Outside of work, Sarah can be found reading, hiking, kayaking, volunteering for Florida Access Network, or getting lost in the woods while photographing birds.