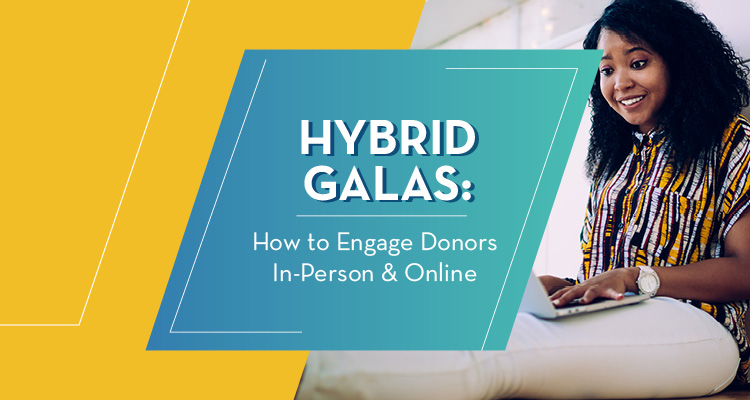 If the pandemic's challenges have taught us anything, it's that passionate nonprofit supporters can and will stay tuned into your mission if you embrace changing needs and trends.
Virtual fundraising and engagement has been a new undertaking for many nonprofits, and the transition has been relatively (even surprisingly) smooth for organizations of all shapes and sizes. With the right tools, strategies, and engagement tactics, we saw so many nonprofits reach, and in some cases, exceed their goals in 2020, and even host some engaging events along the way.
Looking ahead to a return to normalcy, virtual lessons learned should not be forgotten. If you're planning a year-end gala or ticketed event in 2021, you may want to consider going hybrid.
According to The Giving Experience Study recently released by our team at OneCause, 71% of today's donors say they are or will be ready to return to in-person events in 2021. That's great news! But what about the close to 30% of donors who are still hesitant? How do you reach them?
The answer—hybrid fundraising.
A hybrid event gives you the best of both worlds—classic in-person connection alongside simultaneous virtual engagement. This type of event opens up flexibility and convenience for all segments of your supporter base through:
Direct, in-person engagement for a smaller audience
Virtual engagement with a broader online base
Increased reach to other geographic locations
Flexibility to meet both audiences where they are comfortable
The biggest challenge when facilitating two different event experiences is encouraging engagement from both in-person and virtual audiences from start to finish. It's definitely doable with plenty of upfront preparation and a good engagement strategy.
At OneCause, we've already helped organizations adapt their plans for hybrid formats, so we wanted to share a few tips. In this crash course, we'll walk through how to think about hybrid experiences and offer our top tips for driving engagement.
As we quickly approach the year-end fundraising and gala season, exploring your hybrid options is definitely a worthwhile exercise. This trend is likely to stick around post-pandemic as nonprofits continue to incorporate virtual elements into their fundraising.
Again data from our recent Giving Experience Study supports the need to keep engaging donors virtually, because well, they like it. More than three-fourths of donors agree that virtual events make it easier to donate and that the convenience makes up for any downsides. 86 percent said virtual events allowed them to stay connected to the cause.
So, let's dive in.
Understanding How Your Dual Experiences Fit Together
Here's our first piece of advice when planning a hybrid event: Remember that you're not hosting two separate events but rather curating two different experiences.
Both of your hybrid event experiences need attention to drive engagement and results. It's important to understand the bigger picture of how you think about creating a dual experience. Here's how we envision it: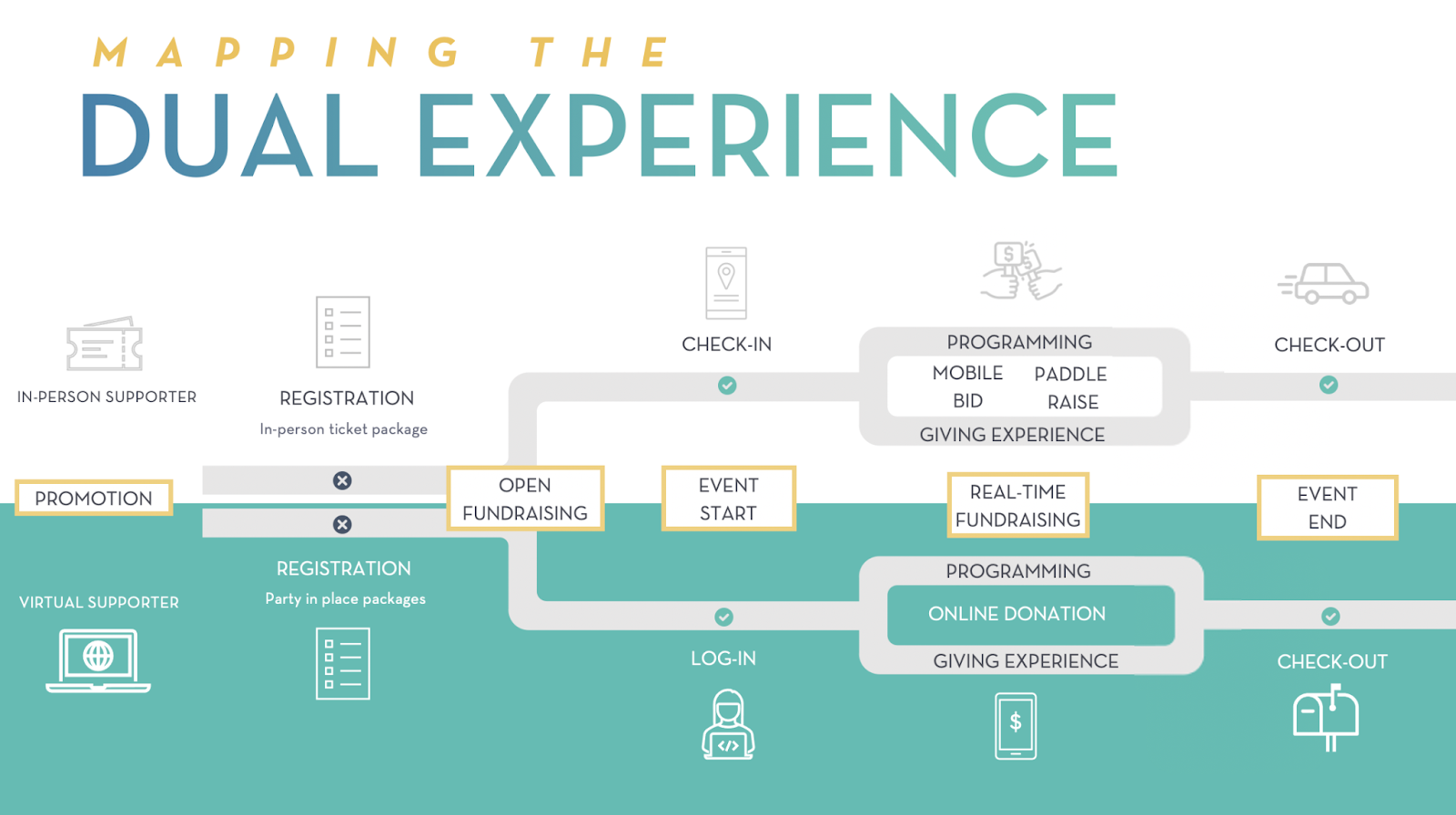 This event roadmap shows how the in-person and virtual experiences overlap in some places but diverge in others. As you plan your hybrid event, map out a similar diagram for your event's experiences. Be sure to identify the areas of overlap and divergence:
Areas of overlap: These will be the portions of your event that are enjoyed simultaneously by both audiences and will need to be livestreamed. Speakers, ceremonies, and limited bidding periods are common examples for galas.
Areas of divergence: These will center around any in-person activities that can't translate well for virtual audiences or would drag on too long to keep their attention. For example, when your onsite audience is eating dinner, dancing, or participating in the full silent or live bidding portions of your event, you'll need to offer your virtual audiences a different experience.
Once you've mapped out your hybrid fundraising flow, dive deeper into these specific spots. How will those logistics work? What can you offer virtual attendees instead of a plain livestream of the ballroom?
We'll dive into specific tips for maximizing engagement during both experiences below. For a complete crash course on hybrid events, check out the OneCase hybrid fundraising guide for FAQs and examples.
Driving More Engagement with Both Audiences: 6 Tips
As your hybrid event roadmap comes into focus, you should get a clearer idea of where your in-person and virtual experiences overlap and diverge. From there, it's time to plan ways to ensure an engaging, smooth experience for both audiences. Here are our top tips to keep in mind:
1. Start with a clear understanding of your audiences.
Who are your in-person attendees? Who are your virtual attendees? What are their expectations of your event?
Understanding these essentials early will give you a major leg-up when planning specific engagement tactics. You'll be able to focus your offerings and activities to activate both audiences based on what appeals to them.
For many organizations, they segment the dual audience based on average gift amounts or lifetime value. Once you know the segmentation for your audience, we recommend creating a tiered ticketing structure to attract in-person and virtual attendees:
VIP experiences for a subset of in-person attendees
Standard in-person ticketing levels
Enhanced virtual experience packages with delivered goodies and perks
Free virtual admission for any supporters who want to join or a Donation only option
By following a tiered ticketing structure, you can shape your in-person and virtual audience experience and then cater to them. This will help you provide more tailored experiences and raise more funds through targeted experiences.
2. Use the right technology.
Technology has almost certainly played a more important role for your nonprofit than ever before in the past year. For a hybrid event, you'll need the right tools on your side.
Event planning, ticketing, and livestreaming tools are a must. If you've already hosted virtual events, you probably have one or more dedicated solutions in your toolkit. If you haven't yet invested in new tools and have instead opted to use free platforms like Zoom or Facebook Live, now is a good time to explore your options. Technology designed specifically for nonprofit hybrid events is becoming a popular new choice for organizations. Since hybrid event formats are likely to stick around for the foreseeable future, this may be a smart long-term investment.
And if you do decide to adopt a new platform for your hybrid gala, be sure to look for features that can provide value for both audiences at your event. Mobile bidding tools and virtual event software can help simplify the bidding process for both in-person and virtual attendees while streamlining the actual management of the auction for your team.
3. Focus heavily on communication.
Hybrid events can be complex. This means you'll need to clearly explain how your gala or ticketed event will work for both in-person and remote audiences. Here are a few tips to consider:
Map out a communication plan in advance, covering what you'll send and when.
Create dedicated email streams explaining how the event will work for each audience of registered attendees to receive separately.
Use targeted text messaging to provide updates to both audiences on the day of the event.
For your virtual audience, use chat features to keep them engaged, direct their attention, and share announcements.
Depending on the scale of your event, it may also have its own distinct branding or theming. If you set up a microsite and/or use a virtual event center to host the virtual experience, make sure to keep your branding clear and consistent.
A number of different elements contribute to user experience for nonprofits, and while some should be covered by user-friendly software features, you'll also need to take steps to present a polished, seamless image to your attendees. Consistent branding and plenty of communication will make for strong UX.
4. Keep your livestreamed program concise.
For the portions of your hybrid event that both audiences will experience simultaneously (whether in-person or via livestream), be mindful of length. Livestreaming can be a powerful way to help virtual attendees feel involved in the action, but overdoing it can lead them to feel like they're just watching another tv show. Here are our top tips:
Keep the main livestreamed segment of your program fairly concise, around half an hour. Use this time to focus on your most important speakers, mission moments, and appeals.
If your gala involves an auction, try splitting up the bidding periods and experiences to ensure a smooth process for everyone. Your in-person audience can browse item displays while your virtual audience has access to online bidding in the background. Then, livestream the live bidding on a selection of your top items (check out the OneCause team's favorites here) for both audiences to join in.
Save the main attraction for last. Give your attendees a reason to stick around. This may mean having two livestreamed portions of your event with other virtual activities in between for remote attendees. Your headlining entertainment or top auction items are natural grand finales.
The main idea is to stay aware of the experiences that you're offering through livestreamed programming. Your onsite audience will inherently feel more engaged, but your virtual guests need more than just a video feed.
5. Make sure everyone has something to engage with.
Building on the previous tip, you'll need to keep remote attendees engaged with your mission from start to finish. Outlining and compiling these materials in advance will give you plenty of time to refine them leading up to the event.
Pre-recorded video of your leaders, volunteers, ambassadors, and constituents are all meaningful ways to engage virtual attendees. Virtual "rooms" for mingling are another way that many nonprofits create a similar feeling of community for their remote guests. We also recommend facilitating a live chat for guests to engage with one another and with your organization—just be sure to appoint a designated chat lead to manage the discussions and make supporter shout-outs.
Look back to the hybrid event roadmap you outlined earlier. During the periods of divergence, when you're not livestreaming the onsite activities, determine exactly what you'll offer virtual guests instead.
6. Drive real-time competition and social media engagement.
Finally, use gamification tactics and social media alongside your hybrid event to facilitate even more engagement. This could take several forms:
A pre-event peer-to-peer fundraising campaign. Offer prizes and recognition to your top fundraisers. This will help expand your audience and get attendees invested in seeing their loved one recognized.
Quick contests. During your event, see which audience can give the most individual donations or share the most of your nonprofit's social media posts.
Polls, fundraising challenges, and matching gifts. Quick polls asking for attendees' thoughts, fundraising appeal challenges, and matching gift windows from your partners or sponsors add an extra level of excitement and engagement.
Peer-to-Peer elements: Give your event a social fundraising or peer-to-peer element by encouraging fundraising in teams or Ambassador Fundraising.
Social media hashtags. Create a dedicated hashtag for your event and encourage all attendees to use it when posting. Monitor your social media feeds to see the engagement grow, and give special shout-outs or prizes to your favorite posts.
The pre-event and real-time engagement that competition and gamification produce is invaluable, especially if your virtual event experience will be open for anyone to join. Adding fun competitive fundraising and challenge opportunities drives engagement. It's also the perfect way to round out your dual, hybrid event experience.
---
Hybrid events like galas and auctions are likely to be a regular fixture of nonprofits' calendars in the coming years. By preparing now and understanding the unique necessities of these events—especially when it comes to driving engagement—you'll be in a strong position to engage more attendees than ever and keep raising more each year.
Author: Karrie Wozniak
Karrie has spent more than a decade bringing innovative technology and fundraising strategies to the nonprofit industry. As one of the first executives at OneCause, Karrie combines her 20 years of experience in marketing with her passion for helping nonprofits expand their reach, leading industry research, marketing strategy, and fundraising consulting initiatives. She is also an active speaker on donor and fundraising trends, and has been featured on Forbes.com, Philanthropy Journal, and Nonprofit Hub.