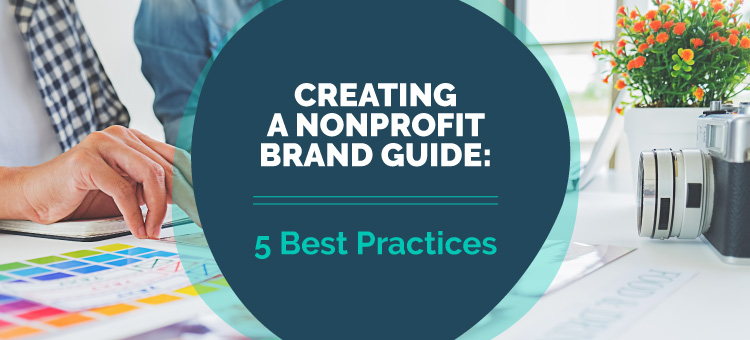 Your nonprofit's brand serves several important purposes for your organization. It helps you stand out from other organizations with similar missions, build trust with supporters, and communicate who you are and what you do. While for-profit brands use unique logos, colour schemes, imagery, and messaging to encourage people to purchase their products and services, nonprofits use these aspects of branding to inspire action to further their missions.
To ensure that your brand is used consistently and effectively across all of the marketing channels your organization uses, create a nonprofit brand guide. Also called a brand book or digital style guide, a brand guide is a document that tracks any and all important information about your organization's brand, from the fonts you use on your website to the reasons your nonprofit is unique.
As you start developing a nonprofit brand guide, keep the following best practices in mind:
Centre Your Mission Statement
Outline Messaging Standards
Focus on Visual Elements
Include Examples of Use Cases Across Marketing Channels
Design Your Brand Guide as a Living Document
Your organization's overarching goals and day-to-day work have a strong influence on your nonprofit branding strategy. Once you've created a brand guide, share it with your nonprofit board and executive staff members in addition to the marketing and design professionals you work with. This allows these leaders to provide insights into how best to represent the organization. Let's dive in!
1. Centre Your Mission Statement
Your nonprofit's mission statement spells out the reason your organization exists. It guides everything you do, including marketing. Therefore, the first item featured in your brand guide should be your mission statement. Include it on the first page so that your team can always refer back to it when creating content.
If your nonprofit has a vision statement, an established list of organizational values, or data points about your impact that frequently come up in your communications with supporters and stakeholders, consider including them in your brand guide as well. Having easy access to these pieces of information can help you tell the story of your nonprofit more effectively in each of your marketing materials.
2. Outline Messaging Standards
Once you've added all of the overarching information about your organization to your brand guide, you'll want to dive deeper into your messaging standards. These standards guide your team as they write copy for your nonprofit marketing materials.
Some aspects of messaging you'll want to outline in your brand guide include:
Word choice. What words does your organization like to use when referring to itself, and what words would you prefer to avoid? For example, do you "help" individuals in your community or "partner with" them?
Mechanics. What rules of spelling and grammar does your nonprofit adhere to? For instance, do you always include the Oxford comma or only use it in certain situations?
Tone. How do you want your audience to perceive your organization? Are you caring, passionate, optimistic, or would you use different adjectives?
As you develop this section of your brand guide, your nonprofit's leadership and board may have especially helpful insights. Reach out to them and ask how they envision the organization's image, then incorporate their feedback into your messaging standards.
3. Focus on Visual Elements
While messaging is a vital aspect of any brand, visuals are usually the first to come to mind when discussing branding. So, maintaining visual consistency is particularly important for your nonprofit's brand to be immediately recognizable.
In your nonprofit brand guide, include guidelines for the following aspects of visual branding:
Colour scheme. Make sure to include not only the names of your brand colours in the guide, but also the specific six-digit hex code associated with each shade. For instance, "light purple" could have the hex code #e5c7f2 or #d9c1e3. By distinguishing the hex code in your brand guide, you can enter it into any graphic design program you use and get the exact same colour every time.
Typography. Many brands use two different fonts in their marketing content: one for headings and one for body text. Consider also including information about the preferred size and weight of each font in your brand guide to ensure readability.
Logo. Create a logo for your nonprofit using your unique colour scheme and typography. Kwala's guide to nonprofit logos recommends keeping your logo simple and aligning it with your mission to ensure it's memorable for your audience. For example, the WWF has one of the most recognizable nonprofit logos because the design uses a basic black and white colour scheme and depicts a panda, one of the endangered animals the organization works to protect.
Some nonprofits also include standards for images that can be used in their marketing content. Whether you flesh this point out in detail or just make a quick note in your brand guide, always make sure that any photos or graphics align with your organization's mission and tone.
4. Include Examples of Use Cases Across Marketing Channels
Although your nonprofit brand guide helps standardize key messaging and visual brand elements, there will be some natural variation in how your brand is used across marketing channels.
For example, word choice and mechanical aspects of your writing might differ slightly between short-form content like social media captions and longer blocks of text such as email copy. Or your brand colours might show up differently in print media than in digital content.
To help solve this problem, include examples and notes in your brand guide about how elements of your brand should be used in each of these popular communication channels:
Social media
Digital ads
Direct mail
The larger your organization, the more team members likely work on these different channels, in addition to any design professionals you work with outside your nonprofit. So, it's important to have specific examples of how to maintain consistency across multiple channels, even though each communication method has its own unique requirements.
5. Design Your Brand Guide as a Living Document
As your nonprofit grows and changes, your brand may also need to evolve. According to Loop, the best nonprofit branded content draws audiences in and compels them to take action. However, the way in which your brand does this might need to change with:
The demographic makeup of your audience
Your organization's overarching goals
The social climate you're operating in
Because of these potential changes, it's essential to design your brand guide as a living document. If you can quickly and easily revise the guide, you'll be able to keep up with any changes in your messaging, visual design, and use of marketing channels.
Wrapping Up: Nonprofit Brand Guide Examples
If you want to see the tips listed in this article in practice, here are three examples of strong nonprofit brand guides:
You can look to these examples for inspiration as you adapt the tips above to your organization's individual needs. Also, don't hesitate to reach out to a creative design agency to answer any questions that come up or take your brand guide to the next level.