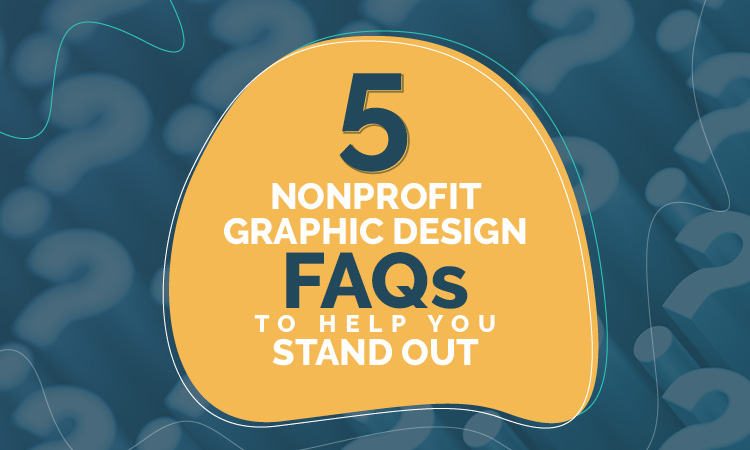 In an increasingly visual world, first impressions are everything. People see hundreds, if not thousands, of advertisements, emails, and websites a day. We expect to receive and understand information as quickly as possible, then move on to the next thing. So how can you make your nonprofit stand out?
The answer is simple: visuals!
Graphic design should be an integral part of your marketing efforts. Strong visual elements help increase brand awareness and ultimately grow your donor base.
Although your organization's leaders, marketers, or fundraisers could perform graphic design duties themselves, you'll see a higher return on investment (ROI) if you hire a professional designer who's trained in the field. Graphic designers handle all aspects of your visual brand, so you can focus on what matters most: powering social good.
In this guide, we'll answer the following questions about nonprofit graphic design:
With this information at your disposal, you'll be ready to hire a graphic designer and reap the benefits of compelling visuals. Let's get started!


How do nonprofits use graphic design?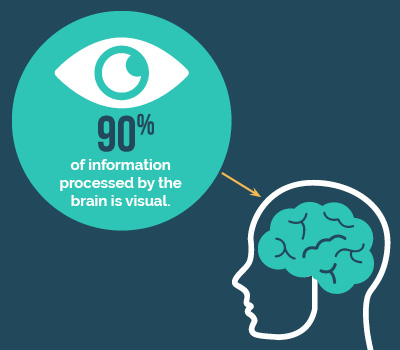 According to a study by T-sciences, we are visual beings. In fact, 90% of information processed by the brain is visual. Modern audiences require attention-grabbing visual content that quickly guides them to action.
Graphic design extends far beyond grabbing attention. It's a form of communication that allows nonprofits to tell their story and effectively boost engagement. Visuals can range from a simple brochure that introduces your organization to a complex web page that facilitates donations.
By implementing graphic design into your daily operations and fundraising campaigns, you will be able to create positive, long-lasting impressions. Here's how your nonprofit can start using graphic design to its advantage:
Branding: Branding helps your nonprofit stand out against the competition. Every nonprofit should have a logo that is easily identifiable in addition to letterheads, business cards, signage, and brochures. With the right design strategy, your brand will automatically communicate who you are and what you stand for.
Print materials: Print isn't dead. Rather, it's a powerful marketing tool for nonprofits that can have high impact when used smartly. Many graphic designers specialize in making marketing and fundraising materials like compelling flyers, billboards, stickers, stationery sets, t-shirts, newsletters, and other products.
Web and mobile design: Graphic design should be an essential part of your virtual fundraising toolkit. Nonprofits with a visually appealing and easy-to-navigate website are more likely to see increased traffic and conversions. Designers can format pages, layouts, graphics, and site navigation alongside developers to ensure a positive user experience.
Whether it's making a website more user-friendly or creating compelling fundraising materials, graphic design is essential to the success of nonprofits. Now that you understand how nonprofits use graphic design to power their mission, let's consider the benefits.


Why is graphic design important for nonprofits?
Not only does graphic design make your information look good, but it delivers your message in the most impactful way possible. Visuals evoke emotions which, in turn, promote action.
If your audience isn't "hooked" in the first few seconds, they are far less likely to take interest in your cause and donate. However, with the right visuals, you can create meaningful relationships and compel people to participate in social change.
Imagine your nonprofit builds schools for underprivileged children and you're in the process of drafting a solicitation letter to secure much-needed donations. Instead of cramming a bunch of words onto the page, consider adding graphics to show your impact rather than saying it. Include images of the children you're helping, data visualizations of the statistics, and a blueprint graphic of the proposed schools. These small implementations will make all the difference.
For a nonprofit to operate successfully, it needs to have a design strategy that supports and amplifies its ability to communicate with the public. Graphic design can benefit your organization in the following areas:

Raise brand recognition. If you want to take your nonprofit's branding strategy to the next level, start with graphic design. People are more likely to recognize and remember your organization when you have consistent visuals and a strong logo that is repeated throughout your solicitations.
Maintain professionalism. Investing in professional graphic design sends a message that your nonprofit should be taken seriously. You don't want to be known as the organization with chaotic and sloppy advertisements. Attractive visuals that effectively communicate ideas will result in visibility and credibility.
Differentiate yourself. Graphic designers are trained to research your competitors' brands and make sure yours stands out. For instance, if your biggest competitor has a bland color scheme, your graphic designer might opt for bright colors to give you the leg up.
Save time and money. Hiring a professional graphic designer will save you time and money in the long run. Poorly designed visuals will deprive you of vital resources when you have to fix or redo them. Well-executed graphics designs are a must.
If your nonprofit doesn't already have a graphic designer, you're missing out. We'll walk you through some best practices, so you can experience all the benefits that graphic design has to offer.


What are some best practices for graphic design?
Nonprofit graphic design impacts how people view and engage with your mission. We encounter strong graphic designs every day through billboards, websites, and social media. But when it comes to implementing your own graphic design strategy, many nonprofits are unsure of how to get started.
It's important to keep in mind that graphic design is straightforward if you're willing to put in the work. Whether you're hiring a graphic designer or doing it yourself, we'll provide you with the information to get up and running.
Here are some best practices that will take your graphic design strategy to the next level.
Know your audience.
Doing research to establish your audience is an important process for nonprofits, but even more important for graphic design.
When you get to know your supporters beyond their name and place of residence, you can make informed decisions about their preferences and appeal to them with highly-specific designs. Finding your target audience allows you to speak directly to your supporters. In turn, they will feel more connected to your organization and more likely to take action.
Use the following information to  better understand your volunteers, donors, and supporters:
Demographics: Demographic information like age, gender, marital status, income level, and personality type can help your nonprofit make important design decisions. Look for common characteristics and appeal to the preferences of those groups. For instance, if your supporters are mostly senior citizens, you should use a muted color palette and a larger font type. If the donor base skews younger, you could make your designs optimized for web and mobile platforms.
Engagement history: Consider how your audience has supported your nonprofit over time, including past donations, volunteer history, and event attendance. This information helps determine which engagement opportunities would best appeal to them. If most supporters donate on your website and attend virtual events, push digital graphics that promote those opportunities.
Employment: With information about a supporter's employer name, job title, and matching gifts information, you can capitalize on fundraising opportunities. If most donors are in advanced positions at their workplace, you can use graphics to encourage larger gifts. If they are retired or unemployed, use graphics and general information to draw them into the top of the marketing funnel.
With effective audience research, your organization will be able to develop designs that resonate with supporters and encourage them to continue supporting your cause.
But before you can use data to concentrate and narrow down your designs, you must first ensure it's clean, accurate, and up-to-date. re: Charity's guide to data hygiene can help you navigate information about your audience so that you can use it to your advantage.
Build a visual brand with the whole team.
It's important to build a visual brand with your entire team. Not only does collaboration help you work through creative roadblocks, but it also brings your team closer together. When your staff members actively take part in building your brand, they will proudly carry it forward.
However, good design is carefully crafted and requires some background knowledge in graphic design practices. Start by understanding and deciding on the basic elements of design, which include:
Color palette: Choosing a color scheme that corresponds with your nonprofit's brand is crucial. Color is a powerful tool that carries subliminal meaning. Organizations associated with the environmental movement often opt for colors that naturally occur in the world around us, such as green, yellow, orange, and blue. When people come across a brand with this color scheme, they automatically relate the nonprofit to health, freshness, healing, and nature.
Typography: Typography consists of the font you choose, your use of capitalization, and the hierarchy of text headings. It helps to promote legibility and communicate your message effectively. A serif font, usually used in newspapers and books, conveys a sense of trustworthiness. Sans serif, on the other hand, is described as modern and sleek.
Voice: A strong voice is an expression of your nonprofit's personality. An informal voice can come across as approachable, while formal language can make you seem like a thought leader. Think about the differing tones in "check out this guide" versus "follow this guide to learn how to grow your nonprofit." Determine which language choice works best for your organization.
All of these design elements come together to create an overall visual identity for your nonprofit. You can communicate these design guidelines to your team or pass them along to a professional graphic designer.
Remain consistent.
One of the most essential functions of graphic design is that people can recognize and connect an image back to your organization. For that reason, it's important to stay consistent.
Consistency promotes a sense of familiarity between you and your supporters. It also provides you with a formula to streamline your entire design process, ultimately saving you time down the road.
Here's how you can maintain consistency in your designs:
Introduce strong visual hierarchy. Visual hierarchy influences the order in which your audience views your content. Place the most important textual information in big and bold text. Visual hierarchy can be achieved using color and contrast. Repeat this process across your designs.
Keep designs consistent between platforms. Chances are your graphic designs will be used for print, web, and mobile platforms. Make sure the quality remains uniform. For instance, if you print an image onto a banner, double check that it's not pixelated or blurry.
Re-use elements for different situations. Repeat colors, fonts, shapes, and other objects to unite your graphic designs under one cohesive brand. Color-coding is an easy way to implement this strategy. If your color palette consists of cool tones, you could use green for fundraising campaigns and blue for event marketing. This will differentiate your various campaigns and programs from each other so that they'll be recognizable to constituents.
Keep in mind that consistency doesn't have to be boring. You can still get creative and implement diversity across your designs. But the basic idea, message, and feeling should always be the same.
Consistent visuals create loyalty and trust with your supporters. People will respond well to the same design elements that prompted them to donate or volunteer in the first place. Plus, having a design formula makes the entire process more efficient. With a detailed nonprofit style guide, you can create and publish compelling graphic designs in no time.
Ensure online accessibility.
Accessibility is an important step in perfecting your website's design. Accessible designs are available to everyone, regardless of their abilities. This includes users with permanent or temporary visual, auditory, motor, or cognitive disabilities.
Legislation has been passed to enforce accessible graphic design. For example, Section 508 of the Rehabilitation Act "requires federal agencies to develop, procure, maintain and use information and communications technology (ICT) that is accessible to people with disabilities."
While nonprofits don't have to abide by this law, it is still in their best interest to promote accessibility. Prove that your organization values inclusion by incorporating accessibility into your designs with:
Contrast: High contrast makes it easier for the visually impaired to read and view your content. Black text on a white background provides the highest contrast ratio.
Closed captions: Including closed captions or a transcript on videos helps the hard of hearing get important information.
Alternative text: Alt text is read aloud to users by screen reader software and describes the purpose of an image.
Making your designs accessible proves to the public that your organization is accommodating to the needs of all its supporters. In turn, your supporter and donor base will grow.
Use the right graphic design tools.
Chances are your nonprofit uses an array of tools and software in its day-to-day operations. From prospect research to donation software, technology keeps your nonprofit running smoothly. The same goes for graphic design software.
Graphic design tools help your nonprofit create powerful images, marketing campaigns, and brand awareness. Here are some of the best graphic design tools on the market:
If you don't have the time to find the right graphic design tools for your nonprofit, a graphic designer can facilitate the entire process.


What can a graphic designer do that my nonprofit can't?
From fundraising campaigns to grant applications, you have enough on your plate. Don't waste your precious time resizing images or training your team in software like Photoshop and Illustrator. That is costly, time consuming, and will likely still result in less-than-perfect designs.
Professional graphic designers will handle the entire design process so that you can focus on more pressing matters. Since they are already familiar with the tools and software used in design, they can complete tasks well and in a timely manner. They will also ensure your designs are consistent, accessible, and of high quality.
Remember: Graphic designers are experts in the field! With their breadth of knowledge in design concepts, they can bring your vision and mission to life.
All you have to do is provide a timeline, budget, and description of what you want. The graphic designer will take care of the rest, including overseeing digital and print projects from conception to delivery.

How do I choose the right graphic designer?
With so many graphic designers and graphic design agencies to choose from, it can be difficult to find the best match for your nonprofit. Not every designer understands the unique needs of your organization.
Thankfully, there are services that simplify the process, so you can focus on what's important: powering social good.
Whether you have a specific vision or need inspiration, subscription services like Kwala will match you with the best graphic designers in the industry. These graphic designers are easy to work with and committed to the success of your mission. They are also well versed in web and print designs, including logos, business cards, flyers, infographics, brand style guides, and more!
---
If a picture is worth a thousand words, then graphic design is no different. From creating brand identity to producing marketing materials, graphic designers are responsible for visually representing your nonprofit and creating a lasting connection with your supporters.
Check out these resources to learn more about graphic design and marketing best practices: