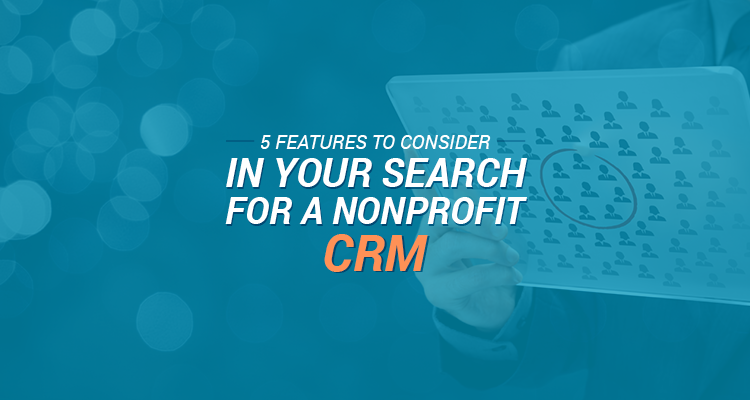 Modern nonprofit organizations constantly rely on technology to process donations, host virtual events, and connect with supporters. Across a multitude of online platforms, you can share information about your work and attract new supporters to your mission.
With every new supporter, gift, and newsletter subscription, there's a new data point to consider as you plan fundraising campaigns. 
Ultimately, there's a lot of data to keep track of—far more than a growing nonprofit can handle in a traditional spreadsheet. If your staff is trying to process this information manually, you run the risk of a valuable lead slipping through the cracks. And without a broad overview of all your fundraising efforts, it's challenging to set fundraising goals or conduct outreach.
That's why strong constituent relationship practices and tools are so important. Constituent relationship management (CRM) software is the nonprofit equivalent of a for-profit company's customer relationship management system. Instead of tracking products purchased or sales leads, your nonprofit database can track donations, fundraising asks, event attendance, and volunteer data, as well as personal information.
When choosing a CRM for your nonprofit, look for features that will allow your team to cultivate relationships efficiently and effectively. At SalsaLabs, we help nonprofits build relationships with supporters and fundraise more effectively with our donor database and engagement software. We understand the power of technology in helping nonprofits pursue their missions, so we've compiled a guide to help you do just that. When searching for the right CRM, look out for key features such as:
Rich donor profiles

Marketing capabilities

Comprehensive reporting and dashboards

Artificial intelligence, machine learning, and predictive analytics

Software integrations capabilities
Generally, any major software implementation process will start with a project plan, a list of requirements, and budget. These features will be helpful to keep in mind as you prepare those key documents. Let's dive in.
1. Rich donor profiles.
Considering the primary goal of using a CRM is to cultivate relationships with supporters, donor profiles are one of the most critical features to keep in mind.
The software should be user-friendly and intuitive to update and edit information. Data management is an ongoing process, and you'll want a platform that makes maintenance and data hygiene as simple as possible.
Any CRM platform should enable you to track contact details and demographic information. At the bare minimum, each donor profile should be also able to include the supporter's relationship to your organization and any past contributions they have made. Ideally, you'll want the ability to track supporter donations and other interactions that occur both online and offline for a more comprehensive view of each supporter. 
In addition to standard pre-defined fields, you may want to look for a donor database that allows you to create custom fields. These fields allow you to track data that is unique to your organization. For example, if you run an animal rescue group, you may want to keep tabs on whether each supporter is a dog or cat person.
With all this data at your fingertips, you'll be well on your way to putting it to work and using concrete information to connect more deeply with donors.
2. Marketing capabilities
One way to use the data stored in each donor profile is through your marketing and communications. Some CRM solutions will have marketing features built-in, while others will need to be integrated with a third-party marketing platform. 
Make sure your CRM can seamlessly connect to a marketing platform with capabilities such as: 
Direct mail.

Direct mail is a traditional but effective way to send fundraising appeals. Your CRM may be able to streamline the entire direct mail process by saving a customized fundraising letter template, automatically populating the donor's name in the letter, and auto-generating mail labels to send each message to its recipient.

Email.

Whether you're sharing recent updates or making an appeal for donations,

email

is a common way to communicate with supporters. If your CRM has email marketing capabilities, it will be easier to send personalized messages that include details like the donor's name, most recent donation, or most recent event they attended.
You can even send targeted direct mail and emails based on characteristics in donor profiles in a process known as donor segmentation. By segmenting donors, you can craft messages that are tailored to each group—for example, you might embrace a more casual tone with your college-age supporters while staying more formal for longtime major donors. 
A well-integrated CRM and marketing automation platform make it easy to leverage the data you have available and automate the personalization and segmentation aspects of the marketing process.
3. Comprehensive reporting and dashboards.
The data in your CRM is a valuable resource used to understand your supporter base and assess your nonprofit's performance. With easy-to-understand reporting tools, your staff will be able to learn from past campaigns and make well-informed decisions about the future.
Look for a CRM that offers simple reporting dashboards as well as informative visualizations. It will likely have a few standard report templates with common metrics, but you'll also want the option to develop your own custom reports and dashboards to track the analytics that matter most to your organization.
Pulled from our comprehensive list of nonprofit KPIs on the Salsa blog, here are a few of the most important metrics you'll want to keep track of:
Gifts secured.

The simplest metric on the list, this number is the sum of all the gifts your nonprofit received over a set amount of time (usually a year).

Donor retention rate.

This metric tracks what percentage of your donors who have given more than once. Since donor acquisition is so expensive, a high donor retention rate is key to a sustainable fundraising strategy.

Fundraising return on investment (ROI).

This is a calculation of how much money you raised for each dollar you spent on fundraising initiatives. Costs like fundraising events, direct mail, and software licenses (including your CRM!) should feed into this metric.

Percentage of gifts matched.

This refers to the percentage of gifts made that received an eligible

matching contribution

from the donor's employer.

Conversion rate.

This is a measure of how many donors took action when prompted by your organization. While the other metrics on this list can be applied to your overall fundraising efforts,

conversion rate

is best used to analyze the performance of a specific message or campaign.
Careful analysis of this data can reveal whether your organization needs to bolster its stewardship initiatives, double down on matching gifts, write more compelling fundraising appeals, or make any number of other improvements. Look for a CRM that makes this analysis as simple and informative as possible.
3. Artificial Intelligence, machine learning, and predictive analytics
While your team will be able to glean many valuable insights from analyzing this information on its own, you can learn more about donors and even predict their behavior with the help of artificial intelligence and machine learning.
When you hear the term machine learning, you may think of science fiction movies or the complex algorithms that drive smart assistants like Siri and Alexa. However, the power of machine learning can be utilized by the nonprofit world as well!
Artificial intelligence and machine learning can be used to anticipate how a supporter is most likely to interact with your organization, based on the analysis of historical activity data and supporter attributes. 
These types of predictive analytics can be used to:
Identify potential mid-level and major gift prospects.

Dynamically display ask amounts based on a supporter's past contributions and estimated capacity to give.
Because machine learning algorithms continuously improve over time, these insights will continue to become even more accurate.
According to DonorSearch's guide to machine learning for nonprofits, 89% of nonprofit professionals think machine learning would improve their fundraising, yet only 15% are actually using the technology. While this feature may not be commonplace throughout the CRM market, it's a powerful feature worth looking out for. 
4. Software integrations capabilities
Before implementing CRM software, it's wise to double-check whether the new system is compatible with any other software you are already using. 
When your tech stack is well-integrated, donor data will be able to flow freely back and forth between your CRM and your other fundraising tools. This reduces data entry errors and saves valuable time. Plus, when information isn't siloed, you'll be able to draw more comprehensive insights across every initiative.
For example, look for a CRM that can easily integrate with your:
Online donation software.

When an existing supporter or new donor makes a gift through your online donation page, that information should automatically be updated in your database.

Event registration software.

If your event registration software connects with your CRM, you'll be able to see a prospect's event history when making a fundraising ask, or target past event attendees when promoting your next event.

Matching gifts software.

Automated matching gift software can look at a donor's profile when an online donation is made. If the donor works for a company that offers matching gifts, they'll be prompted to submit a request.
Think of your fundraising CRM as the information hub of your nonprofit's tech strategy. While it may not (and probably cannot) be the only tool in your software arsenal, you'll have more success overall if you choose tools that work seamlessly together. Prepare a list of all the software solutions you currently rely on as well as any you might be adding to your repertoire soon, then compare your list to the list of existing integration partners for each CRM.
---
The right nonprofit CRM can help your organization cultivate strong relationships with supporters through the power of data. With features that allow your team to work more efficiently, analyze your performance, and craft more effective campaigns, you'll be well-equipped to pursue your mission. While there are many donor databases available, looking for these features will help you find the best fit for your organization. Good luck!
This guest blog post was contributed by Gerard Tonti at SalsaLabs.
Gerard Tonti is the Senior Creative Developer at Salsa Labs, the premier fundraising software company for growth-focused nonprofits. Gerard's marketing focus on content creation, conversion optimization and modern marketing technology helps him coach nonprofit development teams on digital fundraising best practices.