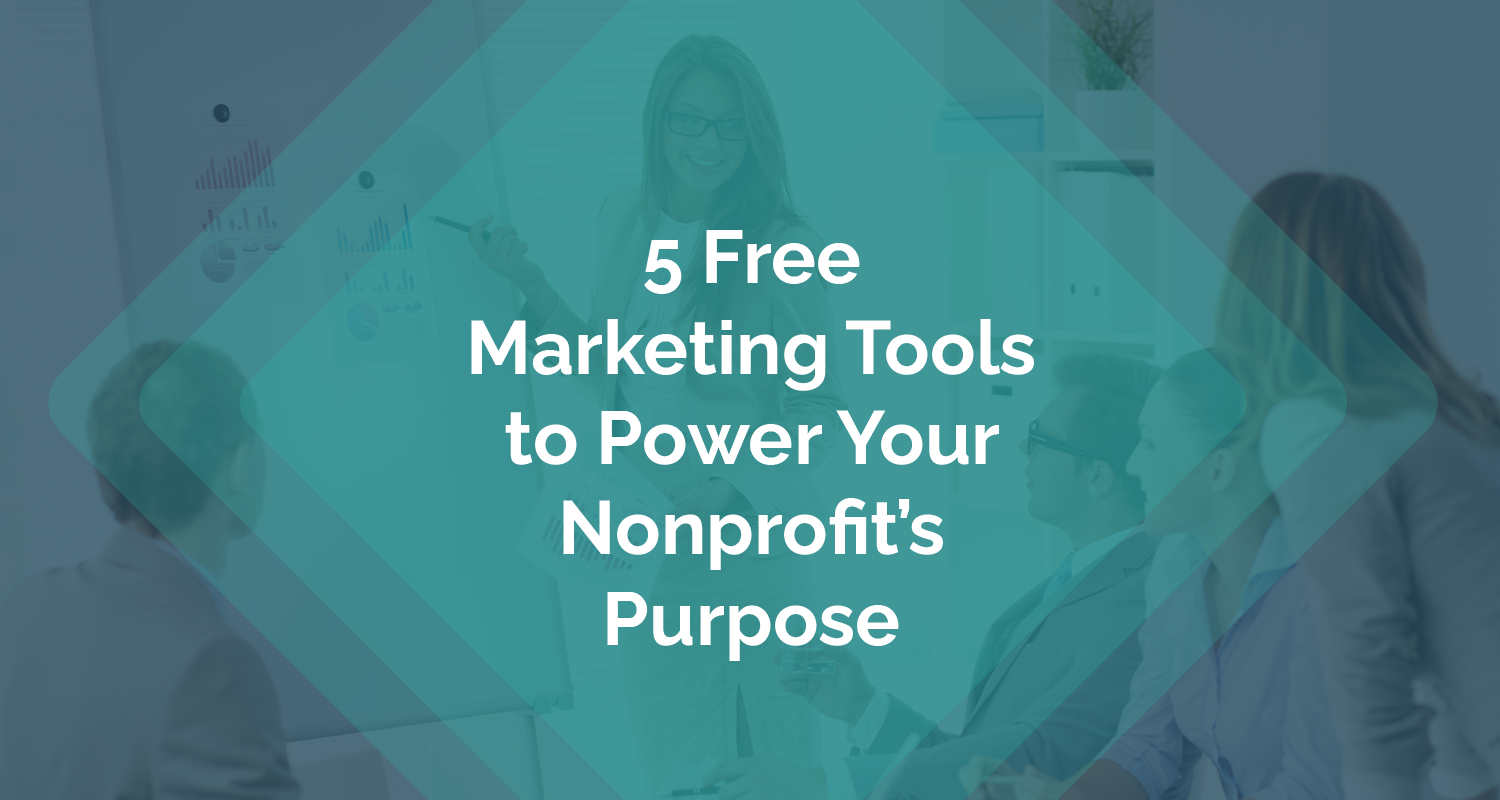 Between fundraising, organizing donor data, and managing volunteers, nonprofits need numerous digital tools to power their work.
In the current age of marketing, digital tools are a must-have. Because nonprofits depend on charitable support, they need the visibility provided by effective marketing to spread their mission and raise funds.
Nonprofit budgets are often tight, and a lack of resources can be detrimental to your marketing efforts. That's where this guide comes in: we'll explore the top free marketing tools your organization can use to advertise its mission:
Remember, effective budgeting is about allocating your resources to make the most of your marketing dollars without sacrificing funding for your programs and initiatives. That's why free platforms are so important. Saving money on internal operations allows your nonprofit to spend revenue on your mission.

Best Free Marketing Tool for Online Presence | Google Ads
Google Ads are advertisements that show up at the top of the search engine results page (SERP) when a website owner pays to bid on certain keywords. For example, if an animal shelter bids on the keyword "dog adoptions," their website may show up as the first result on the SERP when someone searches for this term.
The good news: While normally this is a paid service, Google offers an Ad Grant to eligible nonprofits. The grant provides $10,000 worth of ad credit each month that organizations can use to place bids on relevant keywords, allowing nonprofits to use Google Ads without spending their own money. That way, your nonprofit has a shot at showing up first on Google when someone searches a term related to your cause!
Search engine marketing (SEM) is a marketing strategy that is useful for driving organic traffic from new supporters to your website. Unlike email blasts or social media posts where you need to rely on supporters to subscribe to or follow you, Google Ads will show your content to potential donors who have never interacted with your nonprofit before.
Eligibility Requirements
To get started with Google Ads, you first need to evaluate if your nonprofit is eligible for the Google Ad Grant.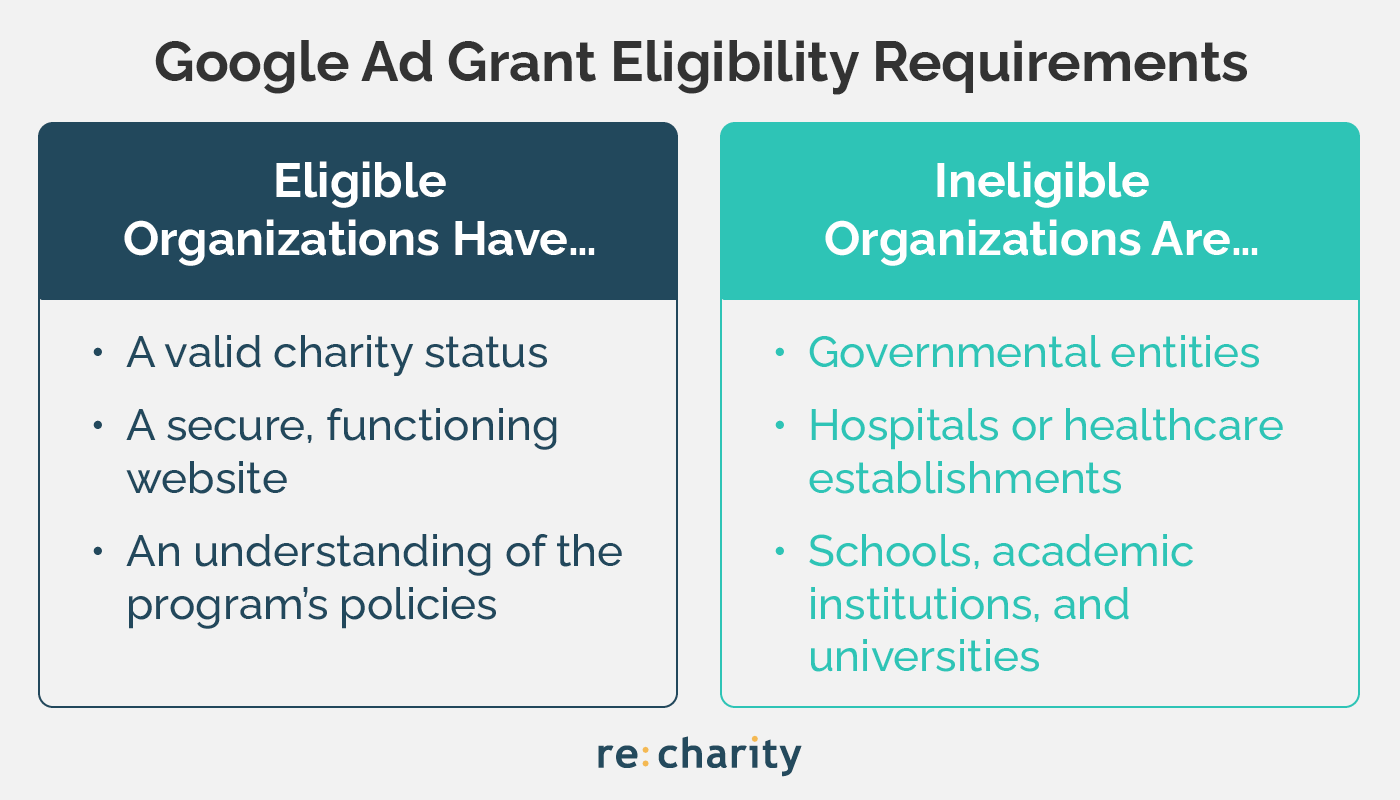 Eligible organizations are characterized by the following attributes:
A valid charity status
A secure, functioning website
An understanding of the program's policies
Ineligible organizations are:
Governmental entities
Hospitals or healthcare establishments
Schools, academic institutions, and universities
Before applying, double-check your eligibility or take steps to become eligible, such as filing to attain charitable status in your country.
How to Apply
To apply, you'll need to do the following: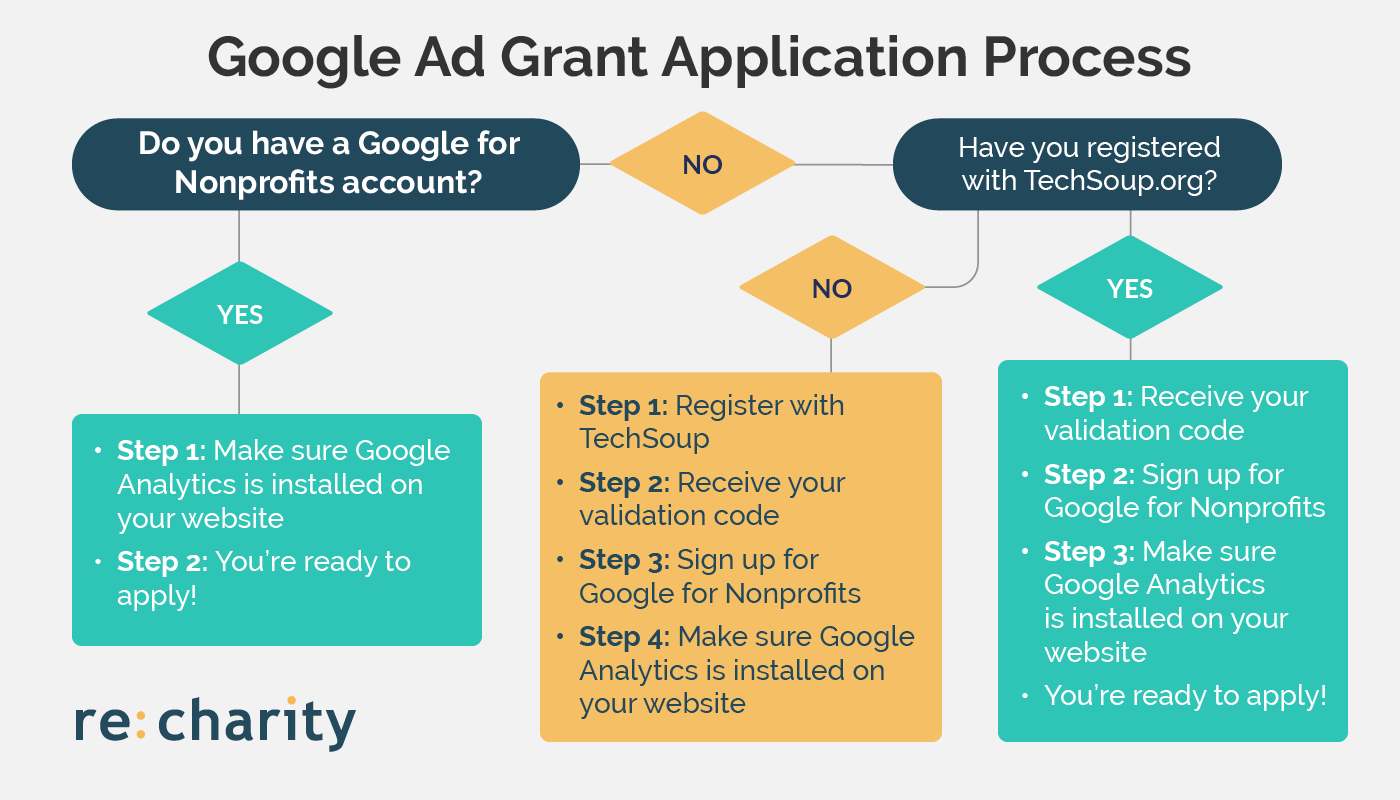 Verify your eligibility. Most U.S.-based organizations register with TechSoup.org to verify their eligibility for the grant. TechSoup will check your eligibility and provide you with a validation code, which you'll present to Google as proof that your nonprofit has been verified.
Enroll in Google for Nonprofits. Create a Google for Nonprofits account by providing your tax ID number, contact information, and TechSoup validation code. This is required for your application but also provides access to several Google tools your nonprofit can use in the future.
Install Google Analytics. Adding Google Tag Manager to your website allows you to track your data-related goals and view the progress of your Google Ad strategy.
Submit your website and account for review. Google will check your nonprofit's eligibility and the quality of your website's content to determine if you're ready for the grant.
It usually takes three business days for the Google team to review Ad Grant applications. Once yours is approved, you're ready to start using the grant!
How a Grant Manager Can Help
Remember what we said about using your marketing resources wisely? Making the most of the grant can be a time-consuming (and, sometimes, confusing!) process.
The good news is that there are plenty of resources available with everything you need to know about Google Grant management, including how to partner with a Google Grant agency for more help. When you enlist the help of a professional agency, like Getting Attention, the application and grant management will be taken care of for you!
After getting a free consultation, Getting Attention will assess your nonprofit's grant readiness, provide assistance in website preparation, manage ad campaigns, and help you maintain compliance once the grant funds are distributed. From maintaining eligibility to crafting effective ads, a Google Grant manager can take care of it all.
Best Free Marketing Tool for Multiple Channels | Microsoft Ads
Much like Google Ads, Microsoft Ads are search engine advertisements that place paying websites at the top of the SERP for certain keywords. Microsoft's Ads for Social Impact program offers nonprofits $3,000 in ad credits each month, but the grant amount isn't the only thing that differentiates it from Google's grant.
Microsoft Ads are promoted on a variety of Microsoft platforms, including:

Bing
Yahoo
AOL
Outlook
MSN
Microsoft Edge
While Google Ads may boost your organization's online presence, they're also highly competitive. The Ads for Social Impact program may not have as large an audience but also has fewer nonprofits fighting for the top spots, making it an easier approach for getting your ads to be seen across a variety of platforms.
Eligibility Requirements
Microsoft's eligibility requirements differ slightly from Google's. To be eligible, your organization must:
Hold valid charity status
Operate on a not-for-profit basis and have a mission to benefit the local community
Not have a discriminatory mission or policies
Have a functional website with valuable information about the organization and its mission
Most of these requirements are fundamental to nonprofit startups, which makes Microsoft's Grant fairly easy to qualify for. Plus, maintaining eligibility is easy when the requirements align with your organization's normal operations.
How to Apply
If you meet the eligibility requirements, your nonprofit can apply by completing the following steps:
Apply for Microsoft for Nonprofits: Provide details about your organization, agree to the nonprofit discount and donation policies, and verify your contact information. This process should only take about 10 minutes, but it must be completed by a staff member or strategic volunteer at your organization.
Complete the Microsoft Ad Grants application: You'll gain access to the application once you've been approved for Microsoft for Nonprofits. Simply fill out the application and submit it! It usually takes 10 business days to receive your confirmation of acceptance.
And that's it! Once you've officially applied, you'll need to set up your first campaign with the help of a Microsoft representative. This helps to ensure your organization uses its grant wisely to make the most of the program.
How a Grant Manager Can Help
Did Getting Attention's Google Ad Grant services sound appealing? Here's the good news: Getting Attention can manage Microsoft Ads, too! Their primary services include:
Eligibility check
Application assistance
Keyword research
Landing page optimization
Ad creation
Campaign performance tracking
To make the most of Microsoft's Ad Grant, use it alongside the Google Ad Grant! That way, your nonprofit can dominate SERPs for multiple search engines, spreading the word about your mission across multiple platforms.

Best Free Marketing Tool for Graphic Design | Canva
Even if you're not a professional graphic designer, you need your marketing materials to look clean, cohesive, and attributable to your unique brand in order to stand out from other charitable organizations.
Canva is a graphic design platform used to produce a variety of digital content, from infographics to flyers to slideshows. Its easy-to-use tools include:

Design: This tab allows users to search for templates and styles to format their content.
Elements: The Elements tab hosts a variety of shapes, graphics, stickers, photos, videos, audio, charts, and other elements that can be added to your content.
Brand Hub: Canva Pro allows users to set up a Brand Kit so that your nonprofit's brand elements can be added to every design you work on. For example, you might add your logo and brand colors to the Brand Kit so that it can be accessed and applied as a template to each new design you create.
Uploads: This is a hub for all the media you've uploaded to Canva, which is also accessible across all the designs you work on within the platform.
Text: Choose from predesigned font combinations or find your own text style when adding words to your design.
Draw: Take control of your designs with a pen, marker, or highlighter in the color of your choice.
Projects: Access your past designs through this tab to combine multiple projects (or certain elements from previous projects).
Apps: For even more capabilities, add an app to your Canva account. That way, you can incorporate content from other platforms, like Facebook or Google Drive, into your designs.
No matter what you want to create, Canva has the tools to help you do it! Let's explore some of the materials you can create with Canva in more depth.
How to Use Canva
Canva's features listed above can be used to design nearly anything. Plus, with the thousands of templates available on the platform, as well as an option to upload a file or create a new document with your own dimensions, your options are limitless! Consider using Canva to create the following marketing materials:
Social media posts: Create visually appealing graphics to post on Instagram or supplement the body of a text-heavy Facebook post. This can include brand elements, infographics, or even create photo collages to capture your audience's attention.
Email newsletter templates: Revamp your email newsletters with an eye-catching template. Find one you like in Canva's catalog or create your own using text, elements, and your nonprofit's logo and brand elements.
Fundraising event invitations: Whether you're mailing invitations or sending them via email, you can create stylish invites that entice recipients to attend your next event.
Project update infographic: Share your fundraiser's progress or provide an update on the work your organization has been doing lately by combining charts, numbers, and illustrations in a shareable infographic.
Although some of Canva's tools and templates require a Canva Pro subscription, the possibilities are endless when it comes to what you can create with its free features. If you do decide to upgrade, the subscription costs $120/year.

Best Free Marketing Tool for Social Media Management | Hootsuite
The growing list of social media channels that nonprofits actively use makes managing these accounts difficult, especially if you have limited social media expertise. That's why Hootsuite organizes all your upcoming social media content and schedules when it will be published.
How to Use HootSuite
To organize your social media content on Hootsuite, start by logging into each of your social accounts on the platform. This will populate your Hootsuite dashboard, where you can start scheduling posts for the following channels: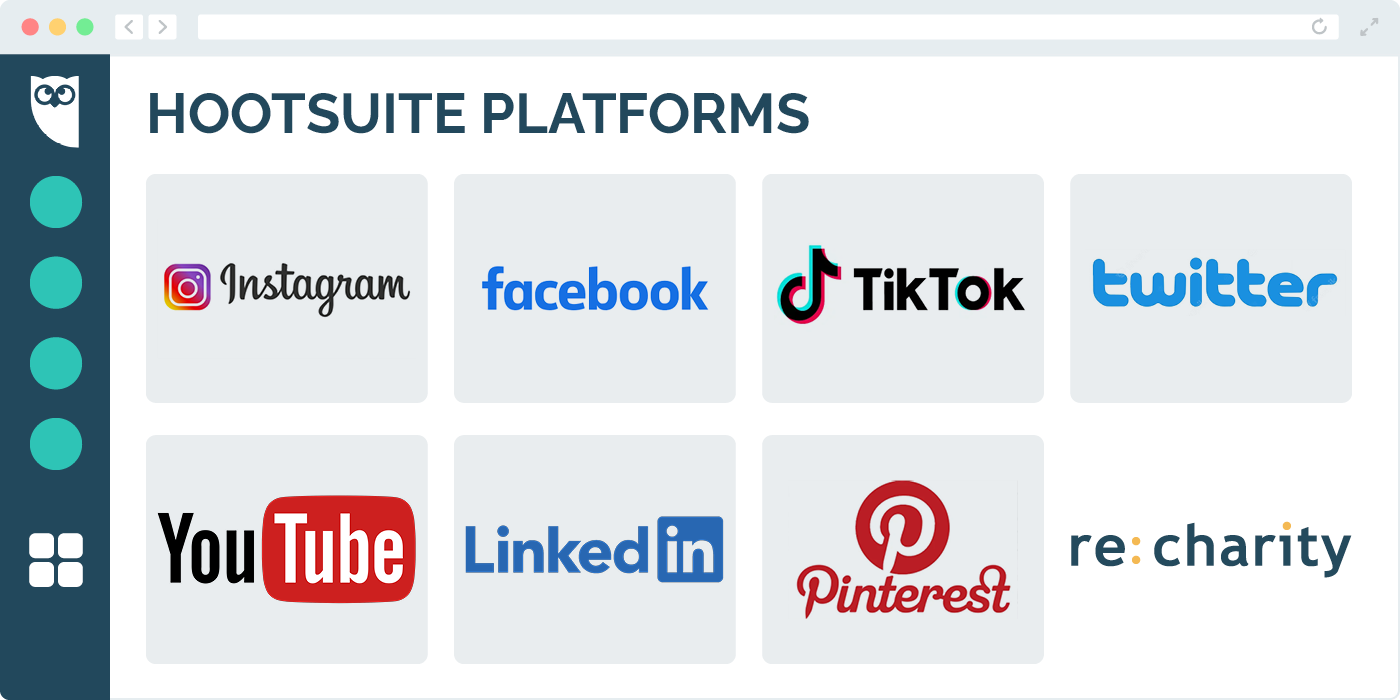 Instagram
Facebook
TikTok
Twitter
YouTube
LinkedIn
Pinterest
After you've scheduled posts for each of your platforms, just sit back and let Hootsuite do the rest!

Best Free Marketing Tool for Email Communications | Mailchimp
Email can be an effective way to send out marketing content, especially if you already have a responsive audience.
Whereas social media platforms and mobile giving campaigns focus on quick, marketing messages, email allows your nonprofit to give thorough updates on your mission and ongoing programming. Where else could you fit a new board member's bio, a testimonial from a beneficiary, or a recap of your most recent work?
With free email management tools like Mailchimp, you can organize your email lists and create visually appealing emails that engage supporters.
How to Use Mailchimp
If you're already leveraging email marketing to garner support, Mailchimp can streamline the process and make recipients want to take action after reading your emails. To get started, just follow these simple steps: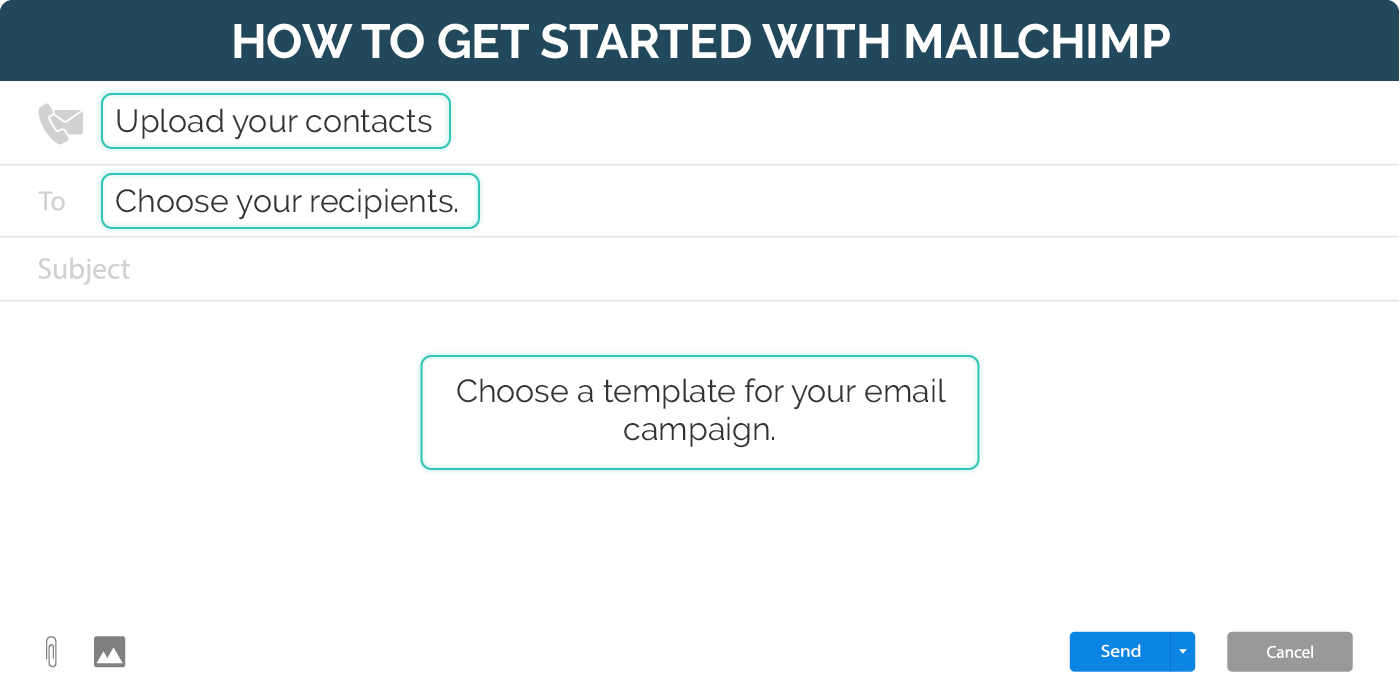 Upload your contacts. Import the contact information for your target audience. If you don't have contact yet, use Mailchimp to create a landing page where people can sign up for your emails.
Choose a template for your email campaign. Pick a template you like, and personalize it with your own content.
Choose your recipients. Select which recipients from your contacts you'd like to send the email to. If the content is broad, such as a monthly newsletter, you may want to send it to all your supporters. If it's more specific, like a volunteer report, create a segment of recipients and select that group.
Then, you're ready to hit send!
Additional Resources
If you're interested in learning more about the free marketing tools your nonprofit can use or the experts that can help manage them, check out the following resources: