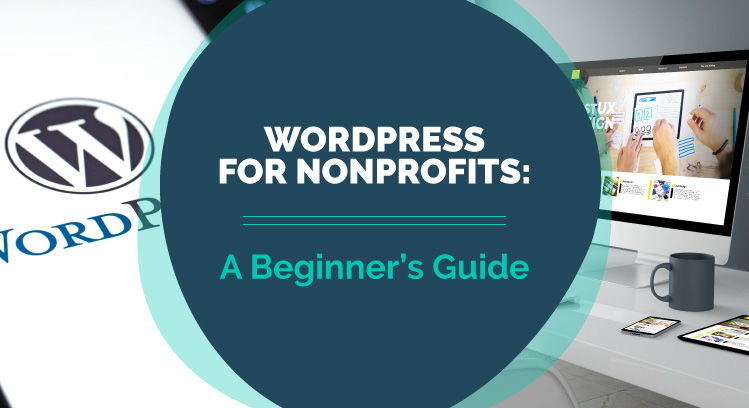 WordPress is the most popular nonprofit website builder in the world. This popularity is well-earned since WordPress is incredibly powerful, yet easy enough for anyone to learn and manage.
Even though WordPress is free and easy to install, there are things you need to know about it before you start building your website. Reading this article won't make you a WordPress pro, but it will definitely get you started with important information and helpful tips.
Overview of WordPress
One of the most important things to understand before getting started with WordPress is that there are several big pieces that fit together to make it so powerful and easy to use. These pieces are the theme, the builder, and the plugins. To help jumpstart your WordPress journey, we'll walk through each of these.
WordPress Themes
The theme is the first thing you should install into your new WordPress website. According to Cornershop Creative's guide to WordPress for nonprofits, the theme contains all of the global styles that you will use to build your website. Your theme will both govern and guide you as you build each page on your website.
Themes are available in any style you can imagine, and range in price from free to hundreds of thousands of dollars. You can even get a custom-made theme just for your site.
The important thing to remember when you look for a theme is that it is like a package of building blocks for your website. What you do with those blocks will be up to you, but depending on your experience level, you will want to start with a theme that fits your vision for your website.
WordPress Visual Builders
After you select and install your theme, you are ready to begin building pages. The benefit of using WordPress is that you don't need to know any code to do this! A good visual builder is what allows you to design and add content to each page without ever touching the code.
Visual builders like Elementor and the WordPress Block Editor make it easy to drag and drop design elements, and even add fully-designed templates to your pages.
WordPress Plugins
You can build an entire website using only a theme and a visual builder, but you would be missing out on a ton of extra features and functionality by doing so. WordPress plugins can be incorporated into the site to add cool things like events management, SEO help, embedded forms, and all sorts of other helpful features. You can even build an entire store on your website using a plugin like WooCommerce.
Plugins do come with a warning, however. Adding those extra features also adds extra code to the website. This can affect the performance of the site by slowing it down or even causing it to crash. Make sure you choose your plugins wisely and only add the ones you will actually use.
Pros and Cons of Using WordPress for Your Site
WordPress offers a lot of benefits over some of the other website builders out there. Nothing is perfect, however, so all this convenience and versatility come with a few drawbacks. Here are a few pros and cons of WordPress that you should know before you get started:
Pros
It's really easy to get started: You can install WordPress for free on your domain, install the theme and layout of your choice, and get started right away.
So many options!: As mentioned above, the number of pre-built themes available for WordPress is astounding. Each one offers a different fun design and feel. Add in a few plugins and the sky's the limit!
Plenty of support: WordPress is open-source, which means anyone can see and play with the source code. Combine that with the fact that WordPress has millions of avid fans, and you have a recipe for some of the best support on the planet. With so many developers constantly challenging themselves to improve WordPress and sharing their progress online, you are almost guaranteed to get any help you need with a quick Google search.
Cons
Steep learning curve: Though it really is easy to get started, WordPress is so robust that it has a steep learning curve to be able to use some of the more powerful features on your site. On top of that, since each theme works a little differently, you can't always expect to replicate the success of others on your own site on the first try. You definitely need to plan on spending a little time learning the basics before you dig in.
Plugin research: Many of the best features for nonprofits come from plugins. Since plugins come in paid and free versions, you may find that the specific features you want for your nonprofit website come with a hefty price tag after all of the plugins are added. You also need to research each plugin to make sure it is reliable and well-supported before you install it.
Security and maintenance: To keep your WordPress website healthy you will need to be diligent about your maintenance and updates. Unfortunately, because WordPress is an open-source platform, it is just as available to shady operators as it is to helpful developers. So, an out-of-date WordPress install or unsupported plugin can present a huge security risk. You will need to keep your website updated, do periodic plugin audits, and stay on top of security issues to avoid this risk. Luckily, there are security plugins that can help with this!
5 Tips to Get a Strong Start with Your WordPress Site
Now that you know what WordPress is and are aware of some of the things you should look out for, you are ready to get started! Here are five tips to help you get a strong start on your site.
1. Get inspired!
One of the best ways to get some great ideas of what is possible for your website is to take a look at what others have done. Explore some great nonprofit websites that have already been built on WordPress to see examples of design elements and features you like (and don't like). You can also play with theme demo sites to test out designs and features before you commit.
2. Understand the Sign-Up Process
There are several options for getting set up with WordPress. One of the easiest is to visit WordPress.com and register for an account. You'll be asked for a username, password, and the name you want for your website. You will also need to choose what type of account you want. You can get a free website with a branded WordPress URL, or choose a paid plan to use your own domain. After you've registered, you can set up your profile, check out the huge community, and learn everything you need to know with a large library of resources.
3. Decide On the Tools Your Nonprofit Website Needs
Start with a list of everything you need to have on your website:
Do you want sign-up forms for mailing lists?
Do you have a matching gift tool to go on your donation form?
Do you have events that you want to have calendars or landing pages for?
Do you want to have a blog?
Do you need to feature staff, board members, program alumni, or other people on your website?
How do you want these pages to look?
Will your CRM integrate with your website?
4. Consider Your Theme Options
Once you have your wishlist you can really start assessing the type of theme you need. A pre-built theme may seem less expensive up front, but if your wishlist has a lot of features that need pro plugins you will likely be better off having a custom theme created specifically for your website. This is especially true if you want a uniquely branded website that really stands out!
5. Partner With a Consultant
Partnering with a WordPress pro has a lot of advantages. They will be able to help you with theme selection or development and give you advice on hosting options. Best of all, they already know the downsides of WordPress and can help you avoid the worst beginner-level mistakes.
If you've read all the definitions, warnings, and tips in this article, then congratulations! You have already taken the first steps toward having the website you dream of.
WordPress isn't perfect, but as far as website builders go, it's pretty close! As with most things in life, a little research and preparation before you start will make a huge difference in your success.