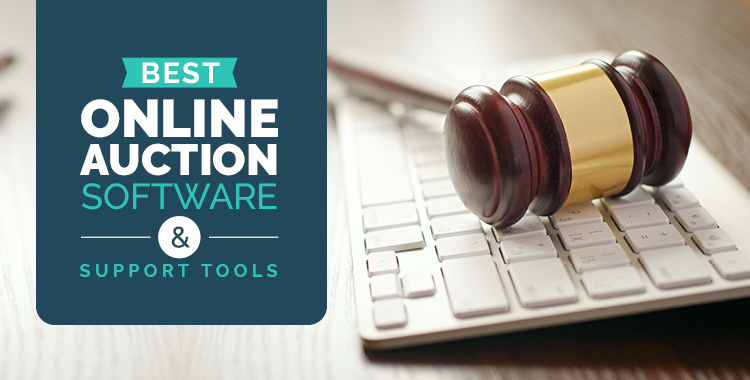 Modern nonprofits are well aware of the benefits of using technology to connect with donors near and far. Whether using online donation software, hosting a social media-based fundraiser, or simply using an email newsletter to share updates, nonprofit fundraising technology has drastically improved the connection between organizations and their supporters. In fact, there has been a 42% increase in online giving over the past 3 years!
Technology has become absolutely essential in times when fundraising is more difficult. Whether during natural disasters or global pandemics, nonprofits lean on online fundraising to gain much-needed support.
The effectiveness of nonprofit fundraising technology is especially evident in charity auctions. Once an effort-intensive affair, nonprofits can now host charity auctions fully online. Removing the need for a physical venue and extra team members such as auctioneers, this fundraising event is within reach even for the most budget-careful organizations.
It almost goes without saying that an online auction is fully dependent on having effective software and tools. We've gathered a list of 12 top software and tools to ensure your next online auction goes off without a hitch:
Are you ready to plan a fully-online fundraising event? Let's get started.

Best Online Auction Management Software
Best Online Auction Software for Total Support: OneCause
Overview of this Online Auction Software
OneCause is a total support system for nonprofits looking to bring their auctions to the internet. Long-time revolutionaries of the charity auction realm, this software provider has everything your organization could need to bring your auction to the digital sphere.
OneCause aims to guide nonprofits through the entire auction process, from initial item procurement to mobile bidding and the creation of your online auction catalog. They'll track each step of the auction planning process, storing the data under one comprehensive auction umbrella. Then, after the auction closes, your nonprofit can generate valuable reports on the progress.
For nonprofits large or small, OneCause is a comprehensive auction platform to host their next online event.
Key Features of OneCause
OneCause's mobile bidding and auction software allows your organization to maximize your next charity auction.
Unlimited online auctions. OneCause's platform allows for unlimited online events, meaning your organization can host as many online auctions as are beneficial to reach your goal.
Item procurement and packaging. The platform will generate solicitation letters, track the status of procured items, and handle all logging of item location and package numbers.
Instantaneous scoreboard. Motivate supporters with healthy competition, showcasing current bids and recognizing impactful donors.
For a nonprofit looking to truly dive into the world of online charity auctions, OneCause is the platform to use.
Why It Made Our List
OneCause is one of the most comprehensive auction software solutions on the market. They've discovered a way to transfer the entire auction planning process to the digital sphere, from item procurement to checkout. The software prevents complicated data migrations and smooths the path to effective donor stewardship– all while your organization is planning the auction.

Best Online Auction Software for Mid-Sized Events: Handbid
Overview of this Online Auction Software
Handbid was built on faith-based mentalities and is rooted in a desire to serve. Their team exemplifies this by making it easy to give– from the convenience of your hand (hence the name).
An online auction software designed to be accessed via smartphone, Handbid is easy-to-use from both Apple and Google platforms. This makes it accessible for donors, while the platform is accessible for nonprofits large and small with a wide range of pricing plans.
Built to be an auction app first and foremost, Handbid takes the convenience of online fundraising to a new level.
Key Features of Handbid
Handbid's auction software features were made to engage supporters while being easily navigable for nonprofits. Check out a few highlights:
Mobile auction app. Handbid's online auction software has full mobile capabilities, so supporters can bid in your auction from the convenience of their mobile phones.
Push notifications for donor engagement. Keep donors engaged for the full duration of the auction with push notifications, letting them know when they've been outbid.
Simple set-up. Handbid prides itself on an easy set-up process. With batch import features, you're able to generate auctions with little hassle.
When it comes to mobile-first online auctions, consider using Handbid to facilitate the process.
Why It Made Our List
Handbid is unique in their online auction approach– completely from mobile phones. As up to 72 percent of the world population will access the internet by mobile phones only by 2025, optimizing that platform for use is essential. As far as providers optimizing mobile online auctions, Handbid takes the cake.

Best Online Auction Software for Quick and Easy Events: Snowball
Overview of this Online Auction Software
Snowball is a comprehensive fundraising platform that helps nonprofits raise more for their missions. If you want to host a quick and easy event, look no further than this online auction software. Their innovative tools allow you to customize campaigns, host auctions, and collect donations all in one place.
Even better, Snowball Auctions are mobile-optimized, making it possible for your supporters to give on the go. With the Snowball auction software and mobile bidding app, your nonprofit can host a memorable event and connect with supporters near and far.
Whether you're planning a virtual auction or hybrid bidding event, Snowball will ensure it's a positive experience for your valued guests.
Key Features of Snowball
Snowball Auctions were made with convenience and ease in mind, not only for participants but for fundraisers as well. Check out these powerful features:
Text-to-Bid: Supporters can bid on unlimited items with the push of a button or by typing a keyword into their phones.
Purchase Now: Supporters can buy items without bidding. Your nonprofit will receive donations faster and your participants will be more engaged.
Custom Campaigns: Set up auction pages, upload photos of items, and include unique descriptions in a matter of minutes.
If you want to host an engaging and effective auction, look no further than Snowball.
Why It Made Our List
Snowball has everything your nonprofit needs to host a successful online or hybrid auction. Their innovative tools will help drive donor engagement and meaningful support for your cause. Plus, with a tiered pricing system, you can choose a plan that's cost-effective and right for your organization.
Best Online Auction Software for In-Person Events: Qgiv
Overview of this Online Auction Software
If your organization isn't looking to host a fully-online auction, but rather to supplement your in-person auction events with technology, Qgiv may be the platform for you.
Qgiv offers an app-based platform for nonprofits looking to simplify the auction process, ensuring your guests and staff have a more enjoyable experience overall. With features designed to streamline check-in and check-out, as well as allow supporters to bid from their smartphones, hosting an in-person charity auction is easier than ever.
For organizations looking to preserve the excitement of an in-person auction without the annoyance of long lines, Qgiv is a great supplement.
Key Features of Qgiv
Qgiv's specialty is creating software to simplify the nonprofit fundraising process, and that's evident in their auction software features:
Guest registration. Qgiv's platform is a fully-integrated event management system, which means your staff is able to easily coordinate all aspects of the event– including registration and ticketing– from a single software solution!
In-app check-out. Instead of waiting in long lines, donors can check out directly within the app. This ensures they have an enjoyable experience from beginning to end.
Handheld bidding. To preserve the excitement of a live auction while also removing some of the chaos, Qgiv allows donors to bid and track their bids in real-time. With a watchlist for favorite items and push notifications for when a donor has been outbid, a Qgiv event is fun for all!
Not all nonprofits are looking to host fully-online events. For those organizations, Qgiv is a great way to capitalize on the benefits of technology while preserving that in-person connection.
Why It Made Our List
Qgiv is a popular option when it comes to fundraising software and when you look at its auction software, it's easy to see why. For organizations looking to simply supplement– not replace– live events, this entry stands out from the crowd.

Best Online Auction Software for Small Event: Bidding Owl
Overview of this Online Auction Software
Bidding Owl is an online auction software that's perfect for small fundraising events for one key reason: it's essentially free.
Charity auctions can be a massive undertaking for nonprofits, especially for smaller organizations putting together their first auction event. With Bidding Owl, your nonprofit doesn't have to make an upfront investment to access the software. Instead, the provider takes a small performance fee from incoming donations, so you only have to pay Bidding Owl if you're successful.
While lower-cost, Bidding Owl is still a comprehensive online auction platform.
Key Features of BiddingOwl
Bidding Owl's platform has all of the features a small nonprofit will need to host an online charity auction:
Low cost. Bidding Owl's low pricing means even the smallest nonprofits are able to access online charity auction software even if they don't have early funding.
Custom charity auction website. This provider allows your nonprofit to create a fully customized charity auction website, where you're able to host auction items and check-out online bidders.
Mobile bidding functionality. You're able to accommodate mobile and in-room bidding, depending on what type of charity auction your organization plans to host.
If you're a small nonprofit just getting into the online charity auction world, Bidding Owl might be the fit for you.
Why It Made Our List
Charity auctions can be pricey for nonprofits just starting out, or even for local organizations that simply don't have the start-up funding. Bidding Owl is comprehensive, inclusive, and inexpensive, making it the perfect starting point for nonprofits first getting into charity auctions.
Best Online Auction Tools for Boosting Results

Best Online Auction Software for Item Procurement: Winspire
Overview of this Online Auction Software
Winspire handles one of the notoriously most difficult tasks of planning a charity auction, online or not– item procurement. Locating donors, securing donated items, and even securing larger purchased or consignment items can be a massive effort. While the ideal is securing all items through donations, that's not always the case.
Larger items, such as furniture, recreational vehicles, and travel packages can be expensive for nonprofits to procure on their own. With Winspire, your nonprofit can include exciting experience packages in your auction experience and only pay for the items that sell.
Because the items will go for a higher price than you'll end up paying, your nonprofit is able to provide experiences without paying anything out of pocket.
Key Features of Winspire
Winspire's experience packages have features to appeal to both your nonprofit and its donors. Check out the highlights:
Wide variety of packages. Winspire offers experience packages to appeal to all donors, including travel packages, shopping sprees, spa treatments, entertainment tickets, and sports experiences.
No-risk auction items. Because your nonprofit doesn't pay for experiences until they're sold, you can offer expensive packages without worrying about losing funds if the item doesn't sell.
No experience limit. There is no upper limit on the experiences your nonprofit offers through Winspire. That means you can auction the same experience multiple times at an event, or across multiple events, if it's a popular option.
If your organization wants to provide extravagant packages but might not have the funding to do so on your own, Winspire might be the partner for you.
Why It Made Our List
Item procurement is customarily difficult, and that's especially true for large experience items. Winspire's services drastically ease the task, allowing your nonprofit to provide experience to donors, and raise more money, with no risk yourself.

Best Online Auction Software for Data Management: Bloomerang
Overview of this Online Auction Software
Bloomerang's CRM is not only accessible for nonprofits of all sizes, but it's also comprehensive.
Created to increase donor retention and overall fundraising revenue, this database can help your nonprofit collect and store information from your online auction for future reference. Further, fully cloud-based, Bloomerang's database is accessible to nonprofits on-the-go– perfect for organizations working from a distance.
With communications, data hygiene, and stewardship features, Bloomerang is the CRM to help your nonprofit make the most of its next online auction.
Key Features of Bloomerang
One of the biggest benefits of Bloomerang is the wide-ranging features the donor database offers. Check it out:
Interactive, intuitive dashboard. When you're juggling multiple technologies to host an event, the last thing you want is a confusing interface. Bloomerang is easy for nonprofit professionals to use, whether tech-savvy or less-so.
Giving summary. Bloomerang's summary of each supporter's giving history is a powerful tool in choosing who exactly to target with your auction solicitations, only contacting those most likely to be interested. Further, with their engagement and generosity measurements, you can identify those most likely to purchase big-ticket items!
Email design and distribution. With built-in email templates that you can send straight from the platform, you can easily spread the word about your event and analyze the performance of your communications.
Bloomerang's platform has-it-all when it comes to using data to make the most of your next online auction.
Why It Made Our List
There are many CRM's on the market for nonprofits large and small. Bloomerang's donor database stands out because of it's easy-to-use, while comprehensive features. This ensures a nonprofit using Bloomerang can get up and running with little issue, just in time for an online auction event.

Best Online Auction Software for Prospect Research: DonorSearch
Overview of this Online Auction Software
DonorSearch is a prospect research tool that helps nonprofits better understand their supporters and discover mid-level and major donation opportunities.
Modern nonprofit professionals know that hosting an auction can be an expensive affair– online or not– simply due to the cost of soliciting items. With DonorSearch, your nonprofit can be sure that the supporters targeted with auction sign-up appeals are supporters likely to attend the auction and bid on the items while there.
Looking at warmth and capacity indicators, DonorSearch discovers not only which supporters have the highest affinity to give, but those that are most likely to give in a high amount. This allows your nonprofit to plan accordingly.
Key Features of DonorSearch
DonorSearch is a top name in the field of prospect research, and it's easy to see why:
Philanthropic database. DonorSearch has a database of over 150+ million charitable records, so they're able to offer a depth of insight unlike any other software might.
No per-person charge. With DonorSearch, you can screen an unlimited number of prospects without having to pay for each and every one.
Manually verified prospects. DonorSearch will manually verify your prospect list, saving your nonprofit time and energy from doing it yourself.
With these prospect research features, you can discover which supporters in your donor database are most likely to participate in your event and bid on big-ticket items.
Why It Made Our List
DonorSearch made our list because they've truly revolutionized the world of prospect research. Whether a nonprofit just entering the field or an experienced organization looking to improve a yearly online auction, DonorSearch can help you bring more major supporters to your next event.

Best Auction Software for Flexibility
Overview of this Event and Auction Software
Auctria is a web-based auction & event fundraising platform that makes it easy to plan and run from the first donation to the last receipt and all the bidding in between. Multiple admins work in the same space so data is always current. Auctria has the flexibility to run silent, live, online, or virtual auction & event fundraising events. It's easy with Auctria- from the first donation to the last receipt and all the bidding and fundraising activity in between. 
Features include the ability to sell sponsorships, run donations & paddle raise. Operations are streamlined with ticket sales, table management, for-sale items.
A dedicated website is included with each event. Showcase the mission, runs sales, collect donations, or run an entire online auction. Templates make it simple to get started. Take it to the next level with the simple to use website editor to add branding, images, and video.
Key Features of Auctria
Auctria provides a broad range of features that will be useful for any type of auction or event fundraiser your organization is planning.
Used for all auction types

Integrated credit card processing

Donation & paddle raise

Virtual live auction controller

Dedicated event website

Text to donate

Mobile application for iOS and Android
Why It Made Our List
Auctria is used by public and private schools, foundations, arts & culture, sports teams, disease fighters & researchers- they all use Auctria. No matter the size of the charity or length of the event Auctria is the right fit. 

Best Online Auction Software for Digital Marketing: MailChimp
Overview of this Online Auction Software
MailChimp has long been a popular name in email automation, and it's easy to see why.
With both email marketing and advertising features, MailChimp is a comprehensive platform to spread the word about your nonprofit's next online auction. With an impressive number of integrations and a pricing structure that grows as your organization does, the platform is accessible for nonprofits of all sizes and tech affordances.
Plus, after you've run a campaign with MailChimp's digital marketing services, you can easily evaluate the success and replicate it for future auctions going forward.
Key Features of MailChimp
MailChimp offers a variety of digital marketing services, with features such as:
Marketing CRM. A CRM built for specifically for marketing, MailChimp's database was designed to sort and organize supporter data in the context of communications.
Segmentation and personalization. You're able to segment supporter data by common characteristics and personalize your efforts accordingly. This ensures that you're sending the right campaign to the right audience, every time.
Predictive analytics. By examining the data of your supporters now, MailChimp is able to predict trends going forward. This ensures you always stay ahead of the curve when promoting online auctions in the future.
When it comes to spreading the word about your next online auction, MailChimp's comprehensive online marketing software may be the tool for you.
Why It Made Our List
MailChimp has long been a popular name in the digital marketing world, and it's because they've truly expanded what it means to be an email automation platform. Allowing your nonprofit to quickly and easily send out online auction invites, ensure those invites go to the right supporters, and track the success of the campaign– MailChimp is a great digital marketing software for organizations trying to increase attendance and donations at their next online auction.

Best Online Auction Software for Matching Gifts: Double the Donation
Overview of this Online Auction Software
Double the Donation is a software specifically tailored to discover matching gifts opportunities.
Matching gift programs are when employers pledge to make a gift to a nonprofit matching that made by their employee. In terms of an online auction event, this means that if one of your winning bidders works for a company with a matching gift program– you could potentially receive a matched donation corresponding to the amount of the winning bid above the item's ticket price.
With a top matching gift company, such as Double the Donation, your nonprofit can easily educate supporters about matching gifts and discover where those opportunities lie.
Bonus! Check out this re:Charity guide to top matching gift companies. Are any of your supporters match eligible? Consider that when planning your next auction!
Key Features of Double the Donation
Double the Donation has matching gift features for nonprofits large and small:
Industry-leading matching gift database. Double the Donation's matching gift database is embeddable directly on your website so supporters can easily search their own eligibility.
Matching gift automation. With Double the Donation's automation software, 360MatchPro, organizations can automatically search a supporter's eligibility and begin the match process.
Tracking and automated messaging. 360MatchPro will track the progression of a matching gift, keeping your nonprofit in the loop and sending out reminders to supporters that haven't begun the match request process.
If your organization is looking to raise more with each auction item sold, Double the Donation may be the solution for you.
Why It Made Our List
The biggest obstacle to securing matching gifts is often a lack of education around the programs. With Double the Donation, your nonprofit can overcome that challenge easily and bring in two gifts for the price of soliciting one.

Best Online Auction Software for Selling Merchandise: Bonfire
Overview of this Online Auction Software
Often, nonprofits will offer direct sale items at auction events such as branded merchandise or experience packages. Bonfire, a custom t-shirt company, makes that process easier for nonprofits than ever.
Purchasing t-shirts with no guarantee of selling them is a risky choice. Nonprofits wanting to sell these items at their online auction could end up with an unfortunate back-stock, spending the next few years selling off the excess.
With Bonfire, you're not only able to create attractive custom shirts for your nonprofit– but you're also able to keep an entirely virtual stock, removing any worry of purchasing too many shirts for your event.
Key Features of Bonfire
While Bonfire serves nonprofits and for-profits alike, it has campaigns specifically created to benefit nonprofit organizations. Check it out:
Custom designed t-shirts. You're able to create your design directly on Bonfire or upload a design relevant to your nonprofit and event.
Online stock and sales. Because everything is online, only the shirts that are bought are made and shipped directly from Bonfire to your auction's supporter.
More money for your nonprofit. Keeping nonprofits in mind, Bonfire allows your organization to retain 100% of the profits generated by the t-shirt campaign.
With Bonfire, selling t-shirts at your next online auction is more accessible than ever before. You can even design special edition shirts and auction them off with your other prizes!
Why It Made Our List
Nonprofits often choose to offer buy-now options at auction events, and online events are no different. With Bonfire, offering buy-now t-shirts that are custom-designed and benefitting your organization 100% is easier than ever.

Best Online Auction Software for Graphic Design: Bannersnack
Overview of this Online Auction Software
When you host an in-person auction, your nonprofit probably spruces up the venue for the event. With Bannersnack, you're able to do that for your online auction as well.
With the internet a more competitive landscape than ever before, sometimes it's the small details that drive engagement for donors. That includes attractive web design, something that can be difficult if you're not working with a graphic designer on staff.
Bannersnack allows your nonprofit to design banners, graphics, and advertisements for your online auction quickly and easily.
Key Features of Bannersnack
With Bannersnack, your nonprofit has a wide range of design capabilities including:
Generation. You can create banners using their handy templates or design your own graphic from the ground up. With a variety of sizes and the ability to upload assets matching your nonprofit's branding, it will seem as though you fully generated the graphics in-house.
Animation. Creating animated graphics is easier than ever with Bannersnack's HTML5 capabilities. With dynamic elements, supporters will be engaged through all of your design materials.
Collaboration. Distance collaboration can be hard, especially when it comes to conveying design ideas. Bannersnack's collaboration tool allows your team members to work together on one design remotely.
When it comes to adding final touches to your nonprofit's auction website, Bannersnack might be the tool for you.
Why It Made Our List
Graphic design can be a tricky task, especially for nonprofits working without a digital designer on their team. With Bannersnack, creating attractive images for your next online auction is easier than ever.
---
Wrapping Up
Charity auctions, while having high fundraising potential, have long been a resource-intensive affair for nonprofits to plan. However, as online auctions grow in popularity, hosting one of these events is easier than ever before.
From handling ticketing and registration to accepting online bids, software simplifies even the trickiest of auction tasks. Further, with tools to perfect your item procurement and even graphic design, you're able to improve your efforts from year's past.
For more information on hosting online events for your nonprofit, check out these additional resources: