Businesses are increasingly turning to corporate social responsibility (CSR) as a means to align profit with purpose. At the heart of this transformation lies CSR software, powerful platforms that enable companies to impact society meaningfully.
CSR software is a type of technology companies purchase to elevate their corporate social responsibility efforts with smart giving initiatives. This tool essentially manages the businesses' corporate giving programs⁠—such as matching gifts and volunteer grants⁠—and simplifies the processes for everyone involved. That means companies, employees, and nonprofits alike benefit from these intuitive tools.
So how exactly does CSR software fuel the greater good? In this comprehensive guide, you'll find out! We'll explore the dynamic landscape of CSR software, several popular platforms, and the substantial benefits they provide to organizations everywhere. Here's what we'll cover:
CSR software has emerged as a powerful force for businesses looking to do more good in the world. Whether you want to boost employees' pride in your company or fund causes that align with your company's goals, we'll equip you with everything you need to know to harness the power of these platforms. Now, let's jump in⁠ and discover everything your team needs to know about corporate giving software!

The Basics of CSR Software
Before diving into specific features and platforms, let's explore the fundamentals of CSR software so you understand its role in driving change.
What is CSR Software?
CSR stands for corporate social responsibility⁠—which is a key business practice that countless corporations follow across the globe. These companies aim to improve the world around them through CSR efforts, often in terms of economic, social, and environmental responsibility.
One of the most prominent forms of CSR takes place in the form of charitable donations to nonprofit causes. Companies donate generously to nonprofit organizations, often looping their employees into the process by empowering them with workplace giving opportunities such as corporate matching gifts and volunteer grant programming.
These businesses use CSR platforms to manage⁠ and automate⁠ their philanthropic initiatives.
This typically includes workplace giving facilitation, community grant disbursement, and more. Specifically, in terms of employee participation, a CSR platform can serve as an intuitive portal in which employees can submit their corporate giving requests.
Who Uses CSR Software?
Corporate giving programs have a lot of moving parts and stakeholders. Because of this, many different individuals use CSR software, including:
Business Leaders: These are the primary users of CSR software. Business leaders and CSR professionals use these platforms to manage and report on philanthropic activities and sustainability efforts.
Company Employees: A big part of corporate social responsibility is to inspire employees to be charitable. As such, many CSR platforms enable employees to engage with features for logging volunteer hours and donating to charitable causes.
Nonprofits: Organizations that partner with businesses for corporate giving or employee volunteer programs might use software to facilitate interactions and receive donations. These nonprofits might also have their own software that integrates with CSR software to simplify corporate giving, such as matching gift auto-submission.
While those are the primary users, other stakeholders may benefit from companies like yours that use CSR software. For example, your business can share impact reports with investors, show governmental entities you're complying with CSR-related regulations, and share data about your ethical practices with consumers.
CSR Software's Role in Nonprofit Fundraising
Even though you probably don't work for a nonprofit, you're likely wondering about the exact role CSR platforms play in nonprofit fundraising. After all, giving to nonprofits is one of the most impactful ways businesses engage in corporate social responsibility.
CSR software facilitates the relationship between each party involved in the corporate giving process. This includes the benefitting nonprofits (which receive funding from CSR programs), donors (who participate in CSR programming), and their employers (who offer CSR programs and ultimately provide funding for nonprofits).
Essentially, the distribution process ends up looking like this: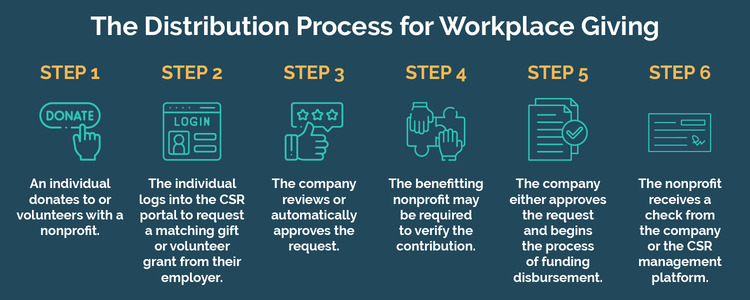 A donor contributes to (or volunteers with) a nonprofit.
The donor requests a matching gift (or volunteer grant) from their employer by logging into the company's CSR management portal and providing the required information about the nonprofit.
The employing company reviews or automatically approves the workplace giving request.
Depending on the company offering the program, the benefitting nonprofit may be required to verify that the initial donation or volunteer hours were provided by the individual.
The company or third-party management platform approves the workplace giving request and begins the process of funding disbursement.
The nonprofit receives a check from the company (or its management platform) corresponding to the donor's initial donation amount or volunteer time.
In other words, a company's CSR platform is the middleman between a nonprofit and the company providing the charitable support.
Challenges Nonprofits and Companies Face With CSR Sofware
As with any new tool, your company should expect a few hiccups when adopting CSR software. Here are some common issues that businesses face: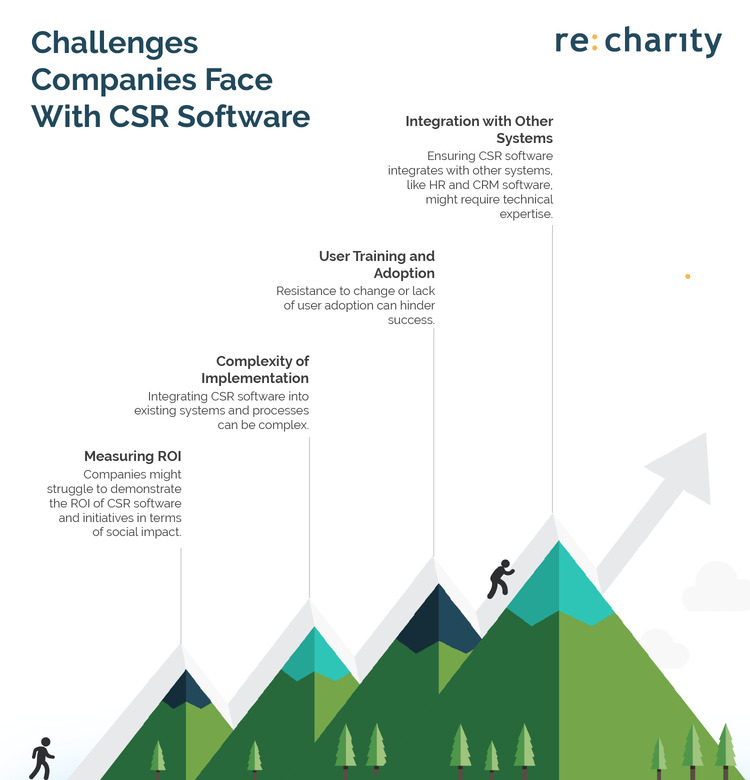 Measuring ROI: It can be challenging to demonstrate the ROI of CSR software (and initiatives as a whole) in terms of social impact. However, it's essential for justifying the investment. Robust reporting features and collaborating with nonprofit partners to communicate impact can help mitigate this hurdle.
Complexity of Implementation: Integrating CSR software into existing systems and processes can be complex, so it requires time and resources. Companies need to ensure seamless data integration and alignment with organizational goals, though.
User Training and Adoption: Resistance to change or lack of user adoption can hinder the software's success, so training employees to use CSR software effectively is crucial. That's why a platform that offers training materials and ongoing support is a must for companies.
Integration with Other Systems: Ensuring that CSR software integrates seamlessly with other business systems, such as constituent relationship management (CRM) or human resources (HR) systems, may require technical expertise. Companies should choose a platform that offers seamless integrations with their software to help simplify adoption.
Overcoming these challenges requires careful planning, ongoing commitment, and collaboration among stakeholders. For your company, the right CSR software and a clear strategy can address these issues and maximize your CSR efforts.
Software Related to CSR Platforms
Other types of software can either work alongside your CSR platform or replace specific features. For example, let's say you're looking for a solution that powers one specific type of CSR initiative, like a corporate grant program. If you only want to launch that program, you might choose a grant management platform instead of spending more on a more robust system.
Here are some common platforms that are related to CSR software:
Grant Management Software: Grant management software streamlines the process of managing grants, donations, and charitable activities. It helps organizations track grant applications, funding allocations, and outcomes.
Employee Engagement Software: Fundraising IP explains, "Employee engagement software refers to any tool or solution that helps employees do their best at work and feel more connected to the workplace." That might include tools for managing employee volunteer programs, rewarding employees for their hard work, enhancing internal communication, or enabling employee donations to charity.
Workplace Giving Software: Over 39% of companies plan to expand their workplace giving programs in the next two years, and if you're one of those companies, you can purchase dedicated software to help. This platform enables employees to make charitable donations directly from their salaries, often with the option for employers to match those contributions.
Supply Chain Sustainability Software: If sustainability is your primary goal, consider using this type of software to assess and improve the sustainability practices of their suppliers and vendors. It'll help ensure that products and services are sourced responsibly.
Corporate Volunteer Management Software: This platform streamlines the planning and tracking of employee volunteer activities. It offers features for scheduling volunteer events, tracking volunteer hours, and streamlining communication between employees and nonprofit organizations.
There are dozens of helpful platforms out there. The best fit for your company will be one that aligns with your CSR goals, so define your CSR strategy before investing in any type of tool. That way, you can figure out whether it's worth it to invest in a robust system.
Benefits of Leveraging CSR Software
It's not easy implementing and maintaining an influential CSR strategy. There's a lot of work that goes into it, but dedicated software can help substantially. Businesses that want to simplify their initiatives with dedicated software can expect benefits such as:
Efficient Program Management: CSR software streamlines the management of CSR initiatives, making it easier to plan, implement, and track philanthropic activities, sustainability efforts, and employee engagement programs.
Employee Engagement: According to Harvard Business School's CSR statistics, 90% of employees who work at companies with a strong sense of purpose say they're more loyal, motivated, and inspired. Being able to participate in workplace giving will directly involve your employees in corporate philanthropy, helping to see the impact your company is making.
Compliance with Relevant Regulations: CSR software with reporting assists in staying compliant with CSR-related regulations and reporting requirements, reducing the risk of non-compliance penalties.
Transparency with Stakeholders: Companies can use CSR software to share their CSR efforts with the public. This can enhance their reputation, attract socially conscious customers, and improve brand image.
Ultimately, CSR software empowers companies like yours to positively impact society by aligning business goals with ethical and sustainable practices. With the right tools, you can make a real difference in nonprofit causes.
Benefits for Nonprofits
Of course, your company isn't the only party that benefits from this type of software. Most of the platforms we'll cover later offer a nonprofit-specific portal with which nonprofits can create profiles. That makes it easy for companies to support them through their philanthropic initiatives.
Encourage your nonprofit partners to register for these corporate giving software providers.In turn, you can simplify the corporate giving process for your CSR team, its employees, and the benefitting nonprofits.
For example, doing so allows nonprofits to:
Reap the benefits of increased visibility to potential new donors who work for the companies utilizing the CSR portal.
Increase trust in companies as an already-screened cause that's been pre-verified by the CSR platform.
Elevate the likelihood of becoming eligible for more companies' matching gift and volunteer grant programs and receive more workplace giving funding as a result.
Remove potential barriers in the matching gift and volunteer grant request processes, making it simpler for eligible supporters to drive their workplace giving requests to completion.
In the end, nonprofits that register (and optimize their profiles with) as many of the best CSR platforms as possible will help save everyone's valuable time and secure more corporate revenue. Plus, these corporate giving software providers make it quick and easy to get started!
Common CSR Software Features
Businesses can launch a variety of CSR programs, and there's software to power practically any initiative you can think of! As you kick off your search for the right platform, make sure you know which features you'll need and which you can live without.
To help, here's a rundown of common features businesses seek out:
Donations: Manage financial contributions your company and its employees make to charitable causes, nonprofits, or community projects. Specific donation features might include payroll giving, matching gifts, and grant management.
Volunteer Management: This feature helps your team coordinate and oversee employee volunteer activities. It includes tools for lining up opportunities, scheduling volunteers, tracking volunteer hours, and matching employees with suitable volunteer opportunities. It might even enable volunteer grants.
Campaign management: Plan, execute, and monitor various CSR campaigns and initiatives. This includes tools for creating and promoting workplace giving campaigns, sustainability programs, and community engagement efforts.
Tracking and reporting: Generate CSR reports, track progress, and measure the impact of CSR initiatives with reporting tools and analytics. Depending on your platform, you might be able to monitor volunteer hours, the number of participants, employee engagement metrics, finances, or even efforts against industry standards.
Gamification: Inspire employees to get involved in workplace giving with gamification tools. Your software might offer points, leaderboards, badges, or other competitive tools to motivate team members.
Integrations are an important consideration, too. Your vendor should offer integrations with other popular systems, such as CRM or enterprise resource planning (ERP) platforms, to streamline data flow and simplify adoption. Let's take a look at a new type of integration that's making waves in the corporate philanthropy space.
The Latest in CSR Software Integrations: Matching Gift Auto-Submission
Historically, donors have been required to log into their employers' corporate giving management portals to request matching gifts from the company. It's long been a separate process and one that has been a critical drop-off point for individuals wanting to get their gifts matched.
Now, CSR platforms are working with Double the Donation (which partners directly with over 75% of the largest peer-to-peer focused nonprofits) to streamline the request process through matching gift auto-submission.

Several corporate giving platforms have begun rolling out this innovative new feature, which does exactly what it sounds like⁠—allows employee donors to automatically submit matching gift requests to their employers. And it all happens right on the nonprofit's gift confirmation page!
If you're more of a visual learner, check out this video for a rundown of the process for CSR software vendors:
This simplified process significantly reduces the number of steps your employees need to submit a match request to your team, which will ultimately drive more eligible supporters to take the leap and get involved in workplace giving. In the end, helpful integrations like this mean higher employee participation in your CSR program and more funding for worthwhile missions.
Popular CSR Software Providers to Know
There are a ton of different corporate giving platforms that companies can choose from to manage their CSR initiatives. Your nonprofit partners will need to know about these solutions too, since they'll likely see these names crop up in their CRMs when supporters request matching gifts and volunteer grants from your company.
We'll explore nine of the most popular solutions out there, but know these are only just the beginning. Others can power your efforts, depending on which programs you're implementing.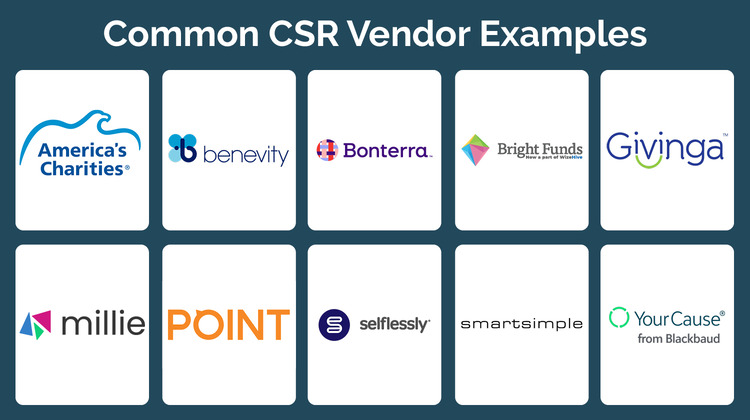 America's Charities
If you're looking to expand your philanthropy program, America's Charities offers a variety of CSR tools that can supercharge your impact.
They offer a suite of cutting-edge employee giving, volunteering, and engagement tools, so you can enable your employees to support their favorite charities. Offer payroll donations, share volunteer experiences, offer matching gifts, launch disaster relief campaigns, launch a scholarship program, offer employee assistance funds, and much more.
Offers Matching Gift Auto-Submission?
No, this CSR platform doesn't offer matching gift auto-submission yet. If your company leverages this platform, you might chat with the vendor about setting up this functionality or reach out to Double the Donation to talk through your options.
Pricing
Reach out to America's Charities for pricing information.
Benevity
Since its launch in 2008, Benevity has provided innovative CSR solutions for businesses looking to increase their giving efforts. With nonprofit giving, donation matching, volunteerism, affinity groups, grant management, and more, Benevity aids in simplifying nonprofit contributions for companies and their employees.
By using this CSR platform, you'll join more than 900 leading brands like Apple, Gap Corporation, Microsoft, Google, Twitter, and UPS. You'll be able to power your corporate purpose, advance your DEI strategies, and respond faster to social crises.
Offers Matching Gift Auto-Submission?
No, this platform doesn't offer matching gift auto-submission yet.
Pricing
Contact Benevity to get a demo and discuss pricing.
Bonterra
Formerly known as CyberGrants, Bonterra's Corporate Social Responsibility solution is one of the most-used CSR software platforms in the sector. This solution incorporates tools for companies looking to power employee giving, corporate volunteerism, grant management, disaster relief, and other initiatives.
The platform aims to align grantmaking and workplace giving with company values to strengthen social impact. Tap into features that unlock employee generosity via donating and make it easy for employees to invest in their passions through volunteering.
Many enterprise-level businesses utilize this CSR management portal, including Verizon, Walmart, Home Depot, Disney, and Cisco.
Offers Matching Gift Auto-Submission?
No, Bonterra does not offer matching gift auto-submission yet.
Pricing
Request a demo to get pricing information for Bonterra.
Bright Funds
If you're looking for a reliable workplace giving solution, join the hundreds of purpose-driven brands that use Bright Funds. This CSR software enables companies to power workplace giving, volunteering, and engagement.
Easily offer matching gifts, gain access to 450,000+ volunteer opportunities, automate your grant management workflow, and more. Beyond workplace giving, the platform supports other CSR initiatives like grants, scholarships, internships, fellowships, disaster relief, and employee assistance programs. You can even track your impact and pinpoint the causes your employees care about with a real-time analytics dashboard.
What's more, Bright Funds provides complimentary toolkits and resources to help infuse your DEI values in your company's giving programs.
Offers Matching Gift Auto-Submission?
No, this platform doesn't offer matching gift auto-submission yet.
Pricing
Bright Funds' pricing starts at $2 per employee per month plus a $3,000 minimum platform fee for small businesses. Pricing for mid-sized businesses scales down to $0.68 per employee per month, while large and enterprise businesses will need to contact Bright Funds for custom pricing.
Givinga
Givinga is a CSR platform that enables companies to transform workplace culture and inspire everyday philanthropy.
Their technology, known as Philantech®, enables workplace giving programs like matching gifts and branded giving campaigns. The reporting capabilities make it easy to create a more strategic, proactive giving experience while showcasing impact to stakeholders.
The platform offers solutions for different types of entities. It's designed for powering workplace giving, brands seeking to enhance charitable impact, foundations looking to boost donor engagement, and more.
Offers Matching Gift Auto-Submission?
Yes! Givinga integrates with 360MatchPro by Double the Donation, allowing corporate employees to submit matching gift requests seamlessly.
Pricing
Givinga uses a custom SaaS-based price model, meaning that you pay based on what you need, how many users you have, and your platform usage. Request a custom quote from their team.
Millie
Millie offers a range of features that empower companies to engage their network with matching gifts, volunteering, giving campaigns, charitable gift cards, and gamification options.
Backed by this CSR software, your company can create volunteer events, match employee donations that align with your budget, and build fundraising campaigns around specific events or nonprofits.
This platform strives to make charitable giving and volunteering fun, accessible, and impactful. Ideal for small and mid-sized businesses, this intuitive platform offers a budget-friendly solution that can scale alongside your business.
Offers Matching Gift Auto-Submission?
Yes! This CSR software integrates with Double the Donation, the industry's most popular matching gift tool.
When donating to a nonprofit, employees who work for companies that use Millie will be prompted to enter their corporate email addresses on the nonprofit's donation confirmation page. The platform will automatically check their eligibility and submit their matching gift request to your team. That means higher employee participation in your workplace giving program!
Pricing
Millie's pricing varies based on the number of employees you have and the features you want.
See how Millie is driving change with matching gift auto-submission.
POINT
POINT is a collaborative volunteer platform that enables companies to foster community engagement with volunteer opportunities, monetary donations, and in-kind gifts.
Nonprofit leaders can leverage the platform for free thanks to companies like yours. Whenever a company buys a subscription to POINT, they offer the nonprofit version to a registered 501(c)(3) organization. This enables nonprofits to find and manage volunteers from companies like yours.
Easily find local volunteer opportunities, create events for employees, find in-kind registries to fulfill tangible nonprofit needs, and locate local nonprofits on POINT by cause.
Offers Matching Gift Auto-Submission?
Yes! When you use POINT and enable auto-submission via Double the Donation, you'll streamline the matching gift submission process for your employees.
Pricing
Fees depend on the number of employees your company has. Visit their website and book a demo with POINT to learn more.
Selflessly
Great for powering CSR efforts at small and medium-sized businesses, Selflessly offers innovative tools for corporate giving, employee volunteerism, and matching gifts.
This all-in-one platform makes it easy to manage all of your social impact initiatives in one location. If you value giving back to your community, this is a wonderful option. Connect your employees to volunteer opportunities, match their charitable donations, enable payroll deductions, and visualize your impact with intuitive reporting.
Offers Matching Gift Auto-Submission?
Yes! Selflessly works with Double the Donation to bring the power of matching gift auto-submission to companies like yours!
Pricing
Selfessly's team works with each company to find a pricing plan that fits their needs. Request custom pricing or a demo on their website to learn more.
SmartSimple
SmartSimple Cloud for Corporate Social Responsibility is an end-to-end giving and CSR solution. Whether you administer a standalone grant program or a full suite of employee giving initiatives, you can manage everything under one roof.
The platform enables employee giving, volunteer management, grantmaking, matching gifts, in-kind giving, sponsorships, employee assistance funds, and more. Goal tracking makes it easy for companies like yours to monitor impact and continuously improve your CSR programs.
Offers Matching Gift Auto-Submission?
No, this CSR software doesn't offer matching gift auto-submission.
Pricing
SmartSimple's pricing has two components: a one-time implementation fee and ongoing recurring subscription fees for access to the system. Pricing depends on how frequently you use the software. You'll pay $195 per month for team members who access the system more than 40 hours per month or $75 for team members who use it less than 40 hours per month. The External Community Group Subscription is billed based on the total count of monthly casual users and starts at $600 per month.
YourCause
YourCause from Blackbaud is another essential CSR management vendor for businesses. Founded in 2007, its clients include several big-name companies such as IBM, PepsiCo, Dell, AT&T, and CVS.
Within the platform, corporate users can manage employee giving, employee volunteering, global engagement, and disaster relief, among other CSR efforts. With access to a vast network of nonprofits, this platform can connect you with more than 1.7 million nonprofits for donating and over 5 million nonprofits for volunteering around the globe.
Offers Matching Gift Auto-Submission?
No, this CSR software doesn't offer matching gift auto-submission yet.
Pricing
Contact YourCause to request a demo and receive pricing information.
CSR Software: Powering Societal Change
Corporate social responsibility is more than just a buzzword—it's a core strategy for businesses. Advanced CSR software is one of the driving forces behind this transformation. Having the right tools is a critical prerequisite for ongoing success with your program, especially if you're empowering nonprofits via corporate philanthropy.
When you equip your business and its employees with best-in-class resources built on a solid foundation of knowledge, you'll be all set to strengthen your impact and make a real difference.
Interested in learning more about corporate giving and how you can make the most of it for your company? Read up on these other educational resources: