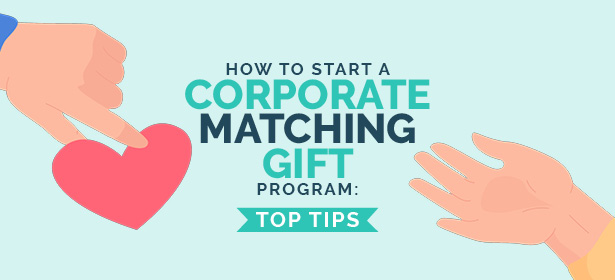 Corporations can no longer focus solely on the bottom line to be successful. Customers respond better when buying from businesses that go beyond the finances, and writing a paycheck isn't the only way to engage with employees. Instead, businesses of all shapes and sizes are turning to corporate philanthropy as a key way to stand out. And from both a company's and their employees' point of view, one of the most popular ways to do so is with matching gifts.
When a company offers to match its employees' donations to charitable causes, it tends to see widespread benefits for its employees, the nonprofits they care about, the communities in which they operate, and even its own bottom line. Therefore, if you are a corporate executive looking for guidance on how to start a corporate matching gift program at your business, you've come to the right place.
We'll walk you through the key steps involved in launching a matching initiative:
By the end of this guide, you should have a solid understanding of matching gift programs and how to begin leveraging this type of philanthropy for your corporation. Let's begin!
1. Get started with a CSR management platform.
One of the first things you can do when understanding how to start a corporate matching gift program is to locate a software provider that meets your needs.
Sure, you could launch and manage a matching initiative on your own. However, the right corporate giving platform streamlines your efforts behind the scenes. All in all, the technology increases the impact of employee donation-matching and decreases the administrative workload involved. In other words, we recommend looking into the software.
As you make your buying decisions, here are a few considerations to keep in mind:
Affordability ⁠— Go into the process with a budget in mind. You'll want to look at base costs, setup and ongoing fees, and more. While some CSR platforms typically cater to larger companies with bigger budgets, there are many out there that use flexible pricing and can meet you where you are.
Types of programs ⁠— Matching gifts are only one type of workplace giving program. If you plan to offer other initiatives⁠—such as volunteer grants, paycheck deductions, and more⁠—consider a solution that offers it all.
Innovation ⁠— While some companies might stick to the basics, others are choosing to go above and beyond. As they do so, they're revolutionizing the way that matching gifts are other corporate giving works. Consider a platform that pursues new and exciting developments to ensure your program is able to stand out as well.
Do your research to narrow things down and reach out to a few top contenders. Then, find out if you can see the tools in action. Request a software demo, and don't forget to look at client reviews and case studies, either!
2. Establish your matching gift eligibility criteria.
The next step in launching your new workplace giving program is to decide exactly what types of donations qualify for matching. To do so, establish a number of criteria that determine eligibility. Then, communicate the information to team members in some sort of guideline documentation.
Most often, this includes:
Minimum and maximum match amounts — The threshold for employee donations to qualify for a match (for example, matching gifts between $10 and $1,000 per employee per year)

Matching gift ratios — Typically 1:1 (or dollar for dollar), though some companies match at a lower (e.g., .5:1) or higher (2:1, 3:1, or even 4:1) rate

Qualifying employees

— Some combination of current full-time, part-time, and retired employees (and sometimes their spouses or dependants!)

Qualifying nonprofit mission types — Matching to all nonprofits (most common), set exclusions (ex: religious or politically affiliated organizations), or choose select mission types (i.e., education, community services, art and cultural, etc.)

Submission deadlines

— The date by which an individual must complete their match request in order to remain eligible for matching; often in line with the calendar year or a number of months post-donation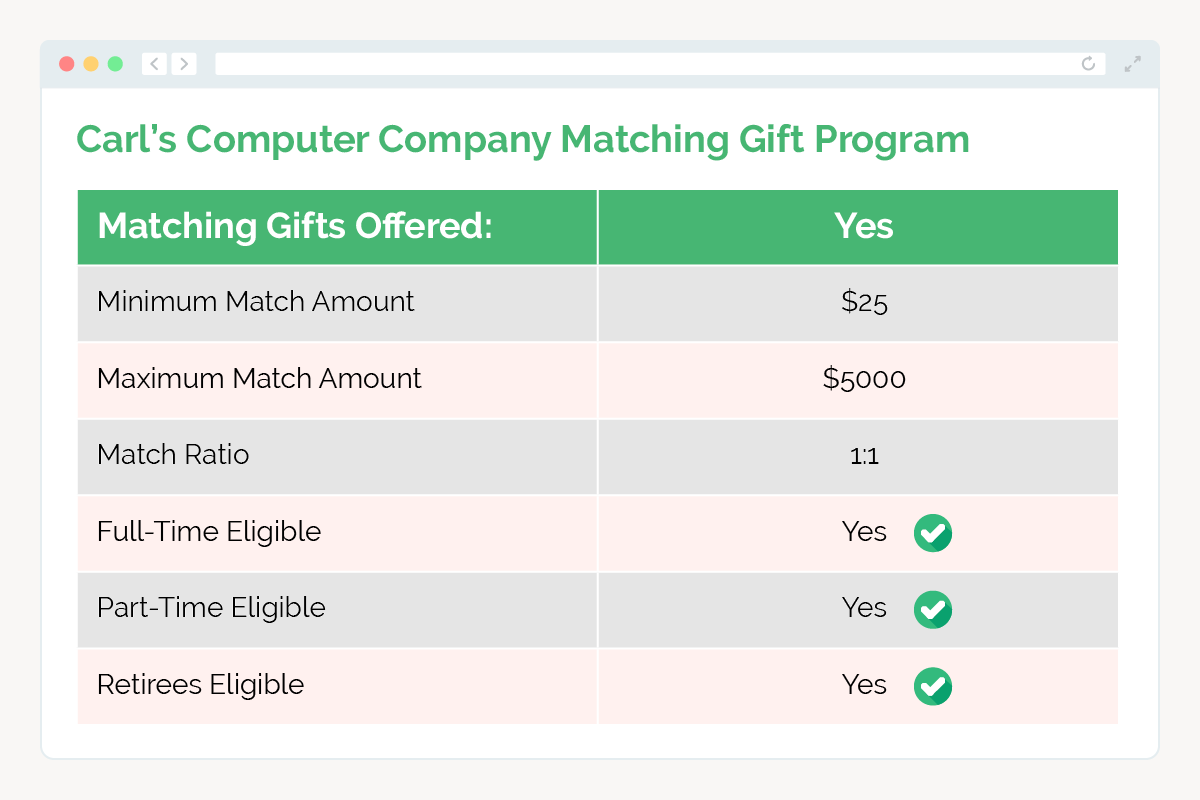 Tip! As you develop your matching gift guidelines, be sure to keep your employees' giving preferences in mind. Studies show that individuals tend to desire open-ended criteria. This allows them to support their favorite causes through their favorite giving methods with ease.
3. Determine how employees will submit requests.
Now that you've determined how to uncover eligibility for your program, you need to decide how employees will get involved. And the brunt of this idea has to do with the matching gift submission process.
There are a ton of ways that employee donors can request matching gifts from their employers. These often range from pretty old school to new and inventive. Let's take a look at a few of the most common methods and see which one fits your program best.
Keep in mind as you make your considerations that you may have limited options based on matching gift software usage. If you had previously chosen not to leverage a CSR platform, you may be restricted to more non-technical methods. But here's a hint⁠—it's not too late to go back to step #1 of this guide and re-explore your software decisions!
Paper forms and PDFs
This is the most non-technical option for accepting matching gift requests. You might come up with a number of matching gift queries, turn it into a PDF form, and share it with your employees. From there, they may be able to fill it in online, or they might have to print, complete, scan, and perhaps even mail the documentation.
Since this is the most basic choice, it's important to remember that it also requires the most administrative lift to maintain. Reviewing requests will involve manual comparisons against previously defined criteria, nonprofit research and verification, and more.
Online submission portals with a corporate giving partner
A step up from paper forms and PDFs, more and more companies are prioritizing completely digitized submission processes through easy-to-use online portals. If an employee gives to a nonprofit organization, they can then be encouraged to navigate to a separate portal. In many cases, direct links to the portals are made available from gift confirmation screens when the organizations receiving the donations use Double the Donation (which over 75% of the largest nonprofits do!).
From there, they log in and provide a few basic details about their donation and the nonprofit to which they gave. Then, your software platform automatically approves and disburses the funds.
Auto-submission with a corporate giving partner
Arguably the most efficient and impactful matching gift submission method is with innovative auto-submission functionality. Developed by Double the Donation in partnership with select standout CSR platforms, this offering enables qualifying donors to submit their matching gift forms automatically from an organization's donation confirmation screen. And typically, all they need to do so is their corporate email address!
From there, the software ecosystem transmits required data points from the donation form through Double the Donation's 360MatchPro and to your company's matching gift management solution. Once the request has made it to your CSR platform, it's processed behind the scenes as usual.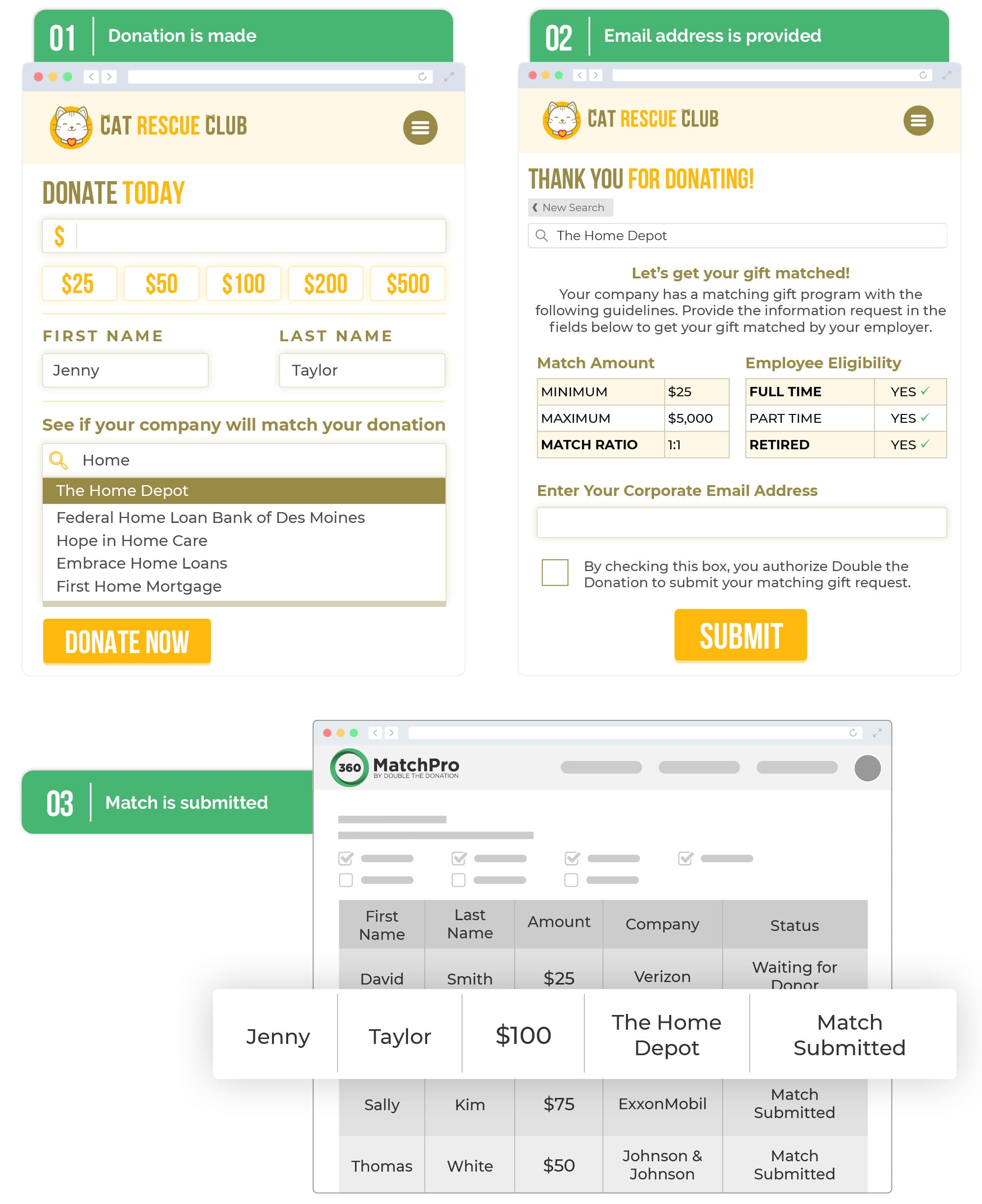 Double the Donation standard matching gift form
While we always recommend that a company leverages dedicated matching gift software to manage its program with ease, some might not be ready to take the step to invest in a full solution. In that case, Double the Donation offers a free matching gift form that can be used to enable automated e-submission directly from thousands of nonprofits' online giving forms.
All you have to do is add your company to their comprehensive matching gift database (which you should do anyway!) and mark that you want to accept their standard form. This can replace an outdated submission process or work in tangent with your existing match forms.
Here's what the standard form can look like: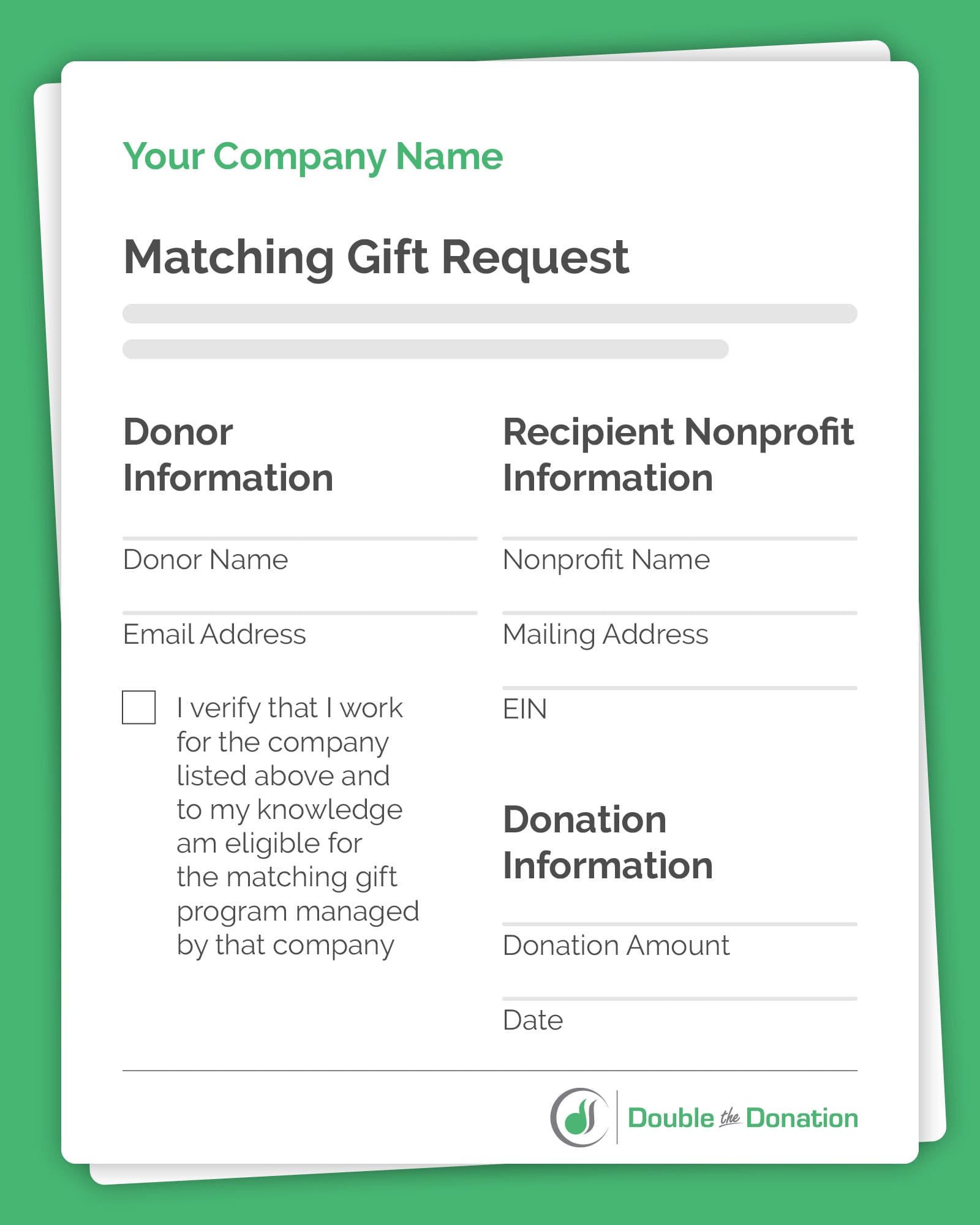 This ready-made form collects all the data you need to process a matching gift during the initial donation process. Employees authorize Double the Donation to submit their match request. Then, the auto-filled information is emailed to your company's point of contact to review and approve.
And here's how it may look after being automatically filled out and sent to your company's match program coordinator: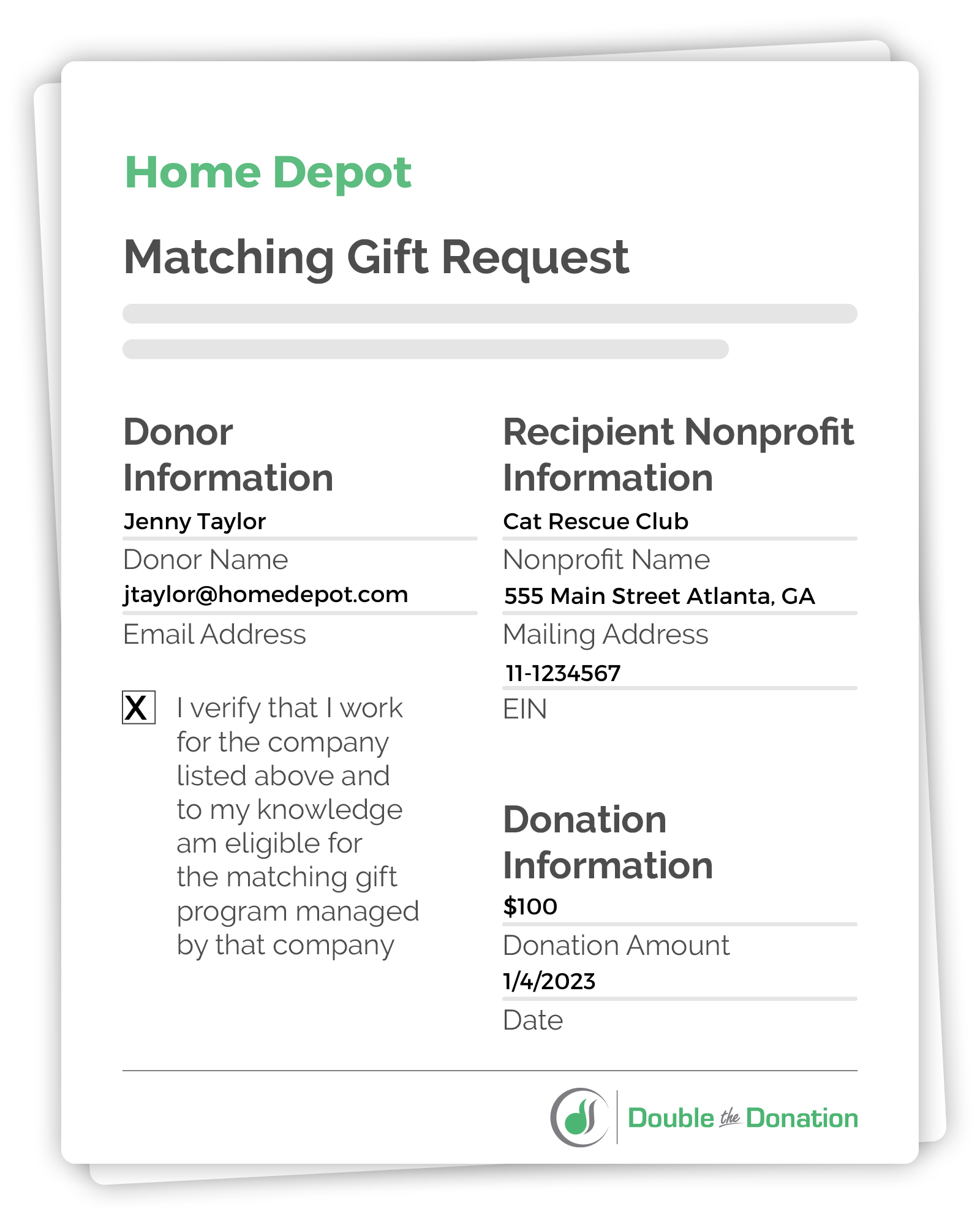 Keep in mind, however, that this option has significantly limited functionality compared to a full corporate giving management solution, and should typically be used as a temporary stand-in.
4. Launch your program!
Now's the time to actually begin matching employee donations. But you're not quite ready to sit back and watch the impact occur.
Consider these best practices to help make the most of your newly initiated matching gift program:
Communicate that your matching initiative is live. As you launch your matching gift program, one of the most important things you can do is inform your staff about the opportunity at hand. After all, lack of awareness is a critical roadblock to matching gift participation. In fact, studies show that more than 78% of eligible employees have no idea that their employers match gifts. And when your staff doesn't know about your program, they won't be able to participate in it⁠—and your company will lose out on opportunities for CSR impact.
Add your company to Double the Donation's matching gift database. Even if you decide against using Double the Donation's standard matching gift form to accept employee requests, it's essential that your program is added to the comprehensive database. This allows employees to receive direct links to your online submission forms, detailed eligibility criteria, and targeted follow-up outreach from their favorite nonprofits. Fill out the brief online form here to get your company added to the database!
Encourage team members to participate. Sometimes informing employees about your new matching program isn't enough. Take the extra step and encourage them to take part in your philanthropic initiatives! Recommended ways to drive participation may include streamlining the giving process, emphasizing charitable impact, and even offering unique incentives. Plus, be sure to clarify how easy it is to get involved!
Finetune your strategy and make improvements. As you begin the process of matching employee gifts, make a point to track performance and philanthropic impact. If you can identify areas with room for improvement, be sure to do so. That might mean introducing incentives for participation, increasing your maximum match amount, or opening eligibility criteria. Be sure to ask for employee feedback, as well!
---
Final Thoughts
Bring your business to the next level with a powerful corporate giving program. Your employees will be proud to contribute, and your consumers will be glad to support your efforts. Plus, think about the potential impact you can have on a wide assortment of charitable organizations. Everybody wins⁠—and learning how to start a corporate matching gift program can be easier than you think.
Best of luck, and happy matching!
Learn more! Dive deeper into matching gifts and corporate philanthropy with these other expert resources: